Last Updated on September 19, 2021 by Chef Mireille
These delicious Gluten Free Rice Flour Pancakes with Banana Sauce are so delicious for weekend brunch. The pandan infused banana sauce really puts these yeast raised pancakes over the top. Delicious Pancakes Thai Style is how to enjoy one of the most delicious gluten-free recipes. Fresh berries or other fresh fruit are great accompaniments to these gluten-free pancakes.
When trying to make gluten free pancakes, there are many gluten free flours you can go to like coconut flour, oat flour, tapioca flour quinoa flour and add a binder like tapioca starch, potato starch or cornstarch and thick fluffy pancakes can be achieved. However, if you are like me and prefer thinner pancakes more in the silver dollar pancake style, then these traditional Thai Coconut Pancakes are the way to go.
With the pandan infused Banana Sauce, this is a keeper recipe I know you are going to make on a regular basis.
The only down side is you do have to plan a little ahead as this is not an instant pancake recipe. Since you have to wait for the batter to rise, this is best made for brunch or an after school snack.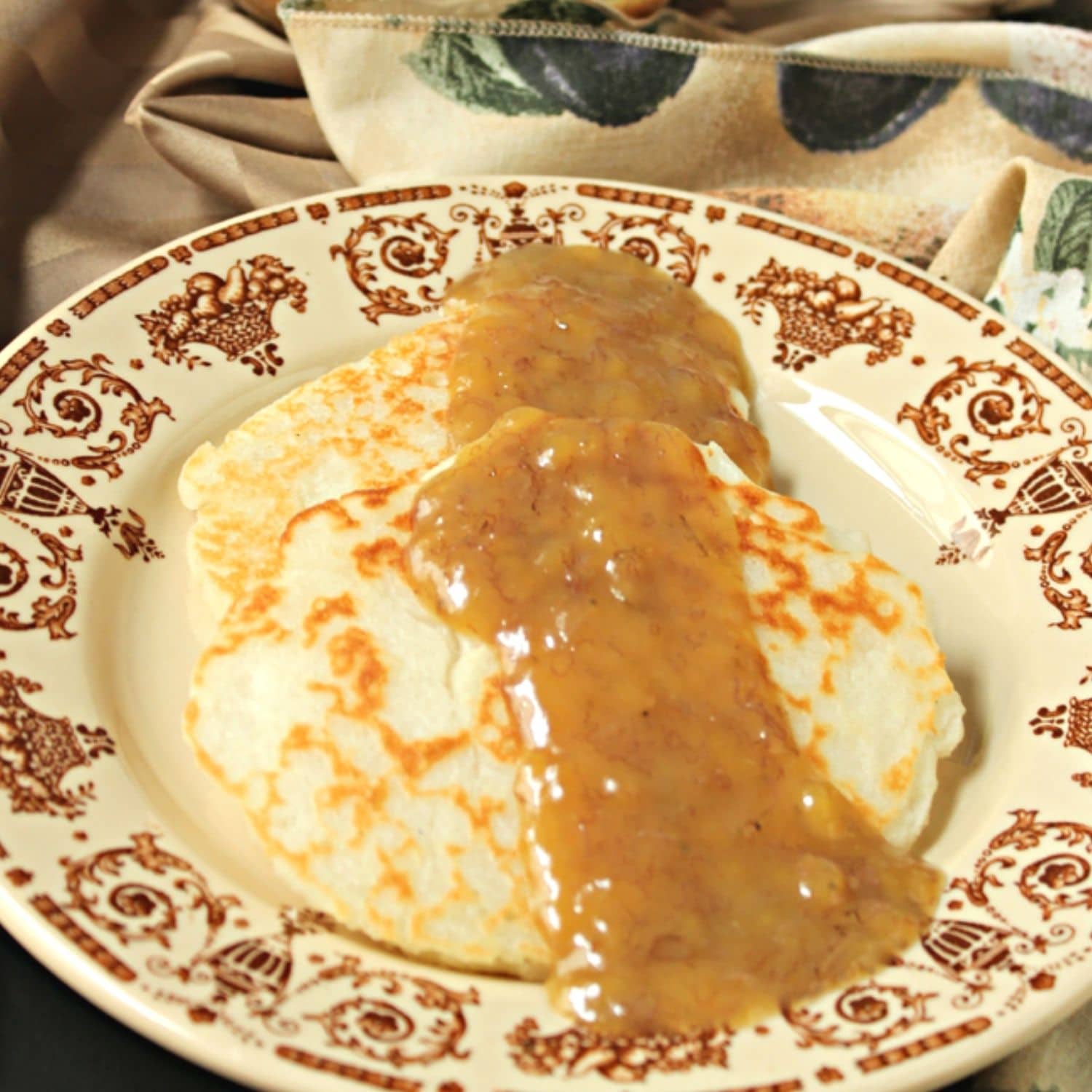 This post may include affiliate links.
Do you feel intimidated by globally inspired recipes? Are you afraid when you sometimes see long lists of ingredients in Indian recipes? Well I'm here to help you out!
My goal is to make every recipe from every country in the world accessible to you in your own kitchen, without having to rely on travel and restaurants.
Although travel to Thailand sounds awesome right! If you are planning a trip to Thailand soon, don't forget to check out some of my travel posts!
Thailand Travel
Do you Cook International Recipes?
People often comment how I have the courage to try recipes from so many different cultures, some that I have absolutely no connection to although those are few and far in between with my diverse family background. However, I would be so bored if I had to eat the same kind of food every day.
Eating good food is one of the few pleasures in life we can rely upon for those of us that live in developed countries. Why would you want to limit yourself?
Maybe it's because I am a Gemini and we are reputed to have more than one personality. Maybe its coming from a multi cultural home where a week's menu could consist of any combination of Caribbean, Indian, Indonesian or American food. Hence, even though I have never seen or heard of these pancakes before, I decided to bite the bullet and try these gluten free Pancakes when I heard about them via a friend of a friend!
It can be really challenging when you don't even know what the end result is supposed to be. However, due to my extensive blogging trials and culinary work experience, I just try to use common sense and good judgment and throw caution to the wind.
I have enough experience to trust my gurt (yes, just like Olivia Pope on Scandal, I have a gut 🙂
I hope you trust your own gut and with the little bit of guidance here, I am sure you will be able to make these delicious pancakes and enjoy them – just like if you were having them in Thailand.
I hope you have the same adventurous spirit and are ready to try these awesome Thai Rice Flour Pancake Recipe with Banana Sauce!
Before we get to today's recipe, here are some other both Sweet & Savory Pancakes you might like to try! 
Important Ingredient Notes for Thai Coconut Pancakes with Banana Sauce
Before we go over what you need to make these amazing Gluten-Free Pancakes, there are two ingredients that it's really important you by the right type. So let's talk about coconut cream and rice flour, as well as pandan, which may be a new ingredient for some of you.
COCONUT CREAM
Many Southeast Asian recipes will differentiate between thick and thin coconut milk as well as coconut cream. If you make fresh coconut milk, it's easy to come up with a batch of any. However, most of us in the West buy canned coconut milk. Only the Thai brands like Taste of Thai and some organic/all natural brands sell both thick and thin coconut milk.
You can also get the thick coconut cream by refrigerating a can of coconut milk. After taking it out of the refrigerator, remove the thick cream on top. The remaining liquid in the can is thin coconut milk.
For thick coconut milk, just shake a can of regular coconut milk and that is thick coconut milk. If the recipe calls for a large quantity of coconut cream, it is more cost effective to buy cans of coconut cream.
Make sure you get coconut cream and NOT cream of coconut. That is a totally different product, used in Latin and Caribbean cultures to make things like Kremas (Haitian eggless eggnog) and to make Pina Colada.
Why this whole discussion about coconut cream/ thick coconut milk/ thin coconut milk? Based on the canned products we have in the US, there might be slight differences than in the freshly made products so I had to adjust the recipe accordingly, but the end result was delicious.
You must utilize canned coconut milk and not carton coconut milk, which is too thin.
To learn more about the differences between the types of coconut milk, read all about it here – Types of Coconut Milk.
RICE FLOUR
There are several different types of rice flour, so it is important you utilize the right one. Although there are many sub categories, the two main differentiations are regular rice flour or sweet rice flour.
Sweet Rice Flour may be sold by different names like glutinous rice flour or mochi. This rice flour is milled from a short grain rice which is very starchy. The starchy rice gives whatever is made with this flour a glutinous quality like this Chinese New Year Cake.
Regular Rice Flour is milled from long grain rice, therefore it acts like most other gluten free grains. Another option within this category is brown rice flour, made from brown rice instead of white rice, therefore, having more protein and fiber.
PANDAN
Pandan is the most popular flavoring used in sweet things in Southeast Asian cuisine. It is basically their vanilla extract, but with a more aromatic scent and flavor. Pandan comes from the leaves of the screw pine tree. Here in America, you will find it frozen in Asian markets. It might also be called pandanus or Bai Toey (the Vietnamese name for it).
If you cannot source the frozen pandan leaves, you can use pandan extract or pandan paste which can easily be ordered from online sources.
Thai Rice Flour Gluten Free Coconut Pancakes are perfect for Sunday mornings or even as an after school snack. Even though these are traditionally served with a delicious banana sauce, you can also still serve it American style with maple syrup.
Vegan and Gluten Free, these are delicious pancakes the whole family will enjoy. Another great thing about these Coconut Pancakes is that since the banana sauce is on the side, it's perfect since not everyone loves Banana Pancakes.
Now let's see what else you need to make these Gluten Free Rice Flour Pancakes!
Ingredients
thick coconut milk
palm sugar or dark brown sugar (firmly packed)
pandan leaves
bananas
Have you tried instacart yet? It's how I get all of my fresh grocery items delivered within 2 hours!
HOW TO MAKE RICE FLOUR PANCAKES WITH YEAST
Combine the dry ingredients, including the instant yeast in a large bowl.
Add coconut cream and coconut milk to form a smooth batter.
Leave to rise for about 2 hours
.

Make the banana sauce by boiling bananas, coconut cream and pandan leaves with sugar and a bit of water.
Add cornstarch slurry and simmer until thickened.
Make your pancakes on a skillet.
Serve with banana sauce.
If you are a coconut lover, you will love these gluten free pancakes!
If you love Thai food as much as I do, you might like to include other Thai foods like Thai Basil Chicken, Khao Soi Chicken Noodle Soup, Thai Fried Pineapple, Thai Massaman Curry & Thai Coconut Custard.
Gluten Free Rice Flour Pancakes – Thai Coconut Pancakes
Yeast Raised Coconut Pancakes are so delicious with the pandan infused banana sauce. These gluten free vegan pancakes are perfect for Sunday brunch or an after school snack.
Ingredients
Banana Sauce Ingredients
1

cup

coconut cream

1/4

cup

water

2/3

cup

palm sugar

2

pandan leaves

2

ripe bananas

mashed

1

tablespoon

cornstarch dissolved in 2 tablespoons water

cornstarch slurry
Instructions
Combine rice flour, salt, sugar and yeast in a large bowl.

Add coconut milk and coconut cream and mix to form a smooth pancake batter. Leave the batter to rise in a warm place for 2 hours, until almost double in volume.

Meanwhile, let's make the banana sauce.

In a saucepan, combine coconut cream, water, palm sugar, salt, pandan and bananas. Bring to a boil and cook on medium-high heat for 10 minutes.

Remove pandan leaves and add the cornstarch slurry.

Continue to simmer until the sauce is thickened, about 10 minutes

Heat a skillet and lightly coat it with oil.

Heat a skillet and lightly coat it with a little oil. Spray a 1/4 measuring cup with non stick spray. Scoop batter into this cup and place on hot skillet.

Using a wet spatula, flatten the batter into a pancake. Cook on medium heat until golden brown on both sides. Repeat until all the batter is finished.

Serve with warm banana sauce.
Notes
Use pandan extract or pandan paste if you cannot source pandan leaves.
Make sure to use regular rice flour; not sticky rice/ glutinous rice flour.
Nutrition
Calories:
292
kcal
|
Carbohydrates:
32
g
|
Protein:
4
g
|
Fat:
18
g
|
Saturated Fat:
16
g
|
Polyunsaturated Fat:
1
g
|
Monounsaturated Fat:
1
g
|
Sodium:
80
mg
|
Potassium:
237
mg
|
Fiber:
2
g
|
Sugar:
6
g
|
Vitamin A:
8
IU
|
Vitamin C:
3
mg
|
Calcium:
10
mg
|
Iron:
1
mg
Did you try this recipe? Leave a comment below.
Please follow me on Instagram @chefmireille or tag me #chefmireille with your pics! I'd love to share them!
Don't forget to visit the RECIPE INDEX with over 1000 recipes from around the world including lots of Vegetarian Recipes and Gluten Free Recipes!