Last Updated on May 19, 2020 by Chef Mireille
Peranakan Pancakes – Thai Rice Flour Gluten Free Coconut Pancakes are perfect for breakfast or even as an after school snack!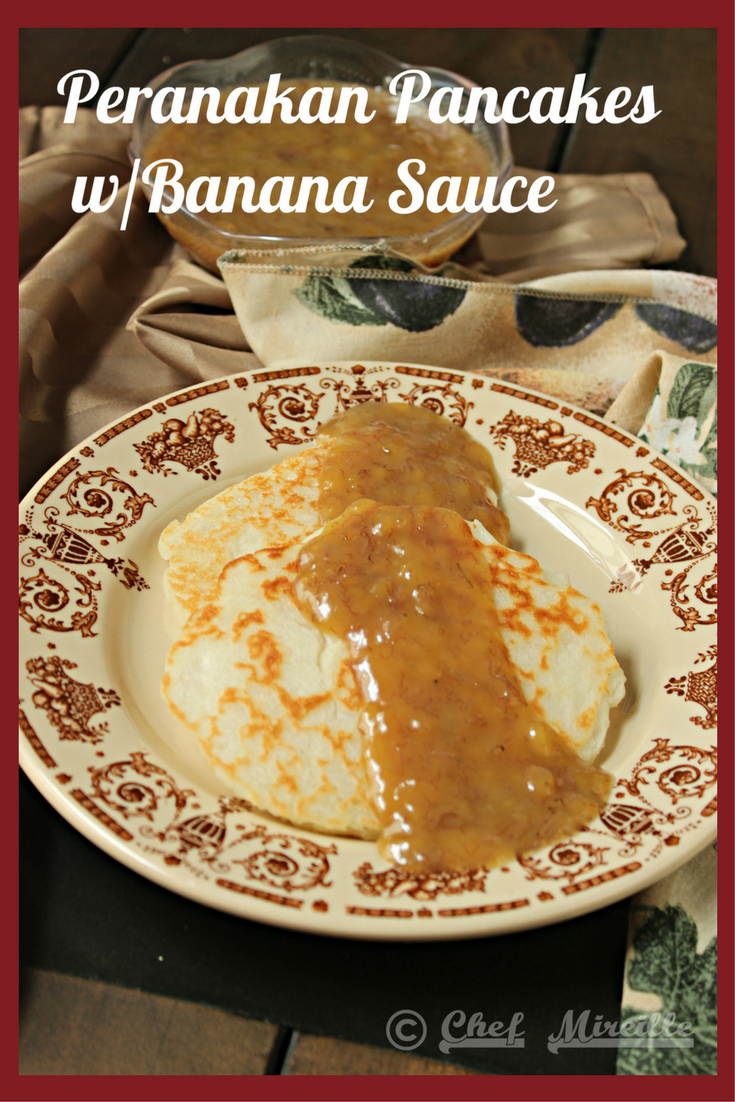 This post may contain affiliate links.
Do you feel intimidated by globally inspired recipes? Are you afraid when you sometimes see long lists of ingredients in Indian recipes? Well I'm here to help you out!
My goal is to make every recipe from every country in the world accessible to you in your own kitchen, without having to rely on travel and restaurants.
Although travel to Thailand sounds awesome right! If you are planning a trip to Thailand soon, don't forget to check out some of my travel posts!
Thailand Travel
Keep on reading and don't forget to download the FREE pantry list below to get you started on your international cooking journey!
HOW I COOK INTERNATIONAL RECIPES
People often comment how I have the courage to try recipes from so many different cultures, many ones that I have absolutely no connection to. However, I would be so bored if I had to eat the same kind of food every day.
Eating good food is one of the few pleasures in life we can rely upon for those of us that live in developed countries. Why would you want to limit yourself?
Maybe it's because I am a Gemini and we are reputed to have more than one personality. Maybe its coming from a multi cultural home where a week's menu could consist of any combination of Caribbean, Indian, Indonesian or American food. Hence, even though I have never seen or heard of these pancakes before, I decided to bite the bullet and try these gluten free Pancakes!
It can be really challenging when you don't even know what the end result is supposed to be. However, due to my extensive blogging trials and culinary work experience, I just try to use common sense and good judgment and throw caution to the wind.
Just because it's from a cookbook doesn't necessarily mean it's a perfectly written recipe and will work well. I often have to adjust recipes and thankfully, I have enough experience to trust my gut (yes, just like Olivia Pope on Scandal, I have a gut ) over the book.
COCONUT CREAM
Many Southeast Asian recipes will differentiate between thick and thin coconut milk as well as coconut cream. If you make fresh coconut milk, it's easy to come up with a batch of any. However, most of us in the West buy canned coconut milk. Only the Thai brands like Taste of Thai and some organic/all natural brands sell both thick and thin coconut milk.
You can also get the thick coconut cream by refrigerating a can of coconut milk. After taking it out of the refrigerator, remove the thick cream on top. The remaining liquid in the can is thin coconut milk.
For thick coconut milk, just shake a can of regular coconut milk and that is thick coconut milk. If the recipe calls for a large quantity of coconut cream, it is more cost effective to buy cans of coconut cream, which are only sold by Thai brands.
Make sure you get coconut cream and NOT cream of coconut. That is a totally different product, used in Latin and Caribbean cultures to make things like Kremas (Haitian eggless eggnog) and to make Pina Colada.
Why this whole discussion about coconut cream/ thick coconut milk/ thin coconut milk? Based on the canned products we have in the US, there might be slight differences than in the freshly made products so I had to adjust the recipe accordingly, but the end result was delicious.
One of my many freelance jobs I have is teaching cooking classes and I hope on this blog I achieve the same result. Anybody can follow a recipe, but I hope I impart cooking skills to you. How to use your experience and knowledge to create your own version of each recipe is my goal. Whether you change it due to ingredient availability or due to personal preference, I prefer you use my recipes as a guide to develop your own culinary skills than follow my recipes to the letter!
These Peranakan Pancakes with Banana Sauce – Thai Rice Flour Coconut Pancakes are both Gluten Free and Vegan. They are great for weekend breakfast/brunch or even as an after school snack!
IN THE MAKING – MAKING PERANAKAN PANCAKES – THAI RICE FLOUR COCONUT PANCAKES
MAKING BANANA SAUCE
Before we get to today's recipe, here are some other both Sweet & Savory pancakes you might like to try!
Pancake Recipes
If you are a coconut lover, you will love these gluten free pancakes!
If you love Thai food as much as I do, you might like to include other Thai foods like Thai Cucumber Relish, Thai Tomato Soup & Green Papaya SaladThai Yellow Curry with Vegetables to your weekly menu!
Are you ready to try Peranakan Pancakes with Banana Sauce – Thai Rice Flour Coconut Pancakes?
This recipe was adapted from Entree to Asia for CCChallenge
SHARE THIS DELICIOUS RECIPE WITH YOUR FOODIE FRIENDS