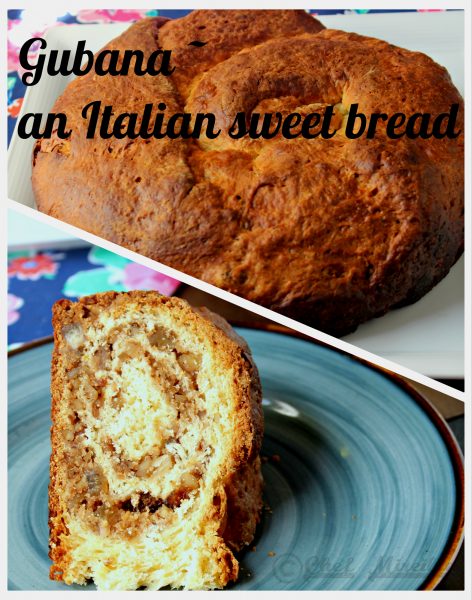 It's time for #BreadBakers again and this month's theme of Italian Breads is being hosted by Anshie of Spice Roots
I seem to be on a sweet bread kick – last month it was Barmbrack from Ireland and this month it's Gubana. This bread is not for the bread making dabler. You have to be a dedicated and patient bread baker to go through the day long process of making this bread…but you won't be sorry!
Gubana is a sweet bread from Northern Italy, specifically the region of Friuli. This is an autonomous region in northeastern Italy officially known as Friuli-Venezia Giulia. This part of Italy has a lot of German and Slavic influences in cuisine and culture.  In fact, you can even call this nut and fruit packed bread Italy's version of a strudel.
OMG – is this bread a time consuming process and not resting time either because while the bread is resting, you are working on prepping the ingredients for the filling and putting that together. So when you decide to make this bread, be sure you have set aside a day to devote to it. However, I promise you that it is well worth the effort!
If you have some little helpers around who can toast and chop walnuts, toast breadcrumbs, and chop fruit, then the time devoted to this bread will be largely reduced. Let them make the filling while you put your feet up J and wait for the dough to rise…again…and again….and again!
…adapted from Ciao Italia
…and since we are celebrating Italian breads this month, check out some of the others I've baked in the past:
IN THE MAKING PHOTOS:
Gubana – an Italian sweet bread for #BreadBakers
Rating: 51
Prep Time: 15 hours
Cook Time: 1 hour, 15 minutes
Total Time: 16 hours
Per Serving 308 calories
Fat 13 g
Carbs 40 g
Protein 6 g
Ingredients
Sponge Ingredients

½ cup milk – heated to 110F
2 ¼ teaspoons instant yeast
¾ cup bread flour

Dough Ingredients

2 eggs
2 egg yolks
½ cup sugar
2 teaspoons vanilla extract
Grated zest of 1 lemon
Sponge
2 ¼ cups bread flour
½ teaspoon salt
8 tablespoons softened butter

Filling Ingredients

½ cup golden raisins
¾ cup chopped candied orange peel
¼ cup dark rum
½ cup firmly packed brown sugar
4 tablespoons butter
½ cup breadcrumbs (I used Panko pulsed in the coffee/spice grinder)
2 cups toasted and finely chopped walnuts
1 beaten egg
Instructions
To make the sponge, sprinkle yeast on top of warm milk. Wait until it becomes frothy.
Add flour and mix using a rubber spatula. Cover with plastic wrap sprayed with non stick spread or lightly greased with oil. Cover with a kitchen towel and leave for 30-40 minutes, until doubled in volume.
Meanwhile, work on the filling.
Place raisins in a saucepan with enough water to cover, about 1 cup. Bring to a rolling boil. Drain and transfer to a bowl.
Add orange peel and rum to the bowl. Sprinkle brown sugar on top.
In a skillet, melt butter. Add breadcrumbs and cook until breadcrumbs are golden, 2-3 minutes.
Add breadcrumbs to the bowl, along with the nuts. Mix until thoroughly combined.
Add egg. Mix until thoroughly combined
In the bowl of an electric mixer, combine eggs, egg yolks, sugar, vanilla and lemon zest. Mix to combine.
Using a rubber spatula, add the sponge.
Add flour and salt. Using dough hook attachment, mix until smooth. Cover with plastic wrap. Let it rest for 15 minutes.
Add the butter a little at a time and knead for 5-6 minutes, until the butter is well incorporated. This is a very soft and tacky dough, so don't expect a light and elastic dough.
Place in a lightly oiled bowl and cover with greased plastic wrap and a kitchen towel. Leave to rise in a warm place until doubled in size, about 1 hour.
Lightly flour a cookie sheet and spread dough, using your fingertips, to a rectangle. It should almost fill the entire cover sheet. Cover with lightly oiled plastic wrap and leave in the refrigerator for 1 hour.
Spray a 3" deep cake pan with non stick spray or line with parchment paper.
Flip over onto a work surface dusted with flour. Roll into a rectangle 12x18".
Spread nut mixture over the dough, leaving a 1" border. Roll into a cylinder. Shape it into a coil and drop into the prepared pan. Cover with greased plastic wrap and a kitchen towel. Leave to rise until doubled in size, about 10-12 hours.
Preheat oven to 350 F.
Bake for 60 – 75 minutes, until bread is golden and puffy and internal temperature reads 200 F on an instant read thermometer.
Sign up for our updates!
Subscribe to get our latest content by email and get your FREE Pantry Cheat Sheet - Learn the basics to cook any International cuisine!