Last Updated on May 7, 2020 by Chef Mireille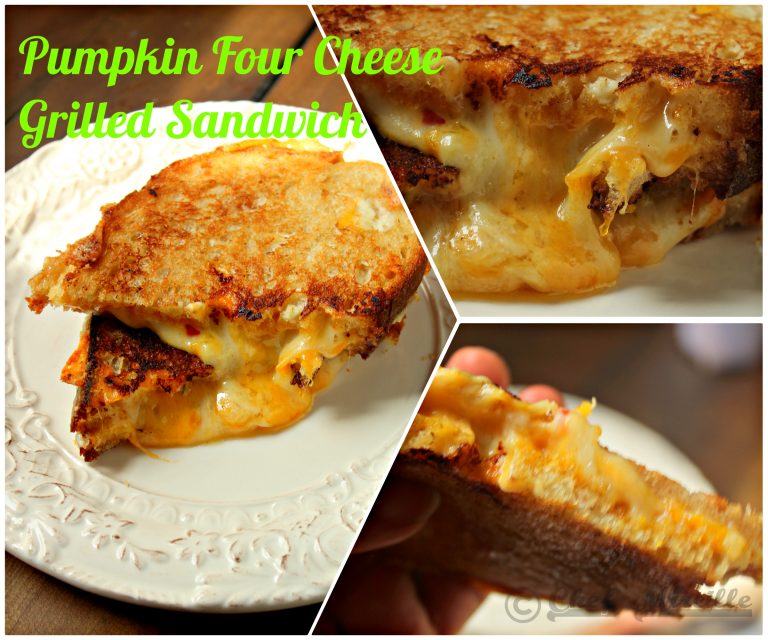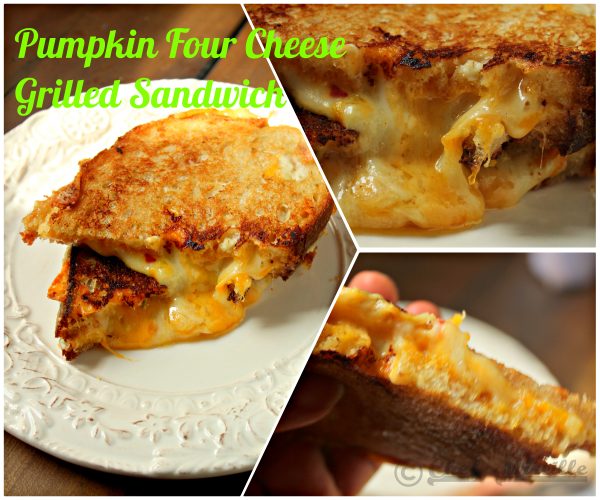 Did you know that in April we are celebrating one of America's all time comfort foods? Yes April is #NationalGrilledCheeseMonth and today is #NationalGrilledCheeseDay – every kid who ate school lunches at one time or another has eaten that classic combination of Grilled Cheese & Tomato Soup. Check out my version here! Today I am giving you a version of a more grown up grilled cheese sandwich. Yes, it's a little gourmet and while there is absolutely nothing wrong with the classic, this Pumpkin Four Cheese Grilled Sandwich will definitely impress your grown up palate.
Not everyone is going to have access to the cheeses I used here, so find the best store in your city with the largest cheese selection and pick out the ones you like best. In a place like New York City, the varieties of cheeses are endless at gourmet supermarkets like Whole Foods & Fairway. We then also have specialty cheese shops like East Village Cheese and Murray's Cheese. Be adventurous! Most of these stores will allow you to taste. Instead of just going for the basics that you know you like, taste some new ones and discover a new variety. For a four cheese variety liked I did here, the key is to have at least one good melting cheese like a cheddar and combine it with at least one hard, aged, nutty flavored cheese for complexity of flavor. For the hard cheese, I generally go for a Parmesan, Romano, Asiago or Manchego aged at least 6 months.
Now, you may think how hard is this to make? Cheese in between bread, butter on the outside and cook until golden brown right? However, if you purchase grilled cheese sandwiches I can guarantee we all have had at least one where the cheese in the inside isn't melted. That is one of the worst things. As you wait for your sandwich, you are imagining the gooey insides, especially if it's a cold winter day and you want that perfect childhood comfort food. You bite into it and all you get is pieces of cold cheese slices inside with the cheese barely melted. If you live in New York City, where nothing is cheap – not even a grilled cheese sandwich – it can ruin your whole day!
The key is to melt all the cheese without burning the bread. Here are a few tricks to make sure you get the perfect grilled cheese sandwich!
Bring the cheese to room temperature
Use grated cheese instead of cheese slices
Cook on low heat
Use a good quality bread that won't fall apart (no Wonder white bread)
This sandwich is definitely not for the Grilled Cheese purist. I like jam in cheese sandwiches, however, I am very particular about the jam. I prefer my pumpkin jam, orange marmalade, apricot preserves, mango or guava. The berry jams overpower the flavor of the cheese, in my opinion.
IN THE MAKING
Pumpkin Four Cheese Grilled Sandwich for #NationalGrilledCheeseDay
Rating: 51
Prep Time: 10 minutes
Cook Time: 7 minutes
Total Time: 17 minutes
Per Serving 844 calories
Fat 60 g
Carbs 44 g
Protein 34 g
Ingredients
2 slices bread
1 tablespoon pumpkin jam
1 tablespoon mayonnaise
1 tablespoon butter, at room temperature
1/4 cup grated Cheddar cheese, at room temperature
1/4 cup grated Pepper Jack cheese, at room temperature
1/4 cup grated Manchego cheese, at room temperature
1/4 cup grated Coconut Gouda Cheese, at room temperature
Instructions
Spread one side of each bread slice with pumpkin jam.
Spread the other side with a thin layer of mayonnaise.
Heat a skillet until it is hot, but not smoking.
Add butter and wait until it is melted
Turn heat down to lowest setting possible. Add one slice of bread mayo side down to the pan.. Add grated cheeses on top. Cover with the other bread slice, mayo side up.
Raise heat to medium low.
Place a bacon press on top for 2 minutes. Cover pan and cook for another 2 minutes.
Flip over. Press with bacon press for 30 seconds. Cover pan again and cook for another 1 1/2 -
2 minutes, until golden brown.
Notes
quantities are approximate
Specialty Ingredients used:
This sandwich is a great balance of sweet, salty and a little bit of spice (from the pepper jack).
Sign up for our updates!
Subscribe to get our latest content by email and get your FREE Pantry Cheat Sheet - Learn the basics to cook any International cuisine!