Last Updated on December 26, 2020 by Chef Mireille
Classic Tomato Soup – This vegan Tomato Soup is so delicious enhanced with herbs and spices. It makes a quick and easy lunch with a grilled cheese sandwich or cheese quesadilla. Use vegan cheese if you want to keep the entire meal vegan.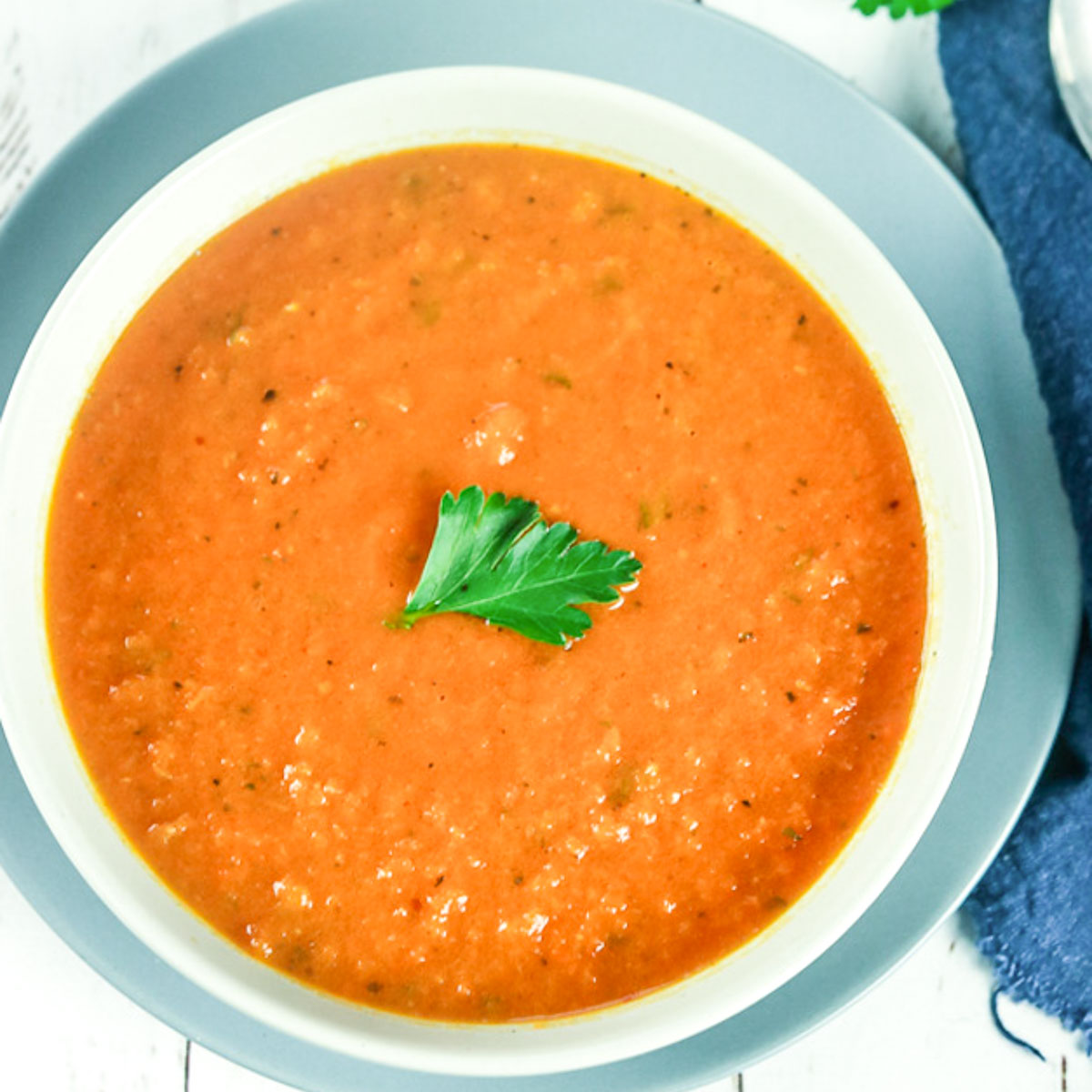 This post may include affiliate links.
Are you a tomato soup fan?
I had a HATE relationship with tomato soup for many years. When I was a child, I used to attend a summer day camp. I have many pleasant memories of the summers I spent at St. Gabriel's, but lunch was not one of them.
To keep the costs of summer camp reasonable, St. Gabe's took advantage of many free services that New York City offered at that time. One of these was free lunches to children during the summer. I think the city still provides this.
During the regular school year, I would bring lunch to school from home. My mom figured if I was getting a free lunch, that's great – less work for her right? At St. Gabe's, they would take us to a public school a few blocks away. We would all have to walk single file the few blocks to the cafeteria. Those poor teachers – I don't know how they managed to keep us safe on that daily walk.

Tomato Soup & Grilled Cheese Sandwiches is a classic American children's meal. However, when I tasted that tomato soup, I hated it. When I reflect on it now, I think all they did was dump a can of tomato sauce in a pot, thin it out with a little water and add some salt.
It was very bland and acidic.On the days when they served that horrible soup, I would have to double up on fruit and yogurt to keep me full until dinner. At the age of 8, I swore off tomato soup and it did not cross my lips for many years.
Just a few years ago, I was visiting a friend and she had made some tomato soup and I really had no interest in trying it, but she persuaded me and I really liked it. I realized my error in avoiding tomato soup for so many years.
It was not that I did not like tomato soup. I just did not like flavorless, bland soup. And who's bright idea was it anyway to feed kids hot tomato soup in the middle of summer after swimming?
If you are a tomato soup fan like I am now, you might like to try these other Tomato Soup variations.
Tomato Soup Recipes
Here's my version of this classic American combination that I actually NEVER ate as a child.
This is a great make ahead recipe that can easily be frozen for later.
Cream is often added to tomato soup, but my version is vegan without cream. If you would like to keep the whole meal vegan, use soy cheese in the quesadilla.
In my part of the world, most of the tomatoes in the supermarkets at this time of year are hothouse tomatoes, chemically ripened. For this reason, they don't have that much flavor and the natural sweetness of tomatoes is virtually non existent. At this time of year, canned tomatoes are a better alternative as they are picked at the peak of ripeness. For this recipe I used Hunt's whole tomatoes to infuse the best possible tomato flavor in this soup.
Have you tried instacart yet? It's how I get all of my fresh grocery items delivered within 2 hours!
HOW TO MAKE VEGAN TOMATO SOUP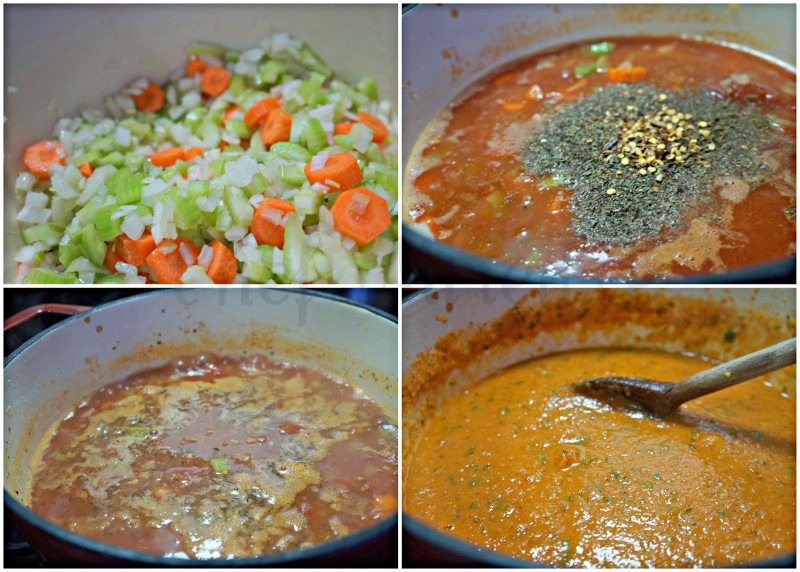 Now if the cafeteria would have served this tomato soup, I would have wholeheartedly devoured the whole soup.
Instead of the classic grilled cheese sandwich, pair this tomato soup with Cheese Quesadillas on corn tortillas, making the meal #glutenfree too!

Vegan Tomato Soup
A quick and easy tomato soup made without cream. This vegan tomato soup is perfect for lunch with a sandwich.
Ingredients
2

tablespoons

oil

2

cloves

garlic

chopped

2

onions

chopped

3

stalks celery

chopped

3

small carrots

peeled and chopped

1 28

oz.

can crushed tomatoes

1/2

teaspoon

dried oregano

1

teaspoon

dried basil

1/2

teaspoon

crushed red pepper

optional

1

teaspoon

paprika

2

tablespoons

parsley

finely chopped

2

teaspoons

salt

1 1/2

teaspoons

sugar
Instructions
Heat oil. Add garlic, onions, celery and carrots. Saute for a few minutes until softened.

Add tomatoes, 2 cups water, oregano, basil, crushed red pepper and paprika. Bring to a boil. Reduce to a simmer and cook for 20 minutes. Remove from heat and using an immersion blender, puree.

Add parsley, salt and sugar. Cook on low heat for another 5 minutes.
Notes
You can also use fresh tomatoes instead of the canned tomatoes but you might want to add something for color like a little ground turmeric.
This soup can easily be made in advance and frozen.
Nutrition
Calories:
121.29
kcal
|
Carbohydrates:
18.31
g
|
Protein:
3.19
g
|
Fat:
5.25
g
|
Saturated Fat:
0.45
g
|
Sodium:
529.12
mg
|
Fiber:
4.52
g
|
Sugar:
10.15
g
Did you try this recipe? Leave a comment below.
Please follow me on Instagram @chefmireille or tag me #chefmireille with your pics! I'd love to share them!
You might also like:
DO YOU YUM? SAVE IT BELOW!
Yum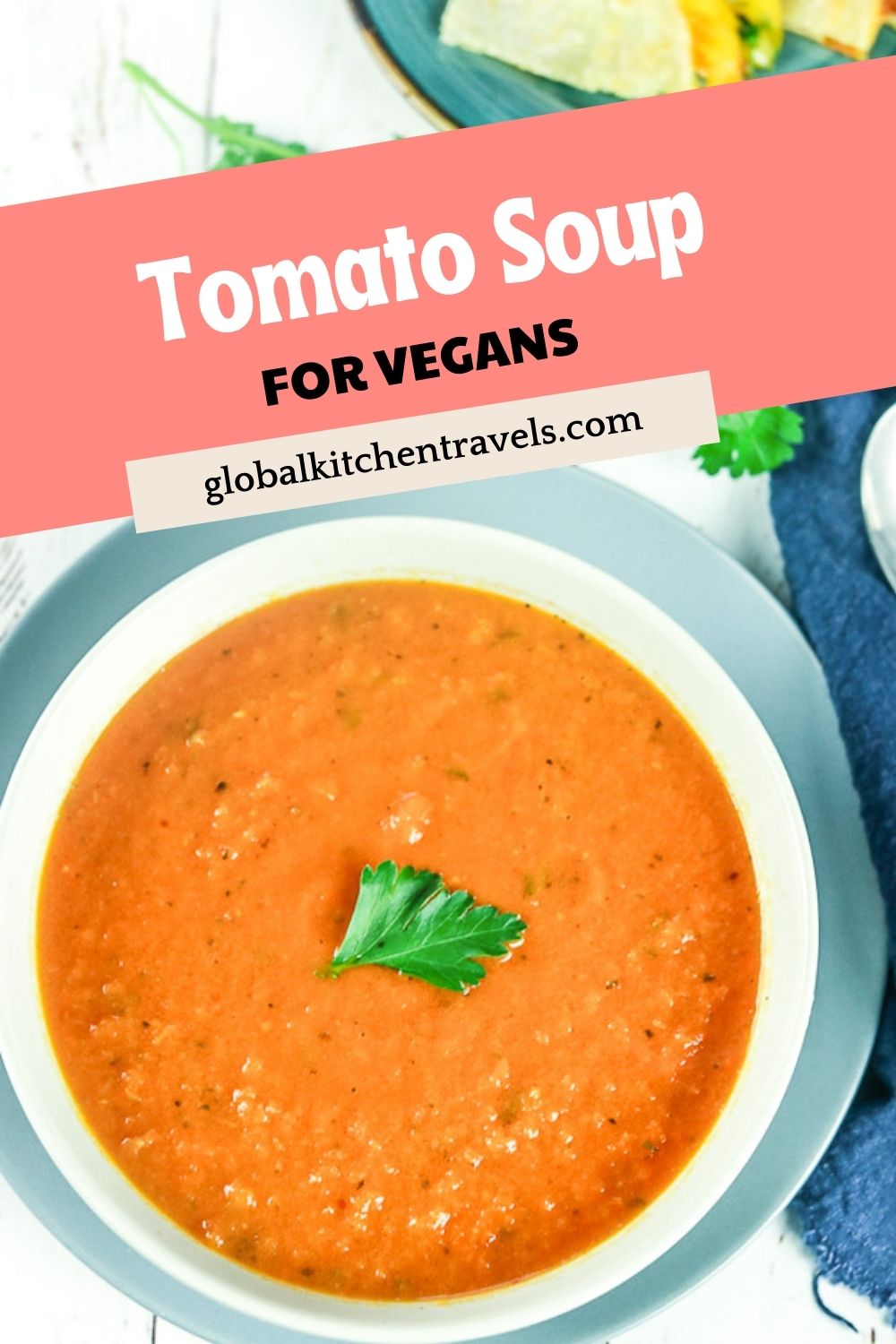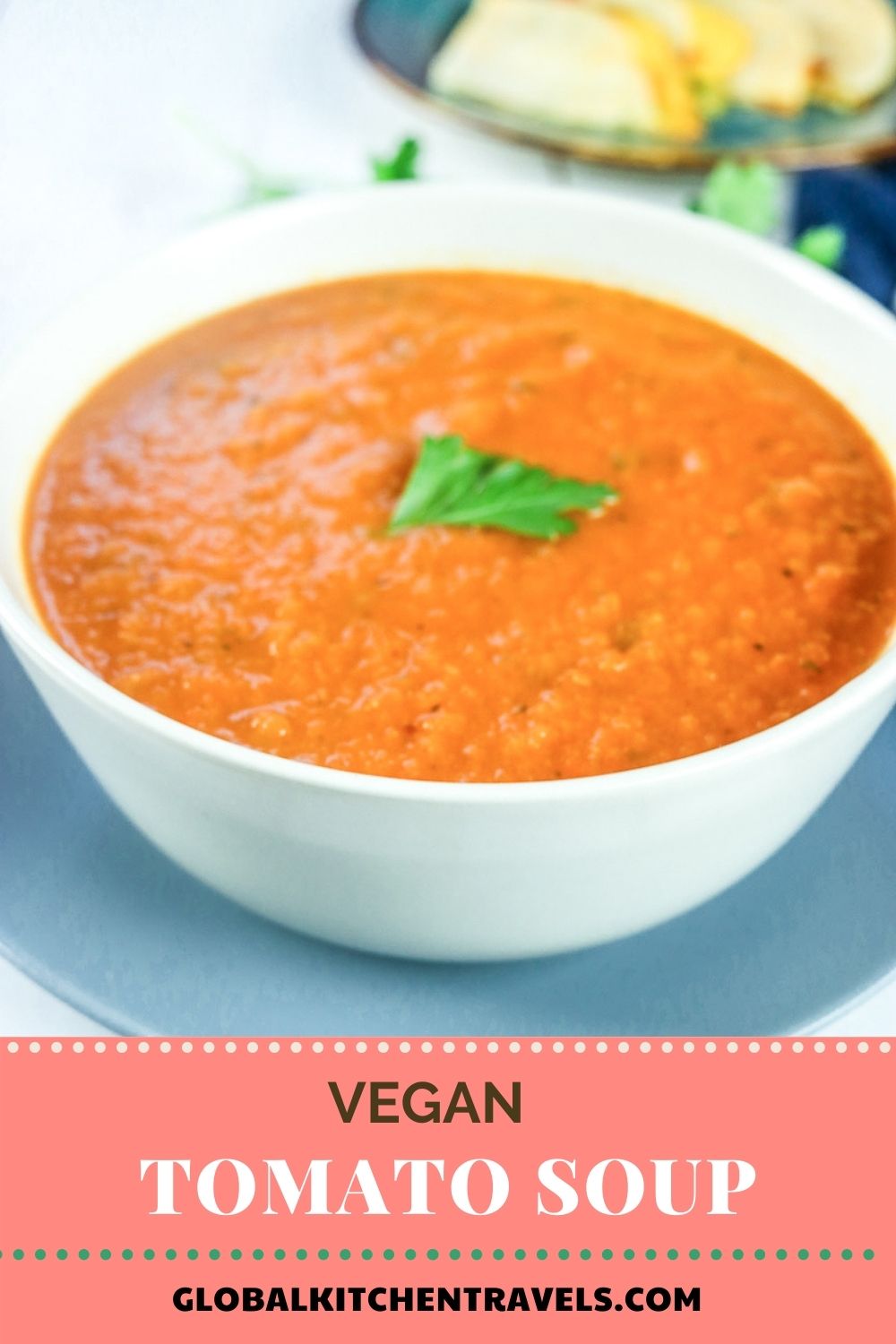 Don't forget to visit the RECIPE INDEX with over 1000 recipes from around the world including lots of Vegetarian Recipes and Gluten Free Recipes!