Last Updated on May 19, 2020 by Chef Mireille
Mom's Caribbean Chicken Soup
Caribbean Style Chicken Soup is very thick and closer to what most other people might refer to as a stew. The broth is made with pumpkin puree, so this is gluten free and dairy free.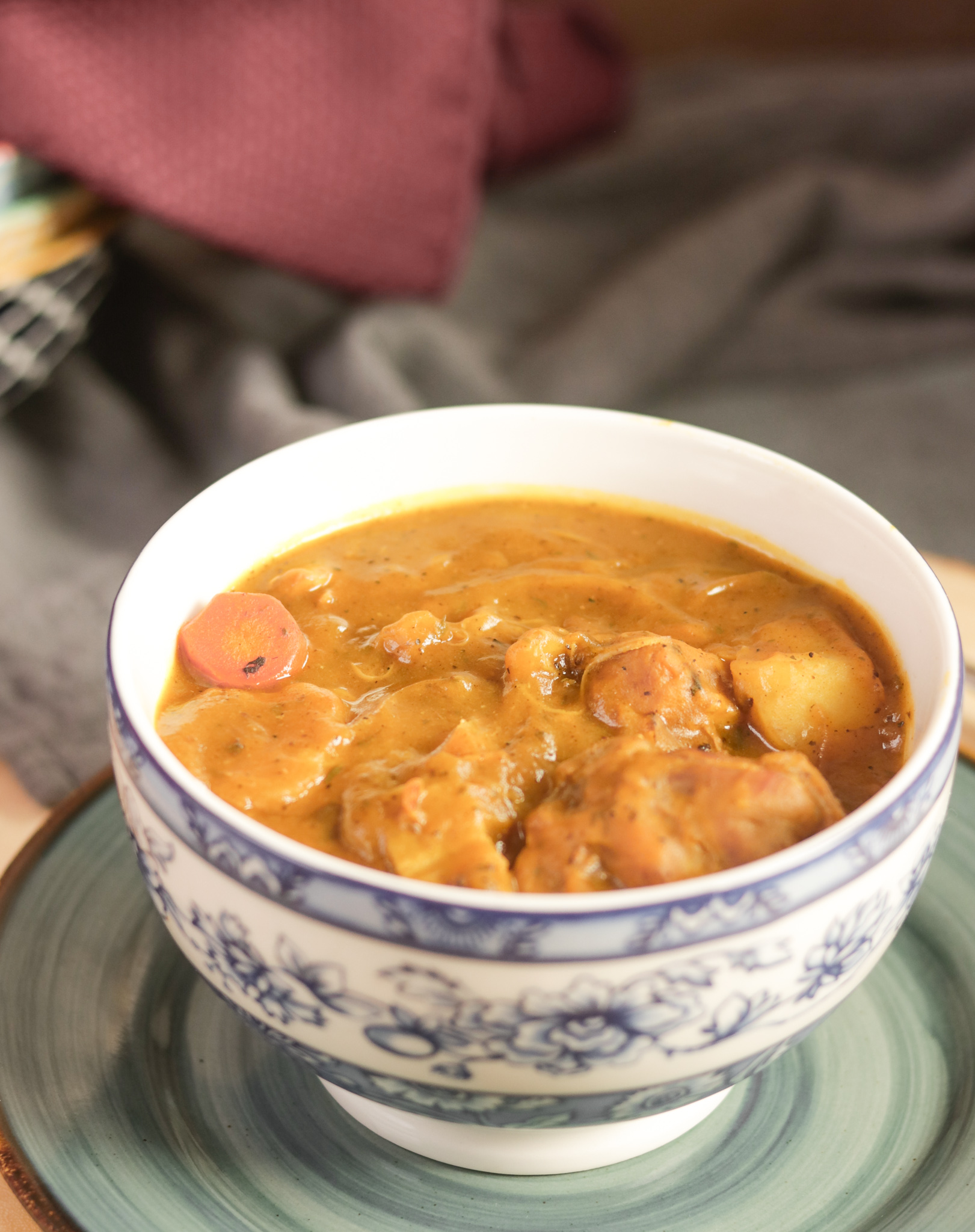 Every culture in the world has some form of chicken soup. In fact, in Jewish cultures, it is referred to as Mom's penicillin.
If you are used to American or western style Chicken Soups, you are going to find the Caribbean version very different. Instead of a thin brothy soup with chicken and noodles/rice and/or vegetables, this is a thick and hearty almost stew like consistency with filling root vegetables.
Before I get to the recipe, let's talk a little about the Caribbean.
Caribbean Geography
The Caribbean is comprised of a diverse set of islands. The similarities usually exist between the countries that were colonized by the same nation. Therefore, you may find foods ubiquitous on islands like Aruba, Curacao and Bonaire, all colonized by the Dutch.
You will find many similar foods on Puerto Rico, Dominican Republic and Cuba.
The most similarities exist between English and French colonized islands, with a few exceptions. Trinidad and Jamaica have the largest Indian descended populations, so Indian influence is strongest on these two islands, but not non existent on the other English and French colonized islands either.
There is some form of curry on most English and French colonized islands, with the exception of Haiti. Since they share the same island of HIspanola with the Dominican Republic, their cuisine is quite unique, with a lot of influence from the other side of the island.
One of my pet peeves is that Jamaican's often get all the credit for Caribbean Cuisine here in the United States. They are the largest Caribbean island with the largest population in the US.
The islands of the Lesser Antilles call their cuisine Antillean. This Antillean version of Caribbean Chicken Soup you will find very similar to the Jamaican Chicken Soup with recipes all over the internet, yet no one will be searching for Antillean Chicken Soup.
Therefore, I have to call it Caribbean Chicken Soup so that the people crawling the internet for this delicious soup recipe can find it!
With these traditional family recipes like my Mom's Caribbean Chicken Soup, my goal is for Antillean Cuisine to become as popular as Jamaican here in the US.
This is my Antillean mom's chicken soup recipe that I have been eating since I was a child. It's thick and hearty and a meal all on it's own.
What's a Soup?
A few weeks ago there was a discussion in one of my facebook groups that focuses on discussing international food topics and culture. Someone posted an article debating whether soup can be a meal on its own without any accompaniments.
The question seemed so strange to me, as I grew up with Caribbean soups like this one as well as Caribbean Corn Soup and Soup Jou Mou, thick and hearty. There is no question that it can be a meal on its own.
In the Caribbean, soup is not a first course, but the meal!
On occasion, when I make pureed soups like this Celeriac Parsnip Soup and I share it with my Mom, she will be looking for something to put on the spoon. When she finally realizes it's nothing but puree, she will remind me, "You know I still have all my teeth."
In the Caribbean culture, the only people who eat puree soups are babies and elderly who no longer have teeth.
It was such an interesting discussion as to what different cultures call a soup.
When I posted a photo of this soup to the group, they all told me that really should be called a stew. Well, don't tell my Mom that!
Now, before we get to the recipe, there's a few recipe notes to highlight!
Recipe Notes
This chicken soup should be made with chicken on the bone. There is so much more flavor in the bones. The chicken is cooked for quite a long period of time that most of the meat will just fall off the bone anyway. Regardless, Caribbean people don't mind getting their hands dirty eating the chicken off the bone.
Although I detailed in the ingredient list below which vegetables I utilized, most soups are made with a category of vegetables known in the Caribbean as ground provision. This can include any combination of potato, carrots, yam, breadfruit, green or ripe plantain, eddoe/colocassia/taro root, cassava/yuca, batata/sweet potato and/or green banana. Feel free to utilize whatever root vegetables are in your pantry. These vegetables can generally be found at Caribbean, Latin or Indian markets if your local supermarket does not carry them.
I used Kabocha pumpkin, but calabaza or even butternut squash could be substituted.
Cumin Powder – In this recipe, I used roasted cumin powder. It has a much smokier flavor profile than regular ground cumin powder. See link below to purchase online or you can easily make it yourself with whole cumin seeds. Simply roast in a dry skillet until the seeds become fragrant and start to change color. Grind to a powder using a coffee/spice grinder.
Cut the vegetables in varying sizes, according to their cooking time. For example, I cut the green plantain in half the size of the ripe plantain because they will take longer to cook.
This soup will thicken quickly as it chills. You will need to add additional water when reheating leftovers.
Although your family might call it a stew, I won't tell my Mom and you can still enjoy this Caribbean Chicken Soup!
I know this soup is going to have you wanting to explore more Antillean recipes, so check these out!
Antillean Recipes
Caribbean Chicken Soup
Antillean Style Caribbean Chicken Soup is filling and hearty, a meal on its own!
Ingredients
1 1/4

lbs.

pumpkin

kabocha or calabaza

2

lbs.

chicken pieces

drumsticks and thighs

salt and pepper

to taste

3

tablespoons

oil

1

onion

chopped

1

bell pepper

chopped

3

cloves

garlic

finely chopped

Scotch Bonnet pepper/Habanero

split in half

few

sprigs of fresh thyme

2

teaspoons

roasted cumin powder

4

skinny carrots

peeled and chopped

1

potato

chopped

1

green plantain

peeled and chopped

1

ripe plantain

peeled and chopped

1

teaspoon

parsley

or 2 tablespoons finely chopped fresh parsley

2

teaspoons

lime juice
Instructions
Peel pumpkin and deseed. Cut into large pieces.

Combine pumpkin pieces in a large pot with 6 cups of water. Bring to a boil.

Boil until fork tender, about 15 minutes.

Leave the pumpkin to cool for a few minutes.

Cut chicken pieces in half, using a meat cleaver or other strong knife that can cut through bone.

Season chicken generously with salt and pepper.

Transfer pumpkin and all of the liquid to a blender and puree.

In the same pot, heat oil.

Add onion, bell pepper, and garlic. Saute until the vegetables are softened.

Add chicken pieces and fry until it starts to brown.

Add pumpkin puree, 2 cups water, Scotch bonnet
and thyme.

Bring to a boil. Reduce to a simmer and cook for 30 minutes.

Add root vegetables and 2 cups more water. Bring to a boil.

Reduce to a simmer and cook until vegetables are cooked through, about 15 minutes.

Adjust salt as needed , parsley, and add lemon juice.
Notes
If you prefer your soup thinner, you can add more water as you like.
Nutrition
Calories:
336
kcal
|
Carbohydrates:
11
g
|
Protein:
23
g
|
Fat:
22
g
|
Saturated Fat:
5
g
|
Cholesterol:
85
mg
|
Sodium:
84
mg
|
Potassium:
621
mg
|
Fiber:
2
g
|
Sugar:
3
g
|
Vitamin A:
6658
IU
|
Vitamin C:
32
mg
|
Calcium:
41
mg
|
Iron:
3
mg
Did you try this recipe? Leave a comment below.
Please follow me on Instagram @chefmireille or tag me #chefmireille with your pics! I'd love to share them!
Don't forget to visit the RECIPE INDEX with over 1000 recipes from around the world including lots of Vegetarian Recipes and Gluten Free Recipes!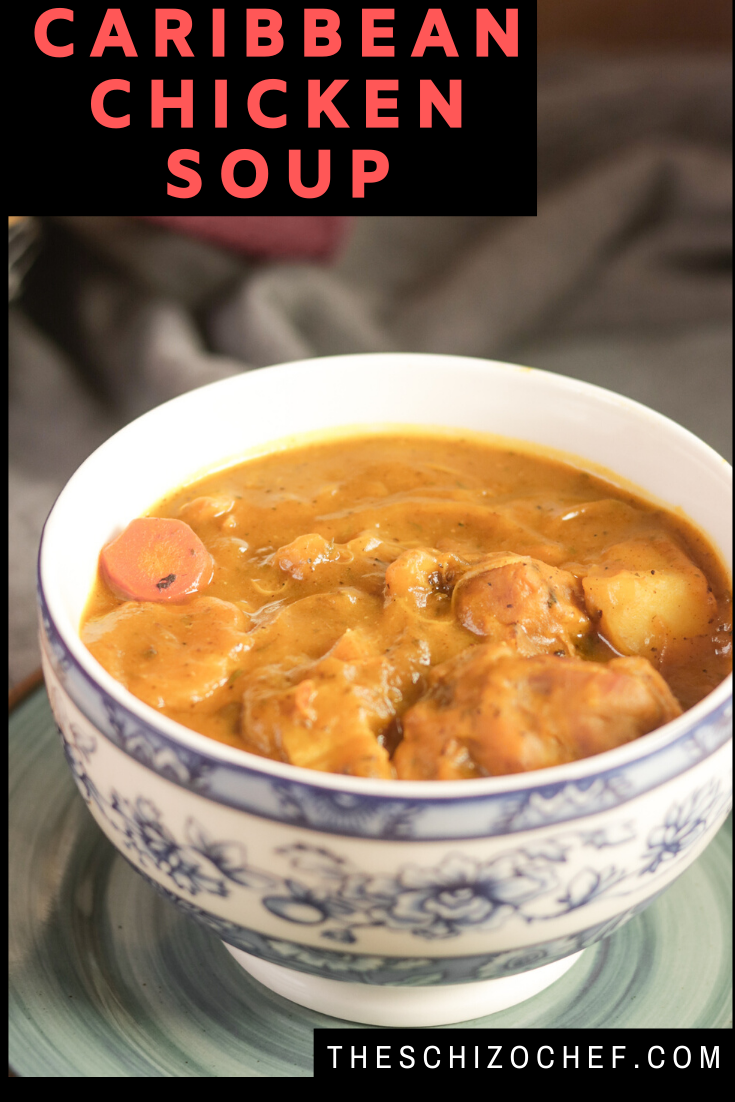 DO YOU YUM? SAVE IT BELOW!
Yum
Don't forget to visit the RECIPE INDEX with over 1000 recipes from around the world including lots of Vegetarian Recipes and Gluten Free Recipes!
This post may include affiliate links.
Check out the
Blogging Marathon page for the other Blogging Marathoners doing this BM#106