Last Updated on September 8, 2020 by Chef Mireille
Soup Jou Mou – Haitian Pumpkin Soup
Soup Jou Mou is a classic Haitian Pumpkin soup eaten every New Years Day to also celebrate their Independence Day. Although traditionally made with beef, this goat version is just as delicious!
You can also explore more traditional Haitian Recipes here.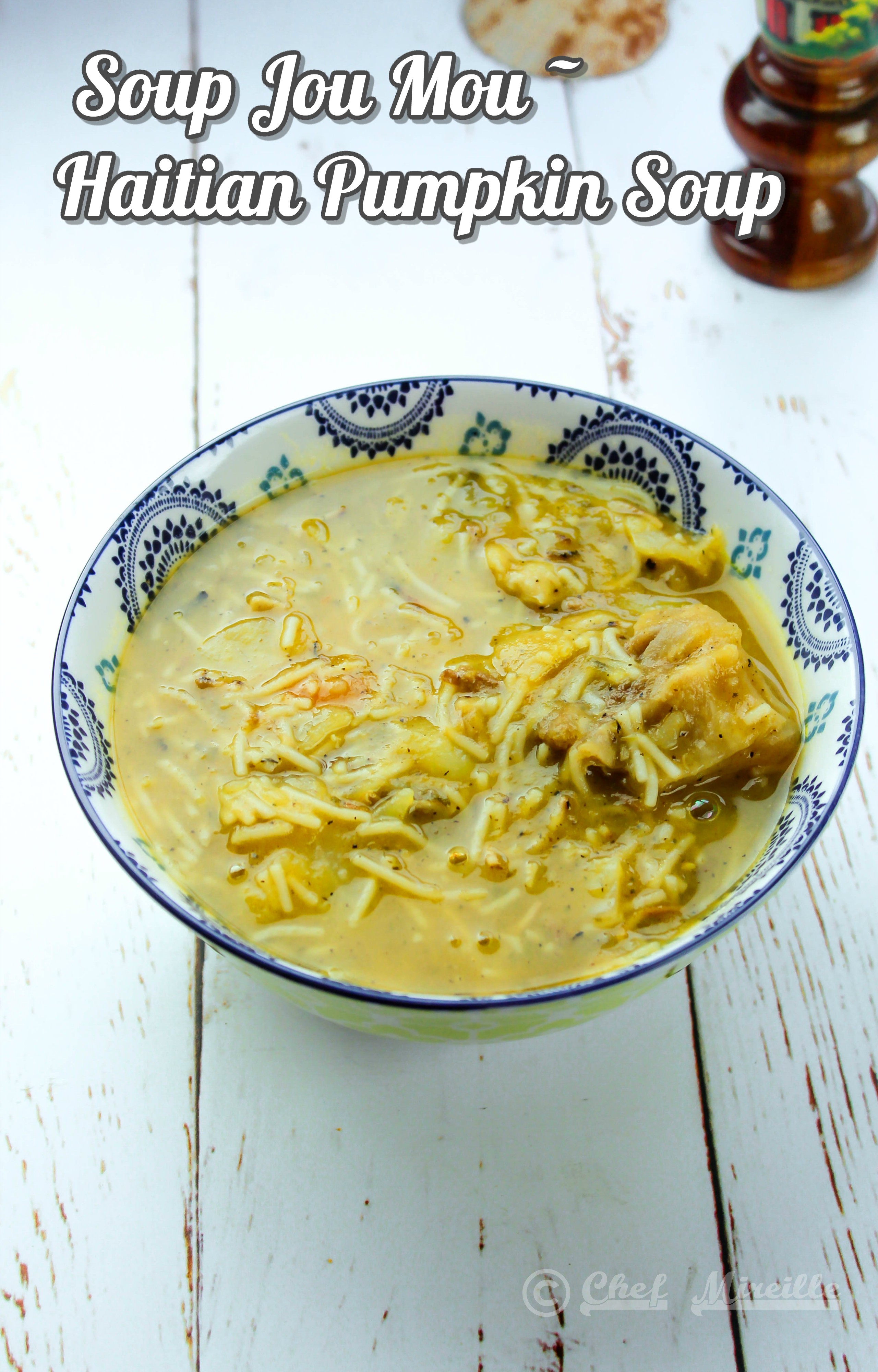 Haitian History
On January 1st, Haitians celebrated their Independence Day. This is one of the most celebrated holidays in Haiti. Haitians are extremely proud of their history and independence, being the first independent black country in the world. After the first successful slave revolt in 1791, the slaves gained control of most of the island. Although it would take 12 years, they eventually won their independence from France in 1804.
I am ½ Haitian and much of the Haitian food I grew up eating was made by my Mom, who is not Haitian. She learned the recipes from my Dad's sisters and often put her own twist on them. This is not necessarily the most traditional versions of Soup Jou Mou, but this is the version I grew up eating. My Mom only made it once a year, but when she did, she would make 2 huge pots of it and this is all I ate for breakfast, lunch and dinner for an entire week. I loved it so much I didn't mind eating nothing but Soup Jou Mou for a whole week. Even my Dad would get sick of it after a few days and would make something else, while I was still drinking Soup Jou Mou.
Soup Jou Mou is how Haitians celebrate their Independence Day. While the soup itself is not spicy, we add spice by serving it with picklese (a spicy pickled vegetable condiment – check the recipe here)
Before the critical Haitian purists start attacking me, yes it is most traditional to make it with beef, however with my Indian heritage family on my Mom's side of the family, I prefer this version made with goat meat instead.
Are you a fan of the rich and luscious flavor of goat meat? Try some other goat recipes!
Goat Recipes
IN THE MAKING – HOW TO MAKE SOUP JOU MOU
Would you like to try out some more traditional Haitian recipes? Check out these Haitian Recipes!
Soup Jou Mou – Haitian Pumpkin Soup (with a twist)
Classic New Years Day Haitian soup traditionally made with pumpkin and beef, but this innovative version is made with goat.
Ingredients
2

lbs.

goat meat with bone

5

scallions

4

stalks celery

sprigs of fresh thyme

A small handful of parsley

2

garlic cloves

1

teaspoon

black peppercorns

1

tablespoon

salt

2

lbs.

peeled and seeded pumpkin

cut into large pieces

1

chopped onion

¼

cup

vinegar

1

large carrot

9 oz., cut into large pieces

2

potatoes

22 oz., cut into large pieces

3

cups

chopped cabbage

1

cup

vermicelli

Salt and ground black pepper to taste
Instructions
Cut the scallions and celery into a few large pieces. In a large pot, combine goat with scallions, celery, thyme, parsley, garlic, peppercorns and salt. Add enough water to cover. Bring to a boil. Reduce to a simmer and cook for 2 hours.

Add pumpkin and cook until just cooked, about 15 minutes. Remove pumpkin pieces with a slotted spoon or a spider.

Turn off heat and drain meat, reserving liquid. Separate meat from vegetables. Discard vegetables.

Transfer pumpkin to a blender with a little bit of the liquid and puree until very smooth.

Return the drained broth, meat and pumpkin puree to the pot. Add onion, vinegar, salt and pepper. Cook for about 20 minutes until the soup has thickened a bit.

Add carrots, potatoes and cabbage. Simmer for 20 minutes, until the vegetables are cooked through.

Add vermicelli and simmer another 5-10 minutes, until cooked.

Adjust salt and pepper, as necessary.

Serve with picklese.
Nutrition
Calories:
473
kcal
|
Carbohydrates:
42
g
|
Protein:
24
g
|
Fat:
23
g
|
Saturated Fat:
9
g
|
Cholesterol:
81
mg
|
Sodium:
1020
mg
|
Potassium:
1042
mg
|
Fiber:
4
g
|
Sugar:
5
g
|
Vitamin A:
11037
IU
|
Vitamin C:
29
mg
|
Calcium:
91
mg
|
Iron:
5
mg
Did you try this recipe? Leave a comment below.
Please follow me on Instagram @chefmireille or tag me #chefmireille with your pics! I'd love to share them!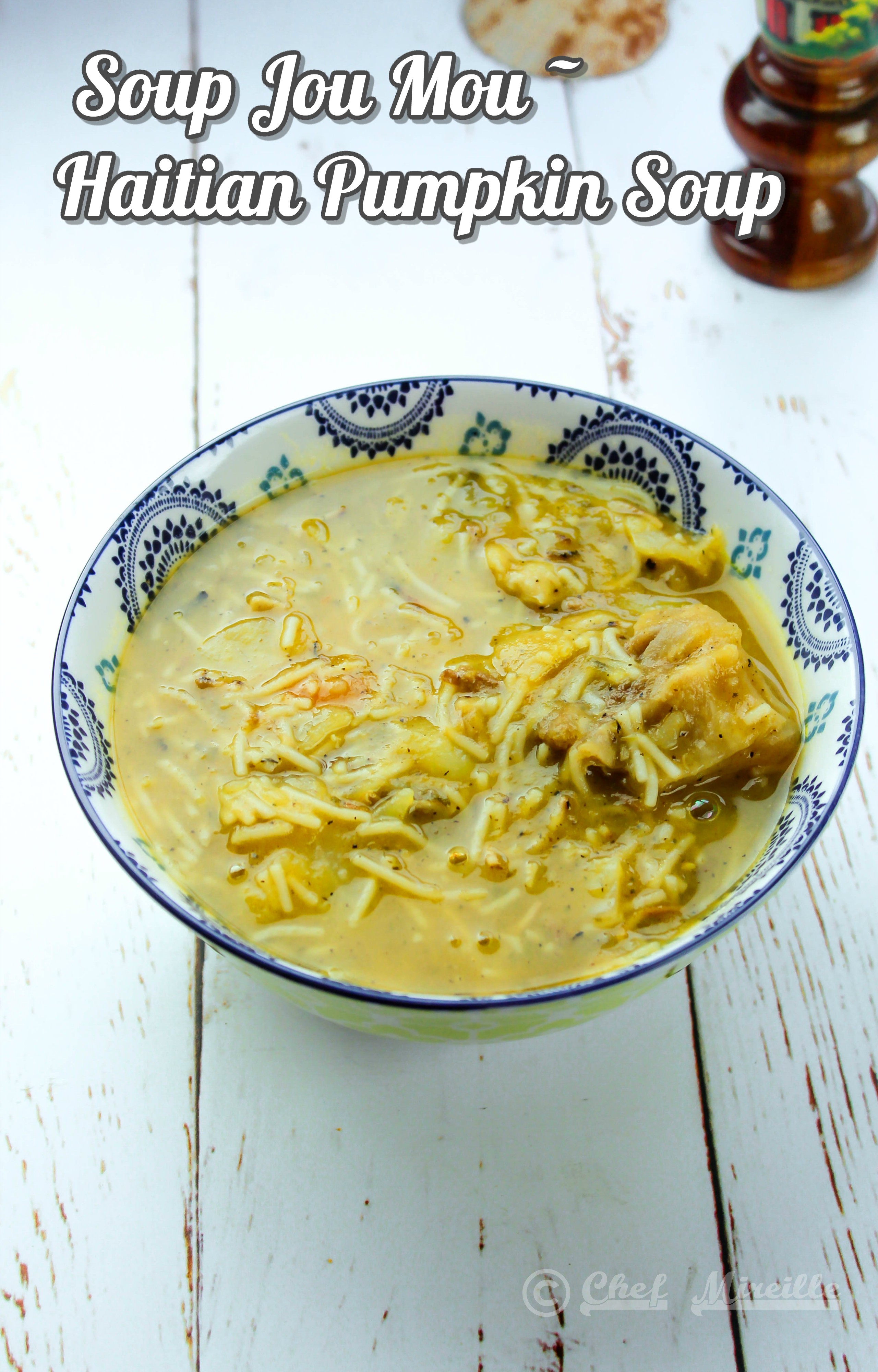 Need more culinary inspiration? Check out the Recipe Index with over 1500 Recipes from Around the World with lots of Vegetarian 🥕🍆🍅and Gluten Free Recipes!
This post may include affiliate links.