Last Updated on December 21, 2022 by Chef Mireille
This post may include affiliate links.
So what is every Haitian person making on January 1st? Every Haitian family has a Soup Jou Mou Recipe that they make every New Year's Day to celebrate Haiti's independence day on the same day. It is a hearty soup made with pumpkin, beef, pasta and root vegetables. No family makes it the same way and no two recipes are the same.
Once you try Haitian New Year Soup, it will become a family tradition for you also because no one can resist this delicious Haitian Soup Joumou.
Don't forget to check out more delicious Haitian cuisine by checking out my other Haitian Recipes here. Explore the delicious cuisine of the first independent black republic in the world.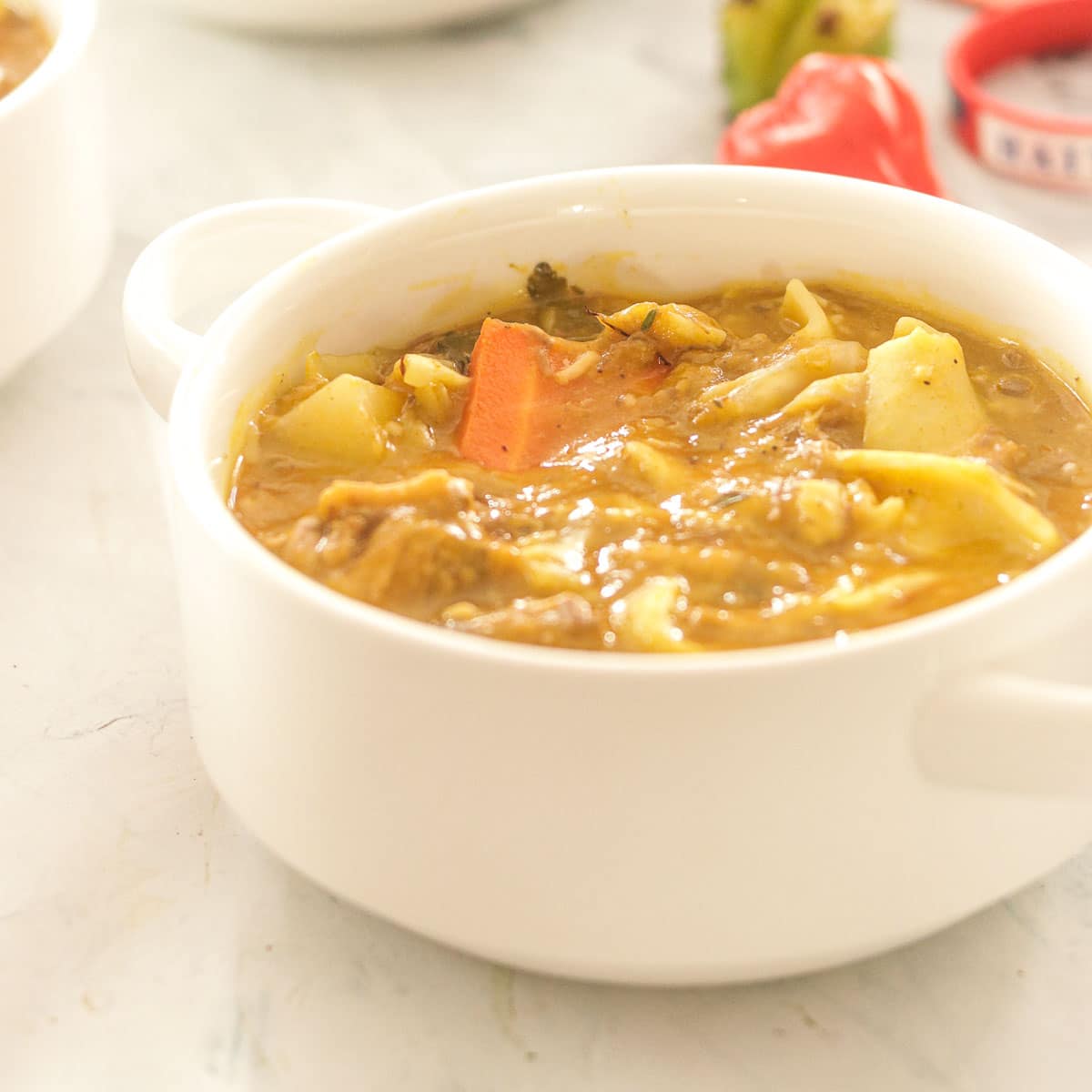 Pumpkin Soup is probably one of the most popular soup recipes on most Caribbean islands like this Antillean style Pumpkin Soup. BUT this is no ordinary Pumpkin Soup. This is a Haitian recipe that has achieved cultural heritage status. No matter where they are living in the world be it New York, Miami, France or anywhere else – every person part of the Haitian diaspora makes Joumou Soup on Haitian Independence Day.
Soup Jou Mou is not just a soup. It is a symbol – of freedom, of liberation, of independence! Not only is Haiti the first independent black republic in the world, but also the first country in the world to outlaw slavery.
When we make our soup jou mou recipe on New Year's Day, all of the pride of our history is ingrained in the labor of the soup. While you may look at the recipe and see a laundry list of ingredients and think it seems like a lot of work.
Since it was an outlawed soup prior to independence, it is a labor of love as it celebrates the resilience of the Haitian people. Haitian Soup Joumou is our Freedom Soup.
History of Haitian New Year Soup
So why is the soup jou mou recipe so revered and why was it outlawed?
When Haiti was under French rule, Soup Joumou was enjoyed by the colonizers and the aristocracy. Although it was the enslaved people who made the soup, they were not allowed to eat it. It was regarded as too elegant and refined for them (although they were the ones cooking it)!
When Haiti achieved it's independence on January 1st, 1804, Haiti became the first republic and only one to date to have successfully revolted against their slave masters and won! It is reputed that General Dessalines told the people to go home and make the forbidden soup. This is how Soup Jou Mou became a symbol of Haitian independence, liberation, pride and dignity.
History in a bowl of delicious soup!
DID YOU KNOW?
Did you know that the majority of Haitians can trace their roots back to the Dahomey Kingdom – the all female tribe portrayed in the film The Woman King?
Recipe Notes
Although beef is the most common primary meat ingredient in the soup, variations can also include goat meat, ox tails, chicken or turkey. Beef shanks are often used because the bones. Whichever combination of meats you use, at least some of the meat should include bones. It's in the bones where the flavor is!
Calabaza squash or Kabocha squash are the most common types of West Indian pumpkin used to make the Soup Jou Mou recipe, however, in the U.S., many people make it with butternut squash as it may be easier to source.
Other root vegetables like batata (white sweet potatao), malanga or parsnips can be used. Also, some people may add leeks along with the celery.
Some people add a tablespoon or two of tomato paste to cut the sweetness of the pumpkin, however that was never done in my family.
Don't cut your vegetables too small. You want them in large pieces so that they don't break down too much during the cooking process.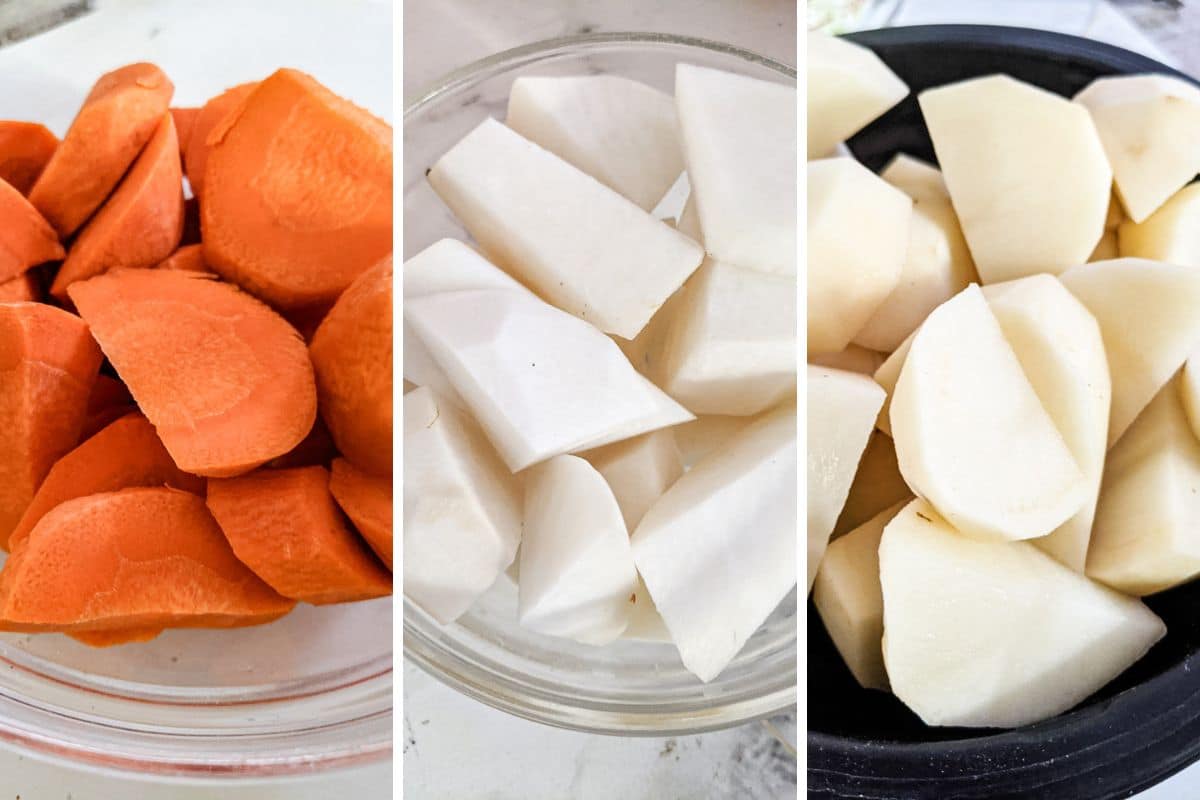 Frequently Asked Questions
Do I have to clean the meat?
I know there is a big debate in America where it is recommended not to clean your meat. Do NOT tell any Caribbean person this. We clean our meat very well. Chicken juices are not splashing everywhere because we do it in a bowl and then the sink is sanitized with vinegar. Follow the instructions here and clean your meat properly.
Do Haitians make Soup Jou Mou only on New Year's Day?
Soup Jou Mou is often made for special occasions and Sunday dinner although it is more common to have Haitian Bouillon (another soup) for Sunday dinner. However, Soup Jou Mou is not reserved only for January 1st.
Can I make a Vegetarian Soup Joumou?
Yes simply omit the meat. Since the soup already includes so many vegetables, it will remain a filling delicious soup even without the meat.
Suggested Tools
Soup Joumou Ingredients
stew beef (beef chuck)
turkey neck
Creole seasoning
Epis seasoning
bouillon cube
ground turmeric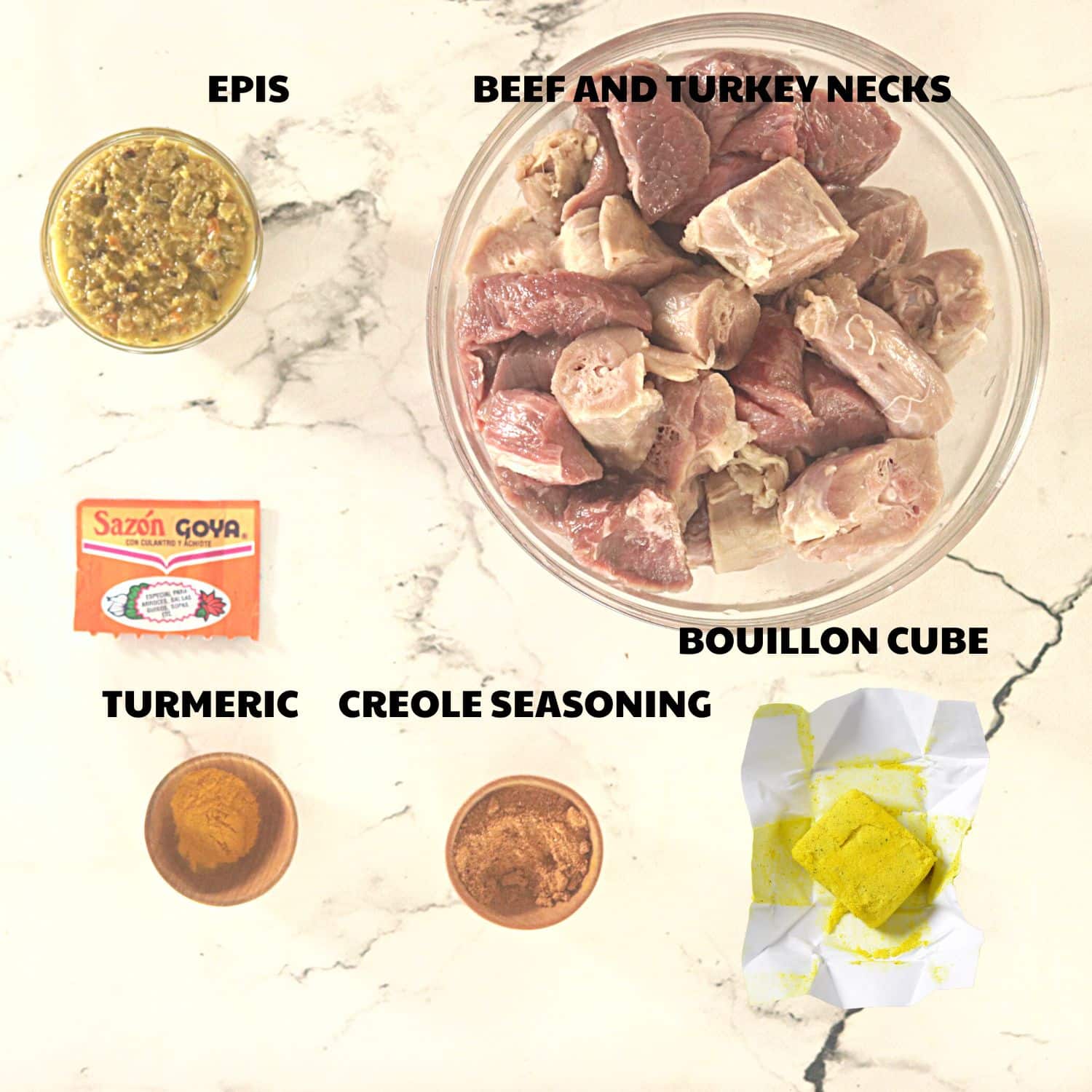 bell pepper
Scotch Bonnet pepper (Habanero pepper)
cloves
fresh thyme
fresh parsley
garlic
celery
scallions (green onion)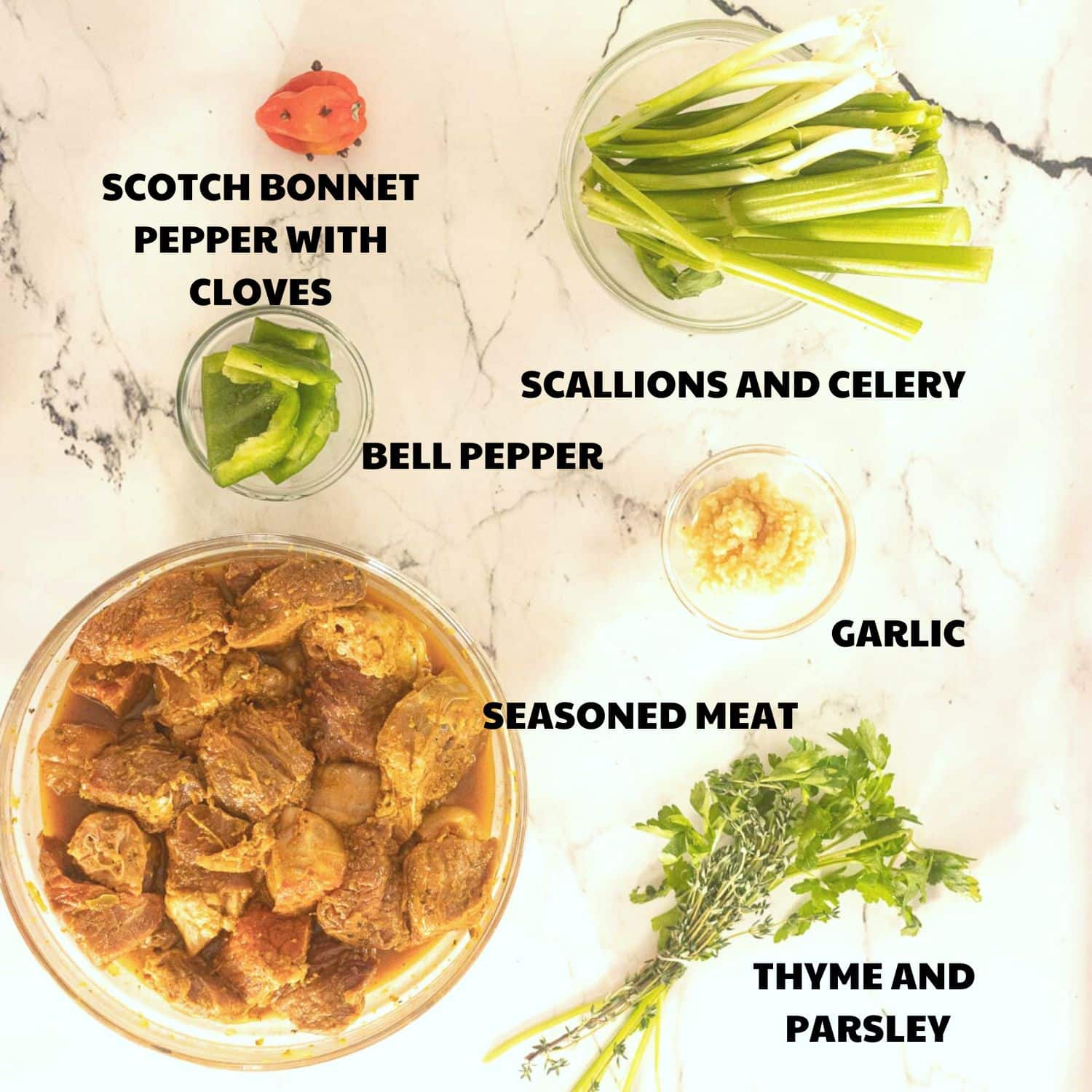 calabaza/ kabocha pumpkin (or butternut squash)
cabbage
carrot
potatoes
turnip
watercress (or a few leaves of dandelion)
penne pasta or ziti
vermicelli (or spaghetti)
fresh lime juice, sour orange juice and/or vinegar (to clean the chicken)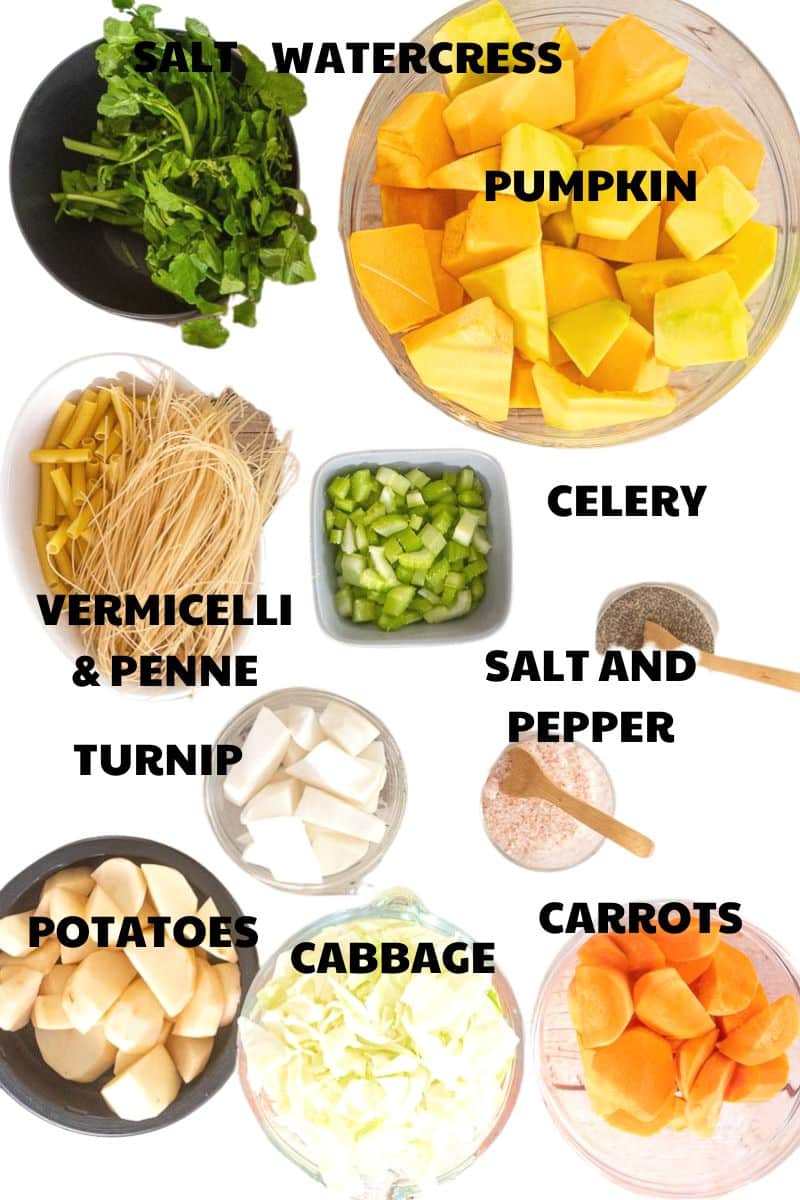 How to Make Haitian Squash Soup
Clean your meat, following the same procedure on How to Clean Chicken here.
Marinate the meat with the epis, Creole season, bouillon cube and turmeric. It is best to marinate overnight.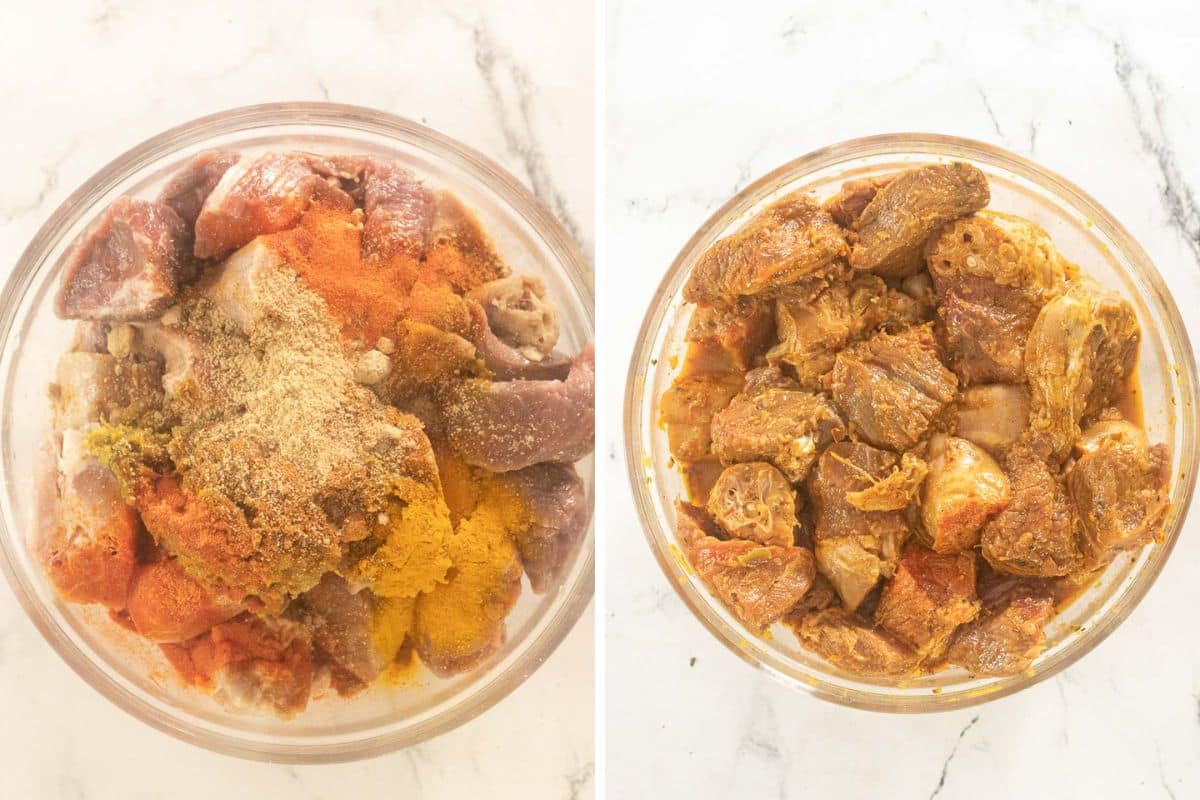 Stick the cloves throughout the hot pepper.
Using kitchen twine, tie the parsley and thyme together.
Simmer the meat in a large stock pot or Dutch oven with the green pepper, hot pepper, thyme, parsley, bottom half of celery stalks, garlic and scallions and enough water to cover.
Cook the meat until it is quite tender. Remove the vegetables and discard.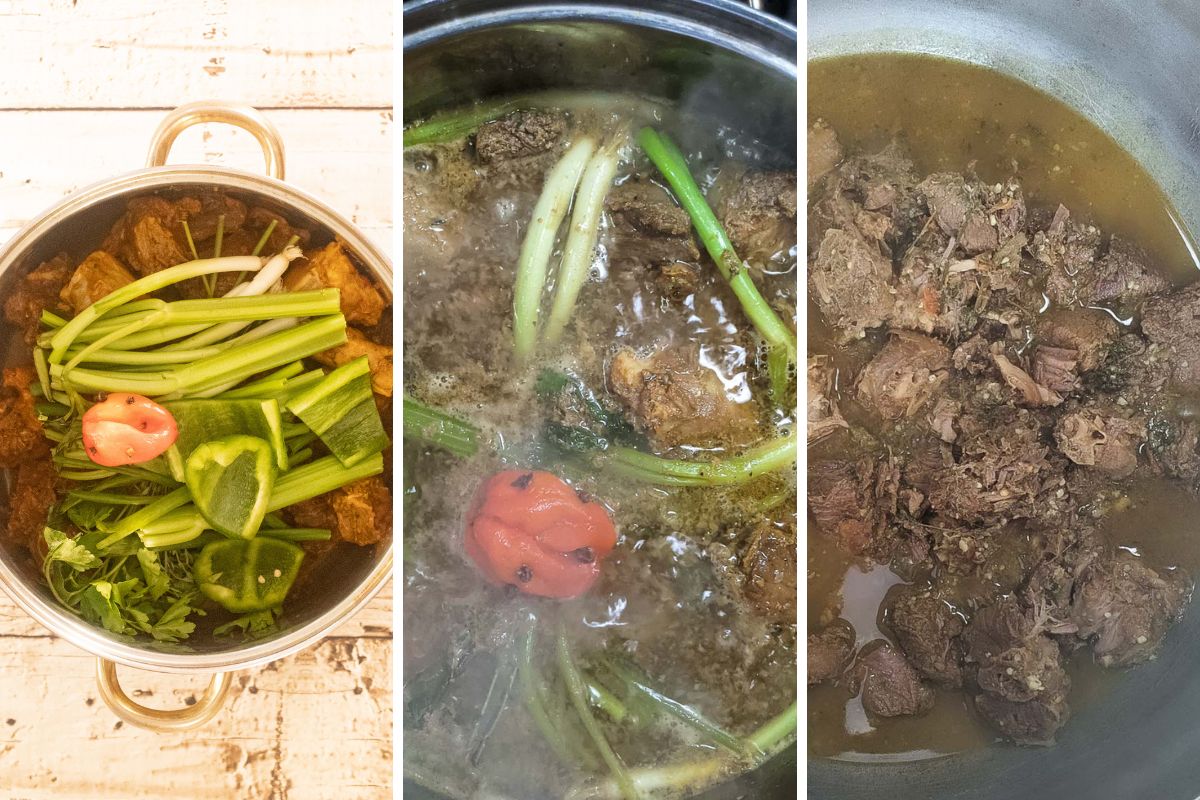 Cook the pumpkin in water until very soft.
Puree the pumpkin in a blender until very smooth.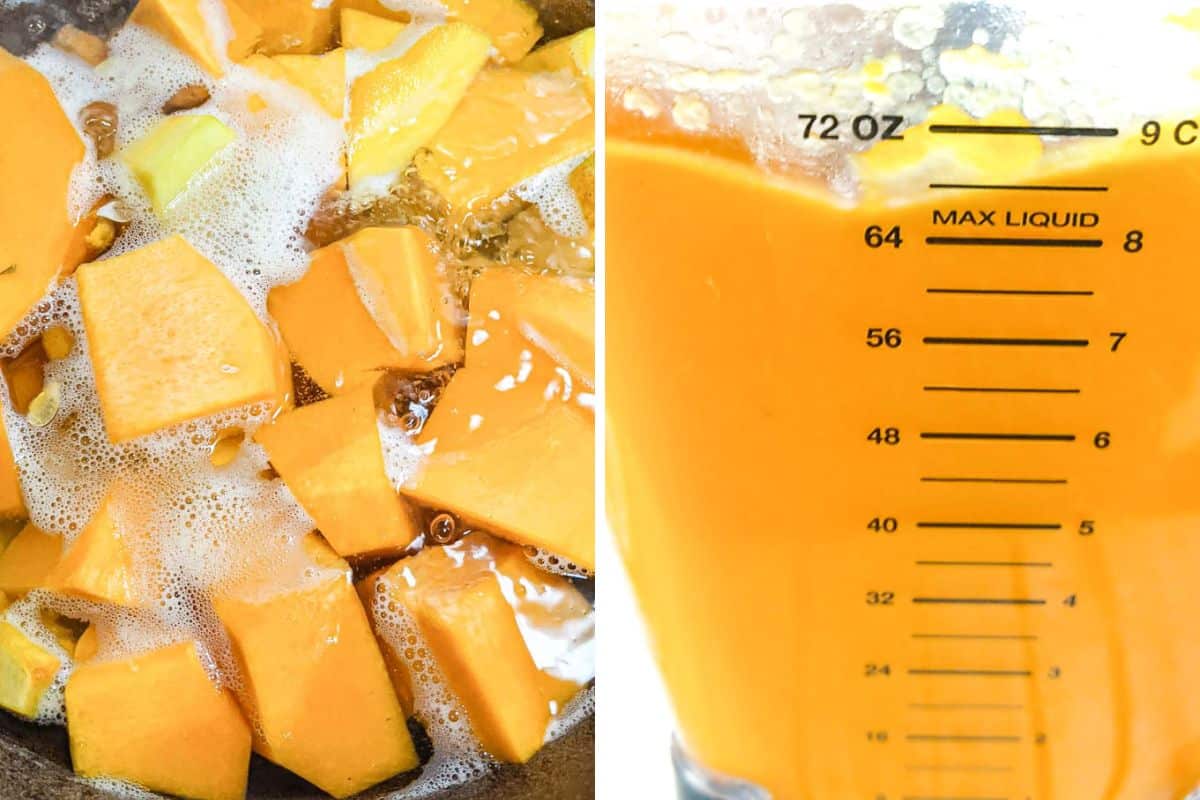 Add the pumpkin puree to the pot, salt and black pepper and mix well.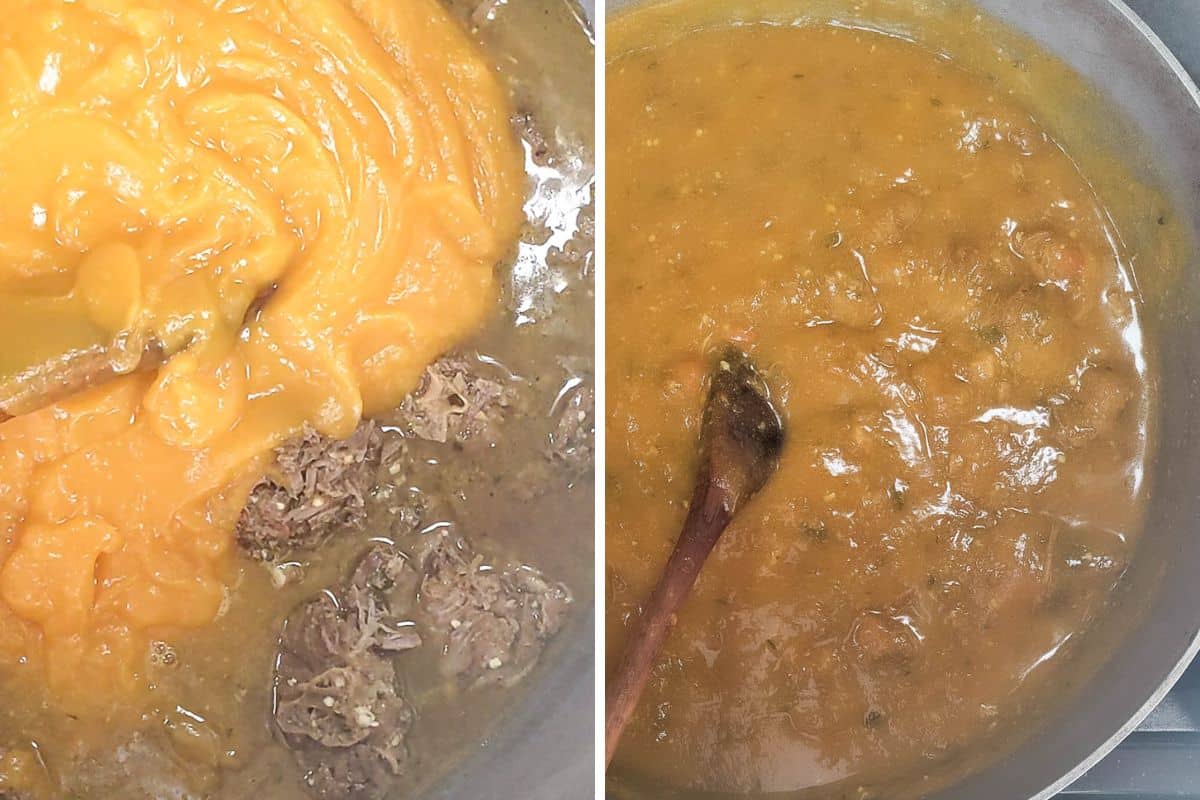 Add your root vegetables and simmer until cooked.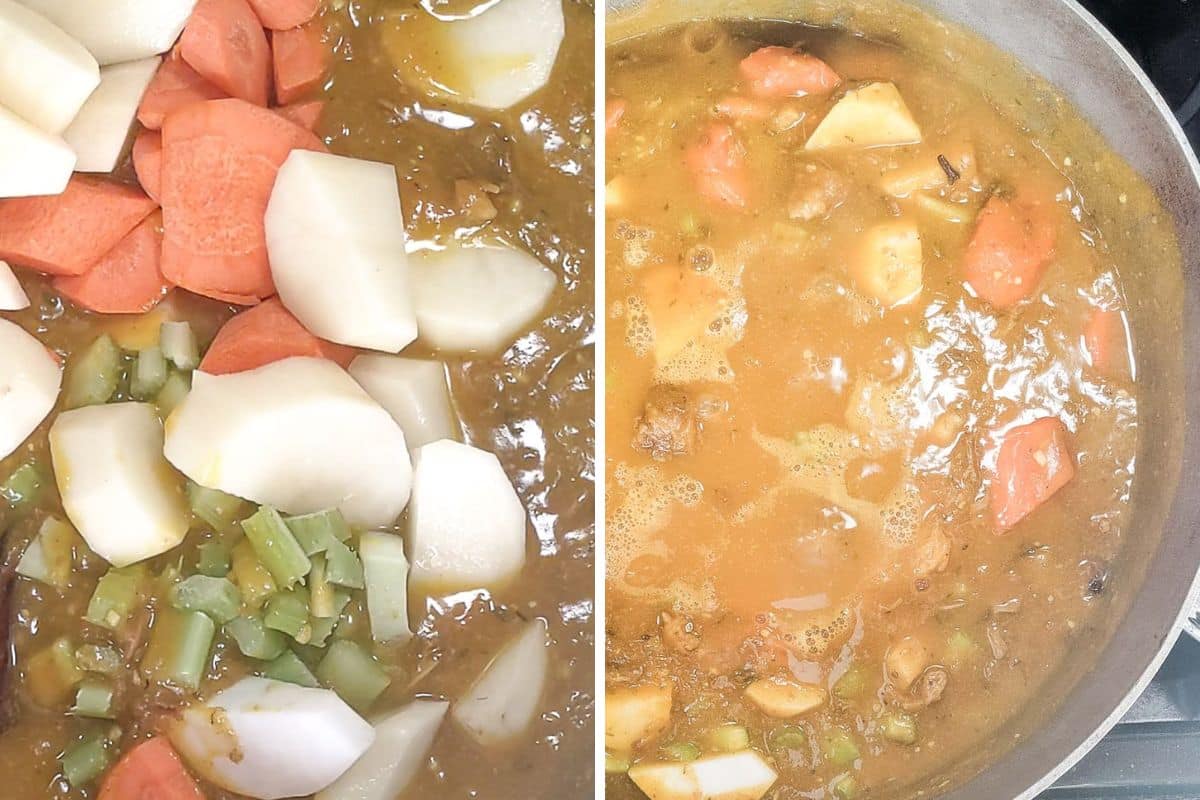 Add the cabbage and pasta and cook for another 15 minutes.
Add the watercress and cover. Turn off the heat. The residual heat will cook the watercress.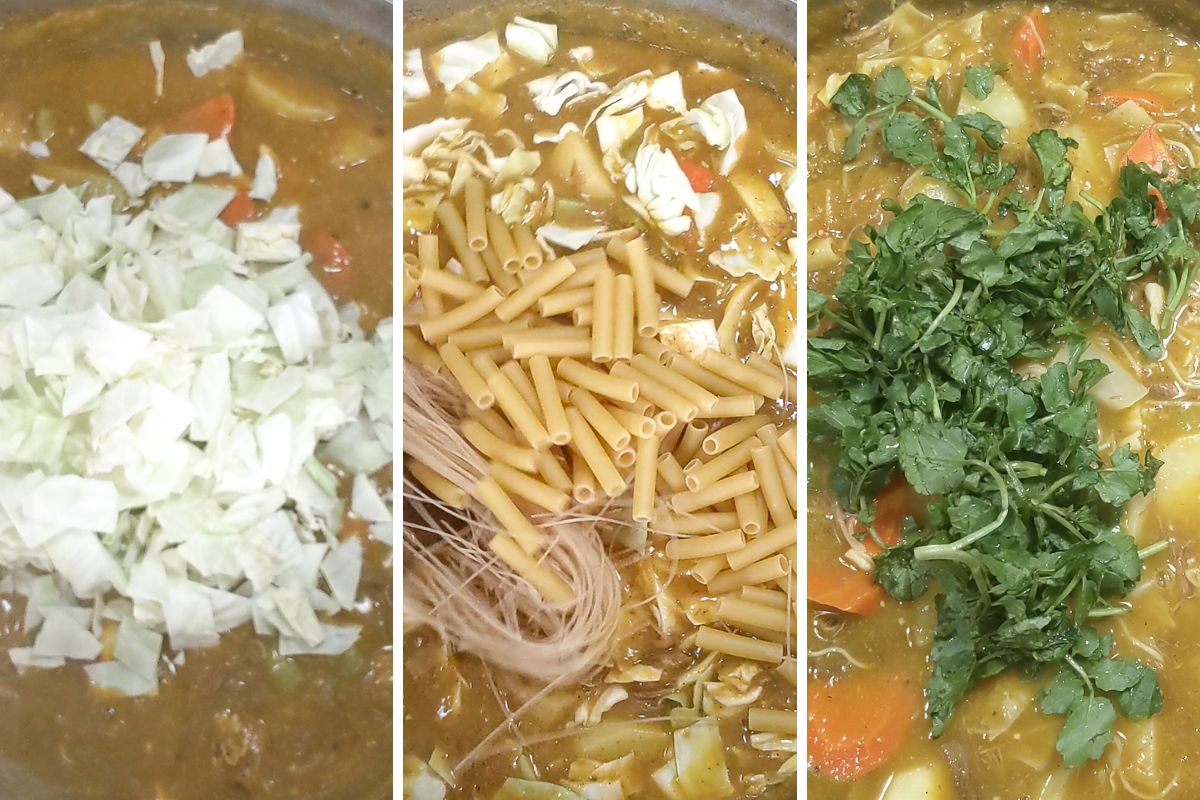 Squeeze the juice of 1/2 lime and adjust seasoning, as needed.
Now unlike any other Pumpkin Soup or Squash Soup, this is a hearty bowl of soup that can be eaten all on it's own. Sometimes it may be eaten with bread but that is all.
If you want to add more pepper, then we add pikliz to it.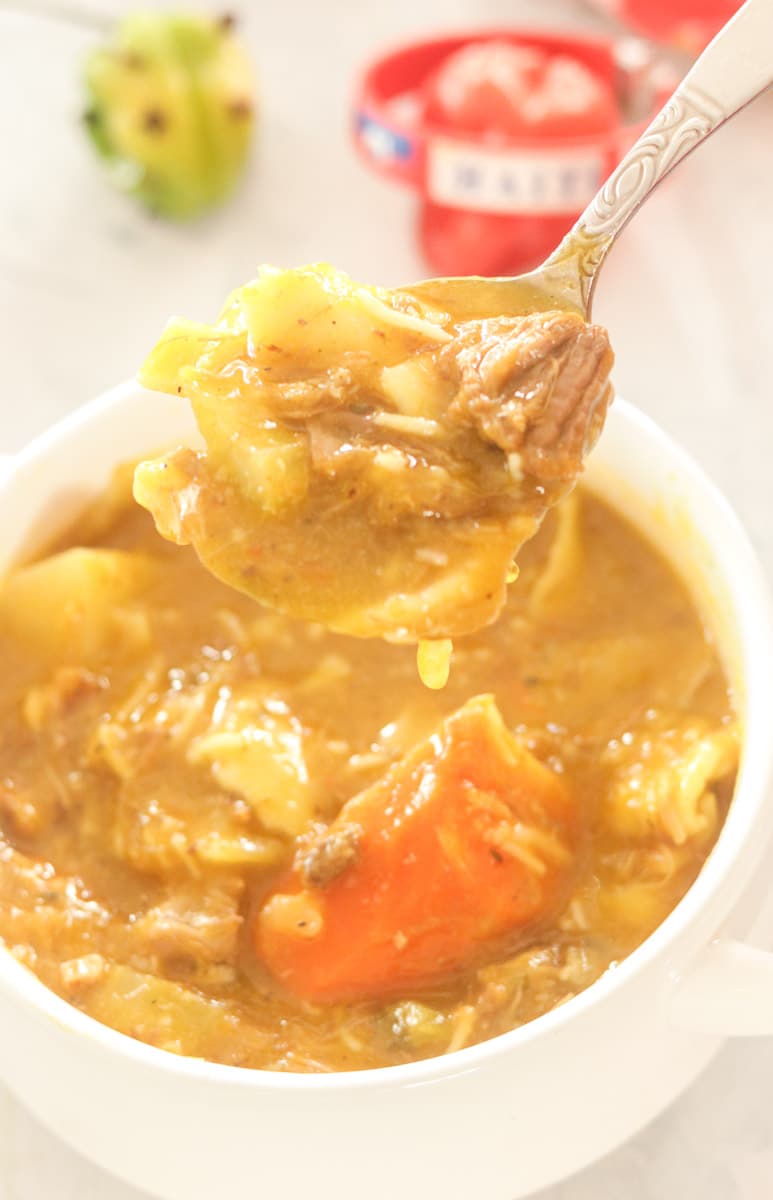 So when a Haitian person says Happy New Year while offering you a bowl of pumpkin soup, realize they are offering you a sample of their history, culture, pride and a glimpse into the spirit and the resilience of the Haitian people.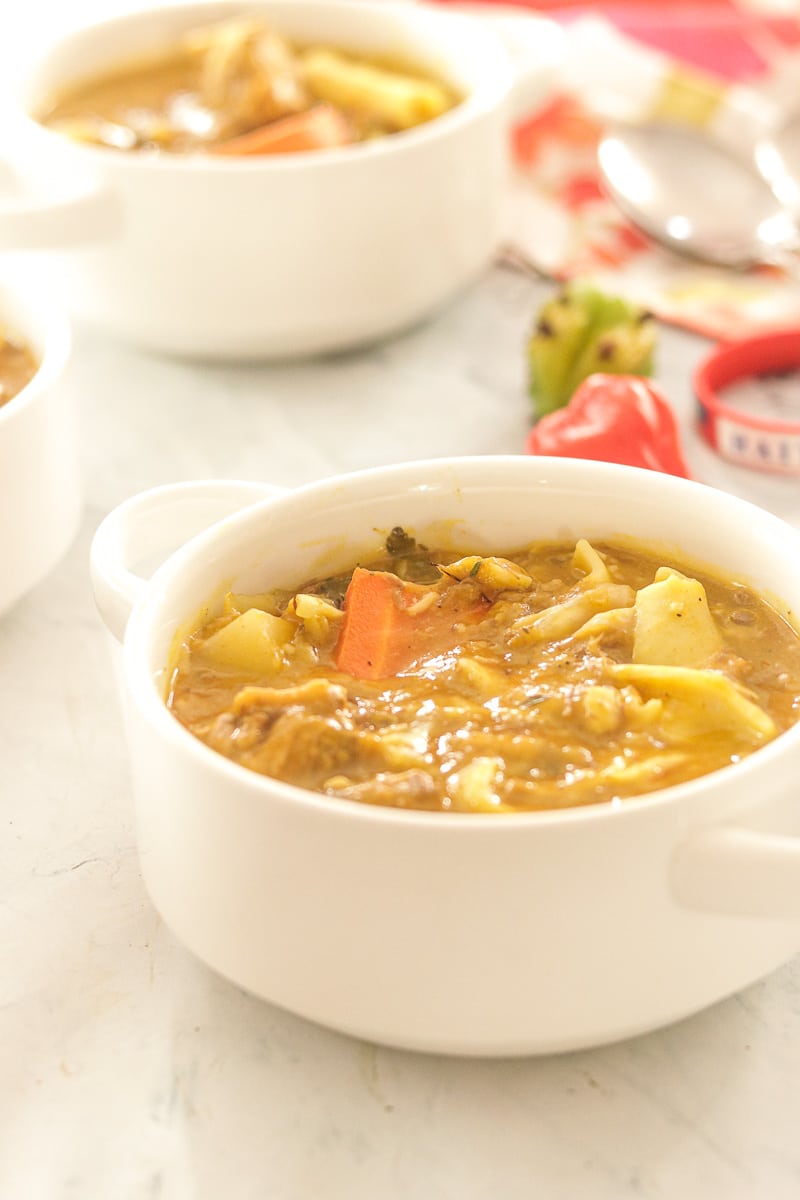 Will you be starting the new year with a bowl of Soup Joumou?
Would you like to try out some more traditional Haitian recipes? Check out these Haitian Recipes!
Soup Jou Mou – Haitian Pumpkin Soup
Classic New Years Day Haitian Soup made to celebrate Haitian Independence Day. A hearty bowl of meat, vegetables and pasta.
Ingredients
Marinade Ingredients:
2

lbs.

Stew beef

1 ½

lbs

turkey neck

1

tablespoon

Creole Seasoning

½

cup

Epis seasoning

1

bouillon cube

1

teaspoon

ground turmeric
Meat Ingredients:
½

green bell pepper

1

Scotch Bonnet pepper

10

cloves

A few sprigs of fresh thyme

A few sprigs of fresh parsley

4

celery stalks

bottom half only

6

scallions

2

tablespoons

finely chopped garlic
Soup Ingredients
4

lbs.

Pumpkin

1

teaspoon

ground black pepper
salt

to taste

4

stalks celery

top half

4

cups

chopped cabbage

11 oz.

1

large carrot

10 oz.

2

large potatoes

22 oz.

½

turnip

6 oz.

1/2

bunch watercress

2 oz.

5

oz.

penne

2 cups

2

oz.

vermicelli

lime juice

optional from 1 lime
Instructions
In a large bowl, combine the stew beef and turkey necks.

Add the Creole seasoning, Epis, and turmeric. Crush the bouillon cube into the bowl.

Mix this until well combined.

Cover with plastic wrap or transfer to a ziploc bag and keep in the refrigerator. It is best to marinate overnight, but at the bare minimum, marinate for 1 hour,

In a very large stock pot or caldero (cauldron pot), Add the meat and all of its juices.

Stick the cloves inside of the Scotch Bonnet pepper and add to the pot.

Using kitchen string, tie the thyme and parsley together. Add this to the pot.

Add the bottom half of the celery stalks to the pot.

Add the scallions to the pot. It is not necessary to trim the roots of the scallion because you are essentially making a stock with the meat and vegetables. The vegetables will later be discarded.

Add enough water to cover, about 6 cups.

Bring to a boil.

Reduce to a simmer and cook for about 2 hours until the meat is quite soft.

Meanwhile, cut the pumpkin into large pieces.

Transfer the pumpkin to a large pot.

Add enough water to cover.

Bring to a boil and cook until pumpkin is very soft, about 20 minutes.

Remove the pumpkin from the water and transfer the pumpkin to a blender. Puree until very smooth.

Once the meat is tender, remove the celery, scallions and other vegetables.

Add the pumpkin puree to the pot and another 2 cups of water.

Bring to a boil and let it simmer for about 15 minutes until the broth is very smooth and homogenous.

Meanwhile, cut the carrot, potatoes and turnips into large pieces.

Chop the other half of the celery.

Add the carrot, potatoes, turnips and celery to the pot. Add additional water, as needed.

Simmer until the vegetables are cooked, about 20 minutes.

Add cabbage, vermicelli and penne. Add more water, as needed.

Cook until the pasta is cooked, about 15 minutes.

Add watercress and adjust salt and pepper as needed.

Adjust water as needed and cover the pot. The watercress will wilt.

Add lime juice (if using) and stir to combine.
Notes
You can adjust seasoning by adding more Creole seasoning or bouillon cubes, if need.
This is a soup that should be monitored after the meat is cooked. As the soup simmers and thickens, you will need to add water, as needed when the soup gets too thick.
Nutrition
Calories:
323
kcal
|
Carbohydrates:
33
g
|
Protein:
31
g
|
Fat:
8
g
|
Saturated Fat:
2
g
|
Polyunsaturated Fat:
1
g
|
Monounsaturated Fat:
3
g
|
Trans Fat:
0.001
g
|
Cholesterol:
112
mg
|
Sodium:
283
mg
|
Potassium:
1148
mg
|
Fiber:
3
g
|
Sugar:
6
g
|
Vitamin A:
14043
IU
|
Vitamin C:
38
mg
|
Calcium:
91
mg
|
Iron:
4
mg
Did you try this recipe? Leave a comment below.
Please follow me on Instagram @chefmireille or tag me #chefmireille with your pics! I'd love to share them!
Don't forget to visit the RECIPE INDEX with over 1000 recipes from around the world including lots of Vegetarian Recipes and Gluten Free Recipes!