Last Updated on December 24, 2020 by Chef Mireille
Green Pozole (Pozole Verde) – Mexican Hominy Soup with Chicken & Pork – This Mexican soup of hominy, chiles and meat is one of the foods traditionally eaten to celebrate the Epiphany. This version with homemade Salsa Verde is fit for any holiday occasion.
Before we get to today's mouthwatering Pozole, you can check out some more traditional Mexican Recipes here.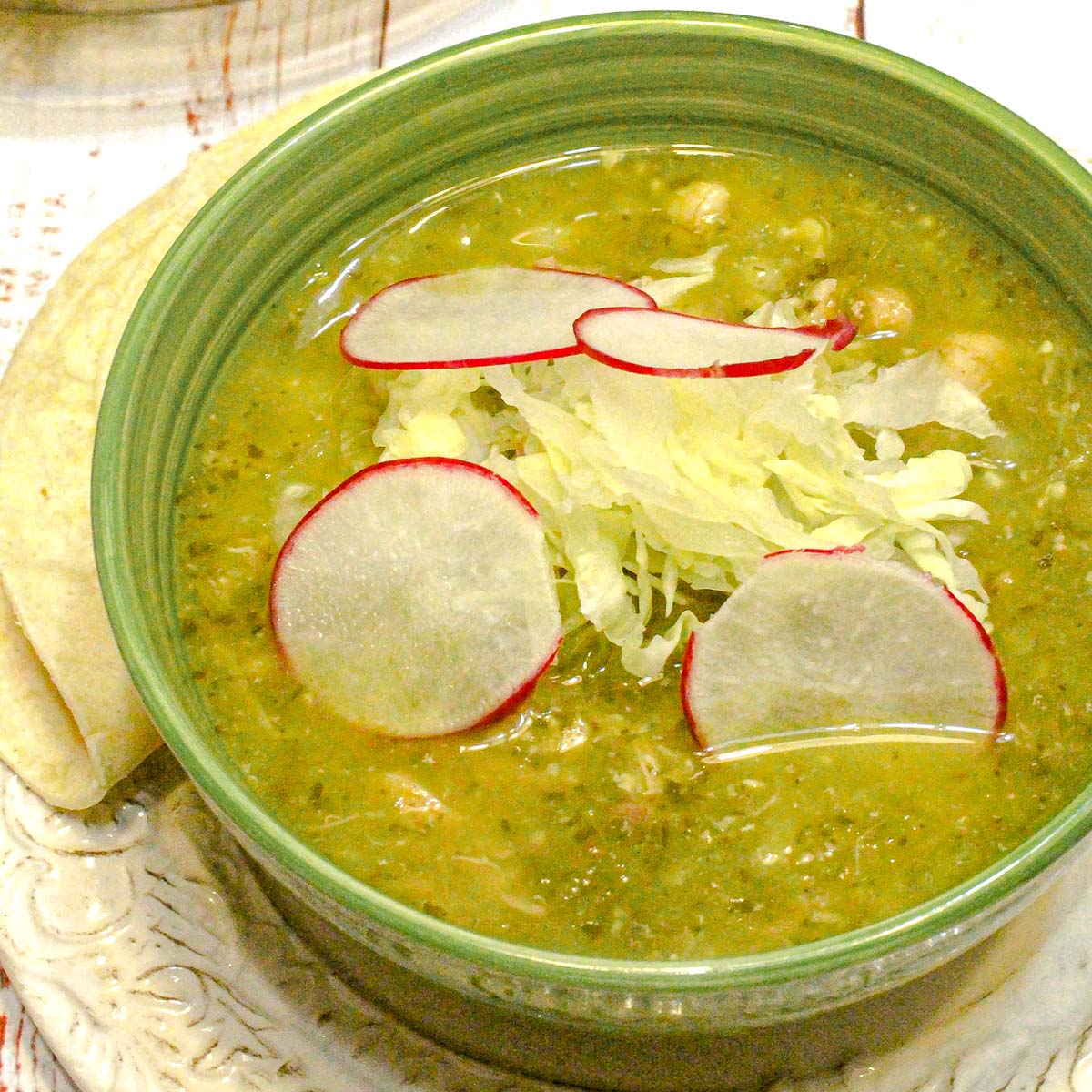 This post may include affiliate links.
Do you celebrate the Epiphany?
The Epiphany, also known as Three Kings Day is when gifts of gold, frankincense and myrrh was brought to the Christ infant, 12 days after his birth.
Traditions of the Epiphany
Epiphany, also known as Three Kings Day, occurs 12 days after Christmas and is celebrated with carol singing and feasts in countries with large Catholic populations, especially in Latin America.
This is the day that Jesus Christ was presented to the world as the physical manifestation of God and the three kings brought gifts to the Christ child in the form of gold, frankincense and myrrh.
The Orthodox church of Eastern Europe celebrates it later as their Christmas date is later, since they follow the Julian calendar, instead of the Gregorian. They've yet to celebrate Christmas as for them Christmas will be celebrated on January 7th. (2018)
Depending where you are located, the holiday is celebrated with different foods. New Orleans, here in the United States has one of the most Catholic populations due to the French and Spanish ancestry of the region. There it is celebrated with King's Cake. Pozole is one of the ways the epiphany is celebrated in Mexico.
Pozole is a Mexican soup whose main ingredients are meat, chiles and hominy, which is a type of field corn grown in South America and the southwestern United States. Also known as choclo, this corn can be found dried, frozen or canned, although in American supermarkets it is most normally found canned. The other forms you will have to go to a Latin supermarket to find.
This corn is firmer, larger and not as sweet as regular yellow or white corn. There are three types of pozole – red, white and green, depending what meat and type of chiles are used. Green pozole is generally made with chicken and/or pork, tomatillos and green chiles like poblano and jalapeno.
Before we get to today's recipe, you can also try some other foods that are perfect to celebrate the Catholic feast day!
Mexican and South American Recipes
The Ingredients
pork shoulder
garlic
onion
cumin seed
boneless & skinless chicken
tomatillos
jalapenos
poblano
scallions
cilantro
Have you tried instacart yet? It's how I get all of my fresh grocery items delivered within 2 hours!
How to make Pozole Verde
The first step is to make the Salsa Verde. You can use the version included in the recipe below or check out this simpler Salsa Verde Recipe.
Then we cook the chicken and pork.
The cooked meat is simmered with the hominy and salsa and an hour later, this delicious soup is ready!
It is a bit time consuming, but so worth the effort. This delicious Pozole Verde is perfect for Sunday dinner or holiday meals.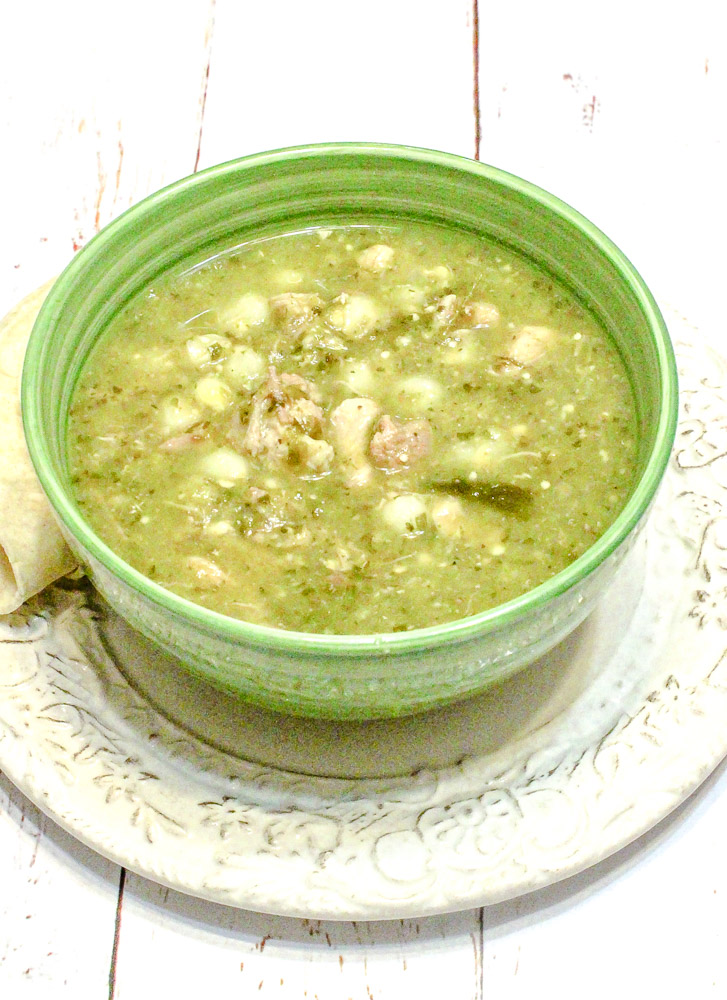 Garnishes
After the soup is cooked, it is garnished with sliced radishes and cabbage. Usually onions are also offered but as I have an aversion to raw onions, that garnish was omitted. Extra garnish is served on the side so everyone partaking can customize as to their preference. Warm tortillas are also served on the side.
Now doesn't that look like a delicious bowl of soup to enjoy this winter!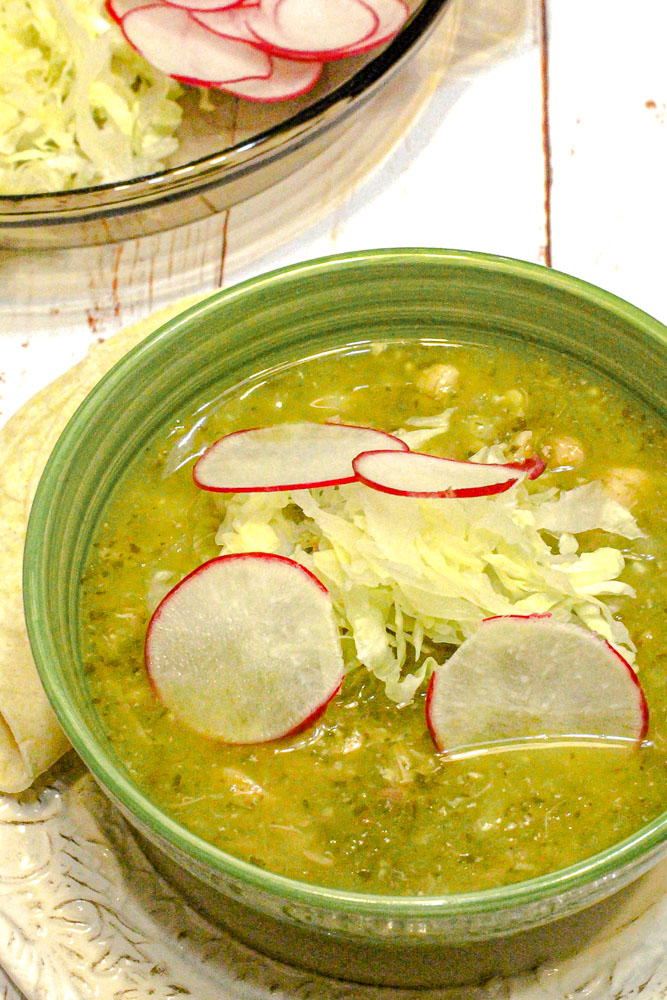 Green Pozole (Pozole Verde) – Mexican Hominy Soup with Chicken & Pork
Pozole Verde is a hearty soup of hominy corn, homemade salsa verde, chicken and pork. A feast meant for a king.
Ingredients
Pork Ingredients
1

lb

pork shoulder

cut into bite size pieces

3

garlic cloves

1

onion

cut into eighths

1

teaspoon

black peppercorns

½

teaspoon

cumin seeds
Chicken Ingredients
3

garlic cloves

10

oz.

boneless and skinless chicken

cut into bite size pieces.
Salsa Verde Ingredients
7

oz.

tomatillos

2

large jalapenos

1

large poblano

6

scallions

Small handful of cilantro
Instructions
Place all the pork ingredients in a large pot like a Dutch oven with enough water to cover. Bring to a boil and skim any scum that rises to the top. Reduce to a simmer and cook for 2 hours, adding more water as necessary.

Place chicken ingredients in a pot with enough water to cover. Bring to a boil. Reduce to a simmer and cook for 20 minutes, until chicken is cooked through.

Now let's make the Salsa Verde.

Meanwhile, preheat oven to 400 F.

Brush the bottom of a casserole dish with a little olive oil.

Add tomatillos, jalapenos and poblano.

Roast in oven for 20 minutes.

In a food processor, combine roasted peppers with onion, garlic and cilantro. Blend with 1 cup of water until smooth.

Remove meat and place broth of both chicken and pork in freezer for 30 minutes. Fat will rise to the top. Remove the fat and place the broth in a large pot. Add additional water if necessary to yield 6 cups. Add the cooked chicken and pork.

Add salsa and hominy. Add salt.

Simmer for 1 hour.
Nutrition
Calories:
153
kcal
|
Carbohydrates:
5
g
|
Protein:
14
g
|
Fat:
8
g
|
Saturated Fat:
2
g
|
Cholesterol:
50
mg
|
Sodium:
55
mg
|
Potassium:
347
mg
|
Fiber:
1
g
|
Sugar:
2
g
|
Vitamin A:
260
IU
|
Vitamin C:
23
mg
|
Calcium:
28
mg
|
Iron:
1
mg
Did you try this recipe? Leave a comment below.
Please follow me on Instagram @chefmireille or tag me #chefmireille with your pics! I'd love to share them!
You might also like:
DO YOU YUM? SAVE IT BELOW!
Yum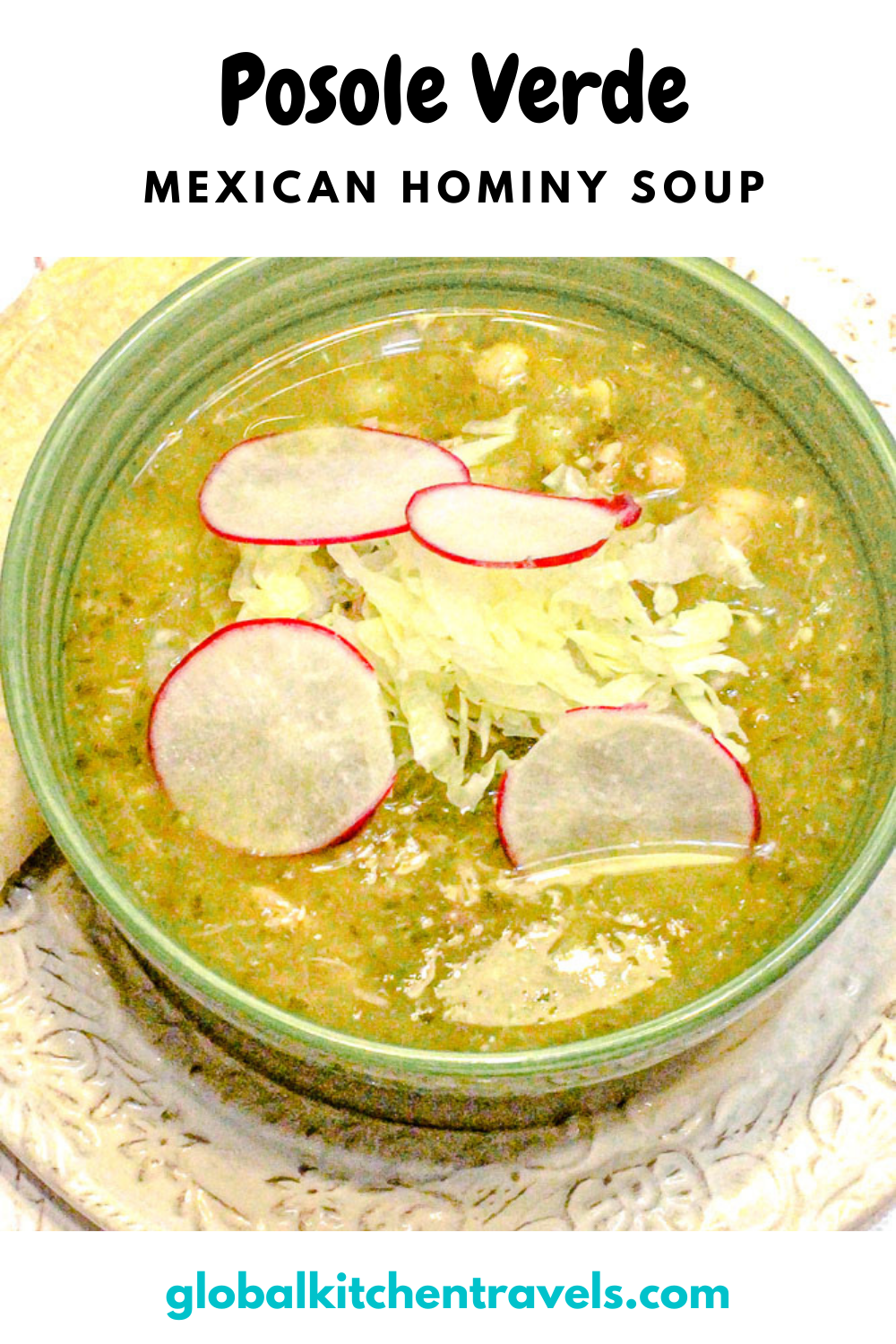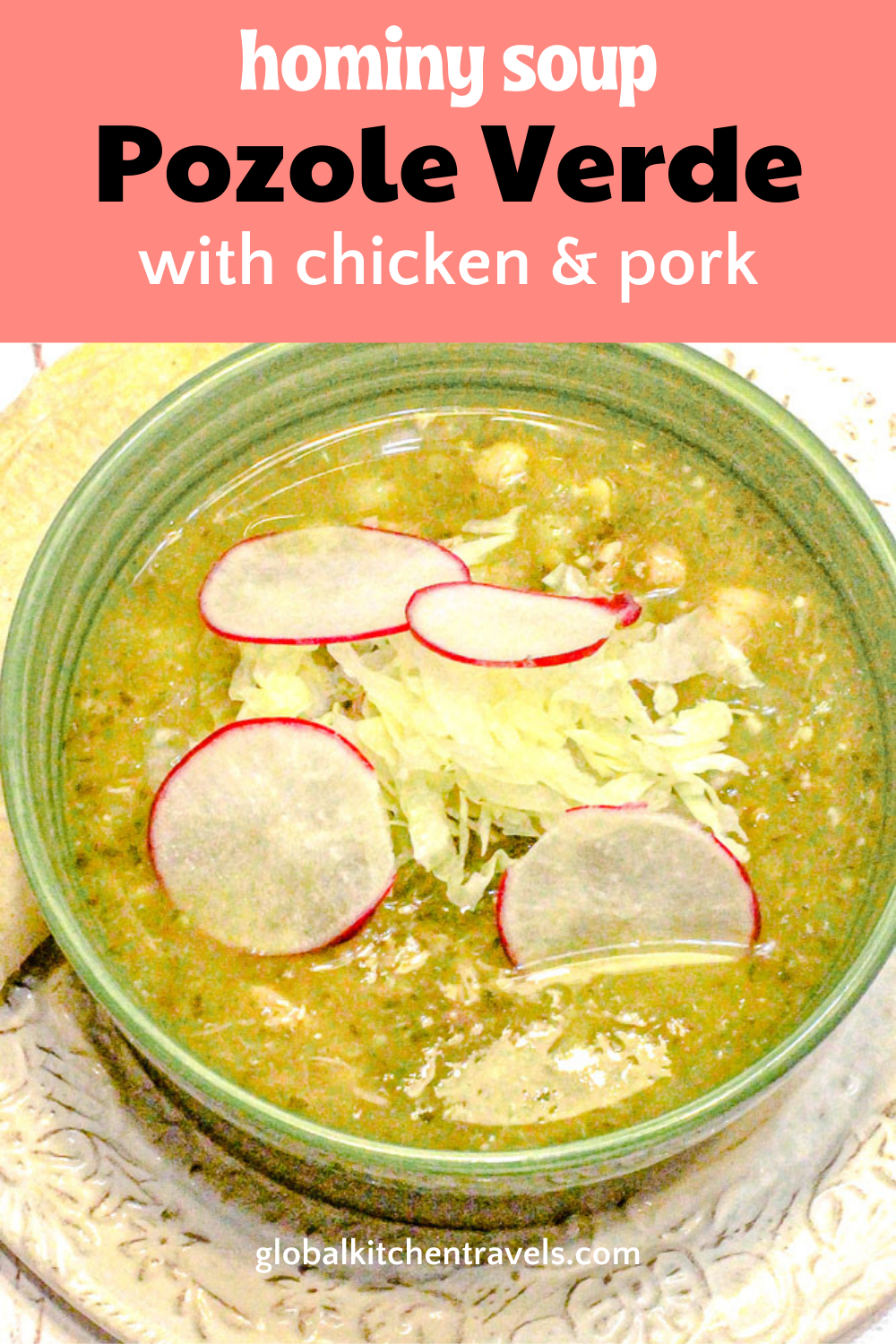 Don't forget to visit the RECIPE INDEX with over 1000 recipes from around the world including lots of Vegetarian Recipes and Gluten Free Recipes!