Last Updated on April 2, 2021 by Chef Mireille
With instant ramen noodles, Ramen is one of the quickest and easiest things if you have leftover Birria. Make it as a stew or soup and it makes a filling meal.
Birria Ramen is the perfect marriage of two cultures with huge street food traditions both in their original countries and in big cities here in America like NYC and LA.
But before we get to today's Quick & Easy Birria Ramen, don't forget to check out these other Mexican Recipes.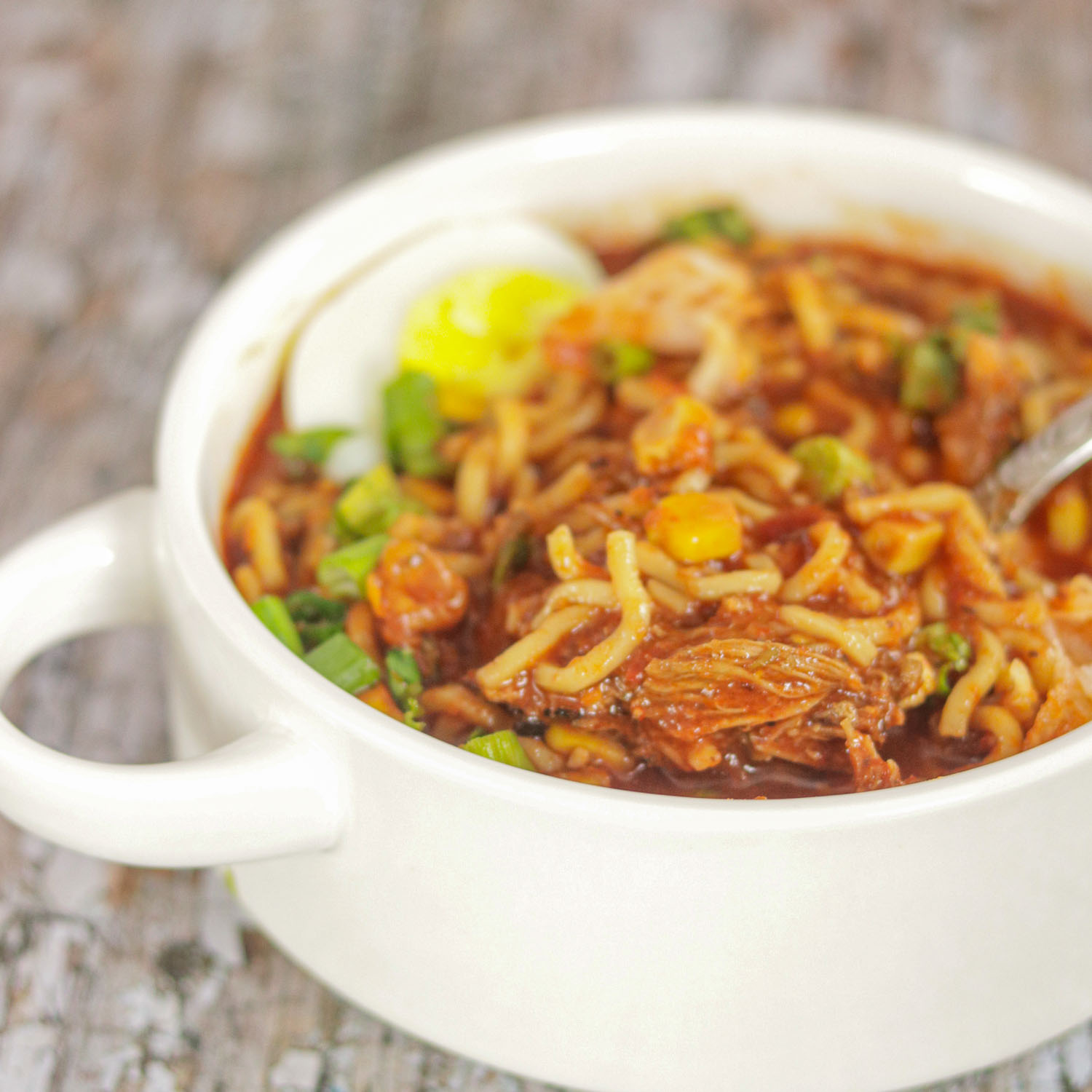 This post may include affiliate links.
Birria has taken America by storm. This traditional Mexican meat stew, which is a popular street food in different forms throughout Mexico is now in every US city with a Mexican population.
Although Birria made with goat or lamb is most popular where Birria originates in Jalisco, Birria de Res made with beef is most popular here in the US and especially in places like Los Angeles and New York, Birria street carts have become a dime a dozen.
In California, Mexican Birria met with the popular Asian culture there and Birria Ramen was created. Birria Ramen has now traveled across the US and it is her perfect blending of two cultures with rich culinary heritages.
Ramen is such a customizable recipe and even in this Birria Ramen, you can choose to use all or none of the garnishes. However, adding different flavor profiles to the ramen really gives it a complexity of flavors.
But before we get to the Birria Ramen Recipe, some of you may be wondering what is birria?
What is birria?
Birria is a traditional Mexican meat preparation of cooking the meat buried in the ground, covered by hot coals and slow cooked over hours. It is then simmered in a Adobo sauce, which results in Birria Consome.
Many people like me often made an easy Stove Top version of Birria. However, this Birria still takes a bit of time and you will most likely have leftovers. These leftovers can be used to make a variety of dishes so you don't get bored with the Birria, like this delicious bowl of Birria Ramen.
You most likely will not have enough leftover consome so you will need to make the chipotle sauce again. Once you do that, you simply add water, ramen noodles and whatever additional veggies and the like you prefer and it's done in less than 30 minutes.
With instant Ramen Noodles, Birria Ramen gets made in a jiffy.
Birria Ramen really is a marriage made in heaven.
How to Make Instant Birria Ramen
At it's simplest all you need is ramen noodles, leftover birria and adobo sauce (if you don't have enough leftover consome)
…but I added a few more delicious additions
The Ingredients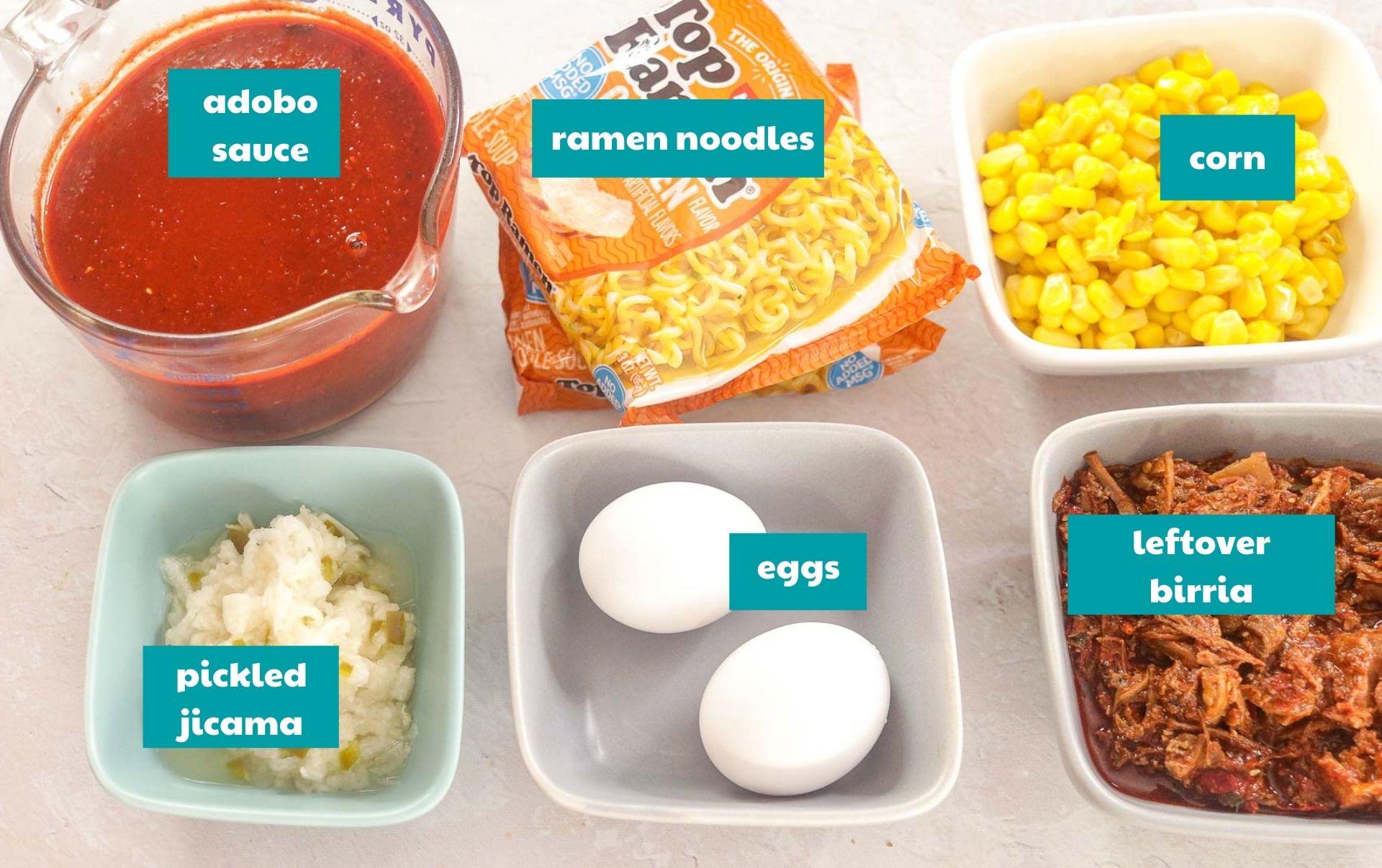 plum tomatoes
ginger
frozen corn or canned corn
eggs
pickled jicama
chopped red onions optional
chopped scallions optional
chopped cilantro optional
Have you tried instacart yet? It's how I get all of my fresh grocery items delivered within 2 hours!
First we make the Adobo Sauce.
The Adobo Sauce is so versatile.
Use it as a base for soups and stews
Use it as a sauce for noodles and grilled or roasted meats
Make a variation of Vegetarian Enchiladas and use the Adobo Sauce instead of Salsa Verde.
Then we simply add water and bring to a boil.
Add your corn and noodles.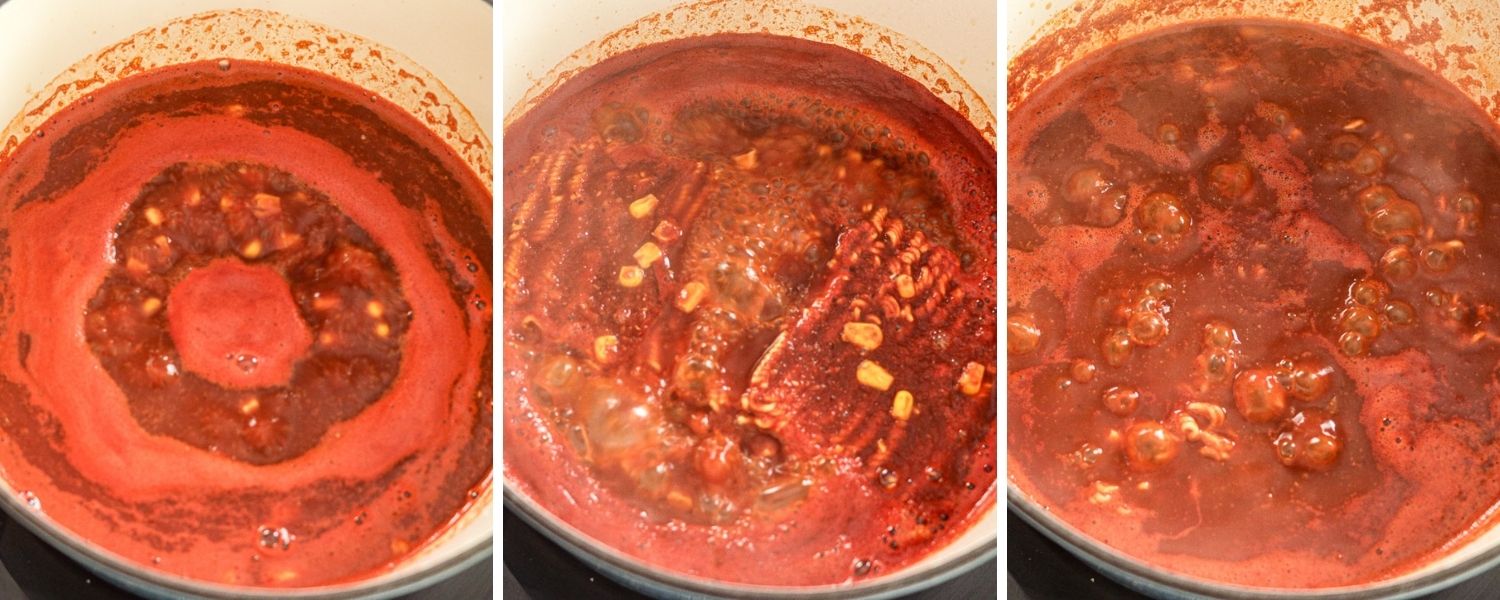 Add your leftover birria.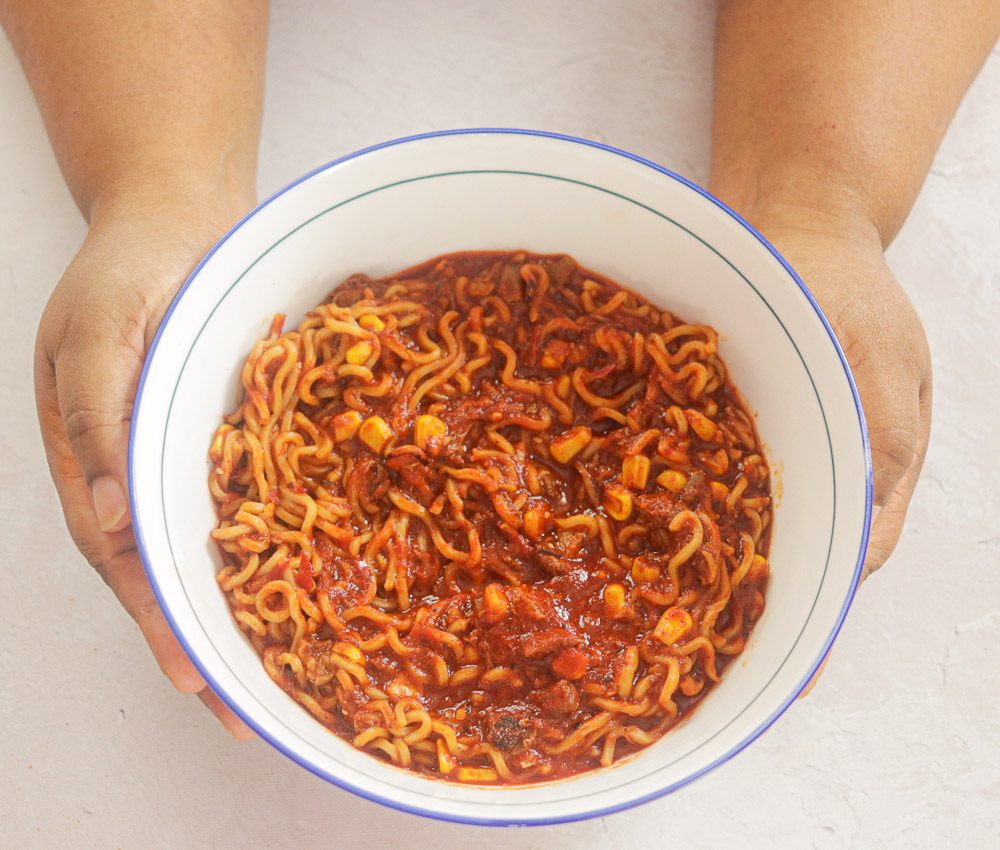 Enjoy it simply or load it up with garnishes like:
red onion
scallions
pickled jicama (or curtido) (use this Curtido Recipe for the pickling liquid and just use grated jicama instead of cabbage)
hard boiled eggs
chopped cilantro
fried tortilla strips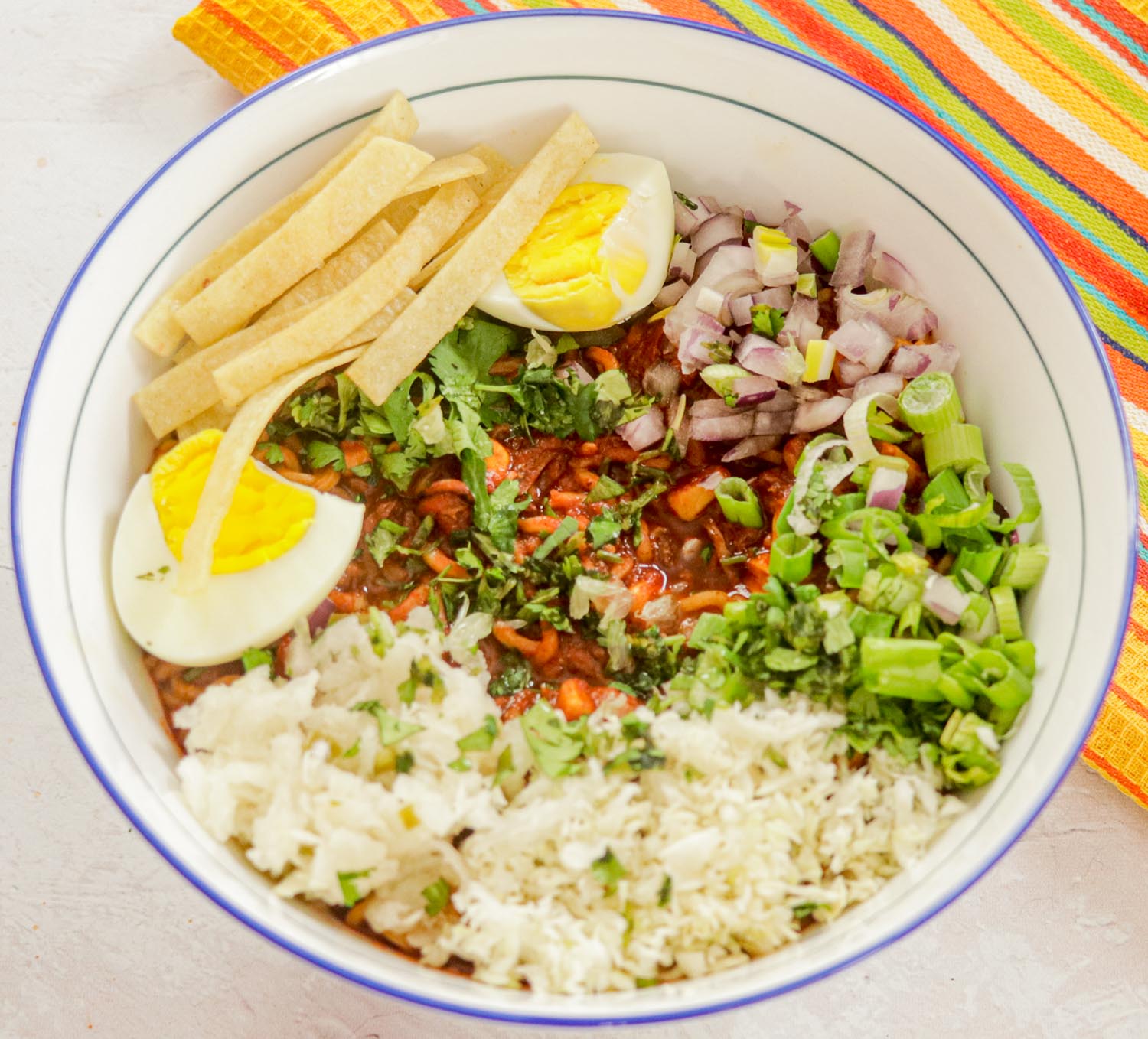 Recipe Notes
You can customize Birria Ramen as a stew or soup as you prefer. Just add more water if you would like to enjoy it as a soup.
Discard the seasoning packets that come in the ramen noodles. They are very high in salt and not necessary with the delicious Adobo Sauce.
Make it Vegetarian by simply omitting the leftover Birria.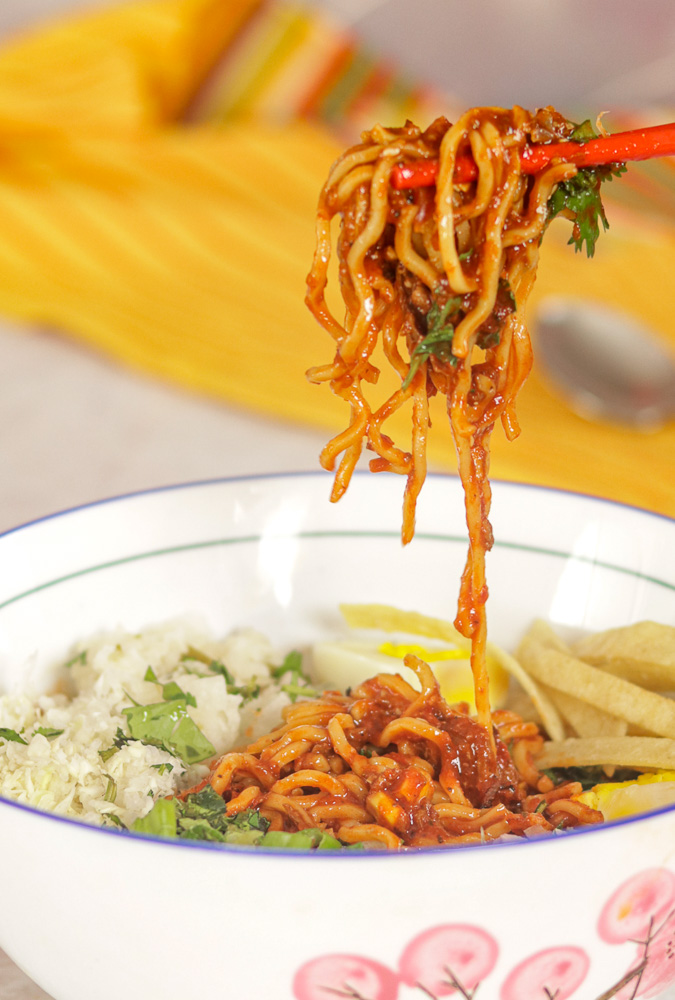 Birria Ramen
A delicious fusion recipe to utilize leftover Mexican Birria. Combined with instant ramen noodles, it is a quick and easy meal.
Ingredients
Garnish Ingredients
2

hard boiled eggs

pickled jicama

garnish

chopped red onions

garnish

chopped scallions

garnish

chopped cilantro

garnish
Instructions
Combine guajillo, pasilla and chiles de arbol in a bowl. Cover with boiling water and leave for about 30 minutes, until chillies have softened.

Boil tomatoes in a pot with enough water to cover for about 15 minutes until they are soft.

In a blender, grind sesame seeds, cinnamon stick, ginger, bay leaves, oregano, cumin seed, coriander seed, black pepper and cloves to a powder.

Add the chillies and the tomatoes with 2 cups water and the vinegar.

Blend until completely pureed.

Strain.

In a large bowl, combine Adobo sauce and 4 cups water. Bring to a boil.

Add corn and noodles.

Cook for about 5 minutes until noodles are done.

To serve, garnish with eggs, pickled jicama, chopped vegetables and tortilla strips, as desired
Notes
You can customize Birria Ramen as a stew or soup as you prefer. Just add more water if you would like to enjoy it as a soup.
Discard the seasoning packets that come in the ramen noodles. They are very high in salt and not necessary with the delicious Adobo Sauce.
Nutrition
Calories:
130
kcal
|
Carbohydrates:
18
g
|
Protein:
6
g
|
Fat:
5
g
|
Saturated Fat:
1
g
|
Cholesterol:
93
mg
|
Sodium:
52
mg
|
Potassium:
415
mg
|
Fiber:
4
g
|
Sugar:
3
g
|
Vitamin A:
1284
IU
|
Vitamin C:
13
mg
|
Calcium:
87
mg
|
Iron:
3
mg
Did you try this recipe? Leave a comment below.
Please follow me on Instagram @chefmireille or tag me #chefmireille with your pics! I'd love to share them!
NOT READY TO MAKE IT YET? PIN IT FOR LATER!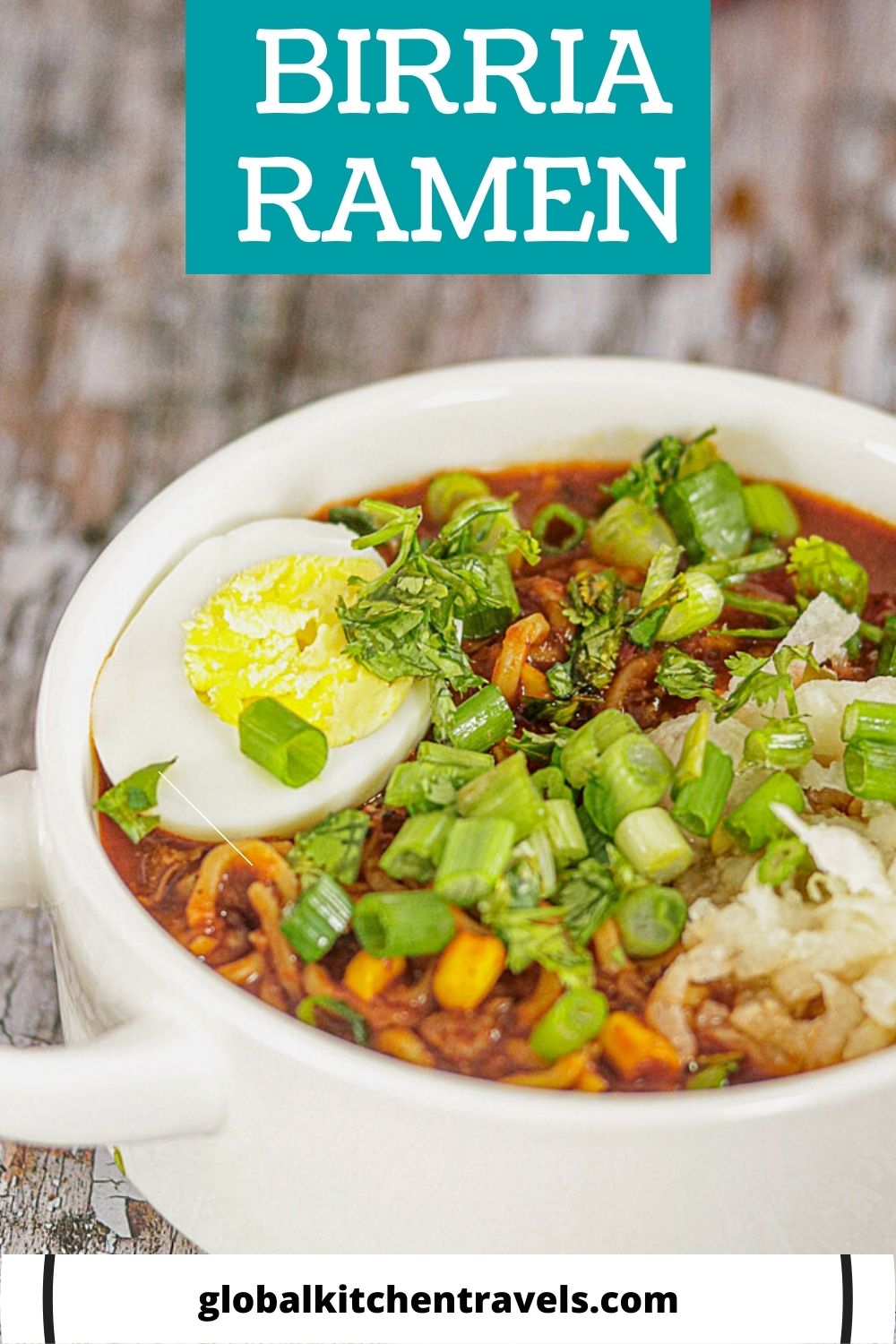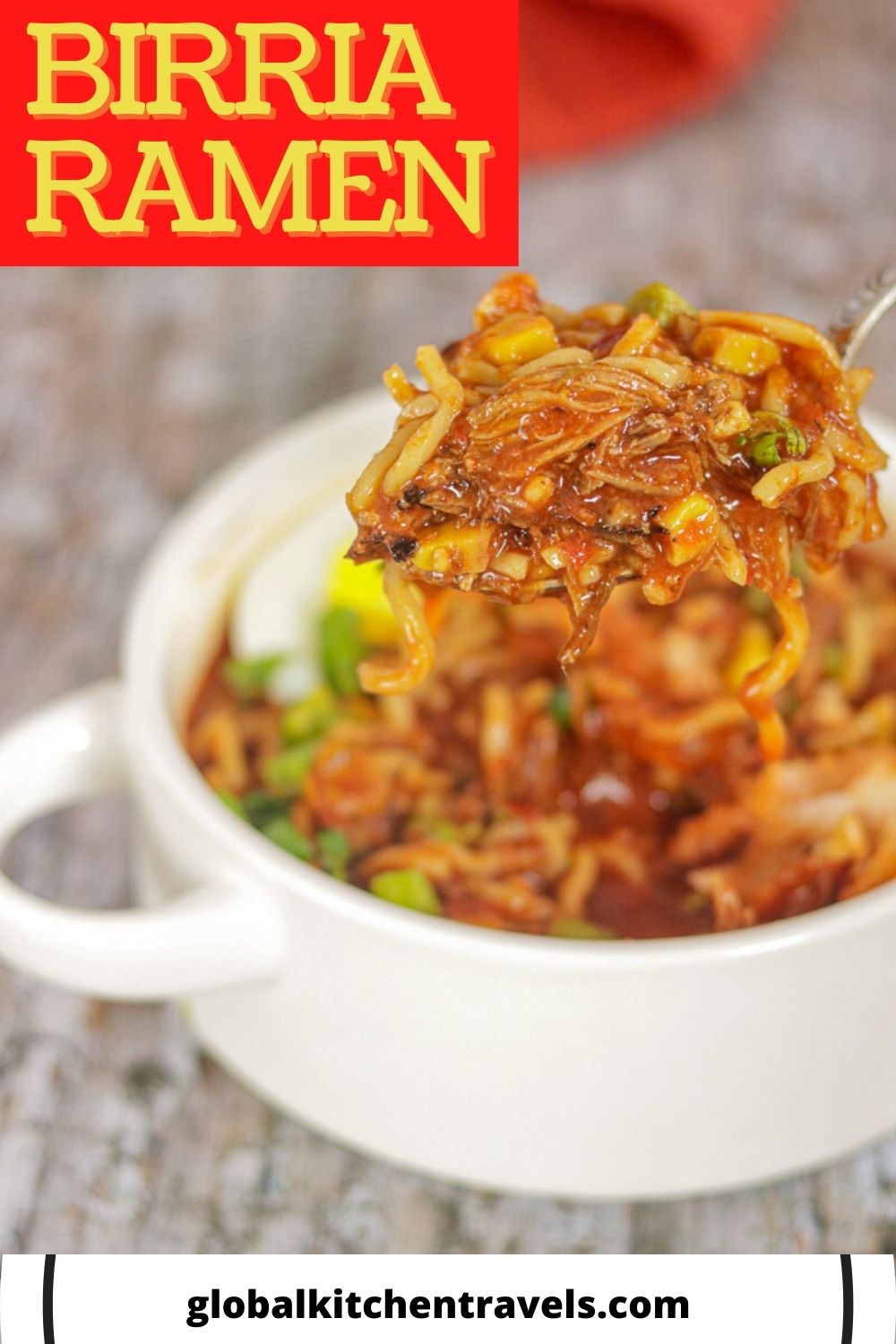 Don't forget to visit the RECIPE INDEX with over 1000 recipes from around the world including lots of Vegetarian Recipes and Gluten Free Recipes!