Last Updated on March 26, 2021 by Chef Mireille
This post may include affiliate links.
Birria Consome is a meat stew or soup, slow cooked to achieve a super tender and flavorful stew. Essentially, it is barbacoa in a flavorful Adobo sauce of dried chillies, tomatoes and spices.
The broth is known as the consome. Once you have your birria consome made, you can eat it as soup or use the meat to make tacos. This is one of the most popular street foods throughout Mexico with each region having its own style of serving birria.
Are you a Mexican food fan? Then you also need to check out this delicious collection of over 20 Mexican Recipes.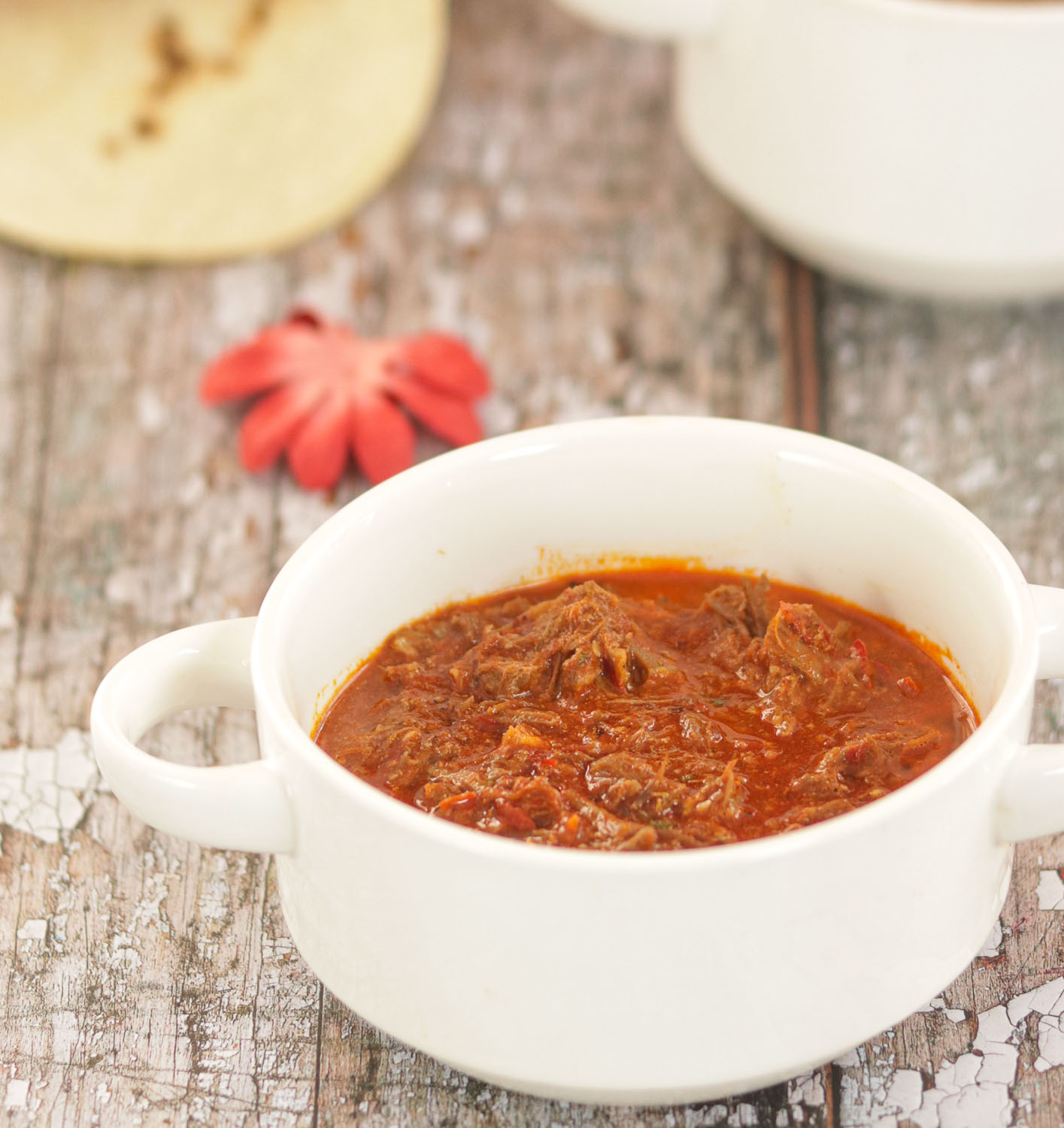 Have you tasted yet the magic that is birria? Why has the world suddenly gone birria crazy? All of a sudden, birria is everywhere
Who knows why its so popular now, but I think it's a fabulous thing that Birria Consome is FINALLY getting the attention it deserves. This very traditional Mexican recipe has become one of the most popular foods from New York to Los Angeles.
Here in NYC, lines at the best birria street carts consistently run 30 deep, down the blocks.
Well, I am here to give you all the tips and tricks to make delicious and scrumptious birria at home.
Ok so I've been going on an on about birria, but some of you who may not have heard of birria and you might be wondering What is birria and What kind of meat is birria made with?
Although traditionally made with lamb, goat or mutton, there are regional variations using beef, chicken, pork and in the southern parts of Mexico, there is even Fish Birria. The state of Michoacan is especially known for the chicken and fish versions.
Beef is most common in northern Mexico and this version has become very popular in the United States.
However, since I am a big fan of goat like this Mexican Goat Stew and mutton like this Sri Lankan Mutton Curry, here I am showing you the traditional way of preparing a stove top Birria Consome with goat and mutton.
But you can still use this same cooking method with beef. The cooking time will just be reduced a bit, as it takes longer for goat meat to become tender.
What is the difference between birria and barbacoa?
Birria and Barbacoa are essentially the same thing, with the main difference being that the meat is served in consome (adobo broth) with birria. Depending on how thick you make it, birria is more of a stew or soup.
Both birria and barbacoa are both traditionally made by burying the meat in the ground and covering it with hot coals. This is slow cooked in the earth for several hours. The meat would then be added to a consome or adobo broth. made of chillies, tomatoes and spices for birria.
What does birria mean?
Birria means a mess, as this is a poor man's meal and in some forms of serving, it is quite a messy meal to eat as in the popular Birria Quesatacos dripping in gooey cheese and dipped in the consome, but the mess and the time to make birria is worth every second and every moment of clean up 🙂
Where does birria originate?
Birria originated in the city of Jalisco, however, birria is popular throughout Mexico. Different cities are known for different ways of serving birria from soup to tacos to tortas.
In Zacatecas, it is made thicker more like a stew, but Jalisco style birria is more like a soup.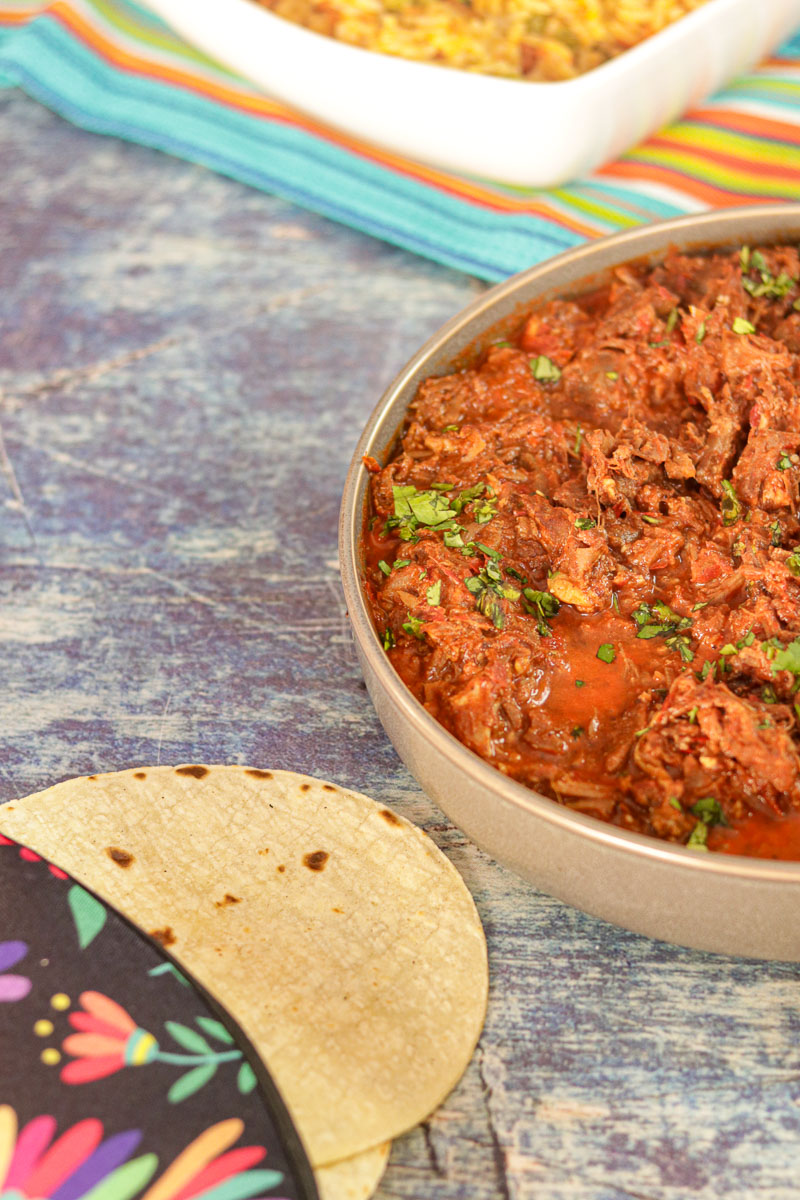 Birria has become one of the most popular foods throughout Mexico in all its different versions. It is often made for special occasions and holidays like Christmas or Easter.
Cooking Methods
There are many different ways of making birria. As most of us don't have a pit dug out in our backyards to make it the traditional way, it can now be made on the stove, in a slow cooker or in an Instant Pot.
Some are made as I did here, slow cooking the meat and then adding the adobo sauce. Others marinate the meat in the adobo sauce and then cook it in the oven or on the stove all together. The variations of cooking processes are many, but the outcomes will all be similar.
What to do with leftover birria meat?
Birria can be served in many different ways.
Make Tacos
Include it in enchiladas, burritos or any Mexican food where you would include meat
Serve it as soup with corn tortillas and pico de gallo
Make Birria Ramen, which has become quite popular
Birria, Rice & Beans, Tortillas and your favorite salsa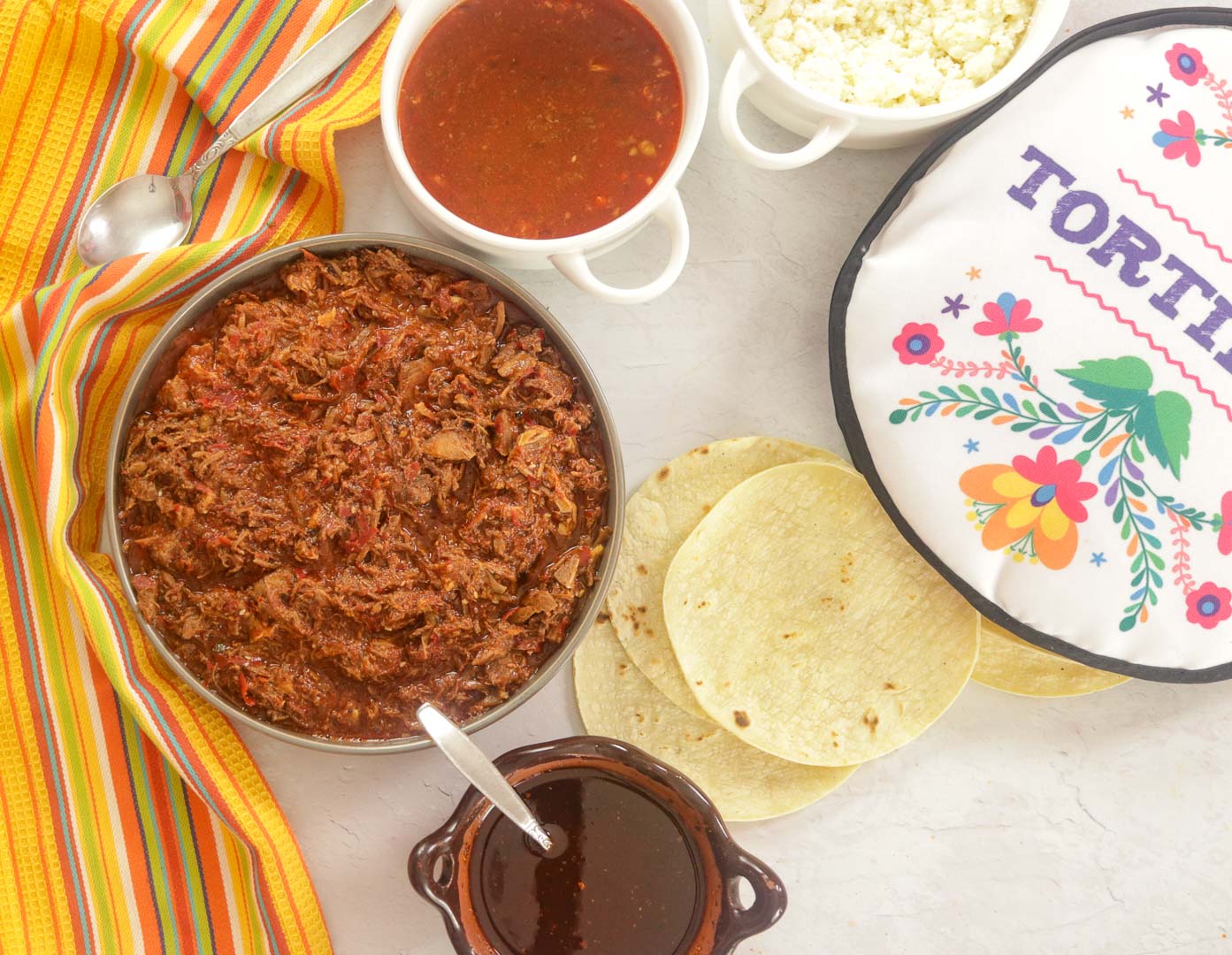 Make sure to reserve some of the consome to dip your tacos in! It makes all the difference!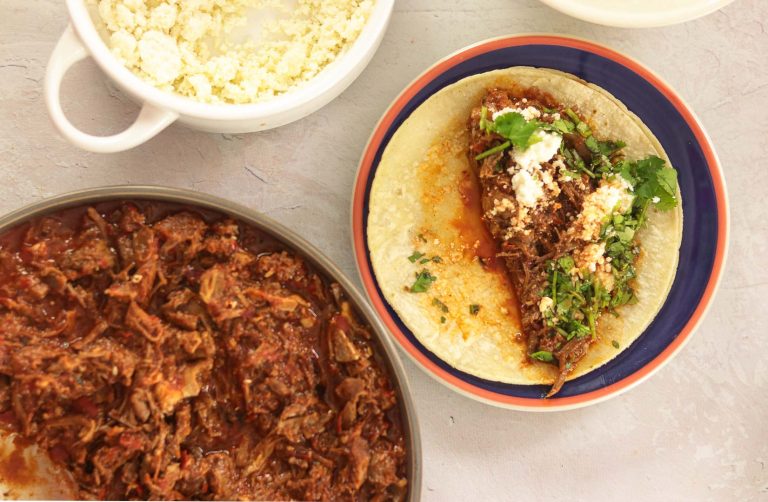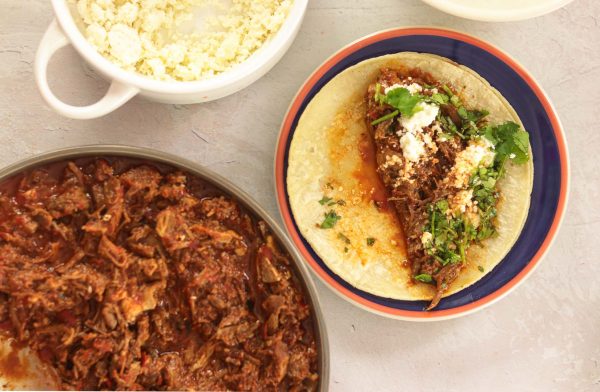 Frequently Asked Questions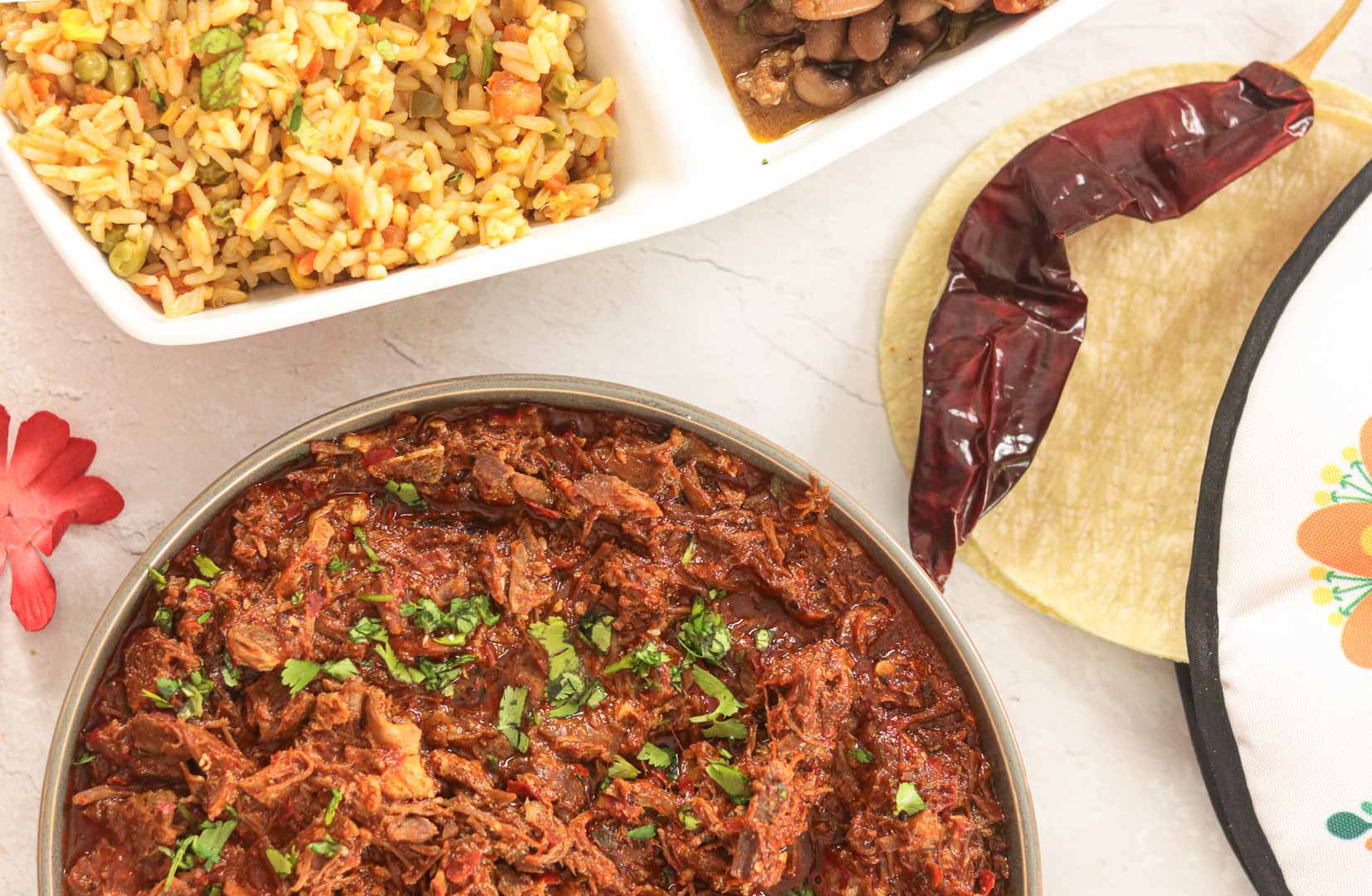 Now I'm not going to lie, this is going to take a few hours, but it is so worth the effort and with the leftovers, you can make a few different meals during the week with this birria.
How to make Goat Birria Consome
Let's first check the ingredients.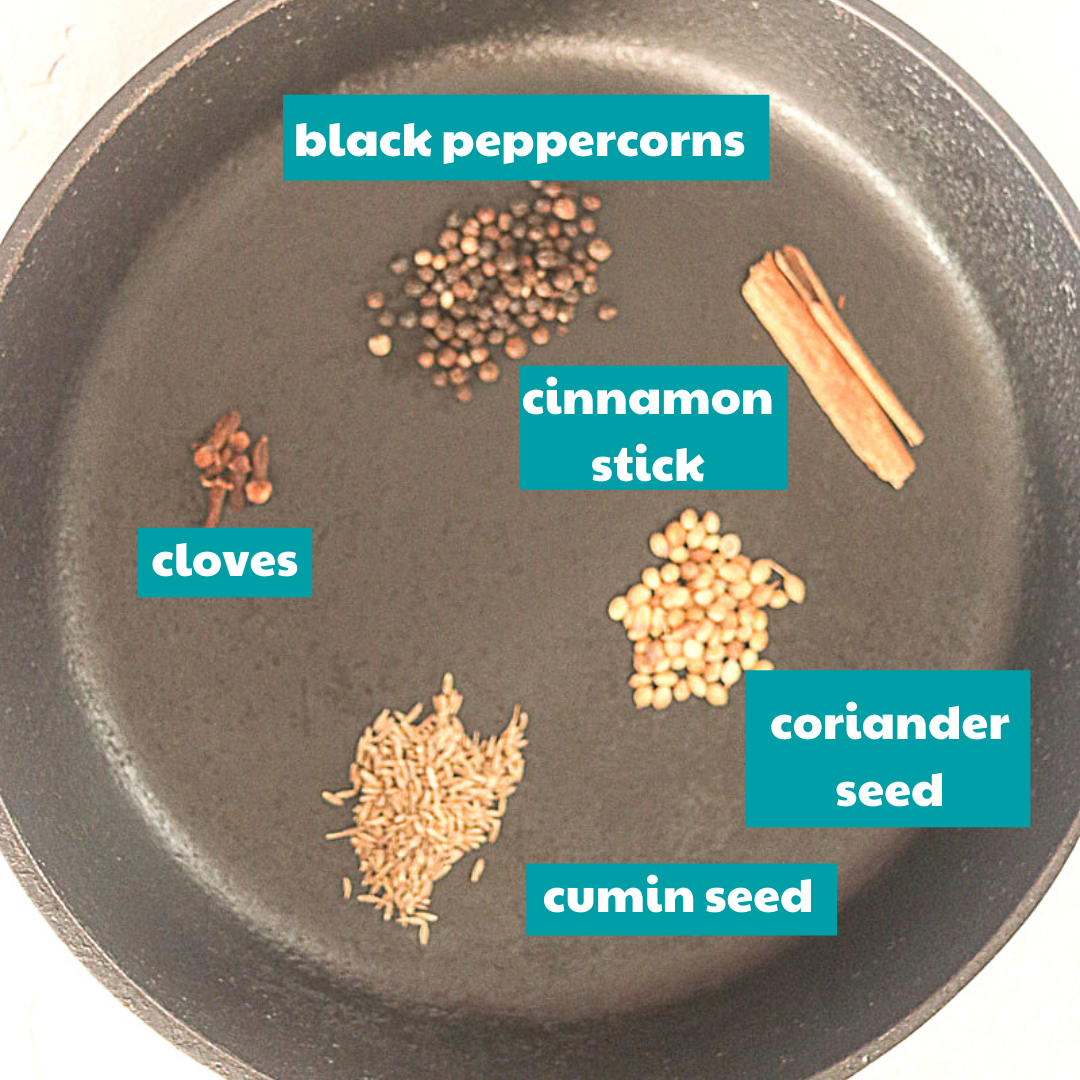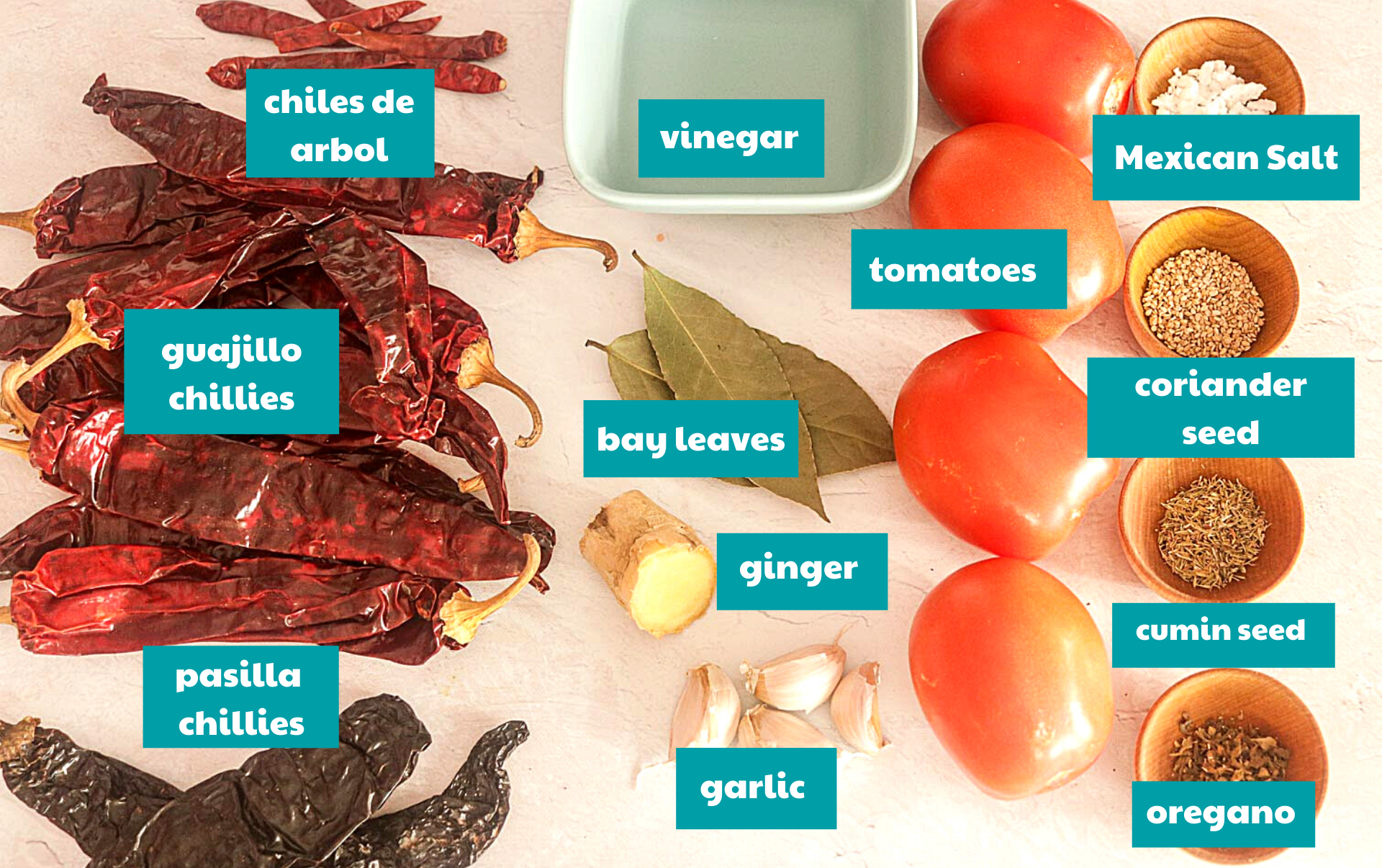 Shopping List
Goat or beef shoulder meat
onion
garlic
ginger
tomatoes
Have you tried instacart yet? It's how I get all of my fresh grocery items delivered within 2 hours!
Now it's time to make our birria!
First we cook the meat in water with onion and bay leaves.
After is cooked, we chill it for a bit so that we can easily remove the fat from the top. Fat rises to the top when chilled.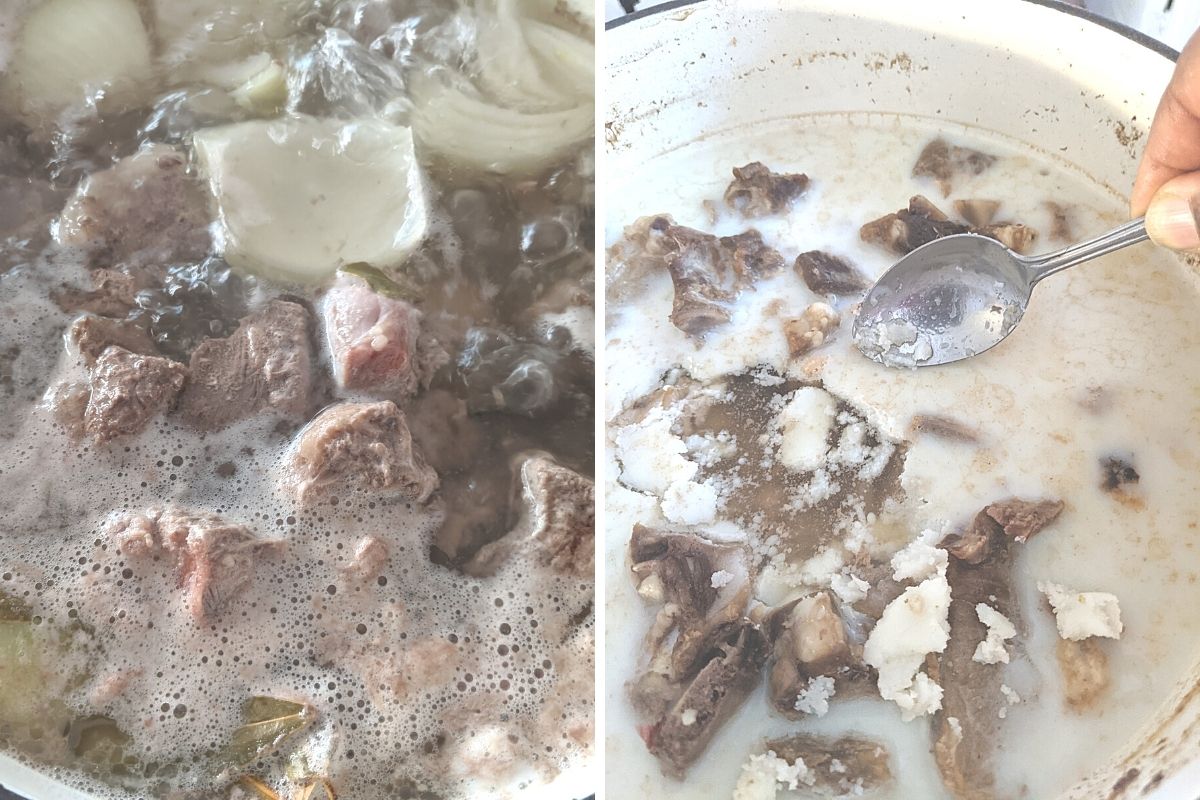 Once the meat is cooked, we remove it from the broth and shred it by hand.
While the meat it's cooking, we can start on the Adobo Sauce.
First we roast the spices and then grind them to a powder. Roasting the spices first brings out the flavor.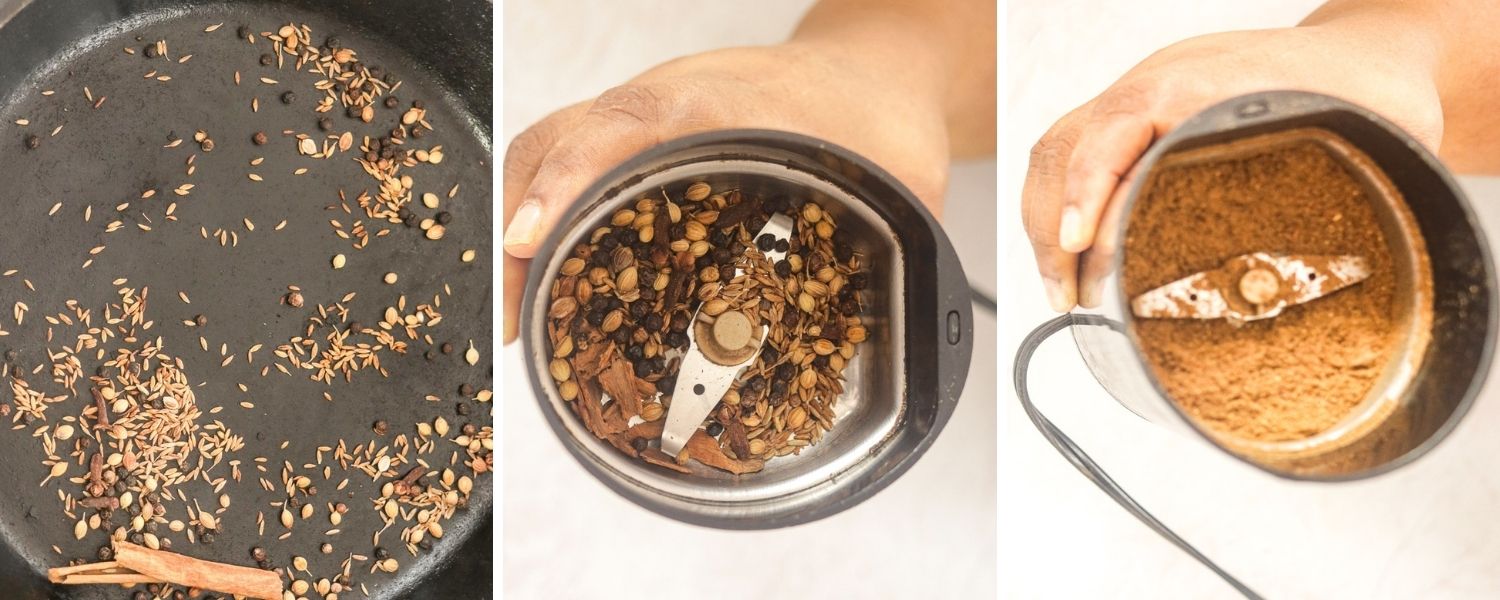 Remove the seeds from the dried chillies and save them to adjust seasoning later.
Now we cook the tomatoes and chillies until soft.
Then we mix it with the spices and vinegar.
Blend this together to make the Adobo Sauce.
Add this to the cooking liquid from the meat and simmer it for 15 minutes.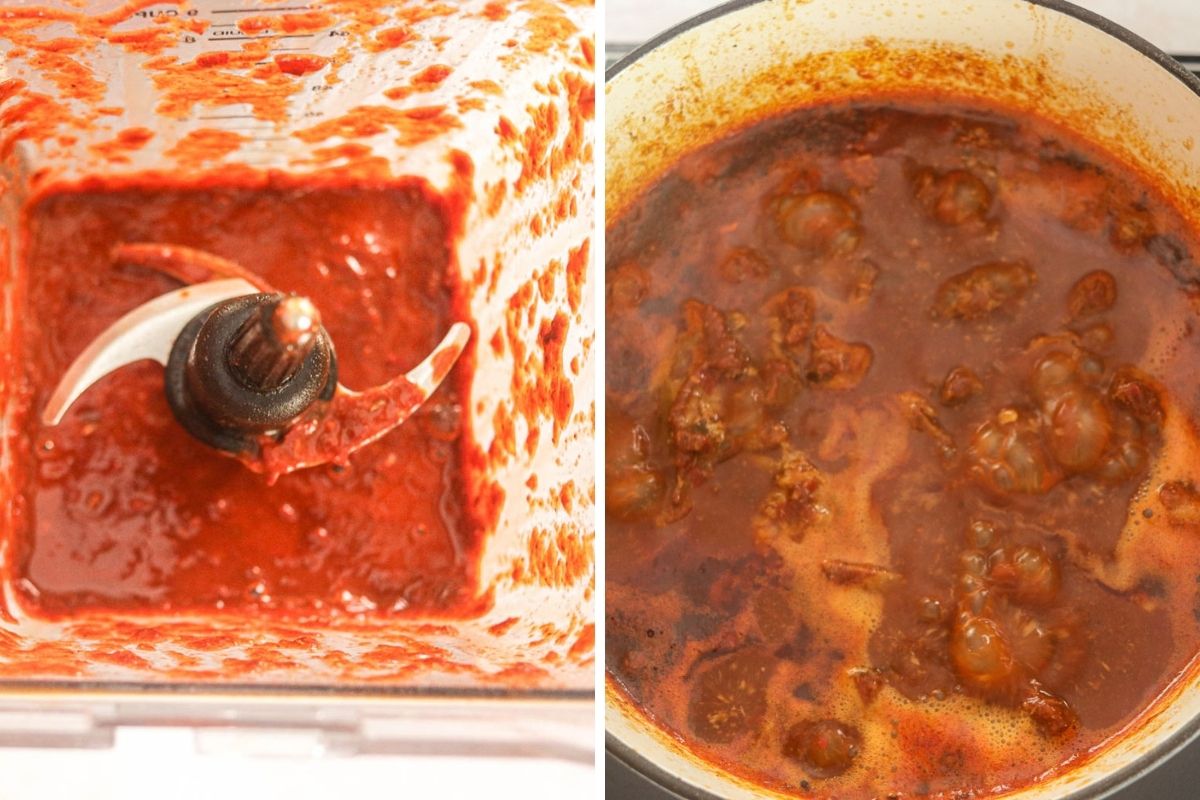 Strain the sauce and now you have your consome.
Now we return the shredded meat to the consome.
Adjust seasoning with salt and reserved chili seeds. Add more water depending on if you want to enjoy it as a soup or a stew.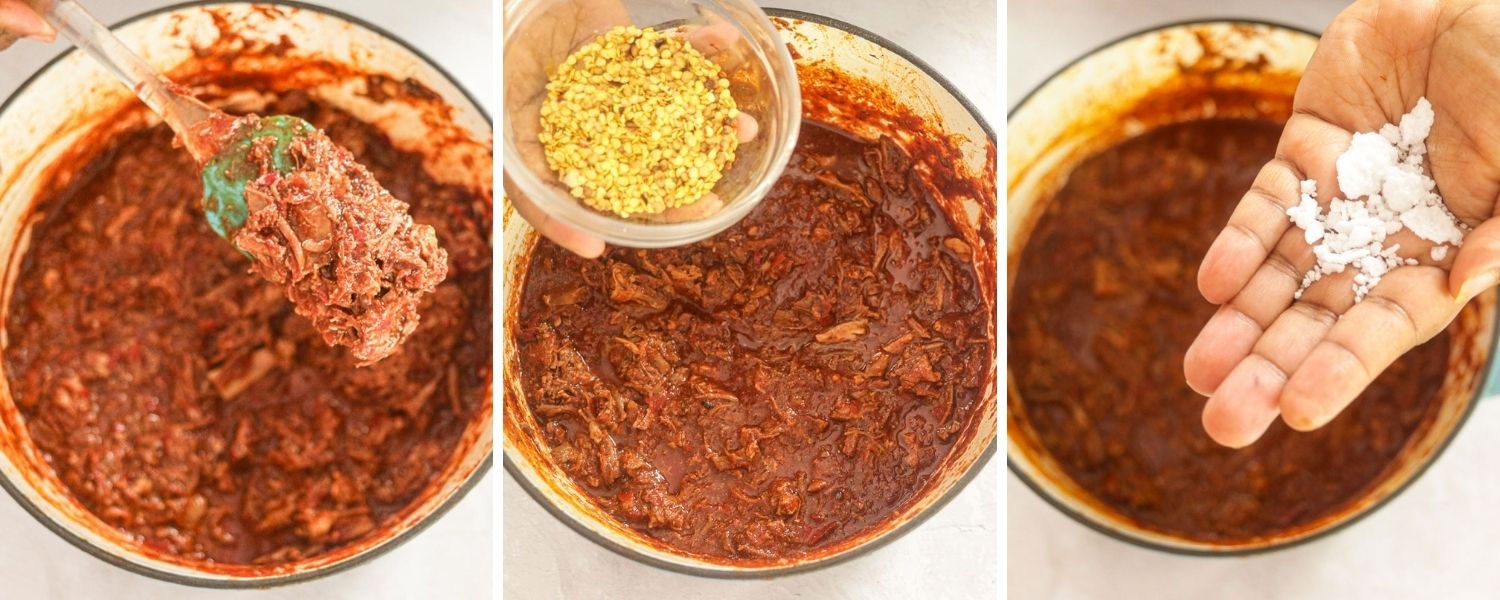 Now you have your birria ready for many delicious Birria Recipes. You can freeze some of it, if you would like to SAVE SOME FOR LATER.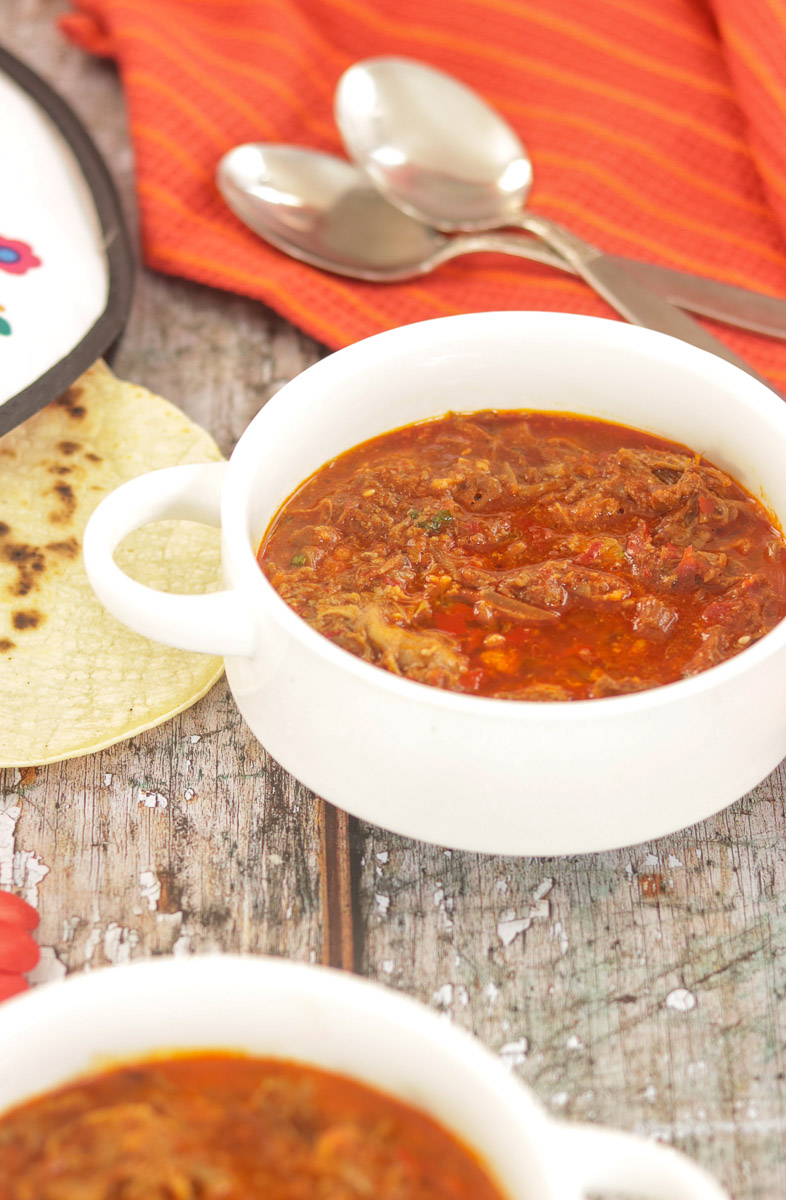 Goat Birria and Consome
How to make Goat Birria and Consome for Birria Tacos and more…
Ingredients
5

lbs.

Goat meat

1

quartered onion

3

bay leaves

8

cups

water
Sauce Ingredients:
10

guajillo chillies

2

pasilla chillies

6

chile de arbol

arbol chillies

4

tomatoes

1

"

cinnamon stick

2

teaspoons

cumin seeds

2

teaspoons

coriander seed

1

teaspoon

black pepper

3

cloves

1

tablespoon

toasted sesame seeds

1

" ginger

7

cloves

garlic

3

bay leaves

2

teaspoons

oregano

1/3

cup

white vinegar
Instructions
In a large pot, combine goat with about 8 cups of water.

Add 1 quartered onion and 3 bay leaves to the pot.

Bring to a boil.

Reduce to a high simmer and cook for 2 ½-3 hours, until the meat is tender.

Check the pot about every 45 minutes. As the water evaporates, you will need to add more water.

By the time the meat is cooked, you want about 4 cups water remaining in the pot.

Remove the meat and shred by hand as soon as its cool enough to handle.

Put the broth in refrigerator for 1 hour.

Now you make the Adobo sauce.

Remove the tops and seeds from the chili peppers. Save the seeds to adjust seasoning later.

Place guajillo, pasilla and chiles de arbol in a bowl. Add boiling water and leave for 20 minutes, until chillies are softened.

Boil tomatoes in a pot with enough water to cover for about 15 minutes until they are soft.

In a dry skillet, roast the cinnamon, cumin, coriander, black pepper and cloves for a few minutes until fragrant.

Transfer to a coffee/spice grinder and grind to a powder.

Using a blender, puree the chillies, tomatoes, spice powder, sesame seeds, ginger, garlic, bay leaves, oregano, vinegar with about 2 cups of the cooking liquid.

As soon as the meat broth it is cold, remove the top layer of fat from the top of the broth with a spoon.

Pour the broth back into the pot and bring to a boil.

Strain the sauce from the blender.

Add the Adobo sauce to the pot with 1 cup of additional water, or more as necessary to get enough broth. Simmer for 10 minutes. This is the consome.

Return meat to the pot with the remaining broth.

Simmer for 5 minutes until heated through.

Add more water, if necessary for desired amount of the consome.

Adjust seasoning with salt and reserved chili seeds.

Now your birria is ready for tacos, burritos and even just for dinner with rice and beans.
Notes
You can have your birria thick as a stew of more like a soup. Add water at the end for desired consistency.
If you are using beef instead of goat, the meat should be soft in about 2 hours. The cooking time will be reduced by about 1 hour.
Nutrition
Calories:
424
kcal
|
Carbohydrates:
4
g
|
Protein:
66
g
|
Fat:
15
g
|
Saturated Fat:
6
g
|
Trans Fat:
1
g
|
Cholesterol:
184
mg
|
Sodium:
168
mg
|
Potassium:
999
mg
|
Fiber:
1
g
|
Sugar:
1
g
|
Vitamin A:
516
IU
|
Vitamin C:
8
mg
|
Calcium:
58
mg
|
Iron:
7
mg
Did you try this recipe? Leave a comment below.
Please follow me on Instagram @chefmireille or tag me #chefmireille with your pics! I'd love to share them!
NOT READY TO MAKE IT YET? PIN IT FOR LATER!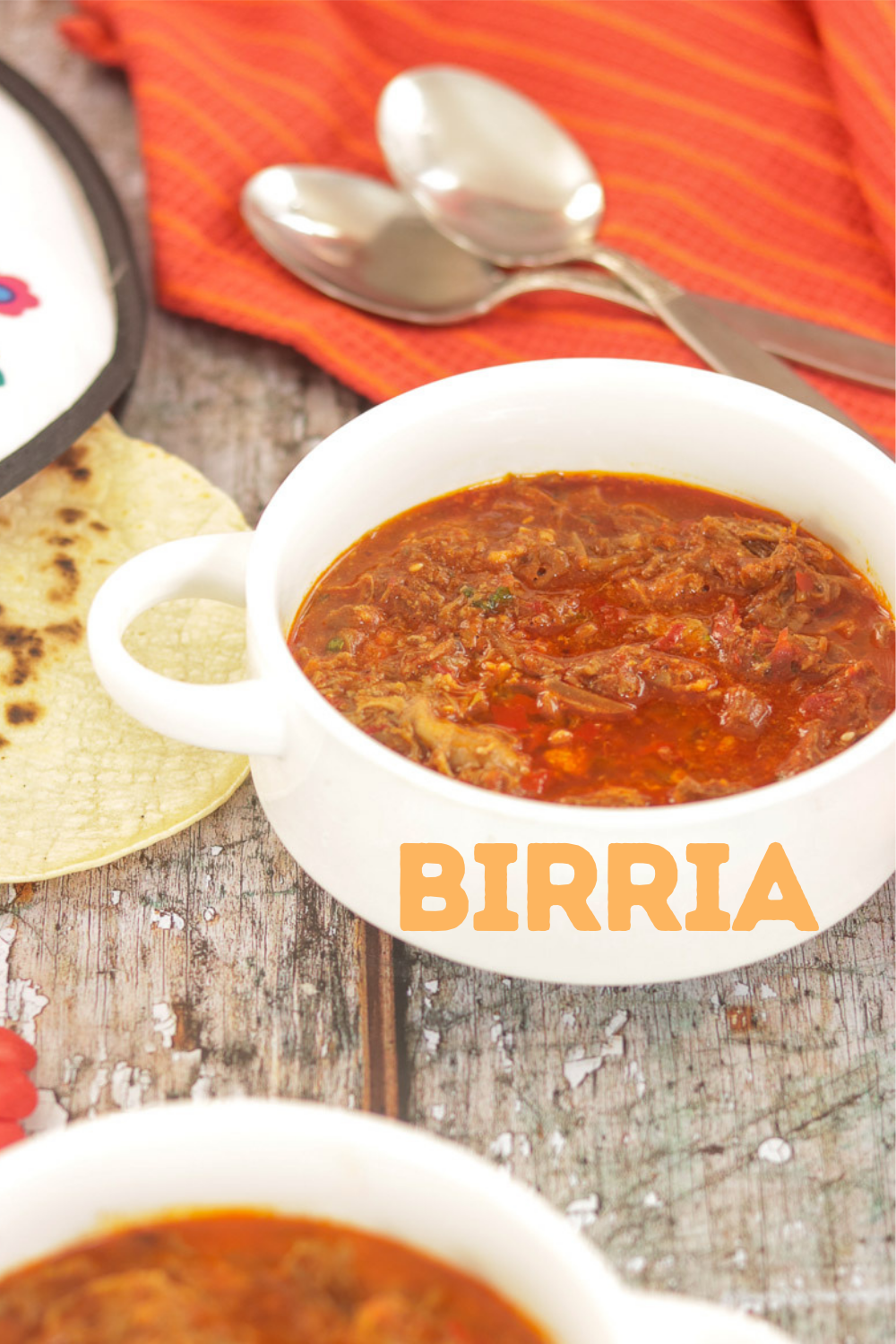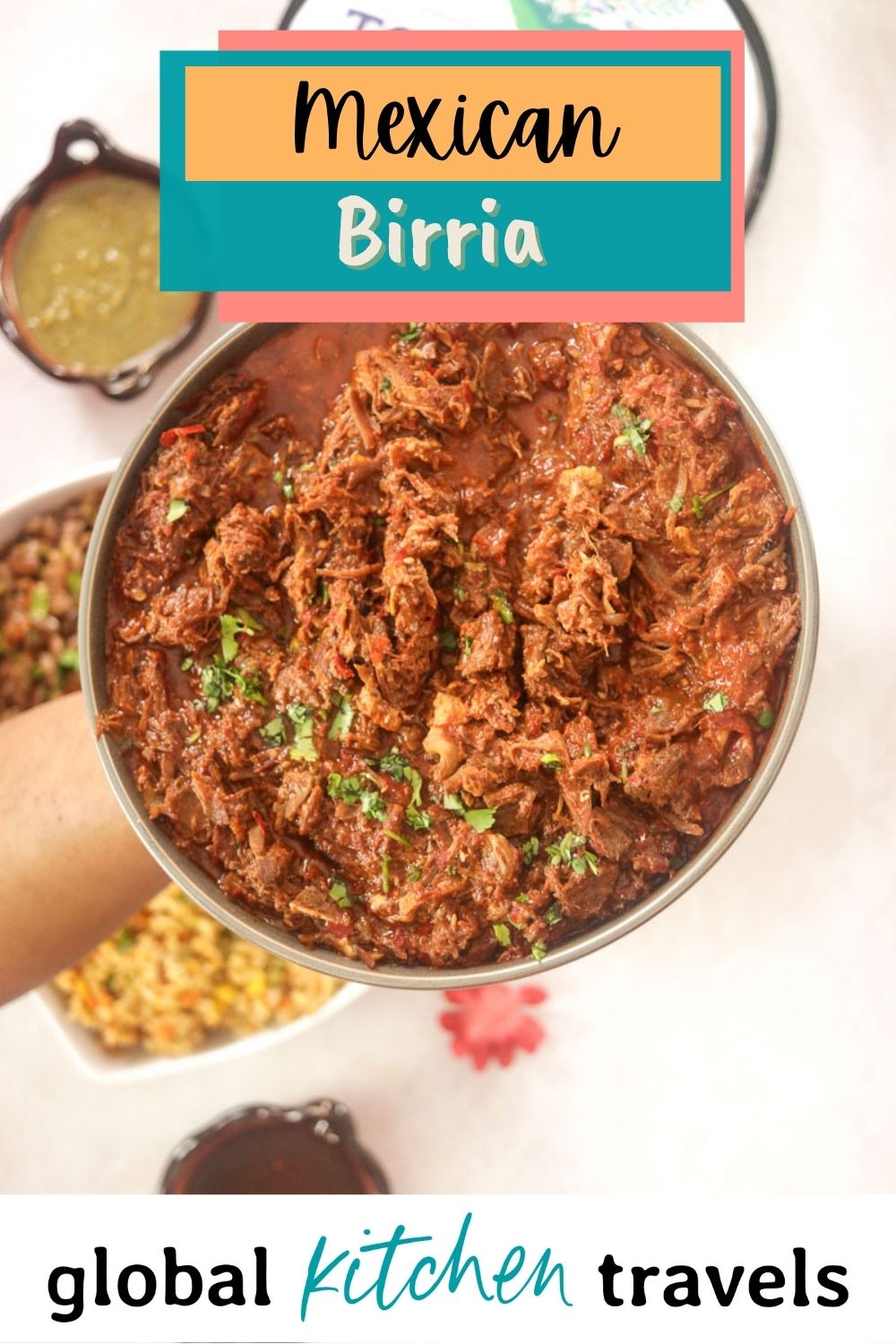 Don't forget to visit the RECIPE INDEX with over 1000 recipes from around the world including lots of Vegetarian Recipes and Gluten Free Recipes!