Last Updated on April 14, 2021 by Chef Mireille
This easy and delicious Haitian Style Chicken Stew is the perfect dish for a weeknight dinner with rice and beans, salad and fried plantains as a way for you to escape to the Caribbean on your plate.
This chicken can be adapted to whatever chicken pieces you prefer, although I used chicken drumsticks in this version.
You can use chicken thighs, chicken wings or butcher down an entire chicken and cook the whole chicken.
…but before we get to today's delicious recipe, experience Haitian culture on a plate with my collection of Haitian Recipes here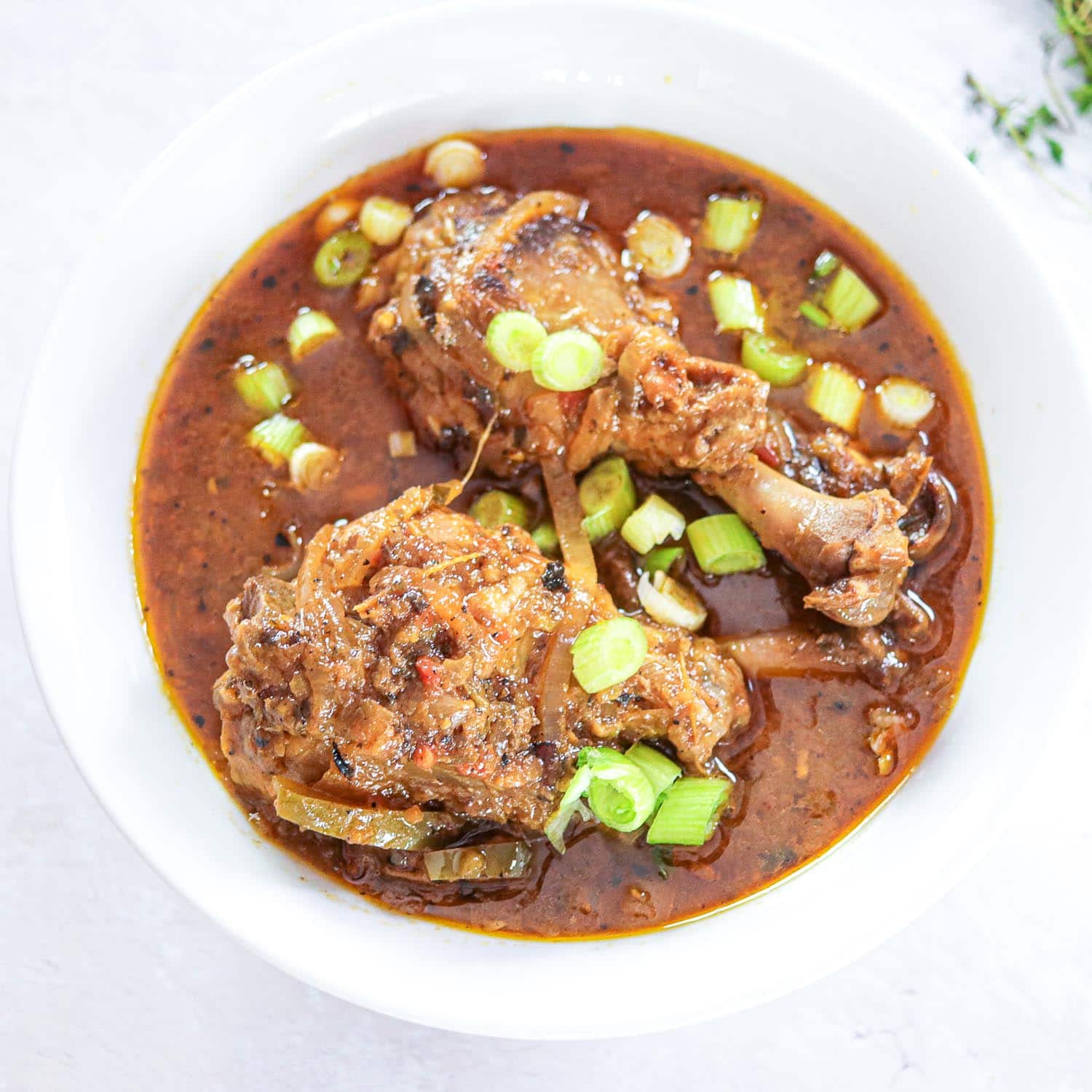 This post may include affiliate links.
---
---
Although each island has its own unique cuisine, there are similarities in many of the dishes among many Caribbean islands and especially by colonizing country.
For example, all islands colonized by the French including Martinique, Guadeloupe, Dominica and Haiti will have many similarities between the cuisines. I'm lucky in that I have Haitian on one side of my family and Dominica on the other. My dad was Haitian and my maternal grandmother was from Dominica.
So I have personal insight into both of these cuisines, that I grew up with.
The base of this Easy Stewed Chicken Recipe starts with a Creole Sauce, known as Sauce di Malice in Haiti.
Haitian Creole Sauce
The basic ingredients you need for this Creole Sauce are:
Shallots
Bell peppers
Garlic
Haitian hot pepper (Scotch Bonnet/ Habanero)
Tomato paste
Cloves
Parsley
Once you make this Creole Sauce using the Sos ti Malice recipe here, you are ready to make Haitian Poulet Creole.
However, before we get started one thing all Caribbean people, including Haitians are diligent about is cleaning chicken.
Nothing bothers my Mom more than watching a cooking show and seeing the host transfer the chicken directly from the package to the pot.
The first thing she will ask me is "Do they have a restaurant? Remind me NOT to go there."
So what do you need to clean chicken the way we do in the Caribbean to kill bacteria?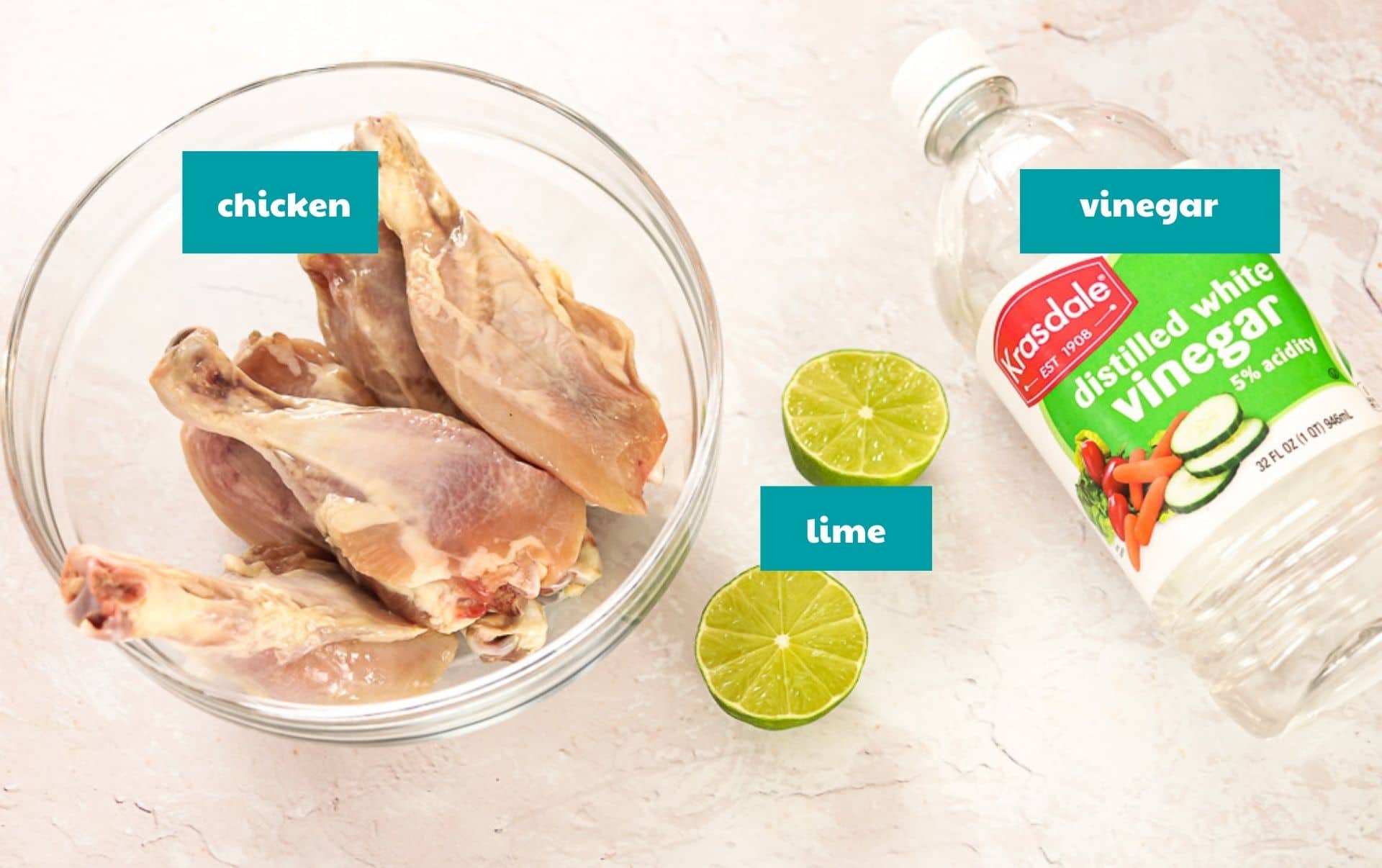 How to Clean Chicken
Chicken and poultry, especially with the poor practices in America, is full of bacteria, unless you purchase organic chicken.
One way to kill any bacteria is to clean it properly. If you buy organic chicken, you can reduce the time a little, however, I still always clean all my meat.
The only meat I do not clean is ground meat, because cleaning it will take out any flavor it has because it has already been processed. However, I do know some Caribbean people who also clean ground meat.
You need some kind of acid to clean the chicken. Most often, vinegar or lime juice is used. However, lemon juice and sour orange juice can be used and even grapefruit juice, if that is all you have.
The acid not only cleans the meat, but gives the chicken flavor also.
Clean the meat really well with the vinegar or limes, cut in half. If using limes, rub the lime all over the meat and make sure you do the inside of the cavity if using a whole chicken.
Now place the chicken pieces in a bowl with water and vinegar or lime juice. Put enough water to cover the meat and about 2 halved limes or 1 part vinegar with 2 parts water. Leave this to soak for 10 minutes.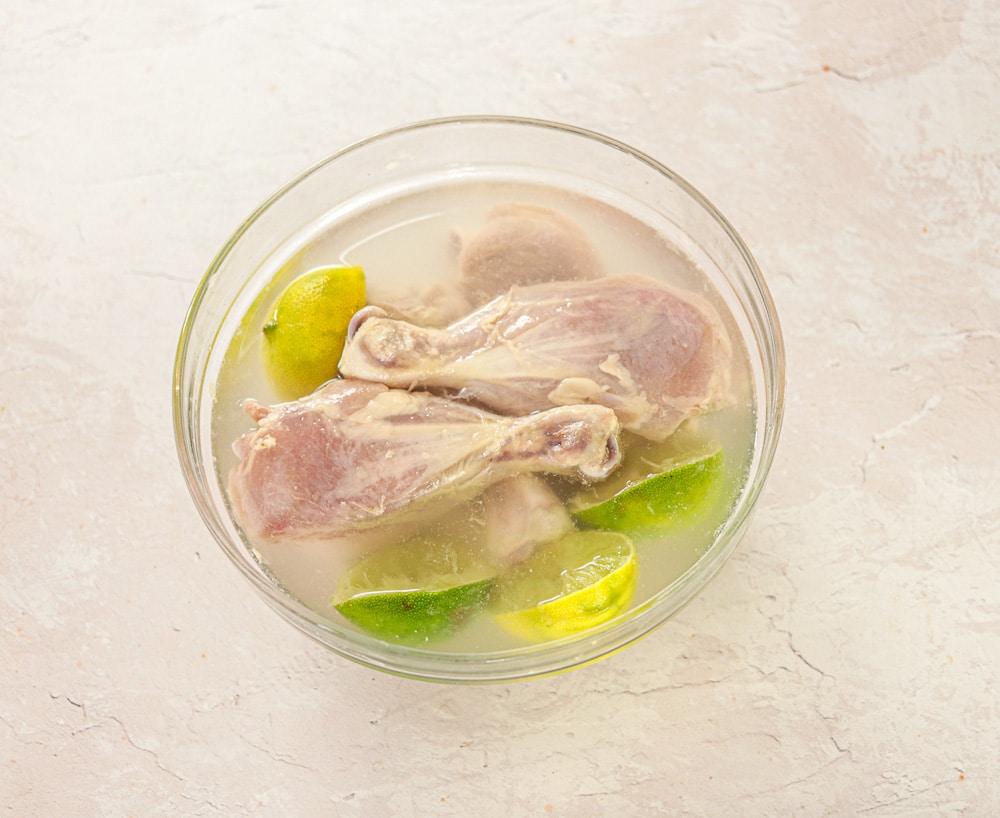 Remove the meat from the disinfecting broth. Discard this broth.
Give the meat one final rinse with fresh water.
Pat the meat dry with paper towels and now you are ready to cook your chicken.
Tips for the Best Haitian Chicken Stew
Clean your meat well, following the instructions above.
Marinate overnight for the most flavorful stewed chicken.
Freshly made homemade Haitian Epis & Creole Sauce will result in the freshest and most delicious taste.
Use a Le Creuset or similar enameled cast iron pot for easy clean up. (No matter how much the items are scorched, clean up it super easy in these pots.)
Frequently Asked Questions
Now you're ready to make Easy Haitian Chicken Stew.
The Ingredients
cleaned chicken pieces
Salt and black pepper
Epis seasoning (Haitian sofrito)
oil
onion
green bell pepper
thyme
tomato paste
green onions/ scallions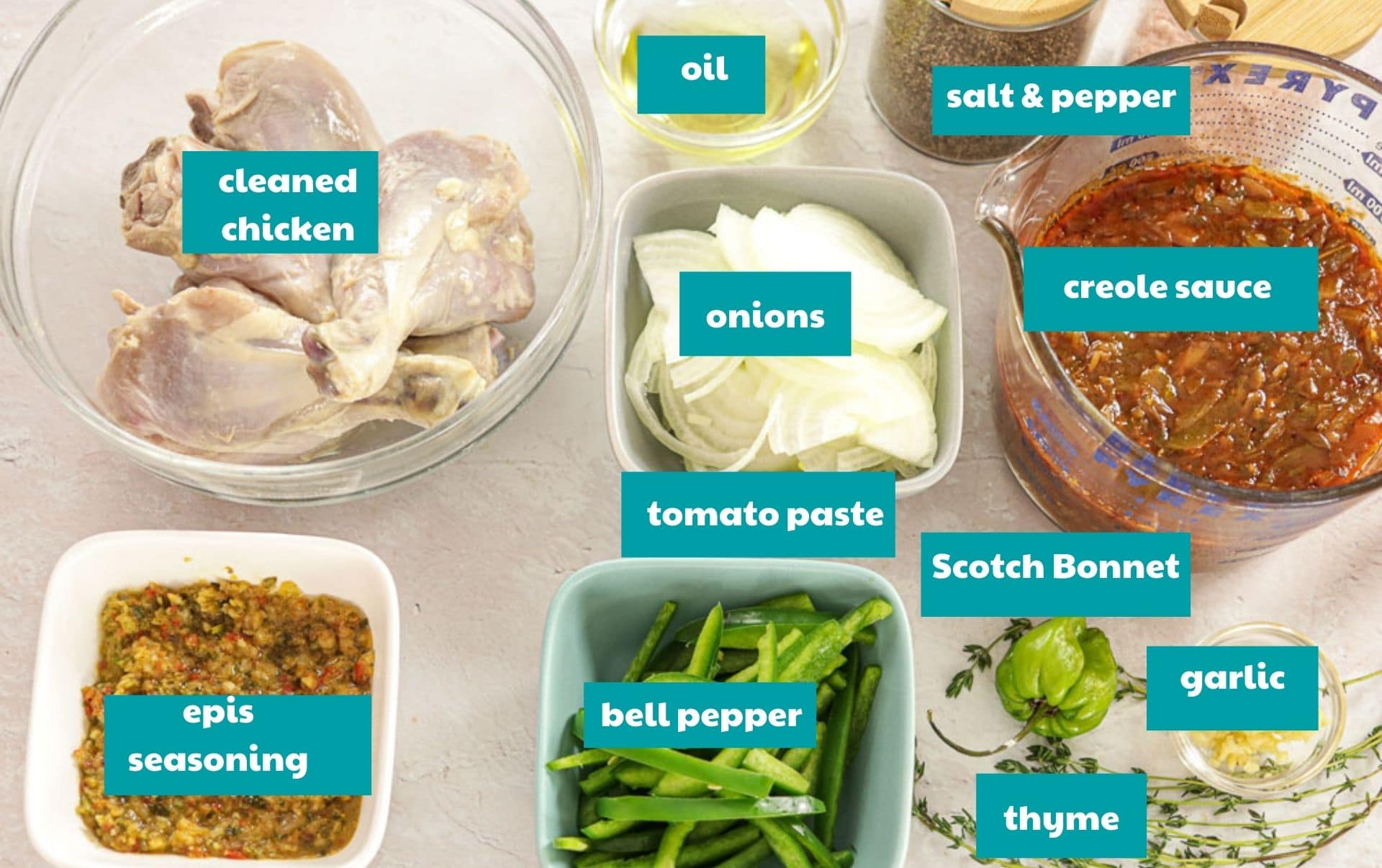 Have you tried instacart yet? It's how I get all of my fresh grocery items delivered within 2 hours!
How to Make Haitian Poulet en Sauce – Stewed Chicken
First season your chicken and marinate your chicken with Haitian Epis, Haiti's version of sofrito or green seasoning. In fact, if you want to take a shortcut, you can buy a jar of sofrito and use that instead.
The longer you marinate, the more flavorful your Poulet en Sauce will be. Marinating overnight in the refrigerator is best but a minimum of 15 minutes is required.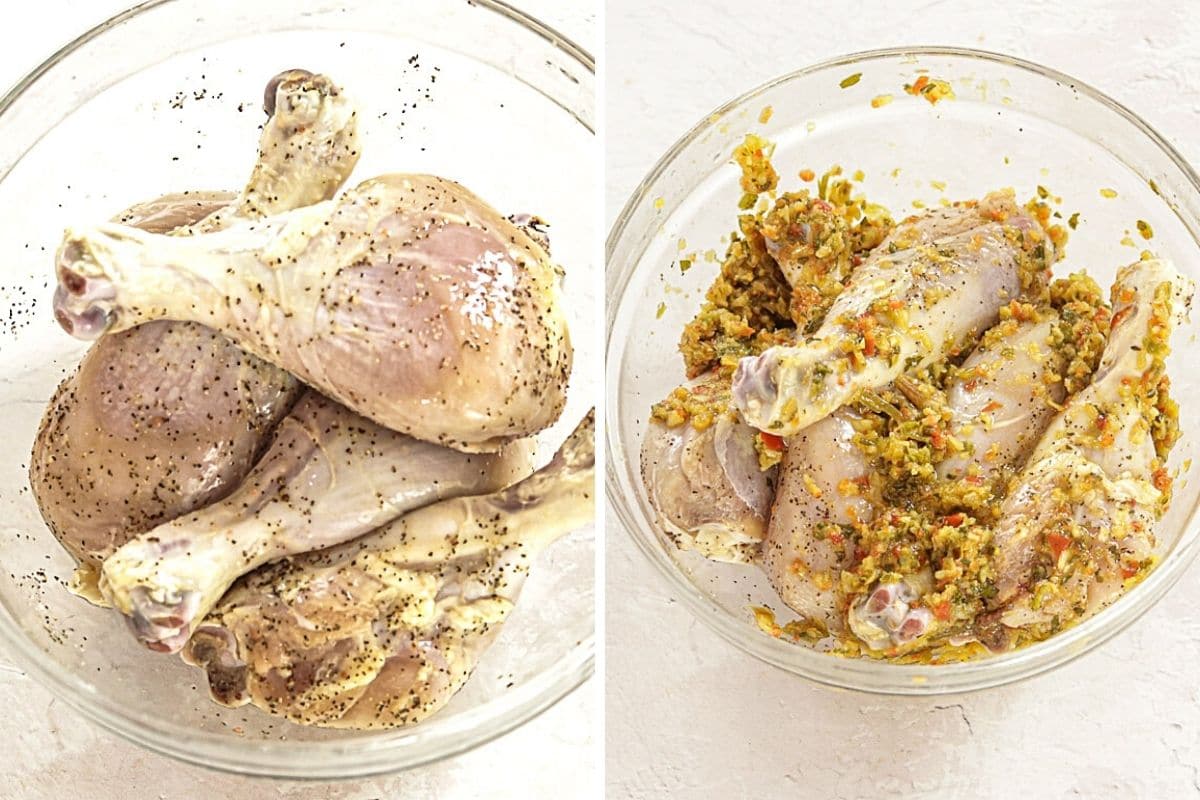 First you brown the chicken.
Now you saute your onions and peppers.
Add your Haitian Sauce ti Malice (Creole Sauce) with a little water, optional Scotch bonnet and thyme.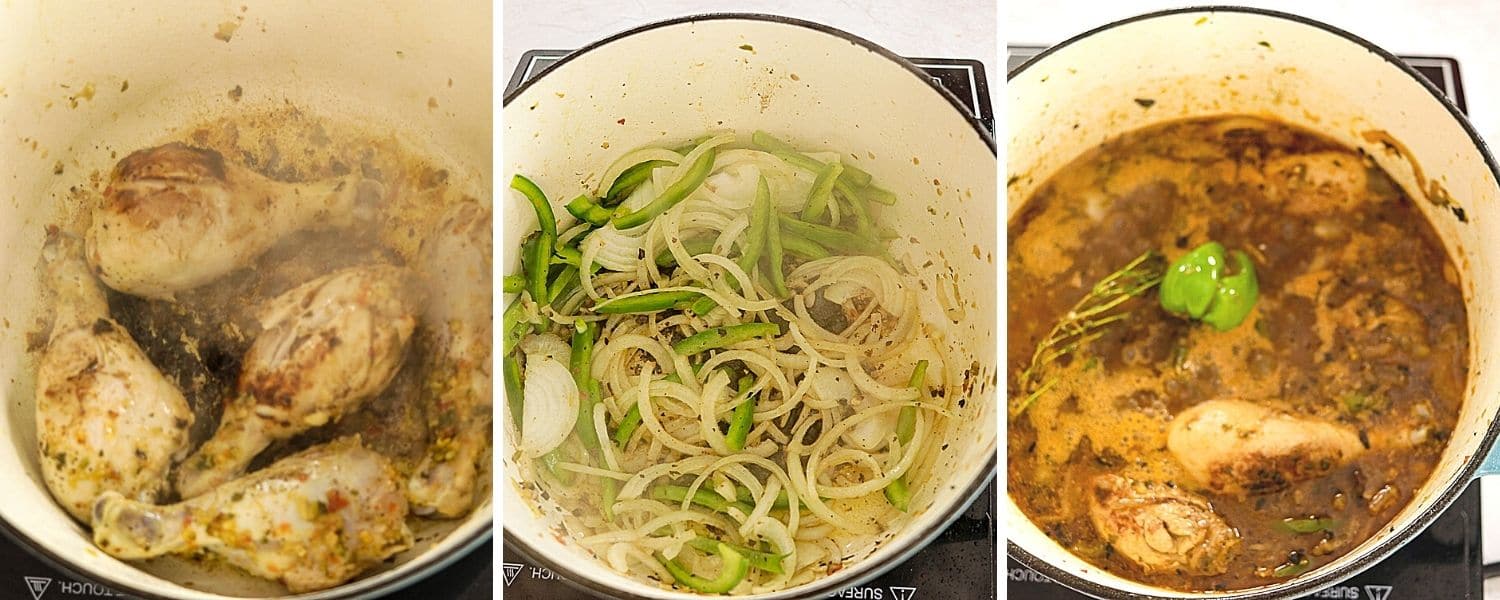 Return the chicken to the pot.
Add tomato paste after it boils.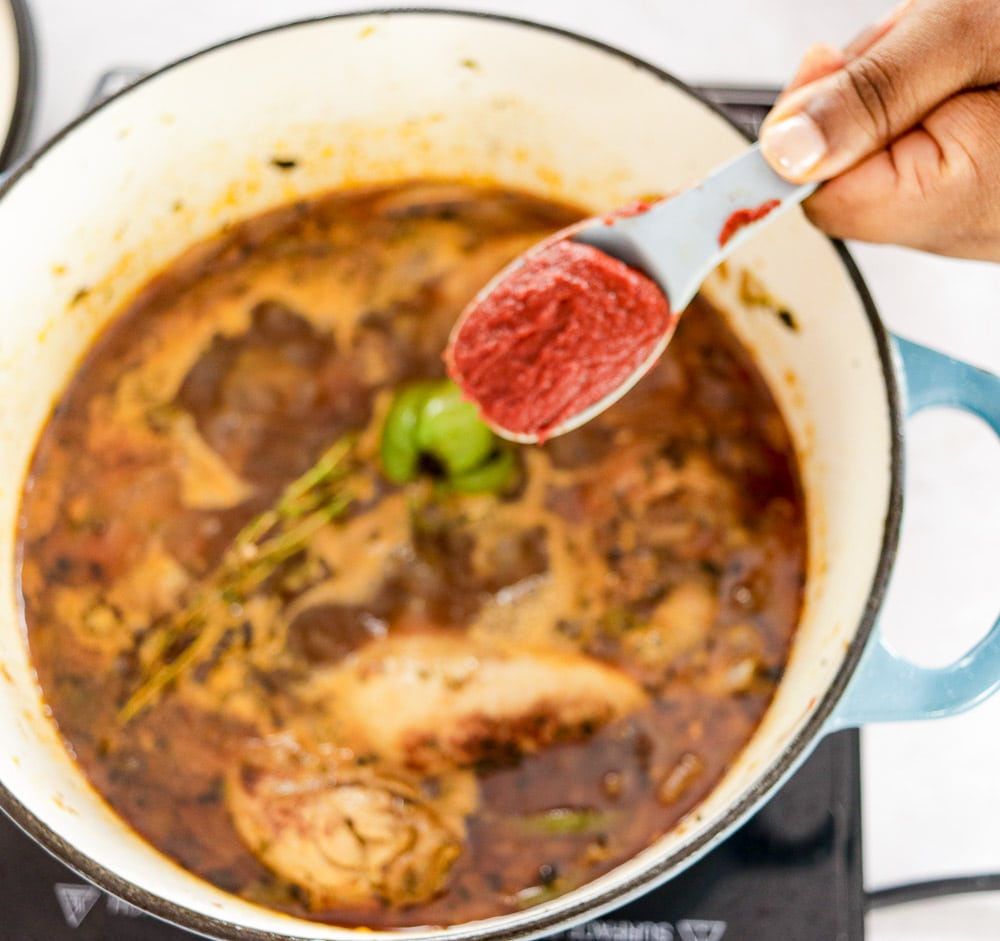 Simmer until chicken is cooked through.
Adjust seasoning with salt and black pepper, as desired.
In Haitian houses, this Poulet Sauce or Haitian Chicken in Sauce is something that would be made at least once a week. Largely considered one of Haiti's national dishes, most people (as long as meat is within their budget) eat Haitian Stewed Chicken weekly.
I grew up eating this on a regular basis, although sometimes we would switch it up and make Poisson Creole, following the same method of cooking but with fish instead of chicken.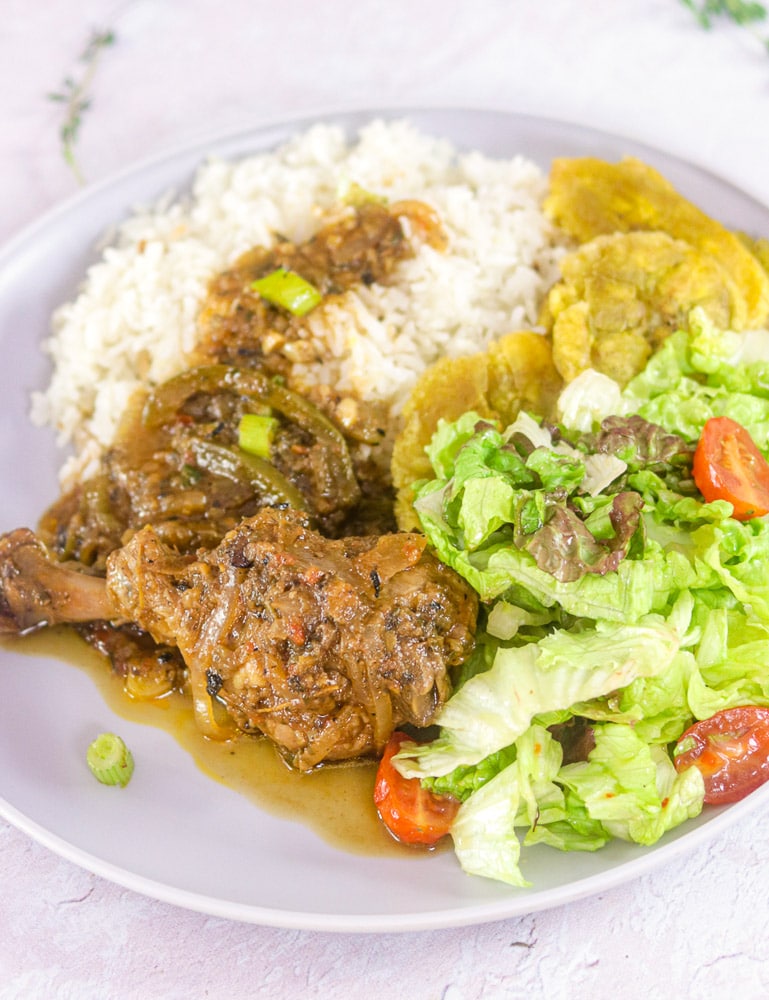 For Haitian people, this plate is the epitomy of comfort food.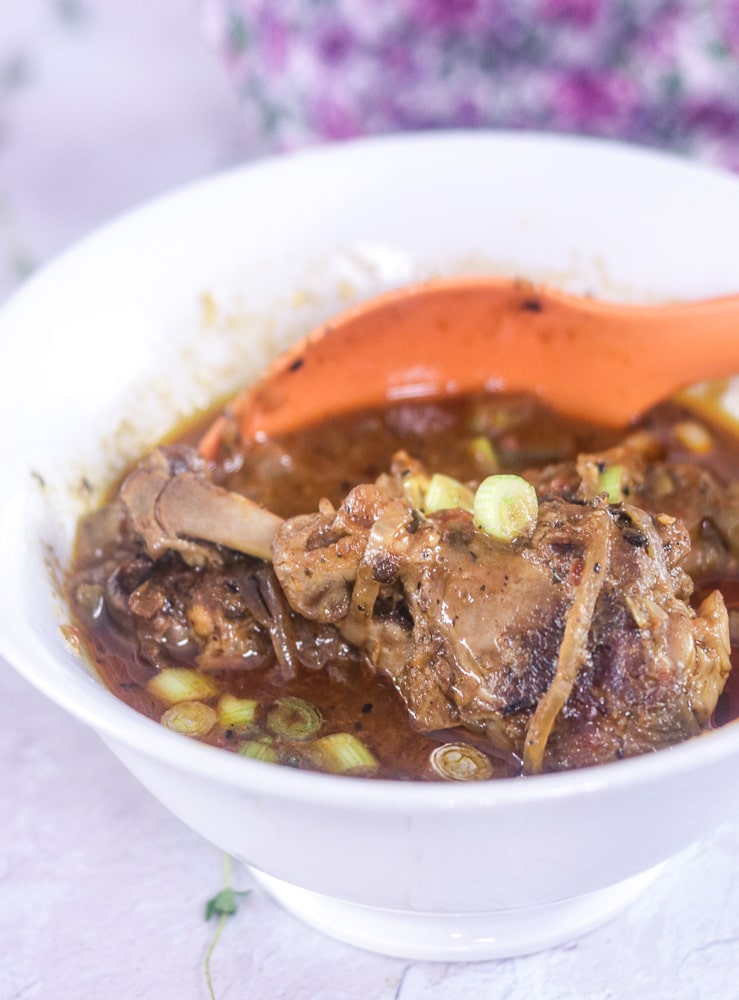 Sometimes we also eat it simply with boiled root vegetables like plantain and white sweet potato (batata).
Haitian Chicken in Sauce
Haitian Poulet en Sauce is an easy stewed chicken that can be made for a weeknight dinner. Delicious chicken is cooked in a flavorful Creole Sauce.
Ingredients
1 ½ – 2

lbs.

chicken pieces

I used skinless drumsticks

3

limes

or 2/3 cup vinegar

Salt and black pepper

to taste

1/3

cup

Epis seasoning

Haitian sofrito

3

tablespoons

oil

1

sliced onion

1

sliced green bell pepper

A few sprigs of thyme

Scotch Bonnet pepper

optional

2

tablespoons

tomato paste

2

cups

Sos ti Malice

Sliced green onions

garnish
Instructions
To clean the chicken, first cut 1 lime in half.

Squeeze the juice over the chicken and rub the chicken pieces with the lime.

Save the lime and rinse the chicken.

Cut the other 2 lime in half.

Place the chicken in a bowl with enough water to cover (about 2 cups).

Squeeze the lime juice of the 2 new limes.

Add all the lime pieces in the water with the chicken.

Alternately add about 2/3 cups vinegar to the water. (No matter what quantity you are cooking, the ratio should be one part vinegar to two parts water).

Let the chicken soak for at least 10 minutes.

Discard the soaking liquid and the limes. Give the chicken one more rinse.

Pat chicken dry with paper towels.

Season chicken with salt and pepper, to taste.

In a bowl, combine chicken with Epis seasoning. Marinate for a minimum of 15 minutes, but overnight is optimal.

Now we are ready to cook the chicken.

In a heavy bottomed pot, heat the oil.

Add the chicken pieces and brown on both sides,

Remove from the oil. Don't worry if there are some charred bits. It adds flavor.

Add onion and bell pepper. Saute until softened.

Add garlic and saute for 1 more minute.

Return the browned chicken pieces to the pan with the Sos ti Malice and 1 cup water.

Add thyme and Scotch Bonnet (if using).

Bring to a boil.

Add tomato paste and stir to combine.

Reduce to a simmer and cook until chicken is done, about 15 minutes.

To serve, garnish with sliced green onions.
Nutrition
Calories:
652
kcal
|
Carbohydrates:
6
g
|
Protein:
50
g
|
Fat:
47
g
|
Saturated Fat:
12
g
|
Trans Fat:
1
g
|
Cholesterol:
198
mg
|
Sodium:
187
mg
|
Potassium:
596
mg
|
Fiber:
2
g
|
Sugar:
2
g
|
Vitamin A:
461
IU
|
Vitamin C:
31
mg
|
Calcium:
46
mg
|
Iron:
3
mg
Did you try this recipe? Leave a comment below.
Please follow me on Instagram @chefmireille or tag me #chefmireille with your pics! I'd love to share them!
Don't forget to visit the RECIPE INDEX with over 1000 recipes from around the world including lots of Vegetarian Recipes and Gluten Free Recipes!