Last Updated on April 21, 2021 by Chef Mireille
This Haitian Potato Salad with Beets is the way to up your Potato Salad game this barbecue season. Packed with vegetables, this Haitian Salade Batteraves is both healthy and delicious!
Whether you call it potato salad or beet salad, Haitian Potato Beet Salad is a nice alternative to the boring potato salads you usually find at your summer barbecues. Not only do you get all the additional health benefits of beets, but who doesn't want to try a pretty pink potato salad?
Russian Salad? Depending on what country you are in, this salad takes on many different interpretations.
From Haiti to France to Japan, there are versions of Russian Salad around the world, all based on the Olivier Salad aka Vinegret, which is basically a Potato Salad with all the trimmings. Depending on each country's interpretation, this potato salad can be simple or it can be a souped up version with rims and all the trimmings.
But before we get on to this potato salad with beets, don't forget to check out my other Haitian Recipes to complete the meal.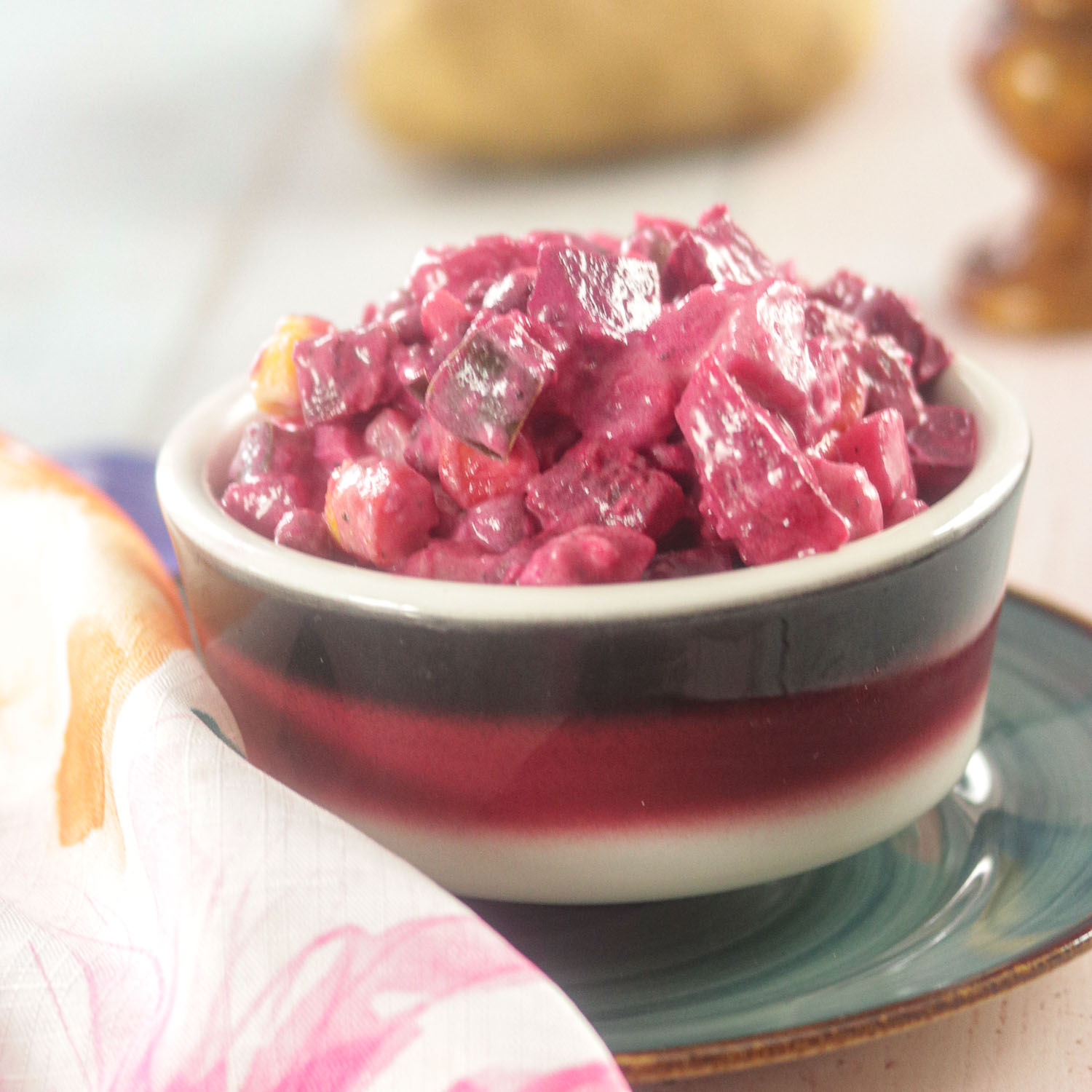 This post may include affiliate links.
The Asian versions are usually on the simpler side, however there is a key ingredient in the versions of Eastern Europe and the Caribbean. This is the addition of beets. Our pink potato salad is not only delicious but aesthetically pleasing also, with its vibrant color.
Of the Caribbean islands, the two countries on the island of Hispanola – Haiti and Dominican Republic are known for their pink potato salad.
In Haiti, it goes by several names including Salade Russe (Russian Salad) or Salade de Betteraves (Beet Salad).
The versions of Eastern Europe and Scandinavia have everything but the kitchen sink and can be a meal all on its own including apples, sausage and eggs like in this Finnish Rosolje.
Potato Salad is one of those things that every country has a version of and if you are a foodie like me, you may have wondered how do potato salads differ in different countries. Well, at least today, you'll learn the Haitian version.
Today I am presenting this quintessential salad in any Haitian home. I am half Haitian and this salad is a must at any party or special occasion. In fact, it is usually on the table for Sunday dinner. How this salad travelled the world and got all the way to Haiti, I will never know.
Now let's talk about some of the optional ingredients you can add to this potato salad.
What should you put in a potato salad?
Well, ask 6 different people and you will probably get 6 different answers.
Even this Haitian addition can have variations as you can add as many or as little additional vegetables as you prefer.
What's great about this salad is as long as you have the base ingredients of potatoes, beets and mayonnaise, it is completely customizable according to your preference of more or less vegetables and eggs. There is no wrong method.
However, here are some ingredients that you can add to this Potato Salad with Beets.
onions
bell peppers
carrots
celery
green peas
corn
green beans
and you can also add herbs like…
….and I also have a SECRET INGREDIENT I put in mine, but I've decided to let you in on my secret!
Traditionally, Haitian Beet Salad is made with only mayonnaise. However, growing up in America we get a larger variety of condiments like American Sandwich Spread which is a combination of mayonnaise and sweet relish. This has a lot more flavor than plain old mayonnaise so I make my version of Haitian Salade Russe with a combination of both mayonnaise and sandwich spread.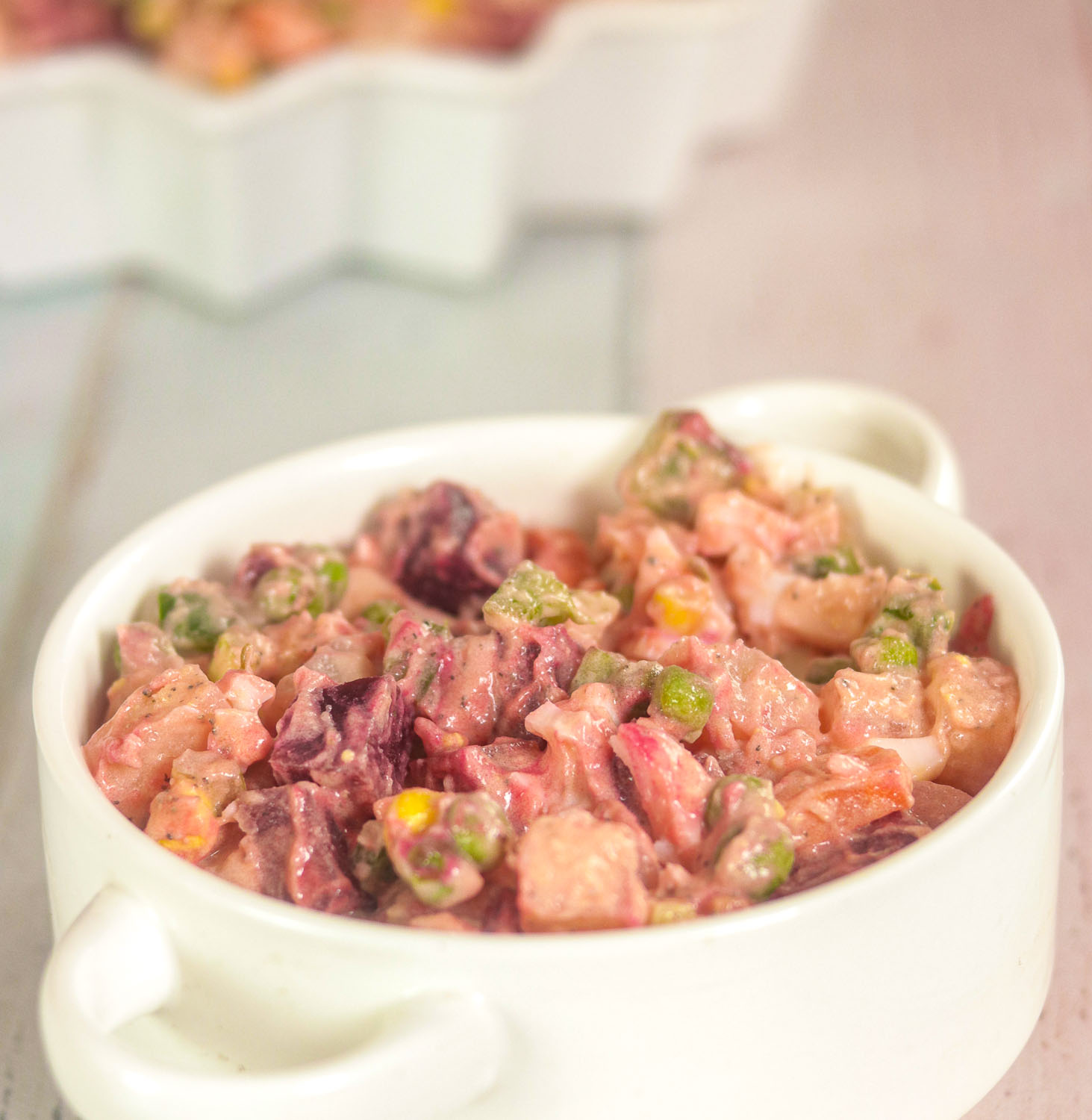 You can make this potato salad a little different every time. It really just depends what vegetables and herbs you have about. I will often include vegetables not common in Haitian cuisine if I have them like zucchini, asparagus, celery root and jicama. It is a great no waste recipe, using whatever leftover veggies you have about.
Even the way it is cooked is customizable. You can either cook the potatoes very soft, so they are mashable to get a very vibrant colored salad or you can leave them diced by cooking the potatoes only until they are just cooked.
Is potato salad healthy?
Potato Salad is actually not that healthy because potatoes turn into sugar, which is why diabetics cannot eat potatoes.
Health Benefit of Beets
Even though you might think beets taste sweeter so they have more sugar right? No – beets are not carbs so they don't break down into sugar in your body the way potatoes and other carbohydrates do.
Beets are high in phytochemicals, which help regulate glucose and insulin in the body
Beets are high in antioxidants, which help prevent disease
Beets help lower blood pressure
So for an even healthier version of this salad, use more beets and less potatoes.
This Russian Beet Salad – Haitian Style – is both delicious and healthy.
Recipe Notes
If you want the potatoes to stay firm, the easiest way to ensure the potatoes stay firm and don't mash is to put them in the refrigerator for a few hours after boiling them before combining the other ingredients to make the salad. However, to be honest, I almost never do this.
It is important to cook the vegetables one at a time, otherwise some may get overcooked. Can you think of anything worse than mushy carrots!
Now let's see what you need to make the best Potato Salad you will ever have!
Ingredients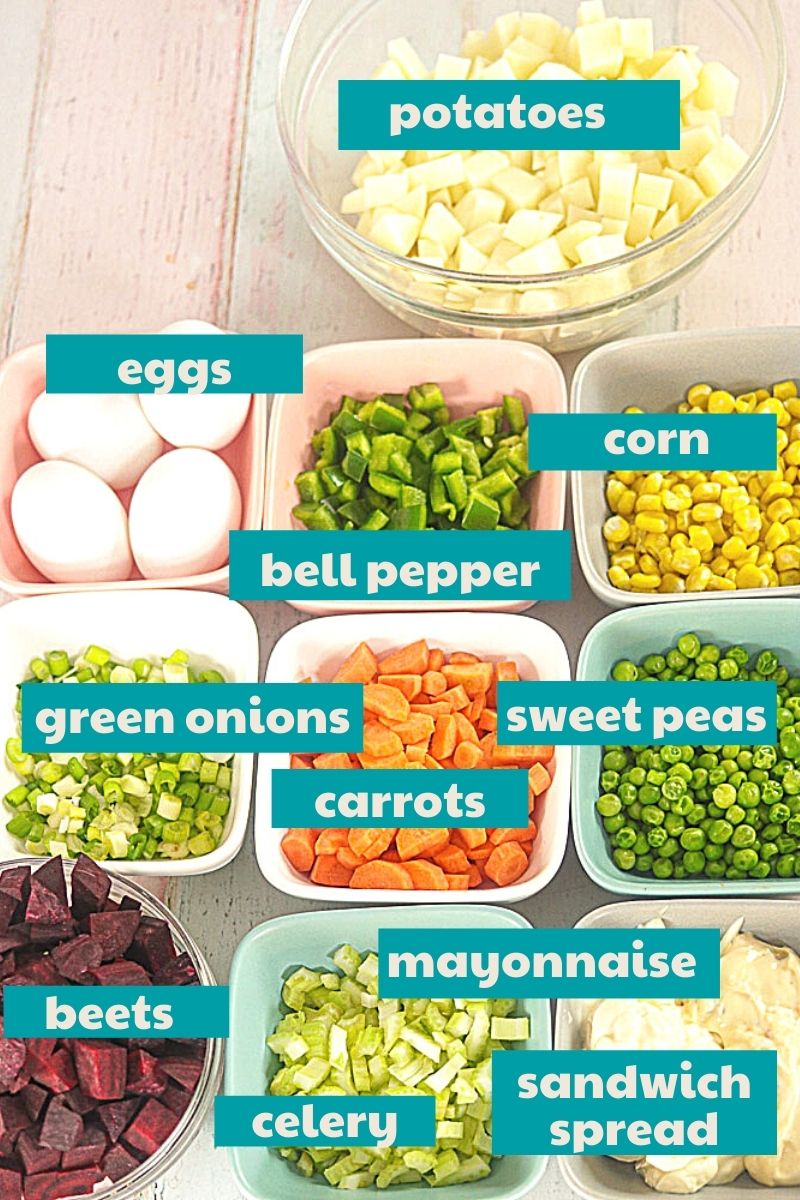 potatoes
carrots
beets
eggs
green bell pepper
celery
sweet green peas
corn kernels
salt and pepper, to taste
green onions/ scallions
Have you tried instacart yet? It's how I get all of my fresh grocery items delivered within 2 hours!
How to make Beet Salad? – Haitian Style
Boil the potatoes, carrots and celery separate;ly.
Cook eggs in boiling water for exactly 12 minutes (use a timer). Then cool immediately by running cold water over them. This step is VERY IMPORTANT so you don't get that ugly gray rim around your egg yolks. PERFECT HARD BOILED EGGS.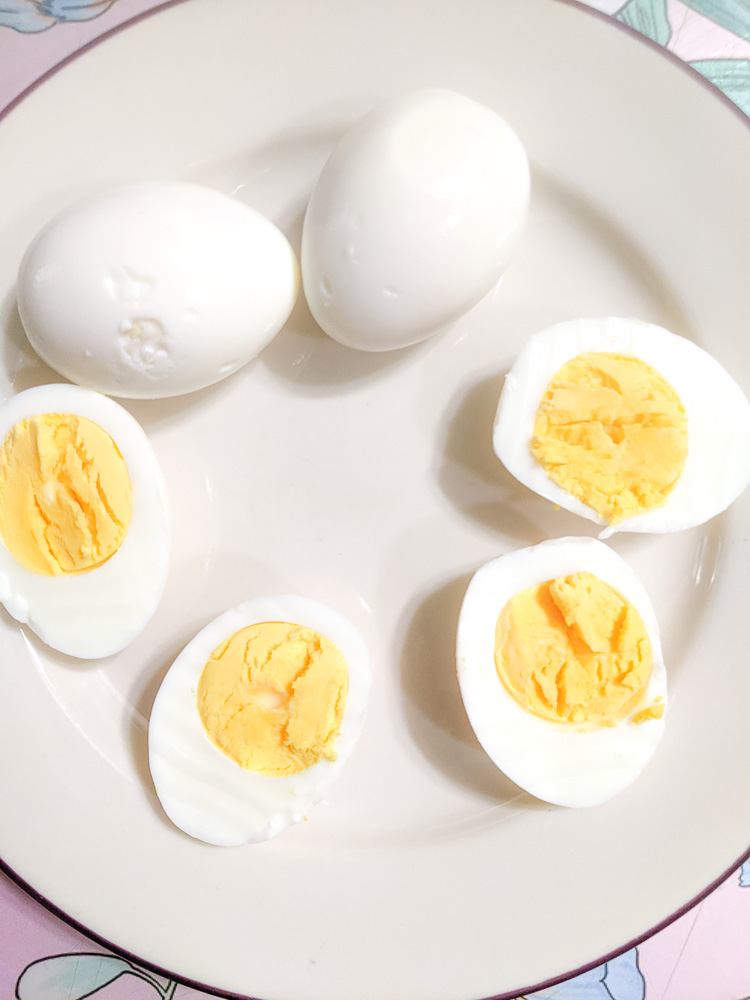 Mix your vegetables with the eggs and other ingredients.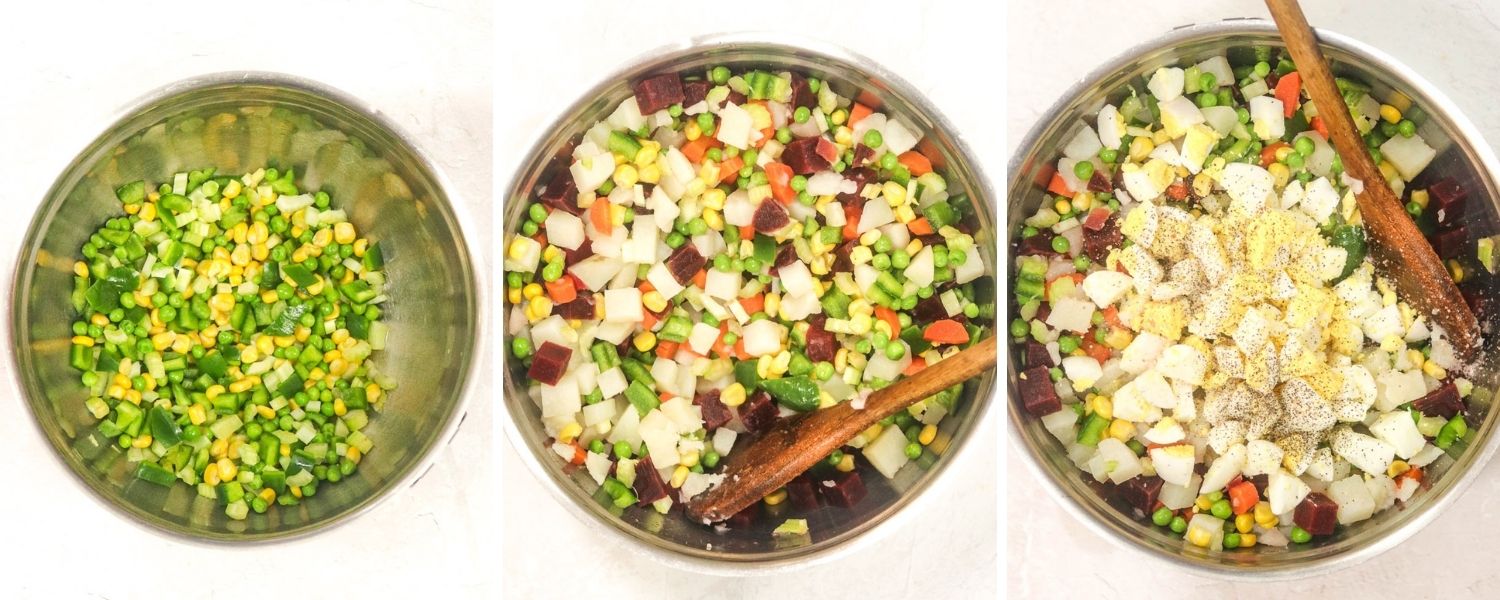 To serve, garnish with green onions/ scallions.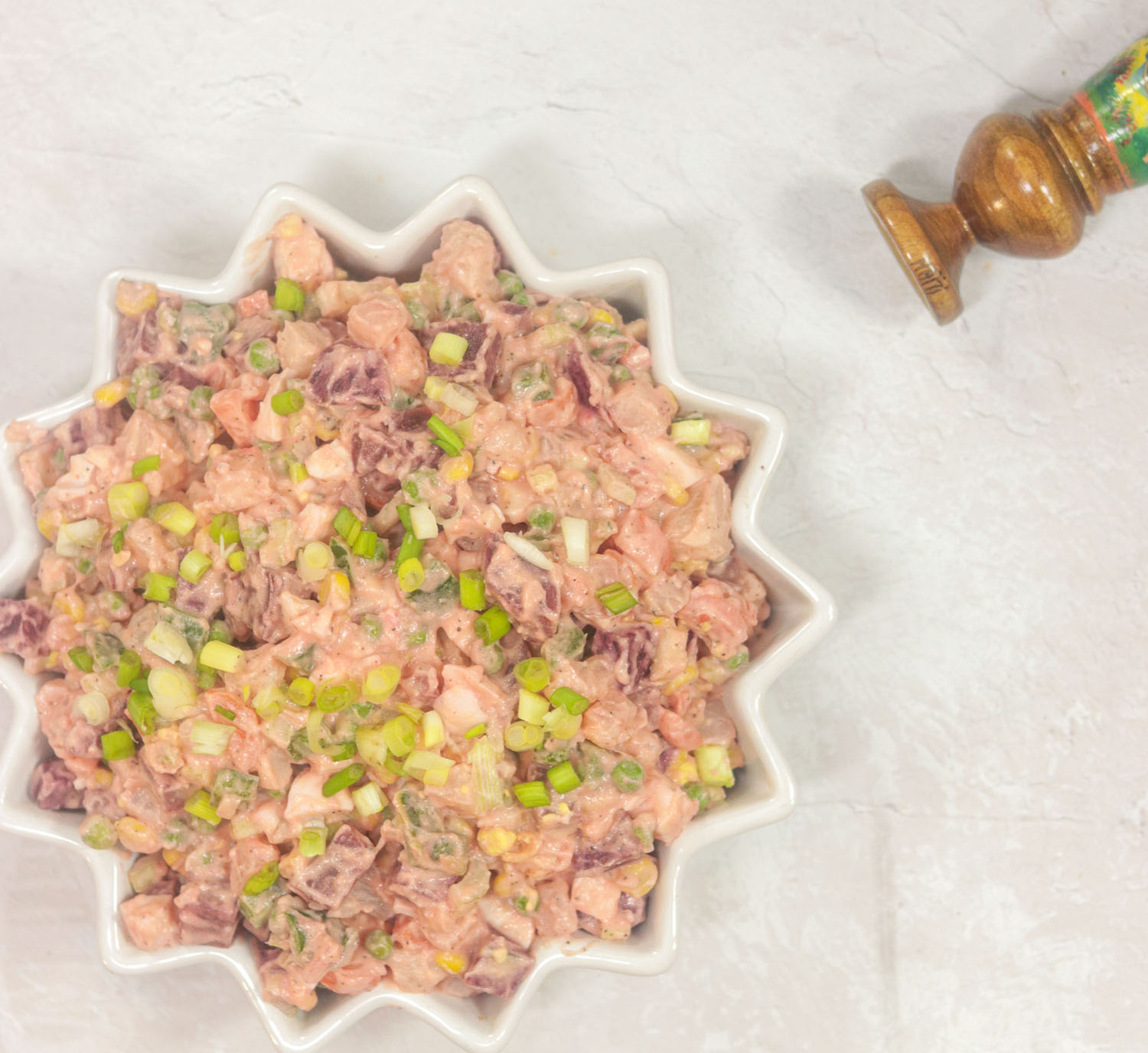 At the beginning, Haitian Beet Salad won't look much different from most potato salads.
but then….
After it sits for a bit, the beet juices will start to bleed. Stir it again and you will now have the famous Pink Potato Salad of Haiti and the Dominican Republic.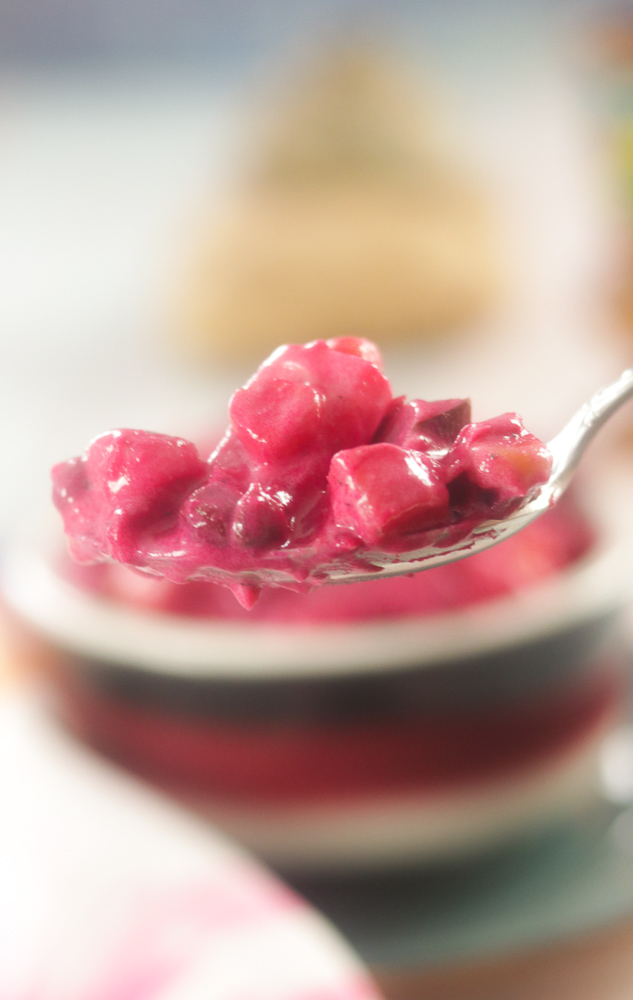 Haitian Beet Salad
Haitian Beet Salad with Potatoes is Potato Salad reinvented packed with veggies for a healthy and delicious addition to your summer barbecues and picnics.
Ingredients
1 ½

lbs.

potatoes

2

carrots

peeled and diced

1

lb.

beets

4

eggs

1

bell pepper

diced

2

stalks celery

chopped

¾

cup

green peas

canned peas or frozen peas can be used

¾

cup

corn kernels

canned corn or frozen corn can be used

2/3

cup

mayonnaise

⅓

cup

sandwich spread

salt and pepper

to taste

2

scallions

chopped, for garnish
Instructions
Dice your potatoes, beets and carrots.

Bring a pot of water to the boil. Add potatoes and cook for about 10 minutes, until tender. Drain immediately and run under cold water to immediately stop the cooking process. Alternately, place in a bowl of ice water.

Simultaneously in another pot or after the potatoes are cooked, bring enough water to cover to the boil again.

Add carrots and cook for 5 minutes until tender. The carrots should still have some bite to them, so do not overcook them. Drain immediately and run under cold water to immediately stop the cooking process. Alternately, place in a bowl of ice water.

In the same pot or simultaneously in another pot, bring fresh water to the boil again. Add beets and cook for about 15 minutes, until fork tender. Drain immediately and run under cold water to immediately stop the cooking process. Alternately, place in a bowl of ice water.

Bring a pot of water again to the boil.

Using a culinary spider, carefully place the eggs into the boiling water.

Use a kitchen timer and cook for exactly 12 minutes. Drain immediately and run under cold water to immediately stop the cooking process. This will ensure you don't get a gray rim around the yolk of the eggs.

Remove the shells of the eggs and chop the eggs.

In a large bowl, combine bell pepper, celery, green peas and corn. Stir to combine.

Add potatoes, beets and carrots. with salt and pepper.

Add eggs and stir to combine with a fork so that the vegetables do not get crushed.

Add mayonnaise and sandwich spread.. Mix until thoroughly combined.

Taste and adjust seasoning, if necessary.

To serve, garnish with scallions.

If you would like to add a little heat, add a few drops of Pikliz (Haitian hot sauce).
Notes
Fresh, frozen or canned vegetables can be used for the corn and green peas.
It is important to use a kitchen timer so that neither the eggs nor the vegetables get overcooked.
Nutrition
Calories:
375
kcal
|
Carbohydrates:
17
g
|
Protein:
7
g
|
Fat:
31
g
|
Saturated Fat:
5
g
|
Trans Fat:
1
g
|
Cholesterol:
125
mg
|
Sodium:
393
mg
|
Potassium:
488
mg
|
Fiber:
5
g
|
Sugar:
9
g
|
Vitamin A:
4419
IU
|
Vitamin C:
39
mg
|
Calcium:
48
mg
|
Iron:
2
mg
Did you try this recipe? Leave a comment below.
Please follow me on Instagram @chefmireille or tag me #chefmireille with your pics! I'd love to share them!
Don't forget to visit the RECIPE INDEX with over 1000 recipes from around the world including lots of Vegetarian Recipes and Gluten Free Recipes!