Last Updated on December 16, 2021 by Chef Mireille
Haitian Style Rice and Beans made in a fraction of the time in the Instant Pot still has the same authentic taste as the old fashioned stove top method.
This is a staple dish in Haitian homes, eaten daily.
When I was a child, my parents would put the beans to soak overnight every night before they went to bed. Then either in the morning or after work, the beans would have to be boiled.
Only after the beans were boiled, which took usually about an hour, could the rice and beans be made.
Now, cooking time is reduced to just 15 minutes in the Instant Pot plus natural release.
But before we get to this easy healthy recipe integral to Haitian Cuisine, don't forget to check out my other Haitian Recipes to complete this meal.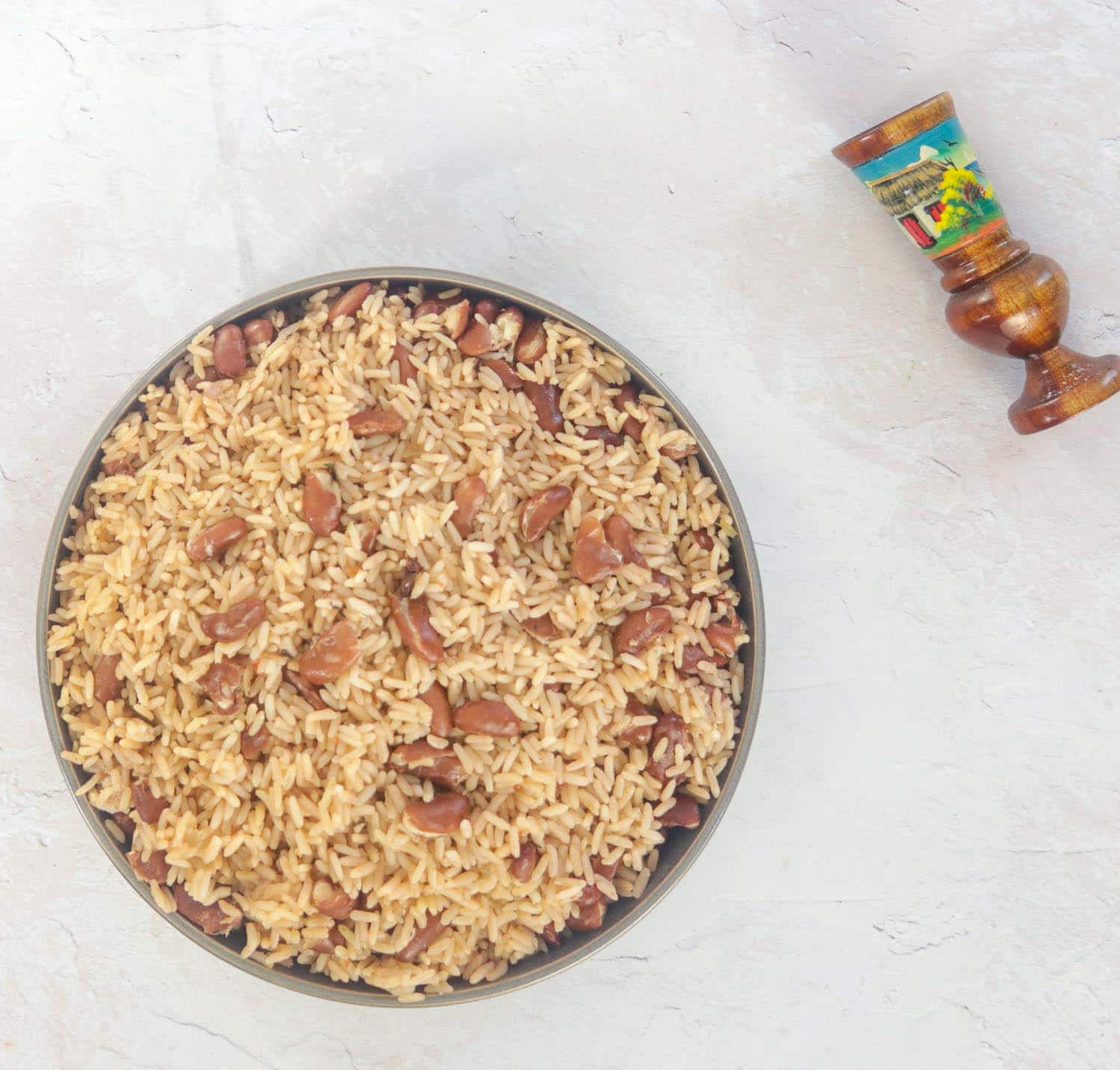 This post may include affiliate links.
This Haitian Style Red Beans & Rice is not a just a staple of Haitian Cuisine but is uniquely delicious. So what makes it cuisine? The cloves give this Rice & Beans Recipe a unique flavor profile.
A typical meal could include this Haitian Rice and Beans Recipe with Poulet en Sauce (Stew Chicken) and Banane Peze (Fried Green Plantain) with Pikliz on the side.
If you want to go all out, you can make Haitian Style Orange Cake for dessert.
Are you new to the Instant Pot?
I am. I only just got it in December and am only getting used to making my foods in the Instant Pot. I have the Instant Pot Duo which is Instant Pot and Air Fryer in one and I am really loving it now.
As I am a big seafood fan especially in summer, fried fish and making seafood in the Air Fryer is so quick and easy, not to mention a fraction of the calories without the oil needed in stove top methods.
So today I am presenting my first Instant Pot recipe here for all of you who own one…and get ready for some more Instant Pot Recipes and Air Fryer Recipes.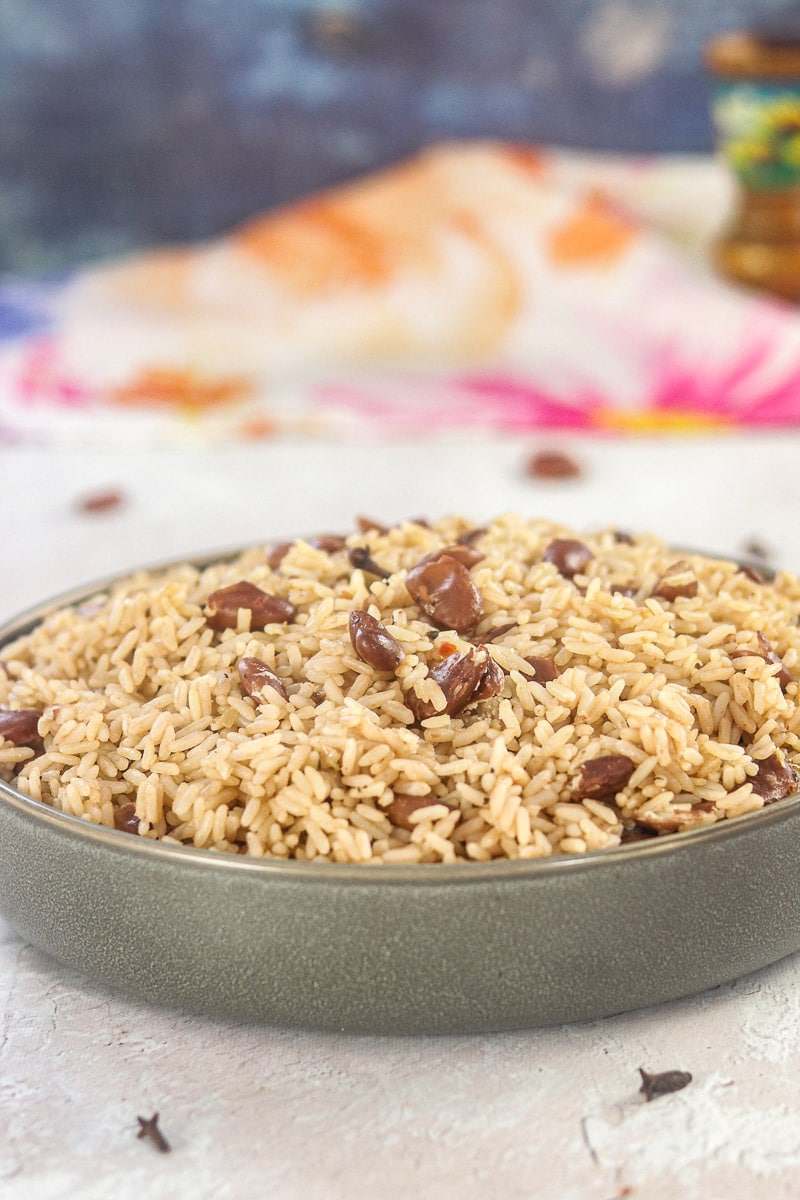 Is all Haitian Diri Ak Pwa (Rice & Beans) the same?
No. One of my pet peeves is when people tell me there is only one way to make traditional Haitian Recipes or traditional recipes of any culture for that matter.
Every person when they cook adds their own little twists or maybe they just don't like an ingredient. Whatever the reason, there is always variation among traditional recipes in every country.
Ask 10 people from Trinidad to make curry chicken and I guarantee you are going to have variation in ingredients and methods.
So what are the common variations when making Haitian Red Beans and Rice?
Recipe Variations
Rice – Most people would probably use white rice. However, I grew up in a health conscience home with a nurse as a mother. Therefore, we always used parboiled brown rice. The brown rice adds more protein and fiber, however, by using parboiled rice the cooking time is the same as cooking white rice.
Coconut Milk – Some people would replace 1 cup of the water when cooking the rice with coconut milk. However, in my family this version was reserved for special occasions like holidays. For everyday rice and beans, we cooked the rice with only water.
Scotch Bonnet Pepper (Habanero) – 1 whole habanero pepper is often added to the rice to add a gentle spice to Haitian Rice and Beans. However, I prefer not to use it as it may overpower the other dishes you might serve with your Instant Pot Haitian Rice and Beans.
I only use the Scotch Bonnet when it's a Vegetarian night and I am using this Haitian Diri Ak Pwa as the main course of the meal. As Rice & Beans are a complete food, you can serve this Haitian Style Rice & Beans as dinner for Meatless Monday.
Beans – Although kidney beans are the most common beans used when making Haitian Rice & Beans, black beans or pinto beans may also sometimes be used. You can also make Haitian Black Beans and Rice, if you prefer.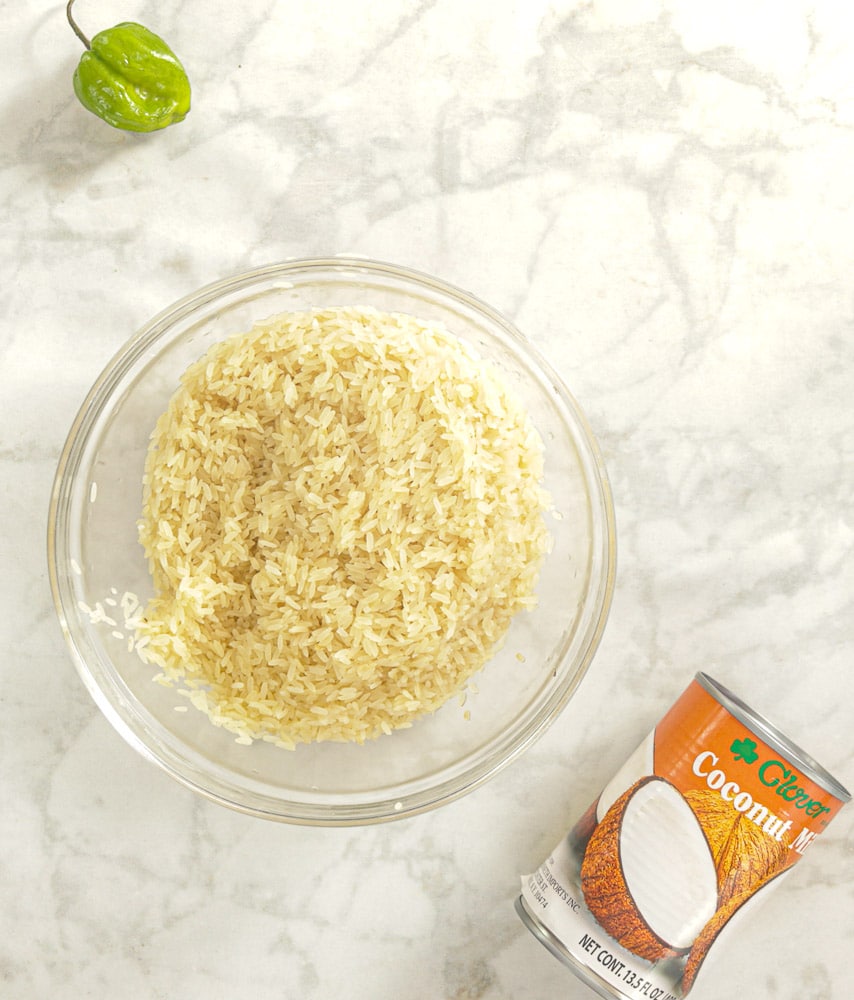 We also make Rice & Peas, where we cook it the same way, but use pigeon peas instead of red kidney beans or black beans.
Frequently Asked Questions
Recipe Notes
The most important step is to wash the rice. The rice should be washed at least 2-3 times. This washes away the starch, ensuring the separate grains that characterize Haitian Style Red Beans and Rice. If you don't like sticky rice, this is going to be your new favorite way of making Rice and Beans.
If you would like to make this recipe even faster, you can use canned beans and then just follow the directions to make the rice.
If using coconut milk, use canned coconut milk. Do not use tetra pack coconut milk. Learn the difference between coconut milks here.
How to Make Easy Red Beans and Rice in the Instant Pot?
It only takes a few ingredients to make the most delicious rice and beans to include as part of your weekly meals.
Ingredients: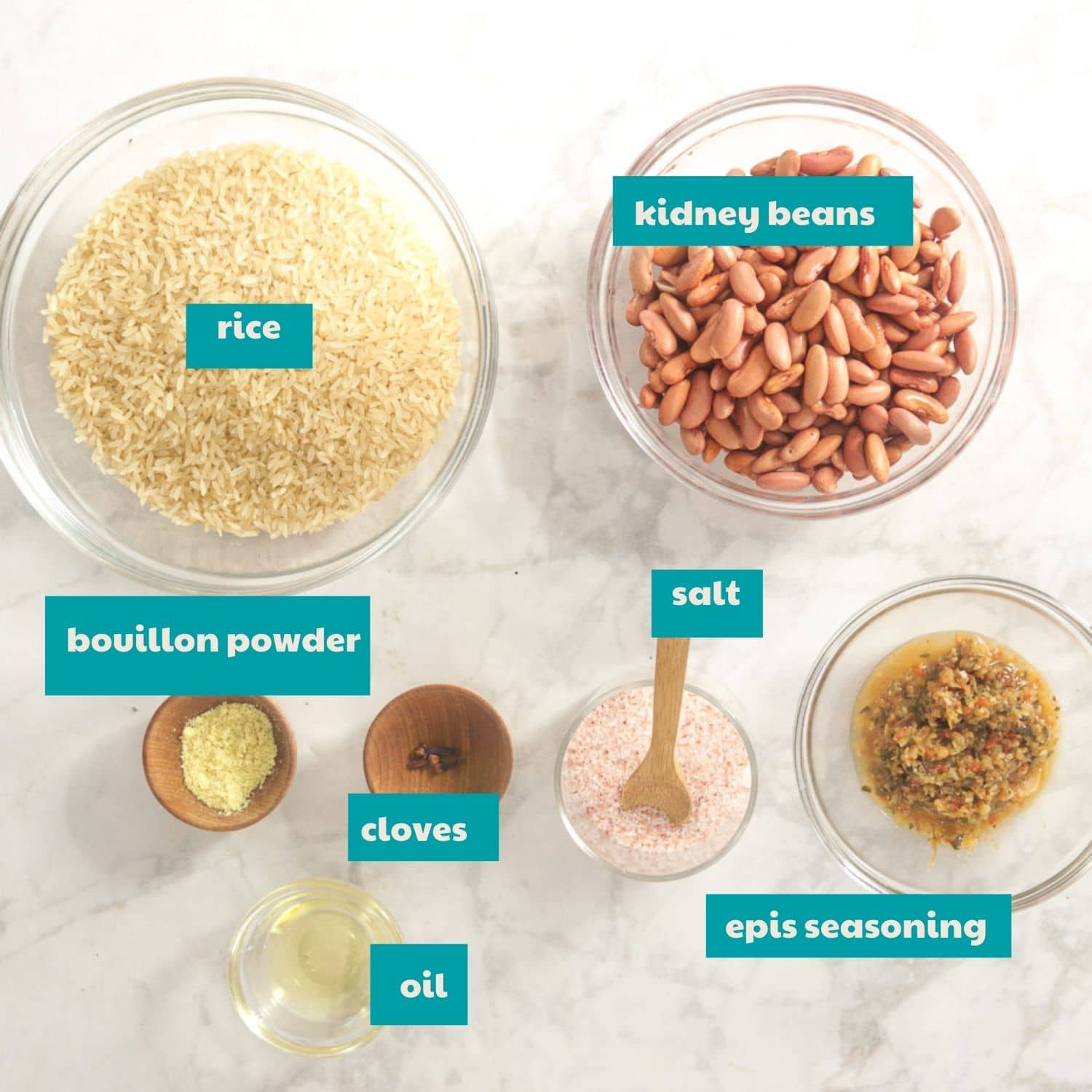 Have you tried instacart yet? It's how I get all of my fresh grocery items delivered within 2 hours!
Clean rice very well at least 3 times. This is very important to remove the starch to ensure separated grains of rice.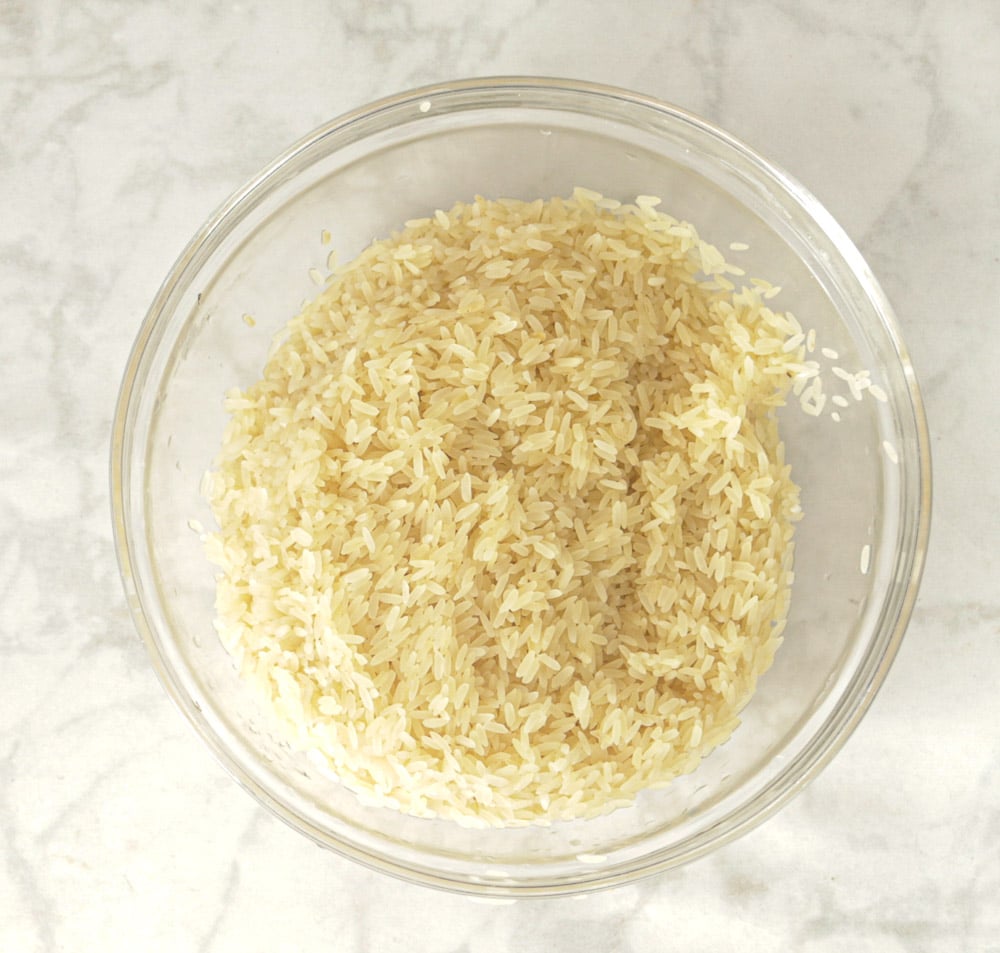 Cook beans in the Instant Pot for 10 minutes (if you pre soaked the beans), using natural release.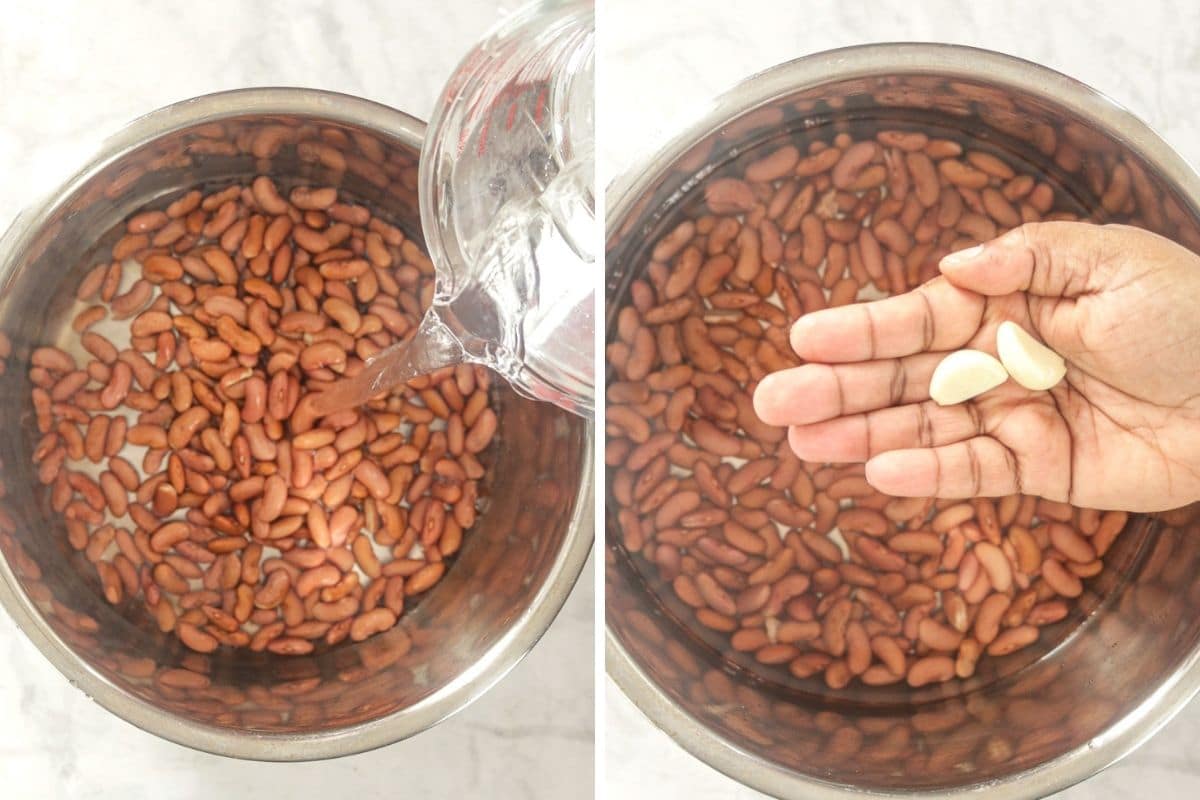 Strain the beans, reserving the liquid the beans were cooked in.
Saute epis seasoning.
Add washed rice, cloves and bouillon powder.
Saute for a few minutes to evenly coat the rice with the spices.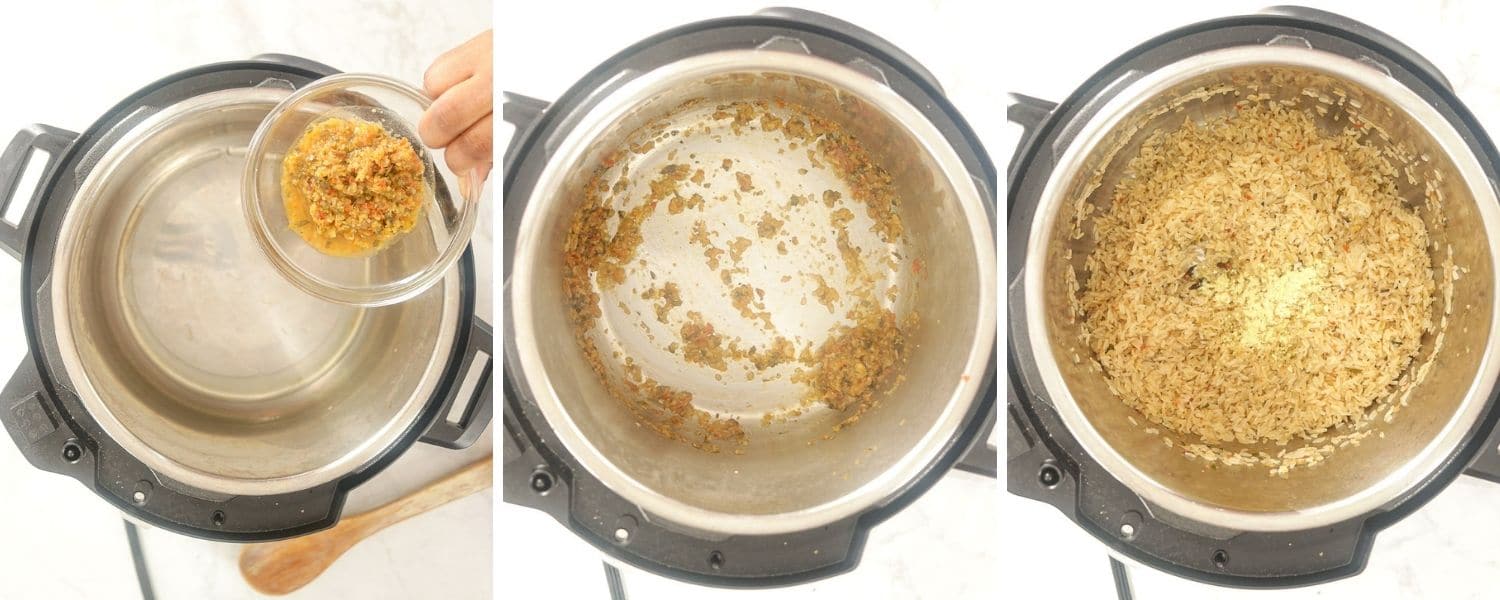 Add beans, reserved cooking liquid and salt.
Cook in the Instant Pot for 4 minutes, using natural release.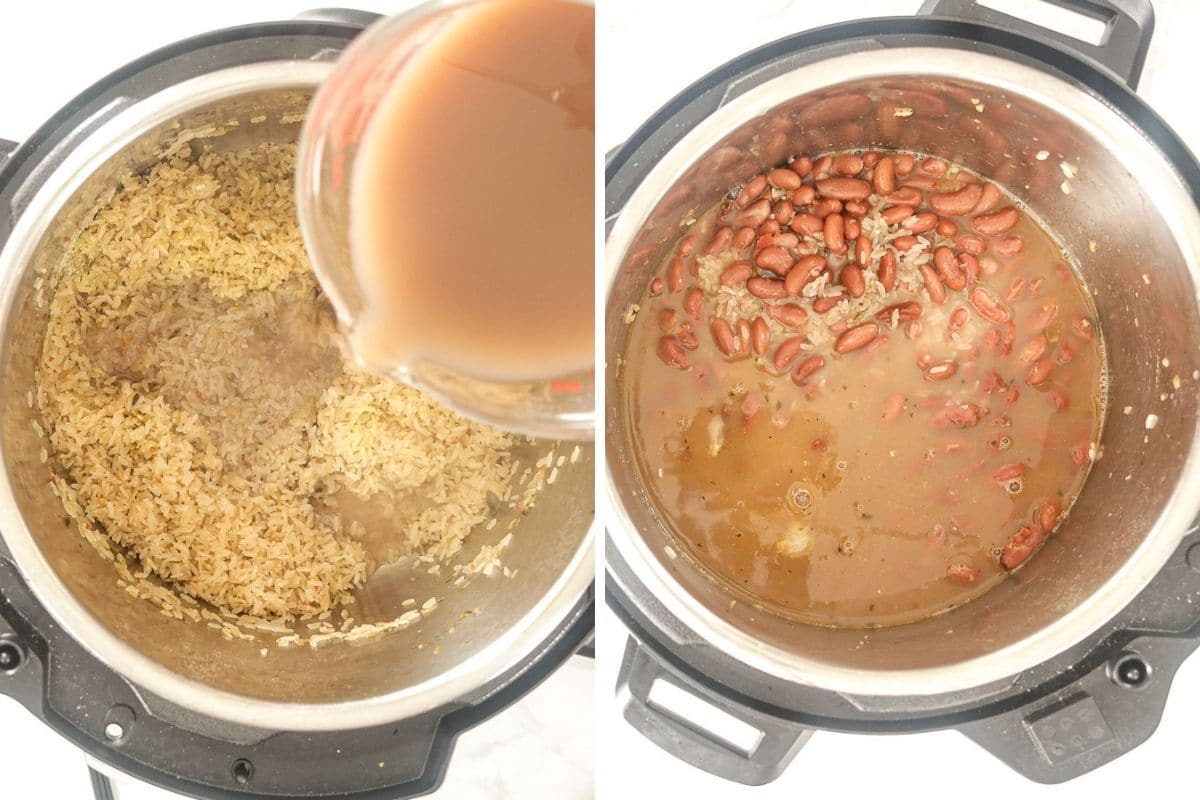 Fluff with a fork and adjust salt, if necessary.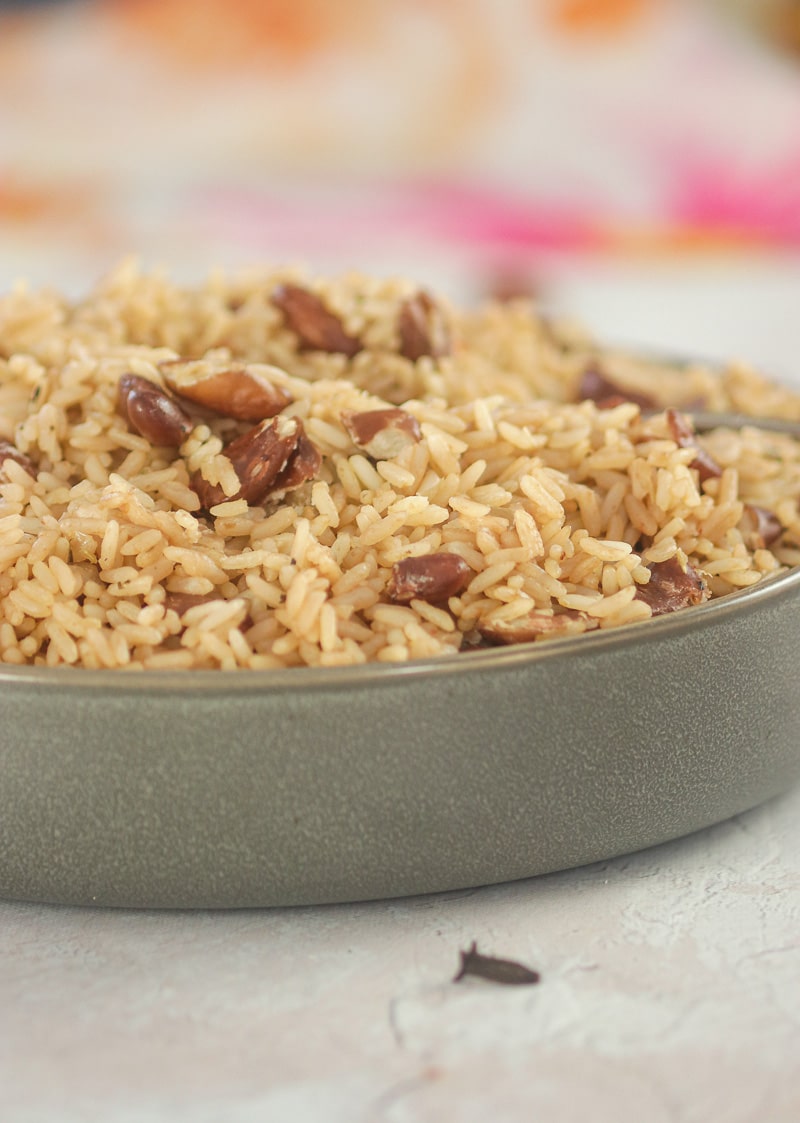 Perfect Rice & Beans with separate grains.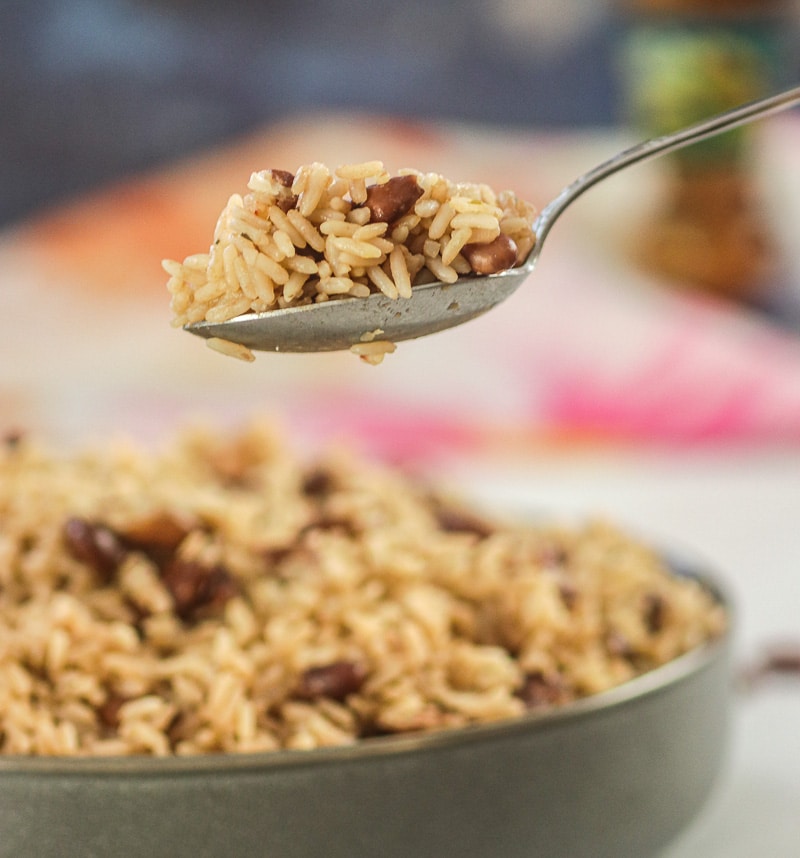 Haitian Style Red Beans and Rice
Haitian Rice & Beans – Diri Ak Pwa is a staple side dish for all Haitian Meals. This easy Vegetarian Rice & Beans can serve as a meal on its own for Meatless Monday with gravy.
Instructions
Although not required, it is suggested to soak the beans for at least 1 hour to avoid gastro intestinal problems.

Combine beans, garlic cloves (if using) and 4 cups of water in the Instant Pot.

Cook on Pressure Cooking mode for 10 minutes. 20 minutes for beans soaked 1-2 hours. 30 minutes for beans without any pre soaking.

Wait for natural release.

Remove beans and cooking liquid from the Instant Pot. Strain beans, reserving the cooking liquid.

On Saute mode, add the oil.

Add epis (or chopped onion and garlic). Saute for a few minutes to cook the epis, about 3 minutes.

Add rice and saute another 2-3 minutes to thoroughly coat the rice with the seasoning.

Add cloves and bouillon powder.

Add rice and 3 cups of the reserved cooking liquid.

Add cooked beans and stir to combine.

Cover and cook on high pressure for 4 minutes.

Wait for natural release.

Fluff with a fork and adjust salt, if necessary.
Notes
It is VERY IMPORTANT to clean the rice first in a few exchanges of water.
You can choose to soak the beans or not, but it will affect the cooking time. If you do not soak the beans, they will take about 30 minutes to cook.
Nutrition
Calories:
355
kcal
|
Carbohydrates:
62
g
|
Protein:
8
g
|
Fat:
8
g
|
Saturated Fat:
6
g
|
Trans Fat:
1
g
|
Cholesterol:
1
mg
|
Sodium:
73
mg
|
Potassium:
240
mg
|
Fiber:
3
g
|
Sugar:
1
g
|
Vitamin A:
12
IU
|
Vitamin C:
3
mg
|
Calcium:
33
mg
|
Iron:
2
mg
Did you try this recipe? Leave a comment below.
Please follow me on Instagram @chefmireille or tag me #chefmireille with your pics! I'd love to share them!
Don't forget to visit the RECIPE INDEX with over 1000 recipes from around the world including lots of Vegetarian Recipes and Gluten Free Recipes!