Last Updated on May 2, 2021 by Chef Mireille
Healthy Green Plantain Chips are easily made in the Air Fryer in just a few minutes, with a fraction of the calories. No need for the pot of oil to enjoy this delicious Gluten Free, Paleo, Diabetic Friendly Snack!
Are you team Potato Chip or team Plantain Chip?
Some people have only recently discovered the variety of delicious ways you can prepare plantain. But I grew up with Caribbean parents, which means for me, plantains were more often seen on my dinner table than potatoes.
Any place in the world where plantains are grown like the Caribbean, South America, Africa and South Asia make plantain chips. Plantain chips are often one of the most popular snack foods in these countries.
Instead of potato chips, plantain chips are served with sandwiches.
Plantains are healthier than potatoes, so if you can substitute plantains, it's a good practice to utilize plantains whenever you can.
Potatoes turn into sugar when digested, but plantains do not, therefore Plantain Chips are not only diabetic friendly, but gluten free, paleo and whole food 30.
You can enjoy Air Fryer Plantain Chips no matter what diet you practice!
Are you new to the Instant Pot?
So I've had the Instant Pot Duo since December, but only recently did I start using it on a regular basis. Apparently, I'm not the only one. I have spoken to so many people who were excited to get the Instant Pot/Air Fryer, whether they purchased it themselves or received it as a holiday gift.
You open the box and unpack it all and then all the different parts and directions kind of put you into overwhelm and you're not sure where to start.
So it stays in your spare room…for months….
Are you one of these people?
What finally got me to start using it were some gas problems in my building, which means I had to find an alternative way of cooking. I ended up not having gas for 5 months while the gas lines were repaired and updated and the Instant Pot was a lifeline.
But when rice can get cooked in 4 minutes…even though I now have gas again, the Instant Pot is getting regular use.
To help you stop the Instant Pot from just being a dust collector, I will be sharing a variety of recipes using both the Instant Pot and Air Fryer functions.
I already showed you how to make Haitian Red Beans & Rice in the Instant Pot and today we are going to learn how to make healthy Plantain Chips with almost no oil.
I already showed you how to make Homemade Fried Plantain Chips the old fashioned way frying them in a pot of oil. Today we are going to go for a healthier version using the Air Fryer.
So if you're still wondering – "Are plantain chips healthy?" – Here is the low down on all the health benefits of plantains.
Health Benefits of Plantains
Although both green plantains and ripe yellow plantains are full of health benefits, the unripe green plantains are more heart healthy before the natural sugars develop.
So why should you eat green plantain?
high in fiber
complex carbohydrate
high in potassium, Vitamin A and Vitamin C
These properties help maintain blood sugar, lower cholesterol and support heart health.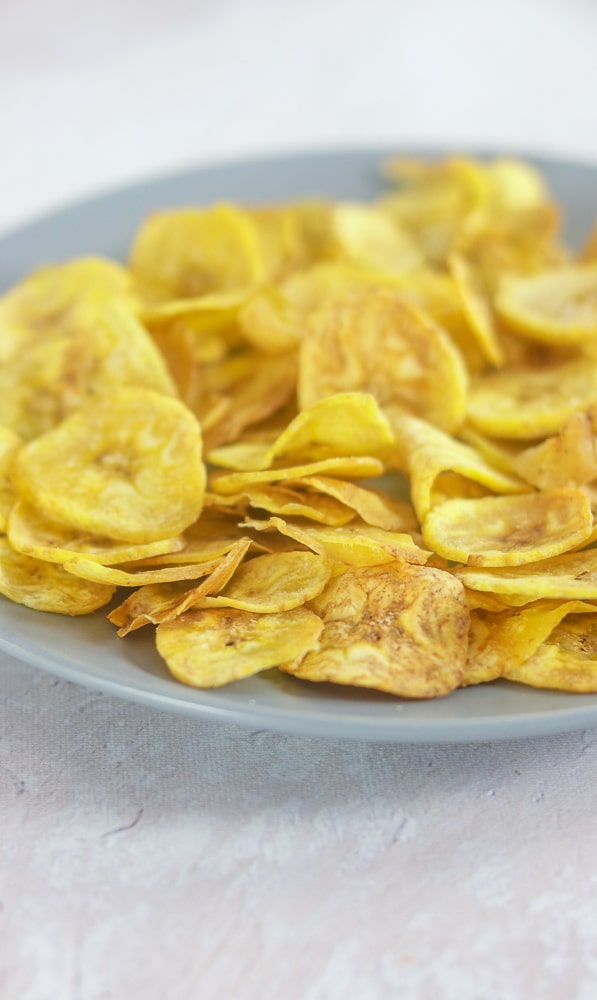 Are banana chips and plantain chips the same?
That question is a lot harder than you think, depending what part of the world you are in, however, I am going to try and break it down for you.
In America, they are different as banana chips are generally made from sweet ripe bananas.
However, in many Asian countries green plantains are called raw banana and in Kerala, the part of India, where the use of plantains is most popular, plantains are often called Kerala Banana.
For this reason, you might see recipes on other websites for Banana Chips, but they are really Green Plantain Chips.
So it really depends who you are talking to, to determine if banana chips and plantain chips are the same. In an Indian supermarket, they are most likely the same. However, in an American supermarket, they are two different things – one made from ripe sweet bananas and other from plantains.
There are also two types of plantain chips. Plantain chips can be made from unripe green plantains as well as ripe yellow plantains.
Although I like fried ripe plantains, as chips, I definitely prefer the ones made from green plantains.
After you taste them both, which do you prefer?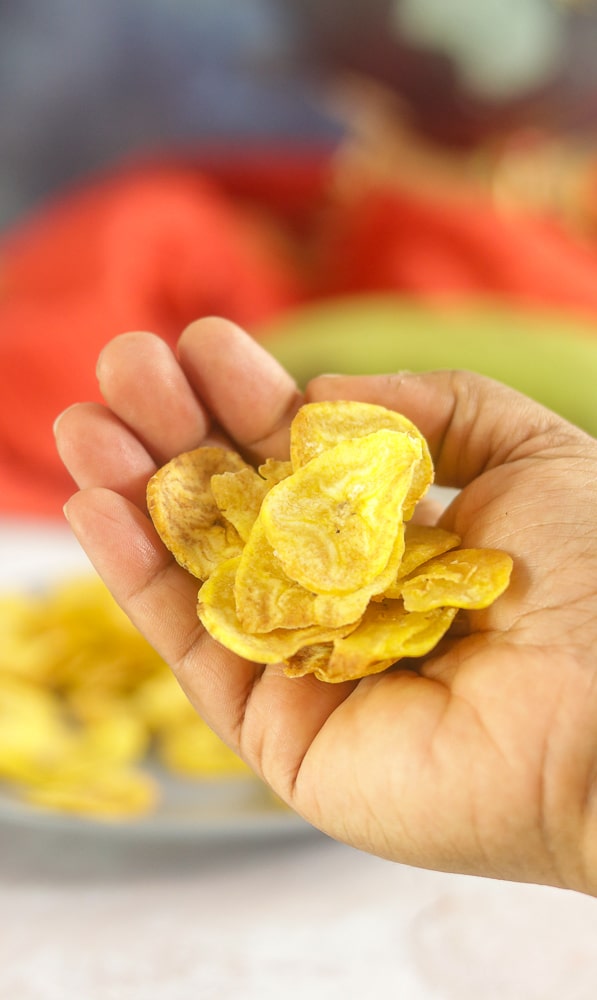 Frequently Asked Questions
How to make Air Fryer Plantain Chips?
All you need is a few simple ingredients.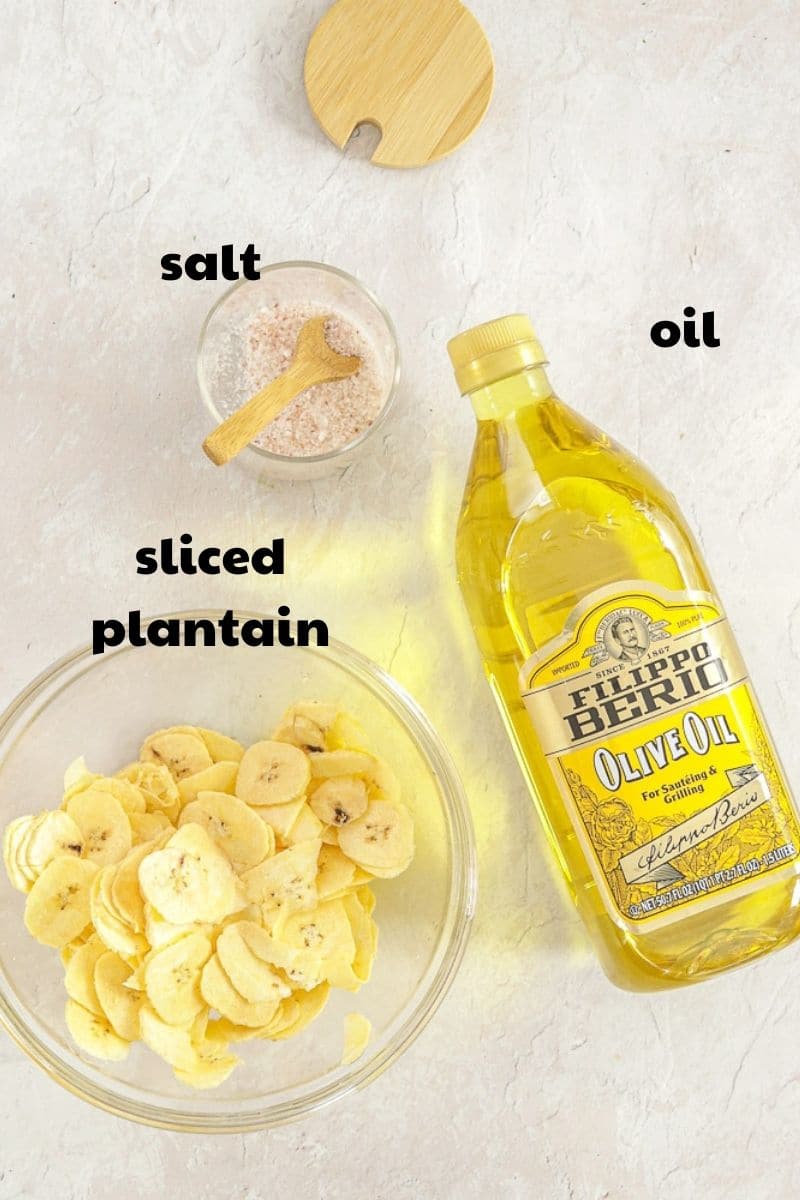 Get FRESH PRODUCE!
Peel the green plantains. (use this guide if you need assistance)
Using a mandolin, thinly slice the plantains.
Toss with a bit of oil, salt and additional seasonings as desired.
Place in a single layer in your air fryer and cook for 5 minutes.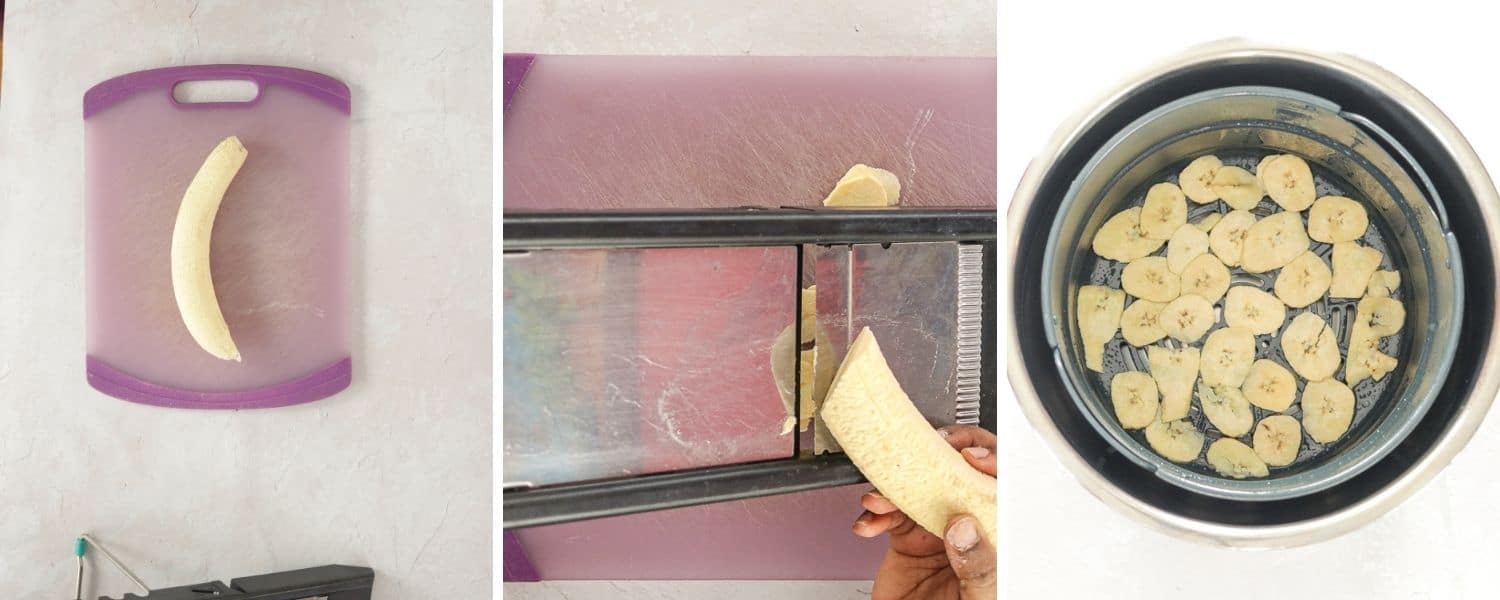 Get FRESH PRODUCE!
This healthy paleo, gluten free snack is a great treat to have around for hiking trips and picnic snacks!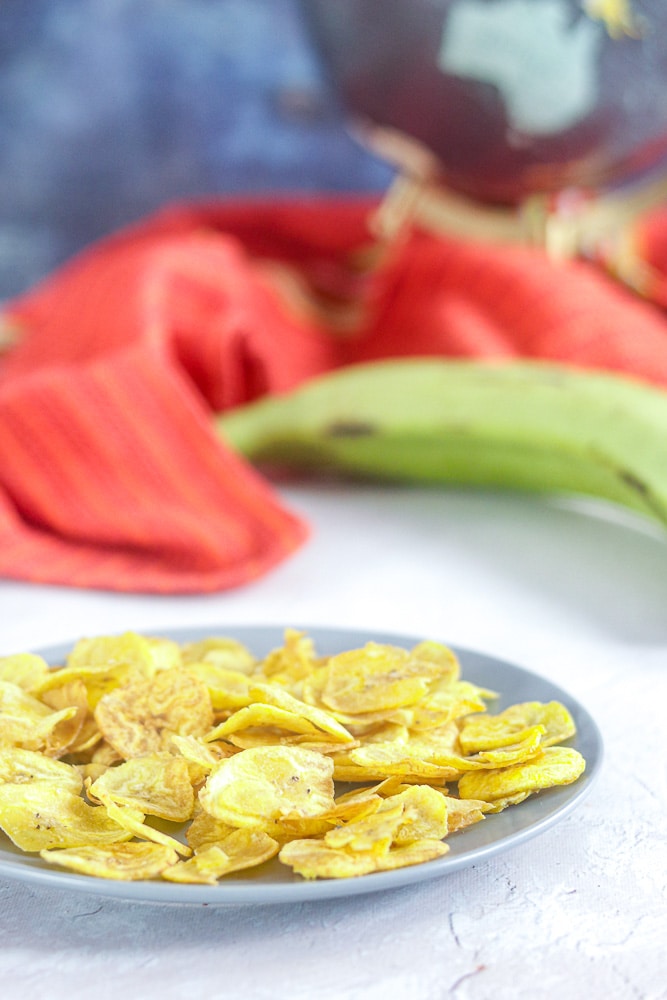 For more seasoning blend options to add more flavor and spice to these delicious Homemade Plantain Chips, try African Berbere Spice Mix or Piri Piri Spice Blend.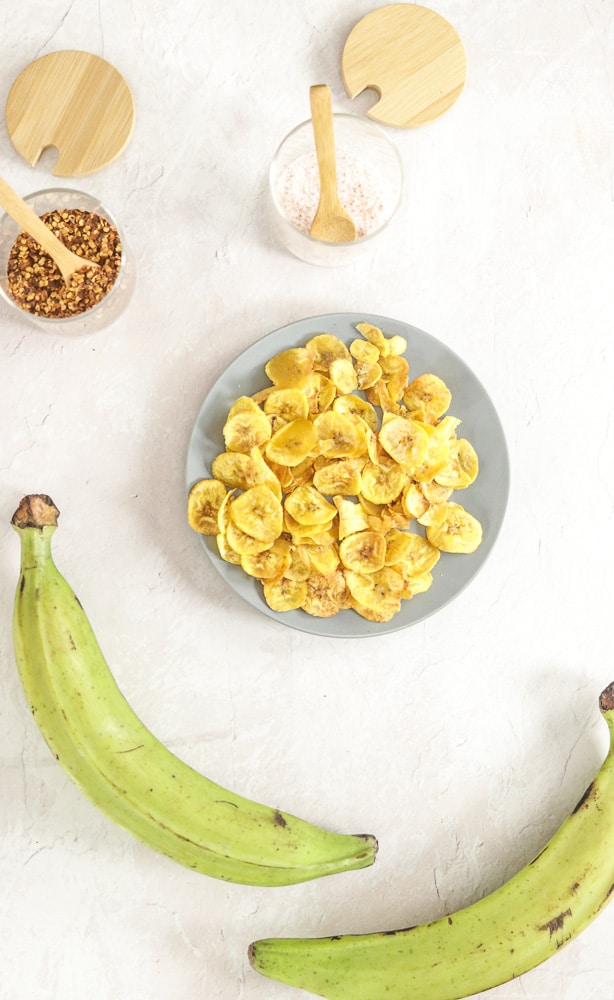 Tools for Air Fryer Plantain Chips
Air Fryer Plantain Chips
Air Fryer Healthy Green Plantain Chips. Easy, delicious Gluten Free, Paleo, Diabetic Friendly Snack! Crispy chips from the Air Fryer!
Ingredients
1

green plantain

1 ½

tablespoons

oil

¾

teaspoon

salt

or more to taste
Instructions
non stick spray

Peel the plantain. If you need guidance, check out the step by step instructions here.

Using a mandolin, slice the plantain thinly.

Toss the plantain with oil and salt. Add pepper or seasoning blends, as desired.

Spray air fryer basket with non stick spray.

Arrange plantain slices in a single layer.

Cook in air fryer at 400 F for 5 minutes.

You will need to do this in 4 batches. After the second batch, reduce cooking time to 3 minutes.
Notes
Cooking time may vary with air fryers. Start with 3 minutes and adjust time until chips are desired crispiness.
Nutrition
Calories:
101
kcal
|
Carbohydrates:
14
g
|
Protein:
1
g
|
Fat:
5
g
|
Saturated Fat:
1
g
|
Trans Fat:
1
g
|
Sodium:
438
mg
|
Potassium:
223
mg
|
Fiber:
1
g
|
Sugar:
7
g
|
Vitamin A:
504
IU
|
Vitamin C:
8
mg
|
Calcium:
2
mg
|
Iron:
1
mg
Did you try this recipe? Leave a comment below.
Please follow me on Instagram @chefmireille or tag me #chefmireille with your pics! I'd love to share them!
Don't forget to visit the RECIPE INDEX with over 1000 recipes from around the world including lots of Vegetarian Recipes and Gluten Free Recipes!