Last Updated on May 20, 2020 by Chef Mireille
Spiced Plantain Chips – Making homemade plantain chips are quick and easy and better in that you can customize them with the spices you like.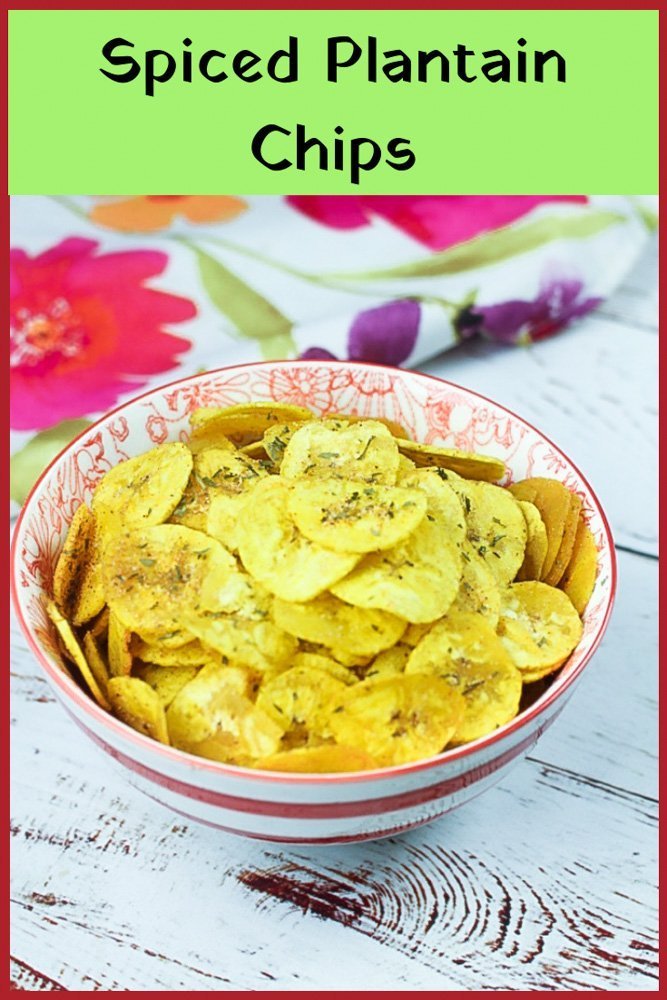 I LOVE plantain chips, but then again I love anything made with plantains. I have a plethora of plantain recipes published here – both savory recipes with green plantains and sweet recipes with ripe plantains. I even have a Pinterest board that's all about plantain recipes. Do you love plantains as much as I do? Then make sure you follow my Plantain Love board here!
Plantains are a much better snack than potato chips. Let's check out all of the health benefits of plantains.
Plantain Health Benefits
High in Potassium – giving you lots of energy, regulating hearty rhythm and organ function
High in Fiber – helping in digestion and cholesterol control
40% of your daily Vitamin A – boosting your immune systems and helping in cell growth and wound healing
High in Magnesium – helping to prevent osteoporosis, blood pressure regulation and calcium absorption
With all these health benefits, I am sure you are inspired to eat more plantains. Plantain chips are one of the most user friendly plantain recipes in that everyone loves this munchable snack!
Green Plantains can be difficult to peel if you've never cooked with them before. I have tried to be as detailed as possible in the instructions. Stay tuned..I will soon publish a video demonstrating the process…
This is another Food Blogger Recipe Swap from Veena's Veg Nation. She has a great assortment of Indian Vegetarian Recipes plus a bunch of droolworthy baking desserts! Do check out her site for some Vegetarian inspiration! To go with my plantain selection I selected her Plantain Chips recipe.
I am always the last person to hop onto kitchen gadget trends – I do not have an Instant Pot nor an Air Fryer. She made hers in the Air Fryer, so her version is a bit healthier. Check out her recipe for the healthier version! I made a slight change to the spices used as I just love za'atar. Want to try another version with za'atar but made with ripe plantains instead? Check out this Tunisian Street Food here!
Spiced Plantain Chips
Plantain Chips make a great snack and much healthier than potato chips.
Ingredients
3

green plantains

oil

for frying

1

teaspoon

salt

or more, to taste

1

teaspoon

red chile powder

cayenne pepper

1

teaspoon

za'atar
Instructions
Cut off the ends of the green plantains.

Using a small knife like a paring knife, go along the natural ridges of the plantain with the knife and lightly cut into the ridges just through the skin.

At one end of the plantain, put the blade of the knife underneath the skin and the skin should pop off know in pieces where you sliced along the skin.

Using a mandolin, thinly slice the plantains.

In a deep skillet or wok, heat enough oil for deep frying.

Drop the plantain slices one at a time in the hot oil so they don't stick to each other.

Fry until golden brown on both sides, tossing frequently with a spider or a slotted spoon.

Remove to a paper towel and drain off excess oil.

Sprinkle salt, chile powder and za'atar. Toss well to evenly distribute the spices.

Serve as a snack.
Nutrition
Calories:
116.39
kcal
|
Carbohydrates:
14.41
g
|
Protein:
0.62
g
|
Fat:
7.1
g
|
Saturated Fat:
0.58
g
|
Sodium:
121.57
mg
|
Fiber:
1.12
g
|
Sugar:
6.74
g
Did you try this recipe? Leave a comment below.
Please follow me on Instagram @chefmireille or tag me #chefmireille with your pics! I'd love to share them!
Please check out the other delicious Recipe Swap Recipes
Koeksisters – South African Doughnuts
Til Ke Laddu – Sweet Sesame Seed Balls
Fiery Habanero Pepper Hot Sauce
Ready to make this recipe? Tag me on Instagram @chefmireille #theschizochef with your pics!
Do you know anyone else who likes learning about international recipes, culture, history and travel? Bring them over here to join the party! Don't forget to use those share buttons!
Start Here to find out how the Schizo Chef can help you with your cooking, travel and other needs!
If you like this recipe, PLEASE LEAVE A COMMENT & SUBSCRIBE!