Last Updated on May 20, 2020 by Chef Mireille
Pineapple Ginger Bubble Tea – Vegan Boba Milk Tea can easily be made at home – Make the homemade version of your favorite snack drink today!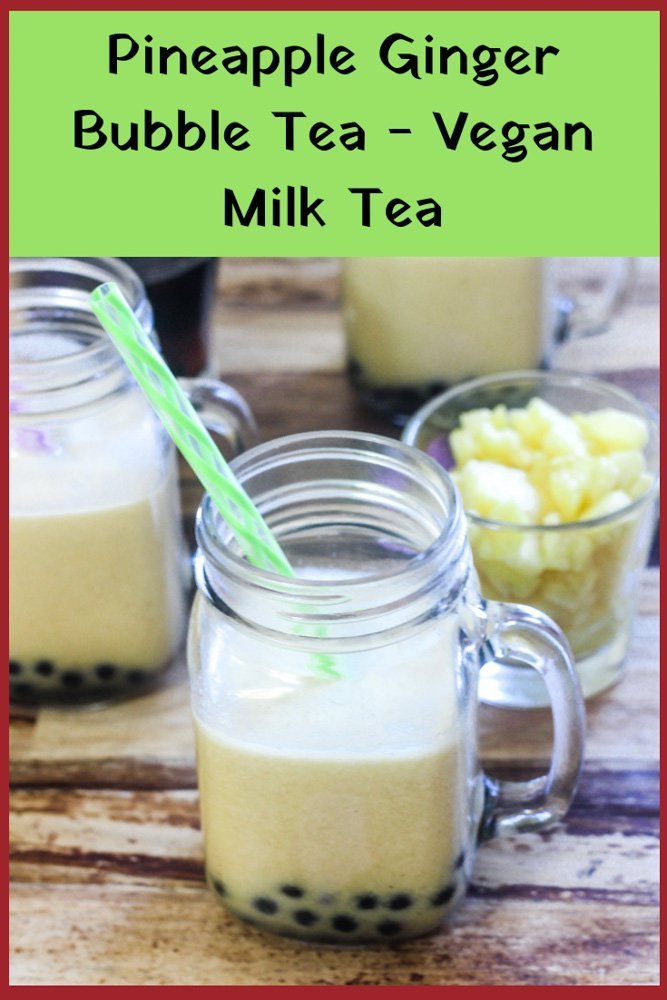 It's time for Food Blogger Recipe Swap and I was so happy to do this recipe! Every month we try another blogger's recipe. If you would like to join us, please join the Facebook Group here.
I am Bubble Tea obsessed. Every time I leave my house to go somewhere, I have the option of getting a bubble tea. We have an Asian fruit market on the way to my train station that makes smoothies and Bubble Tea's which means I walk by it just about every day.. I LOVE my Bubble Tea Shop. While you can get the milk bubble tea at all bubble tea shops, not all make the ones without milk. I usually prefer the type that is just tea, flavored simple syrup, ice and boba (bubbles). My go to flavor is usually mango without milk, but why not switch it up for a change. I was excited to try Jagruti's recipe made vegan with coconut milk.

What are boba (bubbles)?
Before we get to the recipe, does everybody know what the boba are?
Known as bubbles or boba, these are black tapioca pearls. So what makes them black? Black tapioca pearls are made from cassava starch, sweet potato and brown sugar. You can usually find black tapioca pearls at Asian supermarkets.
Here in NYC, Bubble Tea Shops are a dime a dozen. So where did this craze start? Let's find out?
All you have to do is boil them in water until soft and tender and they can be used in a variety of drinks and desserts!
Bubble Tea History
In Taiwan, tea stands would often set up outside of schools as the kids would enjoy refreshing cups of iced tea after school. There was a lot of competition among the different tea stands and they would all try different things to get more customers.
One vendor started adding flavored syrup and then that caught on so much that all the vendors started doing this.
In 1983, one vendor introduced the black tapioca pears into her tea. After a while, this fad became a trend and it is here to stay. Just about every city has Bubble Tea. I have had it from Kansas City to Savannah to Bangkok. Now let's find out how to make our own bubble tea at home!
As many cities around the world are alight with Chinese New Year celebrations as mine is, how about a sweet treat with your Pineapple Ginger Bubble Tea – Try the traditional Hetaosu – Walnut Cookies!
I only made slight changes to her recipe due to personal preference and my pantry stock of ingredients.
The tea flavor comes out stronger in the ones made without milk, where this one tasted more like a smoothie.

This mild flavored milk tea is a delicious treat for both kids and adults!

Pineapple Ginger Bubble Tea – Vegan Boba Milk Tea
Pineapple Ginger Bubble Tea can easily be made at home. Try this homemade Vegan Boba Tea!
Ingredients
3/4

cup

black tapioca pearls

1/2

cup

firmly packed brown sugar

1/2

cup

white sugar.

2

tablespoons

black tea

or 2 teabags

2

tablespoons

grated ginger

13.5

oz.

can coconut milk

1

cup

chopped pineapple
Instructions
Bring 5 cups of water and tapioca pearls to a boil.

Boil for 15 minutes, until the bubbles are soft and tender.

Leave in the cooking liquid for 5 minutes.

Meanwhile, let's make the simple syrup.

Combine brown sugar, white sugar and 2 cups water in a saucepan.

Bring to a boil. Boil for about 15 minutes, until a thin syrup consistency. Leave to cool.

Strain tapioca and add the tapioca to the simple syrup. Let it rest for 30 minutes.

In a small saucepan, combine tea, ginger and 3/4 cup water. Bring to a boil. Boil for 3 minutes. Leave to rest for 5 minutes.

Strain tea and add 5 ice cubes.

In a blender, combine, tea and ice, coconut milk and pineapple. Blend until thick and frothy.

Divide the tapioca and the simple syrup evenly between 3 glasses.

Pour the pineapple coconut combo evenly into the 3 glasses.

Shake well and serve.
Nutrition
Calories:
686.49
kcal
|
Carbohydrates:
114.54
g
|
Protein:
3.06
g
|
Fat:
27.31
g
|
Saturated Fat:
24.15
g
|
Sodium:
28.93
mg
|
Fiber:
1.19
g
|
Sugar:
75.6
g
Did you try this recipe? Leave a comment below.
Please follow me on Instagram @chefmireille or tag me #chefmireille with your pics! I'd love to share them!
Please check out the other delicious Recipe Swap Recipes
Ready to make this recipe? Tag me on Instagram @chefmireille #theschizochef with your pics!
Do you know anyone else who likes learning about international recipes, culture, history and travel? Bring them over here to join the party! Don't forget to use those share buttons!
Start Here to find out how the Schizo Chef can help you with your cooking, travel and other needs!