Last Updated on December 14, 2020 by Chef Mireille
Keema Naan
Meat Stuffed Flatbread – All this needs is raita and chutney for a delicious meal!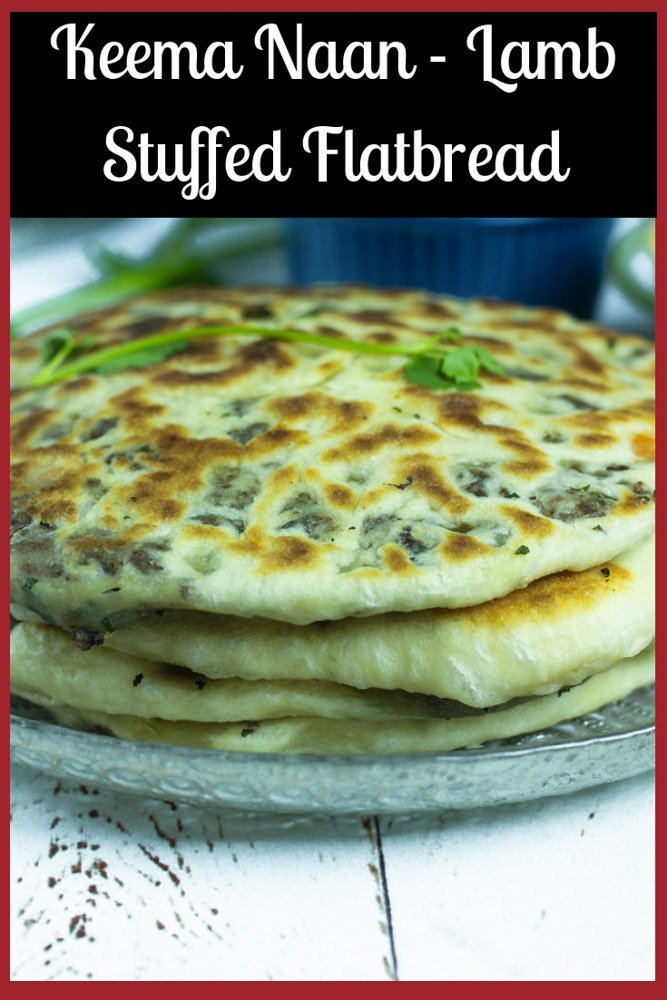 Ground lamb is usually sold in 1 lb. packages and it Is not advisable to defrost and refreeze meat and can sometimes be challenging to cut the meat when it is still frozen. When I only needed ½ lb. of lamb for a recipe, I decided to make the 1 lb. package of lamb do double duty.
Since this ground lamb filling started out as an Uzbeki recipe, the seasoning is slightly different than the traditional Indian keema filling, however, the slight changes are so subtle it is hardly noticeable.
My cooking philosophy is to waste as little food as possible and not to unnecessarily buy ingredients if I can find a substitute that works just as well. Another change I made to the original Indian Keema Naan is instead of using green peas, I used mixed frozen vegetable because I already had a bag opened in the freezer.
While purists might say this is not a truly traditional Keema Naan, I say why not make a few changes. This is how many recipes evolve over time and also a way to add your own twist and creativity.
If you'd like to start off with the whole 1 lb. of lamb like I did, head over here to see the Uzbeki Samsa recipe filling. After I made the samsa filling, I took out half of the filling to make the samsa then simply added a few more ingredients to Indianize the filling. However, the recipe below is written as a stand alone recipe utilizing only ½ lb. lamb.
It is not necessary to make both Samsa & Keema Naan at the same time. You can make the filling for both and then freeze one. That way it is already made when you are ready to make the other. Simply defrost and use in the recipe.
This flavorful Naan is so good – all you need is a bit of chutney and raita and your meal is ready.
I had it with my award winning Watermelon Chutney & a simple raita with just some pomegranate and garam masala.
Now who can resist this bite?
Keema Naan – Meat Stuffed Flatbread
Keema Naan is a lamb stuffed flatbread that makes a great lunch with chutney and raita.
Ingredients
Filling Ingrediens:

1

tablespoon

oil

¾

teaspoon

cumin seeds

½

onion

finely chopped

1

finely chopped garlic clove

½

lb.

ground lamb

1

teaspoon

red chile powder

½

teaspoon

ground coriander

¼

cup

frozen mixed vegetables

1

tablespoon

finely chopped parsley

omit for traditional keema naan

½

tablespoon

finely chopped mint

1

tablespoon

finely chopped cilantro

salt and pepper

to taste

juice of 1 lemon

Dough Ingredients:

1

teaspoon

instant yeast

½

cup

warm water

1

teaspoon

sugar

1 2/3

cups

all purpose flour + ¼ cup

as needed

½

teaspoon

salt
Instructions
In a shallow bowl, combine water and sugar. Add yeast on top and leave for 5-10 minutes until foamy.

In a large bowl, combine 1 2/3 cups flour and salt.

Add proofed yeast and knead until you have a soft and elastic dough, adding an additional ¼ cup flour if needed.

Cover with plastic wrap and a kitchen towel.

Leave to rise for 2 hours, until almost doubled in size.

To make the filling, heat oil in a skillet.

Add cumin seed. When the cumin starts to change color, add onion and garlic.

Saute until vegetables are soft and onions are translucent.

Add lamb and cook until meat is cooked through.

Add chile pepper, coriander and frozen vegetables.

Cook until vegetables are heated through.

Add parsley if using, mint, cilantro, salt and pepper.

Stir to combine.

Add lemon juice and stir to combine.

Leave to cool while the dough is continuing to rise.

Now the dough has risen, it is time to stuff the naan.

Divide dough into 4 equal portions and roll into smooth balls.

Divide filling into 4 equal portions.

On a floured surface, roll out one of the dough balls to a circle about 4" in diameter.

Hold the dough like a cup in your hand and place one portion of the filling inside. Bring the dough around the filling so it is well sealed. If needed, use a little water to seal the dough.

On the floured work surface, gently roll out the stuffed dough to a circle about 6" in diameter.

While you are repeating the procedure for the rest of the dough, heat a skillet/roti iron/tawa and brush with a little ghee.

Cook until air bubbles appear on the top. Flip over and cook for another minute.

Repeat until all 4 Keema Naan has been cooked.

Serve with your favorite chutney.
Nutrition
Calories:
409.49
kcal
|
Carbohydrates:
46.14
g
|
Protein:
16.04
g
|
Fat:
17.71
g
|
Saturated Fat:
6.18
g
|
Sodium:
428.51
mg
|
Fiber:
3.17
g
|
Sugar:
2.3
g
Did you try this recipe? Leave a comment below.
Please follow me on Instagram @chefmireille or tag me #chefmireille with your pics! I'd love to share them!
This month, we are catching up on old 'Bread Bakers' themes we missed out on. Our host of the month is Pavani at Cook's Hideout. Check out what the Bread Bakers have baked up.
#BreadBakers is a group of bread loving bakers who get together once a month to bake bread with a common ingredient or theme. You can see all our of lovely bread by following our Pinterest board right here. Links are also updated after each event on the #BreadBakers home page.
We take turns hosting each month and choosing the theme/ingredient. If you are a food blogger and would like to join us, just send Stacy an email with your blog URL to [email protected].
SHARE THIS DELICIOUS RECIPE WITH YOUR FOODIE FRIENDS
Don't forget to visit the RECIPE INDEX with over 1000 recipes from around the world including lots of Vegetarian Recipes and Gluten Free Recipes!