Last Updated on January 10, 2020 by Chef Mireille
Traditional Scottish Shortbread with Rose is the best compliment with your cuppa! The melt in your mouth buttery crumbly texture will make these disappear in the blink of an eye!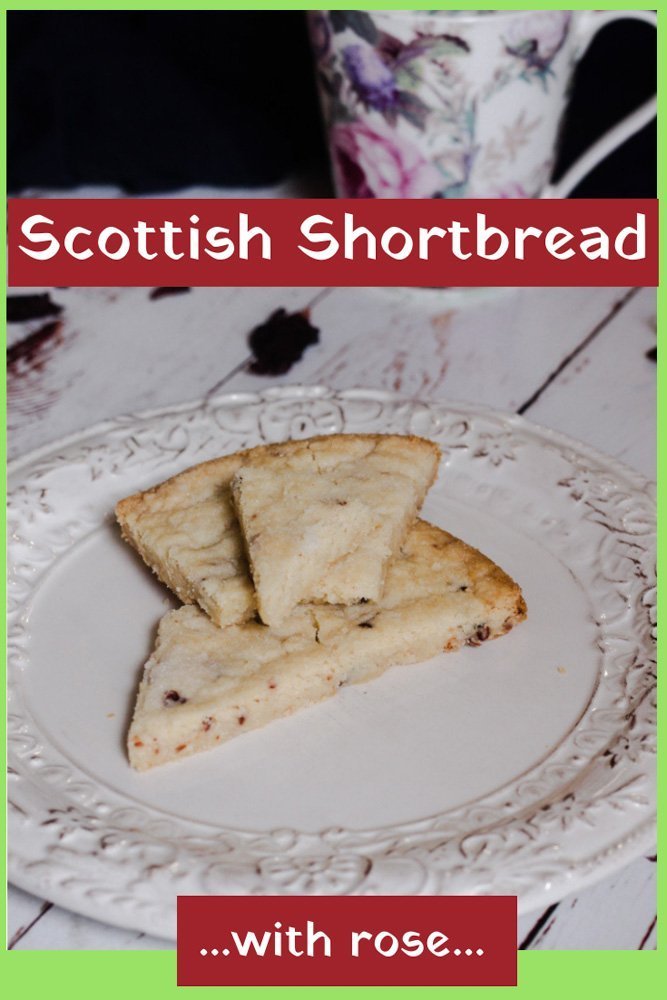 I am so excited to join a group of bloggers who love to bake. Baking Bloggers is a group of food bloggers who bake on specific themes each month. This month the theme was British Baking – anything from the English Isles – well that encompassed a lot from Wales to Ireland to England and Scotland! I've already explored this region of the world with recipes like Spotted Dick, Barmbrack, Colcannon, Glamorgan and Bara Brith. I needed no additional encouragement to jump onto this theme!

I have been spending a lot of time at my Mom's house since she was hospitalized last month. My mother spent her teenage years growing up on a British Caribbean island. There is a saying among Caribbean peoples – "The Bajans are more British than the British" – Well my Mom spent her teens living on Barbados, the most British of the islands. To this day, my Mom still has to have her spot of tea at least 3x a day and there is nothing more she likes better with her tea than the traditional Scottish Shortbread that comes in the plaid box.
In fact, in the Caribbean they call every hot beverage tea – there is tea (which means black tea) but then there is also coffee tea and cocoa tea. Even though I am of Caribbean heritage, I find this totally weird!
As supportive as my Mom is – when I told her I was going to make some Scottish Shortbread, she looked at me with a raised eyebrow with some doubt that mine could be as good as Walker's.
Well, I was glad I passed the test as she said these were too good she wasn't going to share with anyone. She's been getting a lot of visitors, but this was reserved for the home crew. Both my Mom and my sister gobbled these up in the blink of an eye!
Scottish Shortbread
Scottish Shortbread has been around for centuries, but it wasn't always the wonderful melt in your mouth buttery crumbly cookie it is today.
It was originally made from leftover bread, which would be baked again in the oven at a low temperature. Hence the shortbread name. This was often eaten on long journeys as it would never go bad, however, it wasn't very pleasurable to the palate.
The yeast was eventually replaced with butter and we have modern day shortbread. The modern shortbread cookie is accredited to Mary, Queen of Scots. However, both butter and sugar were luxuries common people could not afford and shortbread was generally reserved for special occasions like Christmas, New Year's Day and Burn's Night.
Burn's Night
Burns Night is celebrated throughout the UK on January 25th in tribute to Robert Burns, a Scottish poet who died in 1796. Pretty much since he died, this became an unofficial holiday. Robert Burns, also known as the Bard, is the most famous Scottish poet who of his many writings is probably most famous for writing the Christmas Carol, Auld Lang Syne. On this night, people eat Scottish food especially haggis and often host reading parties of his poetry. As they listen to the poems, a spot of tea is often enjoyed with some Scottish Shortbread.
I went through a period where I was reading a lot of historical romantic fiction taking place in Scotland back in the time of the clans and such. I became obsessed with everything Scottish and read a lot of Robert Burns. He really has some beautiful poems like A Red Red Rose. I even used to know a few of his poems by heart, but truth be told, it has been many years since I thought of the Bard and the poems have now deserted my memory.
Amazing how research for a recipe made me remember my love of his poems and spent some time reliving my love of Burns.
---
When researching recipes for this month's British Baking theme, I came across an Apple Frushie, which is basically an apple pie flavored with honey and rose water. I decided to apply this rose flavoring to my version of Shortbread Cookies here.
Although it strays from the traditional a bit, modern versions of Scottish Shortbread are often flavored with nuts, dried fruit or chocolate.
Basically anything that follows shortcut pastry procedures are referred to as shortbread now. However, modern versions especially those in the US are often not really traditional Scottish Shortbread although they may be titled as such.
This recipe is adapted from The Edinburgh Book of Plain Cookery Recipes, which dates back to 1920. The original methodology involved baking it in a steady oven for about an hour. I have adapted the recipe to modern ovens.
INGREDIENT NOTE – Preserved Rose can be found at Asian supermarkets or Asian candy stores. If you cannot source them, substitute dried cranberries.
IN THE MAKING – HOW TO MAKE TRADITIONAL SCOTTISH SHORTBREAD
These just melt in your mouth.
I know it will be hard to resist – but it's really important that you let it cool completely to set.
Baking Bloggers
British Baking
Do you know anyone else who likes learning about international food, culture, history and travel? Bring them over here to join the party! Don't forget to use those share buttons!
Start Here to find out how the Schizo Chef can help you with your cooking, travel and other needs!
If you like this recipe, PLEASE LEAVE A COMMENT & SUBSCRIBE!