Last Updated on January 10, 2020 by Chef Mireille
DeKalb Market Hall at City Point – NYC Best Food Court give you all the iconic NYC restaurants and world flavors in one location.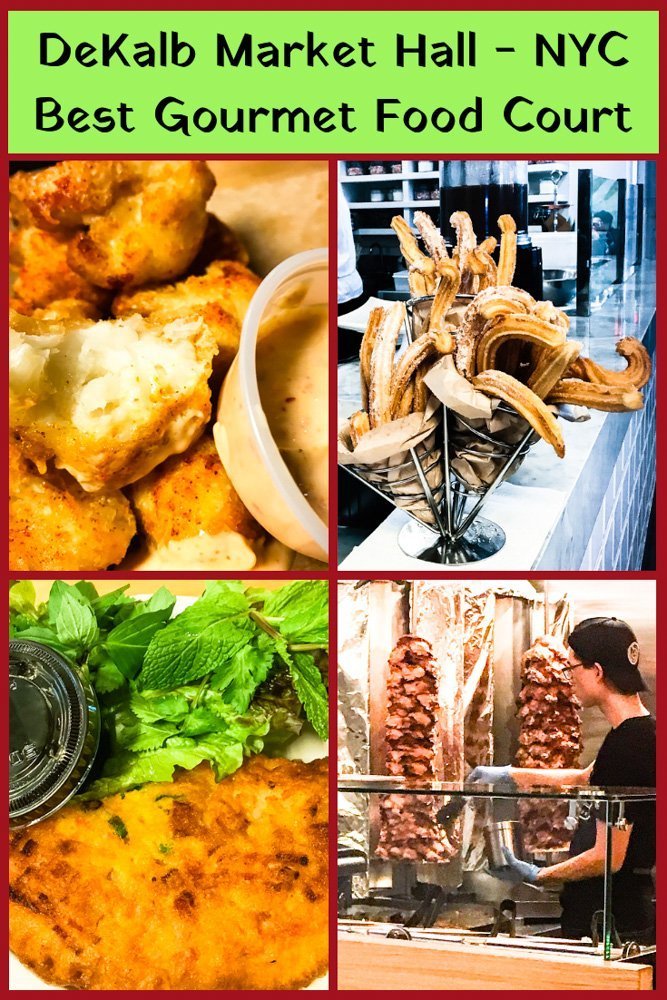 This isn't your average food court of mediocre at best fast food chains with the required pizza, burgers, Chinese and bourbon chicken. DeKalb Market Hall includes secondary locations of iconic NYC restaurants like Katz's deli and artisanal foods like handmade pierogies and hand stretched noodles. Although the menus are limited in comparison to the flagship restaurants, each stall still gives you great options for modern International fare as well as American classics.

Much like the hawker centers of Singapore which I talked about here, it's a haven of a food court with 30+ vendors!
You can get the best use of your time and money at this one stop food court located on the lower level of City Point Shopping Mall in downtown Brooklyn. When you've finished stuffing your belly, you can go shopping in the mall to walk off some of the calories. Just a few blocks from the DeKalb subway station, it's easy to get to – it's the first stop in Brooklyn on the Q train – just 30 minutes from Times Square!
Many foodies want to visit NYC to try all the delicious world cuisines, but you can spend a lot of time going from one restaurant to the next. DeKalb Market Hall makes it easy to try all the world cuisines in one go – as much as your stomach can hold. The best way to get the most out of DeKalb Market Hall is to come with a few people. This way everyone can get food from a different vendor and then you share.
At DeKalb Market Hall, you can get everything from Shanghai Street Food at Jianbing Company to Caribbean delicacies at Likkle More to Berliner Doner Kebab to Latin fare at Arepa Lady to things to satiate your sweet tooth like Steve's Key Lime Pie or Dulcinea for Spanish Churros. Both world cuisine at regional US cuisine is just a few steps away.
Before we get to some of my favorite's, let's check out some of the vendors in action!
There are so many vendors so where to start?
Although I have not tried every vendor, these are my top 3 for the ones I have!
BunSmith is a modern Korean inspired stall. At this outpost stall of their flagship restaurant, they offer stuffed buns, rice bowls and a few appetizers. They have classic Korean options like Bulgogi, but they also offer zucchini noodles as an alternative to rice.
My favorite is their Cauliflower Nuggets. These were just SO GOOD. If you visit DeKalb Market Hall, you cannot leave without trying these! Although we were sharing everything we purchased, my friend took a bite of one of my nuggets, not expecting much of cauliflower. However, she ended up loving my nuggets so much, she went back to purchase an additional order for herself.

I talked to the cooks to get some more info. The nuggets are coated almost entirely in tapioca starch with a bit of rice flour, making them gluten free. This yields a very crispy fritter with a thin batter that sticks to the cauliflower. There is no pockets of air in between the cauliflower and batter, which often happens with flour coated fried foods. The gochugaru (Korean chili paste) aioli that it is served with just brings it to the ultimate next level.

Like many of the vendors, Bunker is an outpost of its flagship restaurant in the Bushwick neighborhood of Brooklyn. It offers Vietnamese fare with a nice selection of Asian beers. Pho and Bahn Mi are on the menu, however they include modern options as well as the classics. They have a bahn mi option of shitake mushrooms, havarti cheese and basil peanut pesto – definitely a modern version! However, my favorite is their Bahn Xeo. Bahn Xeo are Vietnamese omelet's stuffed with bacon, prawns and vegetables. There is also a Bahn Xeo Chay Vegetarian version available.
This was so delicious – I mean when doesn't bacon and prawns taste great – but in this crispy omelet with fresh herbs – it is that ultimate Asian umami!
Definitely end your meal on a sweet note with Steve's Key Lime pies. A slice of Americana, Key Lime Pies are a classic dessert from Florida, where key limes grow abundantly.
There is something for everyone at DeKalb Market Hall – from healthy food to juicy burgers to fresh seafood to sugar laden treats. So let's go through all the vendors and what you can be prepared to eat here!
DeKalb Market Hall Vendors
Ample Hills Creamery – Ice Cream lovers welcome here!
Andrew's Classic Brooklyn Bagels – ultimate bagel sandwiches/ Andrew's Classic Roadside Burgers – juicy classic burgers
Arepa Lady – South American arepas (corn cakes) with a variety of stuffings
Brooklyn Juicer – variety of fruit and veggie juice blends
Brooklyn Wine Cellar – get a glass to go with all the dining options
Bunker – Vietnamese fare mentioned above
Bunsmith – Korean fare mentioned above
Cafe D'Avignon – Amazing breads and pastries
Cuzin's Duzin – featuring donuts for adults – Funnel Cake Donuts including an optional Hennessey Glaze
Daigo Hand Roll Bar – Sushi type rolls
Dulcinea – inspired twists on churros (Spanish doughnuts)
Eight Turn Crepe – Japanese rice flour crepes stuffed with either savory or sweet options.
Fletcher's BBQ – Chicken, Ribs & Brisket
Forager's Market – Seasonal comfort food
Forcella – Fried Pizza
Fulton Landing Seafood
Hana Noodles – Hand Stretched Noodles and Dumplings
Home Frite – French Fries!!!
Jianbing – Shanghai Street Food Crepes
Katz's Deli – outpost of the iconic NYC Jewish deli serving up sandwiches and other Jewish fare since 1888
Kotti Berliner Doner Kebab – German style Turkish kebab
Likkle More Jerk – Jamaican fare
Lioni Heroes – Gargantuan list of heroes available
NobleTree Cafe – coffee
Paella Shack – varieties of paella
Pierogi Boys – handmade Polish dumplings
Steve's Authentic Key Lime Pie – no explanation necessary!
Two Tablespoons – Vegetarian & Vegan sandwiches and bowls
Wiki Wiki – Hawaiian comfort food
Note: Vendors change – old ones go and new ones come so please be mindful that this vendor list is fluid.
If you are a foodie in NYC, you will be kicking yourself if you miss out on DeKalb Market Hall!
Other Activities near DeKalb Market Hall
Just hop on the Q, R or B train (B train weekdays only) and get off at DeKalb Avenue. In addition to the stores located within City Point, this is also in the heart of the outdoor Fulton Mall. It's a perfect excursion for great food and shopping and very nearby the NYC Transit Museum.
Spend the day in Brooklyn and you will have a ball! If it's during the summer, maybe spend the evening taking in a free concert in Prospect Park – the equivalent to Manhattan's Central Park!
Do you know anyone else who likes learning about international recipes, culture, history and travel? Bring them over here to join the party! Don't forget to use those share buttons!
Start Here to find out how the Schizo Chef can help you with your cooking, travel and other needs!
If you like this recipe, PLEASE LEAVE A COMMENT & SUBSCRIBE!