Last Updated on November 8, 2021 by
This Jollof Wheatberry Pilaf is a one-pot vegetarian whole grain meal. It's a delicious and healthy meal, fit for your meatless Mondays!
It's Black History Month here in the US and one way I have been celebrating is by sharing lots of my African diaspora recipes on my Facebook page.
Nayna, a friend of mine, has shared the recipe Kenyan Matoke Bhel – a popular Nairobi street food. That inspired me to also post something from the African diaspora cuisine.
Today, I'm on the opposite side of the African continent. In northwest Africa, in countries like Ghana and Nigeria, Joloff Rice (sometimes, "jollof rice") is one of the most popular dishes. It is basically rice cooked with tomato and chile pepper.
I have made a twist on the concept of Jollof Rice by, first of all, making it healthier by using whole-grain wheat berries instead of rice and then transforming it into a vegetarian one-pot dish by adding beans and vegetables.
It turned out to be an amazing one-pot meal! Now, I got this Jollof wheatberry pilaf recipe that I'm excited to share with you.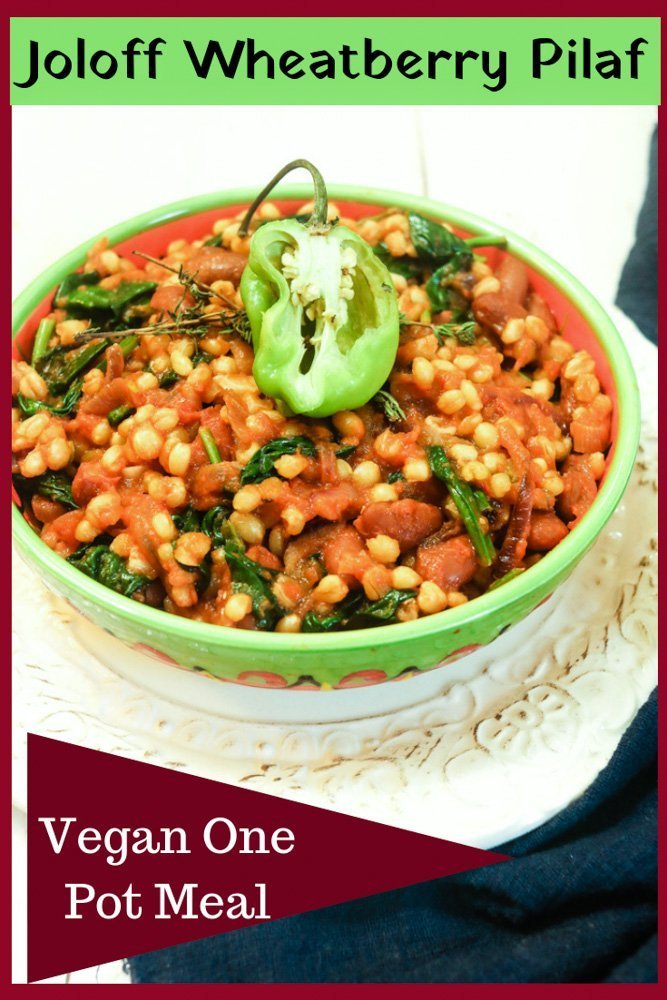 This post may include affiliate links.
What is Jollof Rice?
Jollof, joloff, or jellof rice is a West African one-pot meal. It's incredibly rich, appetizing, and tasty because it's a combination of rice and a tomato-based sauce.
Typically, the sauce would have tomatoes and tomato paste, onions, pimento peppers, and other spices.
Some joloff dishes use other grains instead of rice. In today's recipe, we're using cooked wheat berries.
What Makes Pilaf a Pilaf?
A pilaf is a rice dish or a wheat dish in some regions. It involves cooking the grain in broth and mixing in spices, vegetables, and traditionally, meat.
I do make a lot of vegan pilaf versions in this blog. You would still consider them "pilaf" dishes because pilaf or "pulao" is essentially seasoned rice.
Some of my vegan friends' favorites are:
What are Wheat Berries?
Wheat berries are not a type of berries but are the edible portion of the wheat kernel. Essentially, they're the whole grain kernels, with the inedible husk removed.
Wheatberries have a chewy flavor, and they taste great in bowls and salads.
Is There Another Name for Wheat Berries?
Wheat berry, also sometimes spelled as wheatberry, is simply the whole wheat kernel. A side dish made of wheat berries is often called ebly. "Ebly" was the first brand of prepared wheat berries.
Are Wheat Berries Healthy?
Cooked wheat berries are loaded with fiber, protein, and iron. They also have vitamin E, an antioxidant that protects your cells, plus magnesium, which promotes healthy bones and muscles.
Are Wheat Berries Gluten-free?
All variants and varieties of wheat are not advisable for those allergic to gluten. Whole wheat and wheat berries are not gluten-free.
Jollof Wheatberry Pilaf Ingredients
wheatberries
oil
onion
garlic cloves
Scotch Bonnet pepper/habanero
kidney beans
tomatoes
spinach leaves
sprigs of fresh thyme
ground cumin
salt to taste
Vegan Wheat Berry Pilaf Recipe
Boil wheat berries.
Saute the spices.
Add the spinach.
Add cooked wheat berries and salt.
Stir and let simmer.
This makes a delicious Vegan One Pot Meal for Meatless Mondays.
How Do You Cook Wheat Berries in the Instant Pot?
Rinse the wheat berries under cold running water. You can use a mesh strainer to make it easier.
Place the rinsed wheatberries into the Instant Pot (or to whatever brand of pressure cooker you use). Add water and salt.
Close the Instant Pot. Set the valve on "sealing" mode. Cook the wheat berries on high pressure for 30 minutes.
How Do You Store Cooked Wheat Berries?
You can freeze cooked wheatberries if you plan to use them for later.
Divide your cooked wheat berries into small portions. You'll find this useful if you're not cooking everything at once. Two-cup portions will do for most types of cooking.
Place each portion into a resealable plastic bag.
To defrost, you can do the following:
Plop the sealed plastic bag of frozen grains into a bowl of hot water.
Keep it in the bowl for about 15 minutes.
How Long Can You Keep Cooked Wheat Berries in the Fridge?
If you choose to keep your cooked wheatberries in the fridge, make sure you're using them within 3 to 4 days.
If you freeze them, they'll stay best for use for about 2 months.
More African Recipes
Before we get to today's full recipe, let's check out some of my other African-inspired recipes you might want to add to your weekly menu!
Tankora Black Eyed Pea Salad (Senegal) — Whether you use dried beans or canned beans for this side dish, you'll get to enjoy a salad bowl with as much Tankora as you want.
Kenyan Style Aloo Bhajia – Potato Fritters — Also for parties and even simple afternoon snacking, these fritters are irresistibly appetizing! They're heavily spiced, too.
Malagasy Vanilla Chicken — It's a great curry recipe for weeknight meals. I recommend you really use Madagascar vanilla for this dish so you'd experience the intended rich flavor.
Nhopi – Zimbabwe Pumpkin Polenta — This dish has peanut butter and pumpkin—a combination you'd never thought would make your mouth water. It's also gluten-free!
Zambian Mealie Bread — Here's a very filling bread with canned corn kernels inside. Try two slices and you would feel the boost of fiber from this mealie!
Plantain Corn Soup (Cameroon) — Here's a vegetarian and gluten-free soup that you can easily make vegan as well. Try this if you want something quick and warm for lunch!
Enjoy this full Jollof Pilaf Wheatberry recipe!
Jollof Wheatberry Pilaf
This Jollof Pilaf is a variation of the classic African Joloff Rice. This whole grain variation is a delicious vegetarian and also vegan one pot meal that's perfect for #MeatlessMonday
Ingredients
1

cup

wheatberries

2

tablespoons

oil

1

thinly sliced onion

2

finely chopped garlic cloves

1

finely chopped Scotch Bonnet pepper/habanero

15.25

oz.

can kidney beans

2

cups

crushed tomatoes

4

cups

spinach leaves

sprigs of fresh thyme

1

teaspoon

ground cumin
salt

to taste
Instructions
Boil wheatberries in a pot of boiling water until tender, 30-45 minutes.

Drain and set aside

In a large skillet, heat oil.

Add onions and saute until they start to caramelize.

Add garlic and scotch bonnet. Saute for 1 minute.

Add tomatoes, beans, thyme and cumin. Simmer for a few minutes.

Add spinach and cook until they wilt, about 2-3 minutes.

Add cooked wheat berries and salt. Stir to combine and simmer for a few minutes.
Nutrition
Calories:
378
kcal
|
Carbohydrates:
65
g
|
Protein:
16
g
|
Fat:
9
g
|
Saturated Fat:
1
g
|
Polyunsaturated Fat:
2
g
|
Monounsaturated Fat:
5
g
|
Trans Fat:
1
g
|
Sodium:
463
mg
|
Potassium:
866
mg
|
Fiber:
16
g
|
Sugar:
9
g
|
Vitamin A:
3104
IU
|
Vitamin C:
27
mg
|
Calcium:
138
mg
|
Iron:
6
mg
Did you try this recipe? Leave a comment below.
Please follow me on Instagram @chefmireille or tag me #chefmireille with your pics! I'd love to share them!
Don't forget to visit the RECIPE INDEX with over 1000 recipes from around the world including lots of Vegetarian Recipes and Gluten Free Recipes!