Last Updated on October 26, 2021 by
This Pesto Israeli Couscous Pilaf is likely the best Israeli couscous recipe you can ever try. It makes the humble couscous special and loaded with health-boosting nutrients, too—thanks to the spinach pesto that flavors up the entire bowl.
When Israeli couscous started to become trendy and popular in the United States, I was working for a Jewish company with a lot of Israelis.
What I found most surprising was that most of them had not tasted or even heard of Israeli couscous. Although created in Israel, it is more popular here than it is in Israel.
Here is a fusion-inspired side dish using this grain. I hope you enjoy it as much as I did!
This post may include affiliate links.
What Is Israeli Couscous?
Israeli couscous is also known as ptitim, pearl couscous, and giant couscous. Many people mistake it for a kind of whole grain, but it's actually a type of pasta. It's made of semolina flour, a type of whole wheat flour.
The Israeli couscous was developed by prime minister David Ben-Gurion in the 1950s. It was a means of feeding the huge number of immigrants coming to Israel.
This type of couscous works pretty well as a side dish. Whether you're having it for cold pasta salad or with a warm tomato or pesto sauce, it would taste surprisingly great!
Is Israeli Couscous the Same As Regular Couscous?
Both kinds of couscous are made from water and semolina flour, but the "true" regular couscous is irregularly shaped and is much smaller than the Israeli or pearl couscous.
The irregular shape of the "regular" couscous comes from the fact that it's traditionally made at home. People from as far back as the 13th century have been making this type of couscous by sprinkling water over hard-wheat flour.
They would roll the dough into irregular balls, with a diameter of 1 to 3 millimeters.
Meanwhile, the Israeli couscous has always been produced by a machine, that's why they look like regularly shaped pearls and are perfectly spherical. They also have a chewy and soft texture.
Is Couscous Ok for Celiacs?
Couscous is made from semolina, and semolina contains gluten. So, couscous is generally not preferable for celiacs.
Is There Gluten Free Israeli Couscous?
Now, this is the part where it gets better. There's at least one product—Streit's gluten free Israeli couscous—that can be used by people who are allergic to gluten.  
What is a Pilaf?
A pilaf is basically and typically a dish of seasoned rice, sometimes with meat, or simply with veggies. But the term "pilaf" has also been applied to grains other than rice.
In this case, we got a couscous pilaf, which is essentially a wheat pilaf.
The base grain may have been different, but the characteristic mix of seasoning and sauces remains present in both kinds of pilaf dishes.
Pilaf recipes generally have meat, too, but we've made our Israeli couscous pilaf vegan-friendly. It's something people could try on Meatless Mondays as well.
Why Use Spinach Pesto?
We're using spinach pesto in this Israeli couscous pilaf because for one thing, it has an amazing flavor that blends well with the pearl couscous.
The dish you're about to try today is likely the best Israeli couscous recipe you're gonna try yet. The spinach pesto sauce simply brings out the best in the pearl couscous.
Is Green Pesto Healthy?
Yes, green pesto, especially spinach pesto, is super healthy. It's actually one more reason we're using spinach pesto in this recipe. It's vegan-friendly and it's loaded with vitamins C and K, and minerals such as iron and calcium.
Why Add Carrots?
It's not a secret how carrots are preferred when it comes to obtaining rich amounts of vitamins A, C, and K. Carrots even have calcium, a mineral that you know is important for bone health.
I'm adding carrots for all their nutritional benefits, and for one more reason—their color!
Carrots add a beautiful orange contrast to the green that's all over the pearl couscous, basking in all the glory of the spinach pesto sauce we're using.
Ingredients for this Couscous Pilaf Recipe
oil
onion
carrots
harissa
water
Israeli couscous
salt
The Best Israeli Couscous Recipe
Here's how to make your pesto Israeli Couscous pilaf.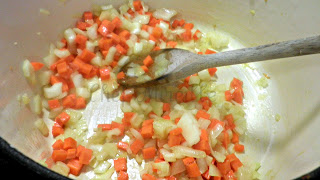 Add the other ingredients except for couscous.
Bring to a boil and add couscous.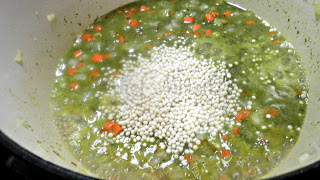 What Can I Use Instead of Harissa?
Harrisa is a North African red chile paste, and it's quite hot. If you can't have it or if it's not available, you can try berbere, chile paste, or the Tunisian spice paste, tabil.
You can usually find harissa in cans or jars, and in the international foods section. Sometimes, what's more accessible is its spice powder form.
How Do You Keep Couscous From Getting Soggy?
Too much liquid makes your couscous go soggy. The typical ratio for any dish is 1 cup of boiling water for every ⅔ cup couscous.
One more technique for keeping pearl couscous from getting gluggy is toasting them first in olive oil before adding water. This method can also enhance the overall taste of your pesto couscous dish.
Well, if you want to get just the perfect texture for your pesto pearl couscous, you can follow my full recipe at the bottom of this post.
Can You Keep Cooked Couscous in the Fridge?
You may store your cooked Israeli couscous in the fridge or even in your freezer.
When you keep it in the fridge, it can last for about 3 to 4 days.
How to Store Your Pesto Israeli Couscous
Allow the cooked couscous time to cool.
Place it in a tightly sealed container or freezer bag.
Keep it in the fridge or in the freezer.
When frozen, pesto couscous can last 3 to 4 months.
Can You Reheat Cooked Couscous?
When cooked and then frozen, pearl couscous can easily be reheated for serving.
Take out the frozen couscous container.
Allow it to thaw for a bit.
Transfer the couscous to a microwave-safe container.
Add about 3 tablespoons of water.
Heat it in the microwave for about a minute.
Reheat until you see some steam rising.
This was so yummy..full of spice & flavor…I had a bowl of it, without needing meat or anything else with it!
Pesto Israeli Couscous Pilaf with Carrots
This Pesto Israeli Couscous Pilaf makes the humble couscous special and loaded with health-boosting nutrients, too—thanks to the spinach pesto that flavors up the entire bowl.
Ingredients
1

tablespoon

oil

1

onion

diced

3/4

cup

carrots

diced

3

tablespoons

spinach pesto

1 1/2

teaspoons

harissa

1

cup

water

1/2

cup

Israeli Couscous

salt

to taste
Instructions
Heat oil.

Add onion and carrots and saute for a few minutes, until onions are translucent.

Add pesto, harissa, and water and bring to a boil.

Add couscous.

Stir and reduce to a simmer.

Cover and cook for about 10-15 minutes, until couscous is tender.

Add salt to taste.
Nutrition
Calories:
536
kcal
|
Carbohydrates:
87
g
|
Protein:
13
g
|
Fat:
15
g
|
Saturated Fat:
1
g
|
Polyunsaturated Fat:
4
g
|
Monounsaturated Fat:
9
g
|
Trans Fat:
1
g
|
Sodium:
191
mg
|
Potassium:
637
mg
|
Fiber:
9
g
|
Sugar:
10
g
|
Vitamin A:
16091
IU
|
Vitamin C:
15
mg
|
Calcium:
86
mg
|
Iron:
2
mg
Did you try this recipe? Leave a comment below.
Please follow me on Instagram @chefmireille or tag me #chefmireille with your pics! I'd love to share them!
Don't forget to visit the RECIPE INDEX with over 1000 recipes from around the world including lots of Vegetarian Recipes and Gluten Free Recipes!