Last Updated on December 14, 2020 by Chef Mireille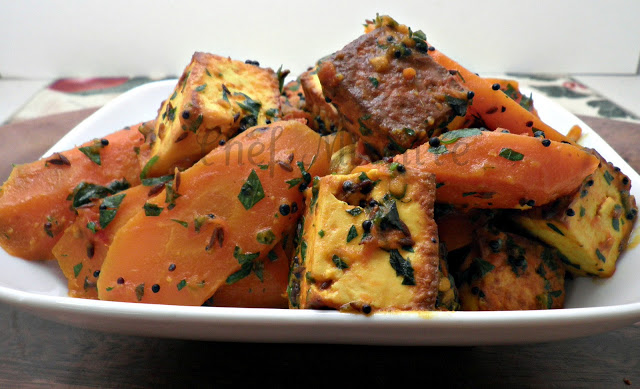 Carrot & Paneer Dry Curry
Today, continuing my Carrot theme, I combined this versatile vegetable with paneer, another versatile ingredient. This is a mild flavored, quick cooking curry that is perfect with rice. Since it is a dry curry, you can even have it on its own, which is how I ate it. I had a bowl of it and was perfectly satisfied having it for lunch.
…some fresh ingredients & a few spices…a delicious lunch is just minutes away…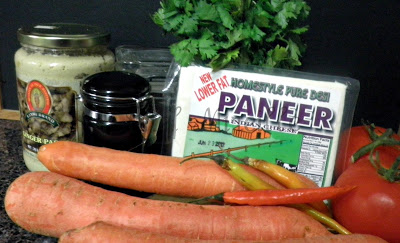 Carrot & Paneer Curry
Ingredients:
1 tablespoon oil
1 tablespoon mustard seed
2 teaspoons cumin seed
12 oz, paneer, cut into large dice
2 tomatoes, chopped
2 cloves garlic, finely chopped
3 long hot chiles, thinly sliced (more or less, as desired)
1 tablespoon ginger paste
1 teaspoon ground turmeric
3 green cardamom pods
3 large carrots, sliced on the bias into thick pieces (I cut them into rather large pieces because I like the carrots to still have a little bite to them – if you like them softer, you can cut them into smaller pieces)
1/4 cup water
1/4 cup cilantro, finely chopped
2 tablespoons mint, finely chopped
salt, to taste
Heat oil. Add mustard seed and cumin seed. As soon as mustard seeds start to splutter, add paneer and stir fry for a few minutes, until golden brown.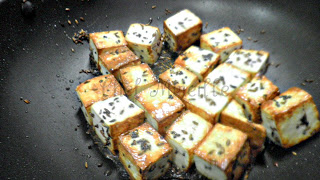 Add tomatoes, chile, garlic, cardamom, turmeric, and ginger.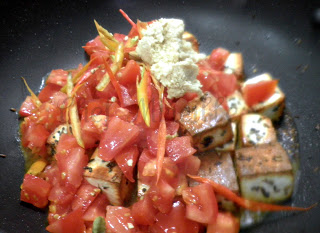 Mix and bring to a a boil. Add carrots, water and salt. Reduce to a simmer, cover and cook for 10 minutes.
Add cilantro and mint. Adjust salt, if necessary.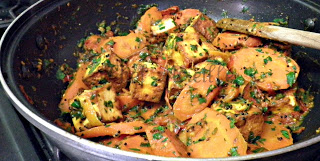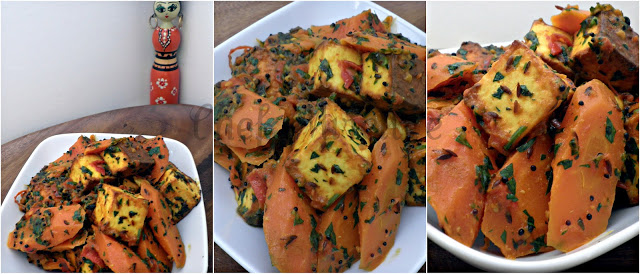 A quick cooking, mild flavored curry; perfect for the summer when you don't want to be spending a long time over a hot stove.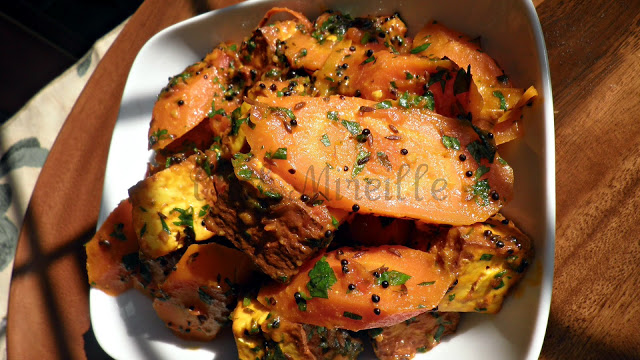 Carrots & Paneer in sunlight

…linking this colorful, nutritious, mild flavored dish to Srivalli's

Kids Delight

hosted this month by

Smitha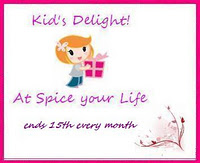 Chef Mireille