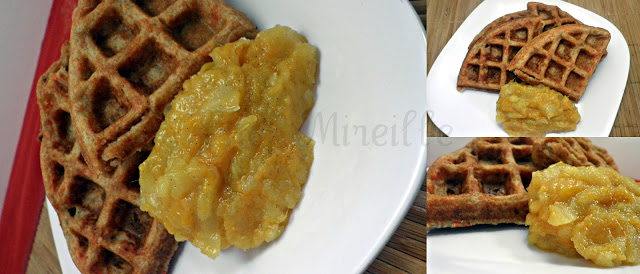 Today, marks a milestone for me. Sometime, in the last few weeks, I made a goal to blog for 30 days non-stop and today I've reached that goal!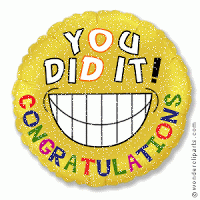 CONGRATULATION TO ME
I have been blogging for about 5 years, but not as consistent as I would have liked. Not anymore…since December and me joining Srivalli's Blogging Marathon, I have been a very consistent blogger and am now a daily blogger, regardless of the BM! Hope you are enjoying all the recipes and posts. I really would like to transform this space into an engaged community. I welcome all of your comments and suggestions!
Coincidentally, today starts another Blogging Marathon and my theme this month was one ingredient for 7 days and the ingredient I chose is….drumroll please….CARROTS!
I love carrots. They are so versatile. They can be eaten raw or cooked and in everything from soup to muffins; one of the few veggies that most kids love!
Don't forget to check out the Blogging Marathon page for the other Blogging Marathoners doing BM#16
When I was working as a Nursery School chef, we stopped serving syrup with French Toast & Waffles & I changed to applesauce as a healthier alternative. There was a little resistance at first but once they realized that was their only option, it became normal to them as an accompaniment to waffles, etc. If only I could convince their parents to switch to reinforce the healthier eating, on the weekends too! Because I love mango in everything, here's a twist I hope you'll enjoy as much as I did!
Gingered Carrot Waffles & Mango Applesauce
(click here for printable recipe)
Mango Applesauce Ingredients:
2 apples, peeled, cored and chopped
1 mango, peeled and chopped
1 vanilla bean, split
1/2 cup water
2 tablespoons sugar
Combine all ingredients in a saucepan and cook on medium heat for 20 minutes.
Remove vanilla beans and mash.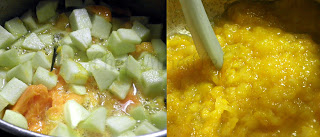 This is also a great snack for kids, on its own.
Mango Applesauce
Gingered Carrot Waffles Ingredients:
3/4 cup all-purpose flour
3/4 cup whole wheat flour
1/4 cup cornmeal
1 tablespoon baking powder
1/2 teaspoon salt
1/4 teaspoon ground cloves
1/4 teaspoon ground ginger
2 tablespoons firmly packed brown sugar
1 tablespoon ginger, grated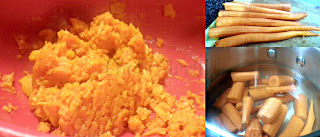 carrot prep
3/4 cup carrots, peeled & boiled until very soft (about 30 minutes), drained and mashed (about 6 skinny carrots)
1 3/4 cups milk
1/2 cup oil
In a bowl, combine flours, cornmeal, baking powder, salt, sugar and spices.
In another bowl, combine carrots, ginger, milk and oil. Beat well. Add to dry ingredients and stir until just mixed.
Preheat and grease waffle iron and cook, per your waffle maker instructions.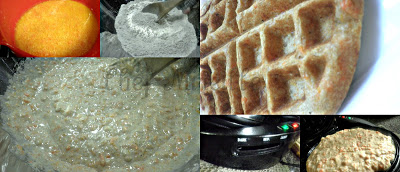 making waffles
For my round Oster waffle iron, I used 1 cup of batter for each waffle and cooked about 6 minutes each – I think on medium setting (the setting dial broke several years ago)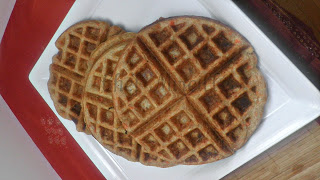 This combination of flavors worked even better than I thought they would. The ginger in the waffles really complements the mango in the applesauce, when they are in your mouth together. A big spoonful of the applesauce on every bite of waffle and you will be delighted! No one will be asking for syrup.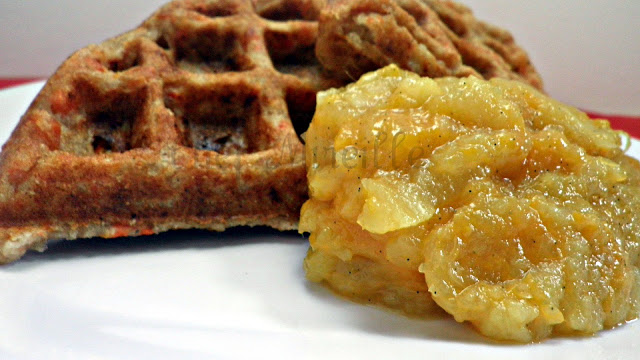 Vanilla specks in the applesauce make a difference!
…linking to Pumpkin Farm's Mango Mania, Sumee's Bon Vivant #4 – Fruit Recipes and Julie's Herbs & Spices, hosted this month by Prabha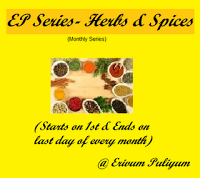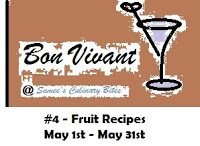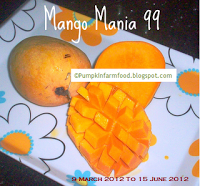 Chef Mireille
https://www.globaltasteinc.com
Like me on FACEBOOK!
Follow me on TWITTER!
Sign up for our updates!
Subscribe to get our latest content by email and get your FREE Pantry Cheat Sheet - Learn the basics to cook any International cuisine!