Last Updated on June 8, 2021 by Chef Mireille
Healthy Whole Wheat Carrot Waffles are the best homemade waffles that are as delicious as they are healthy. Infused with warm spices and fresh carrots, these easy instant waffles make a great weekend brunch. Pair it with applesauce as a healthier alternative to syrup!
Have you ever seen those commercials advertising breakfast or waffles that look more like dessert than a way to start the day off?
Syrup and compotes and whipped cream with sugar upon sugar upon sugar. I don't even want to look at the calories in one of those plates!
However, I love pancakes and waffles and when you skip all the sugar laden accoutrements, it's a actually a pretty healthy breakfast.
In this version, I have paired Healthy Waffles made with whole grains and carrots with a mango applesauce. Infused with the spices we find in carrot cake, these waffles are a great way to have your cake and eat it too!
The mango applesauce is such a great complimenting condiment that really, the syrup is not necessary. However, if you want to be more decadent, especially for a weekend brunch – you can still serve it with syrup.
What if you don't have a waffle iron? No problem – you can easily make Healthy Carrot Cake Pancakes with this same waffle mix.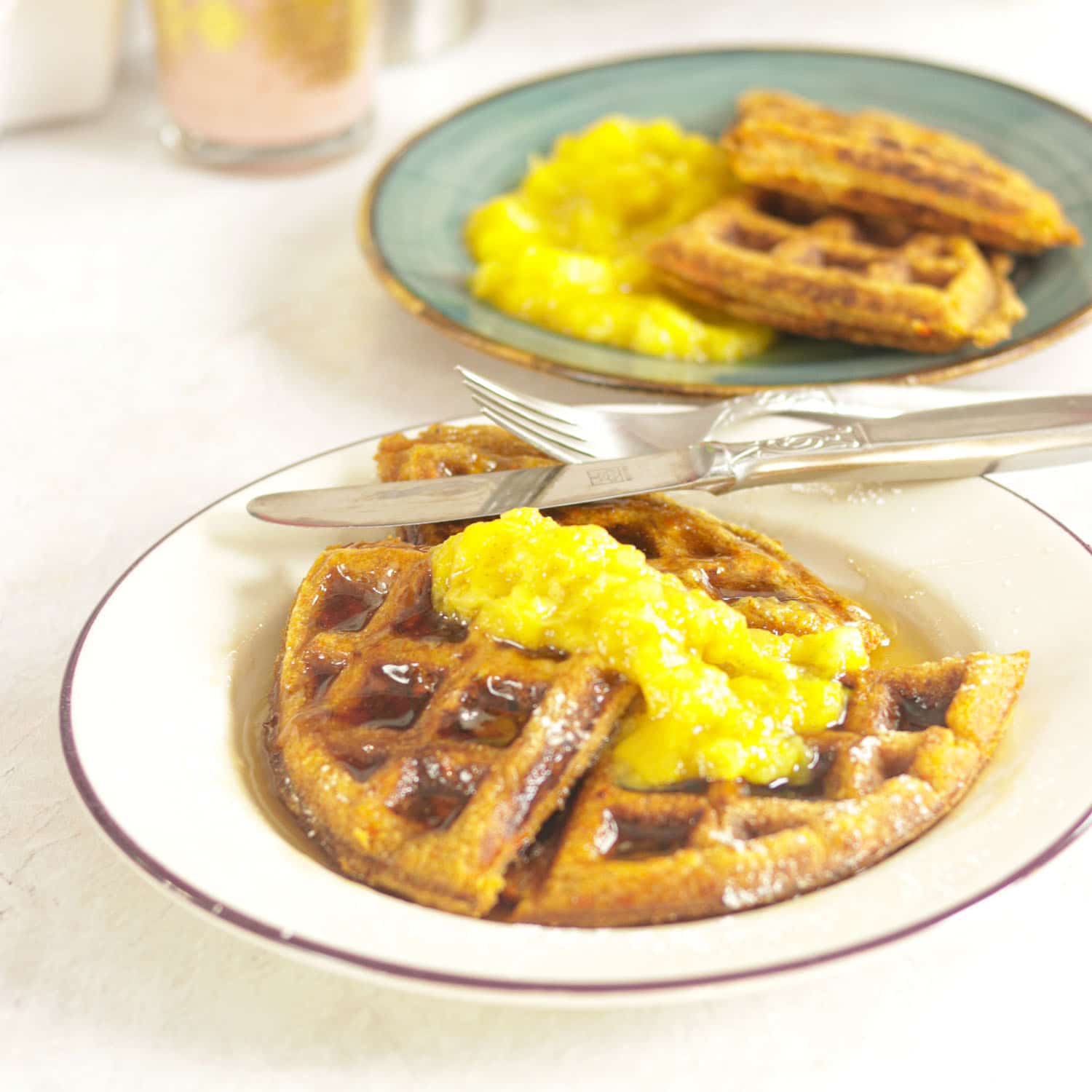 This post may include affiliate links.
When I was a nursery school chef, our goal was to provide kid friendly delicious recipes that were healthy too. We had to adhere to strict health guidelines to make sure each meal was balanced with protein, fruits and vegetables and whole grains.
To that end, we served pancakes and waffles with applesauce instead of syrup. The kids never complained and grew to love this healthier combination. Teaching kids to eat healthy is all about starting young.
If they were older kids who had already been accustomed to eating breakfast food loaded with syrup, it would have been a lot harder for them to adjust to eating their pancakes and waffles with applesauce. However, at 2-3 years old, it was easy!
Inspired by that combination, I created this Healthy Carrot Cake Waffle Breakfast, albeit a little more upscale and gourmet than we provided at the nursery school.
Homemade Mango Applesauce is also a great snack for kids, on its own.
This Healthy Breakfast consists of:
Eggless Whole Wheat Carrot Waffles
Vanilla Bean Mango Applesauce
The applesauce is so good it can be enjoyed as dessert all on its own!
Versatile Carrots
Carrots are one of those ingredients most of us always have in the fridge. They are inexpensive to purchase in bulk and they last a very long time when stored in the refrigerator.
They are also one of the most versatile ingredients. Not only is it commonly included in Soups and Stews but you can make anything from Carrot Muffins to Carrot Hummus with carrots. With its mild natural sweetness, carrots can be used in both savory recipes like this Smoky Pork Stew or in sweeter recipes like this Haitian Plantain Porridge.
They can easily be eaten raw or cooked.
Not only are they convenient to have around and easy to prepare, but carrots are also full of health benefits.
Benefits of Carrots
Carrots are good sources of:
Fiber
Vitamin A
Biotin
Vitamin B6
Potassium
Vitamin K1
Beta Carotene
Antioxidants
With all of these vitamins and minerals, carrots are a good natural source of energy and aids in bone health, eye health and blood coagulation.
For this reason, including carrots in as many recipes as you can is a good idea.
Meal Plan Recipe
If you meal prep or meal plan, this is a great recipe to include in the weekly repertoire. You can easily make a big batch and then freeze these and then just pop them in the toaster – the same like you would any supermarket freezer waffles.
Serve them with the Mango Applesauce or fresh fruit and breakfast is ready in just a few minutes.
Freezing Homemade Waffles
Let waffles cool completely.
Place each quarter of a round waffle in an individual freezer bag or wrap tightly in plastic wrap.
Ingredients for Carrot Cake Waffles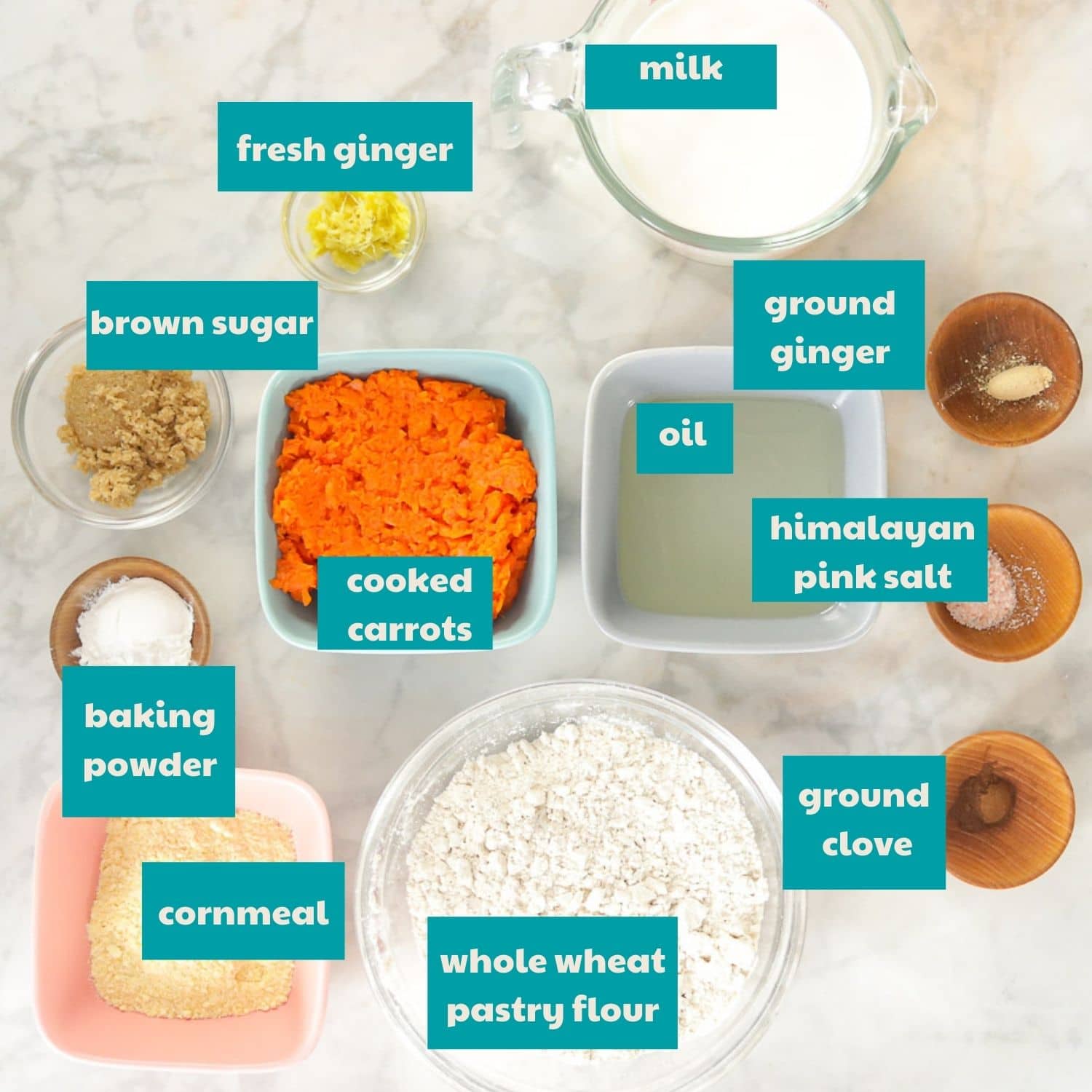 cornmeal
baking powder
ground cloves
grated ginger
carrots
milk
oil
Have you tried instacart yet? It's how I get all of my fresh grocery items delivered within 2 hours!
How to make Easy Homemade Waffles
Cook carrots and mash them.
Mix all of the dry ingredients together.
Mix all of the wet ingredients together.
Combine and mix until just combined.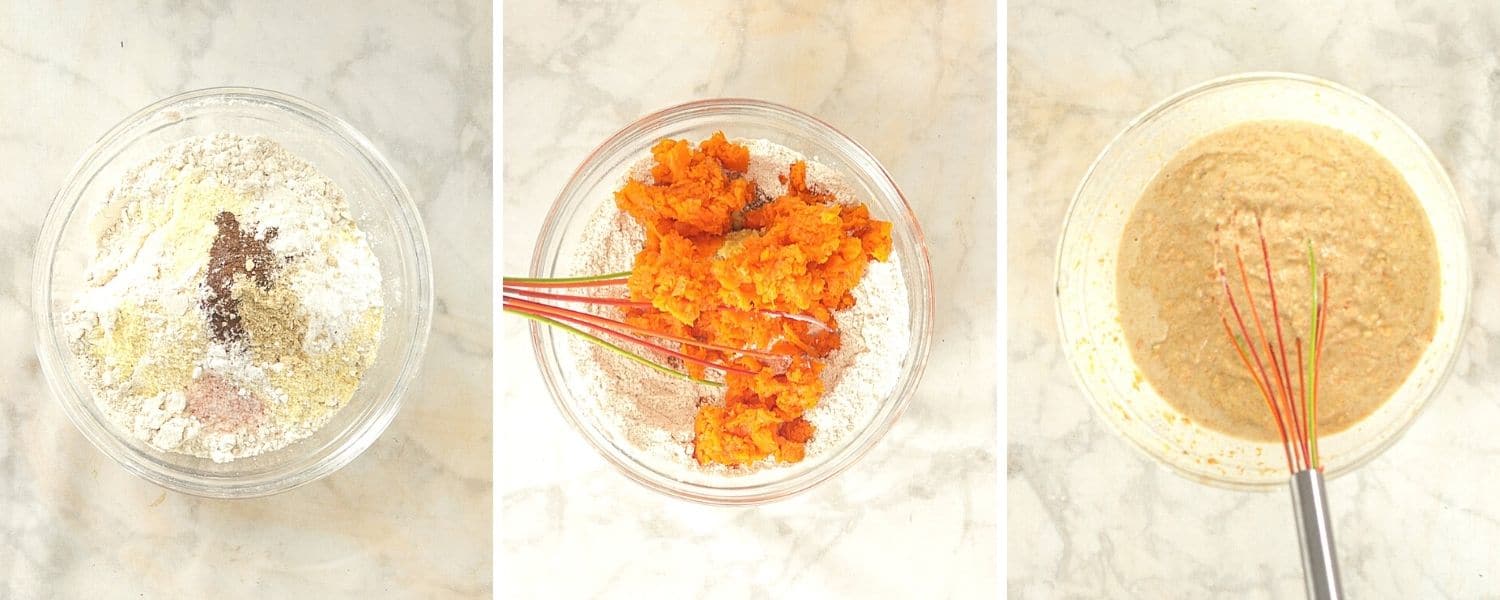 Cook in your waffle maker, according to package instructions.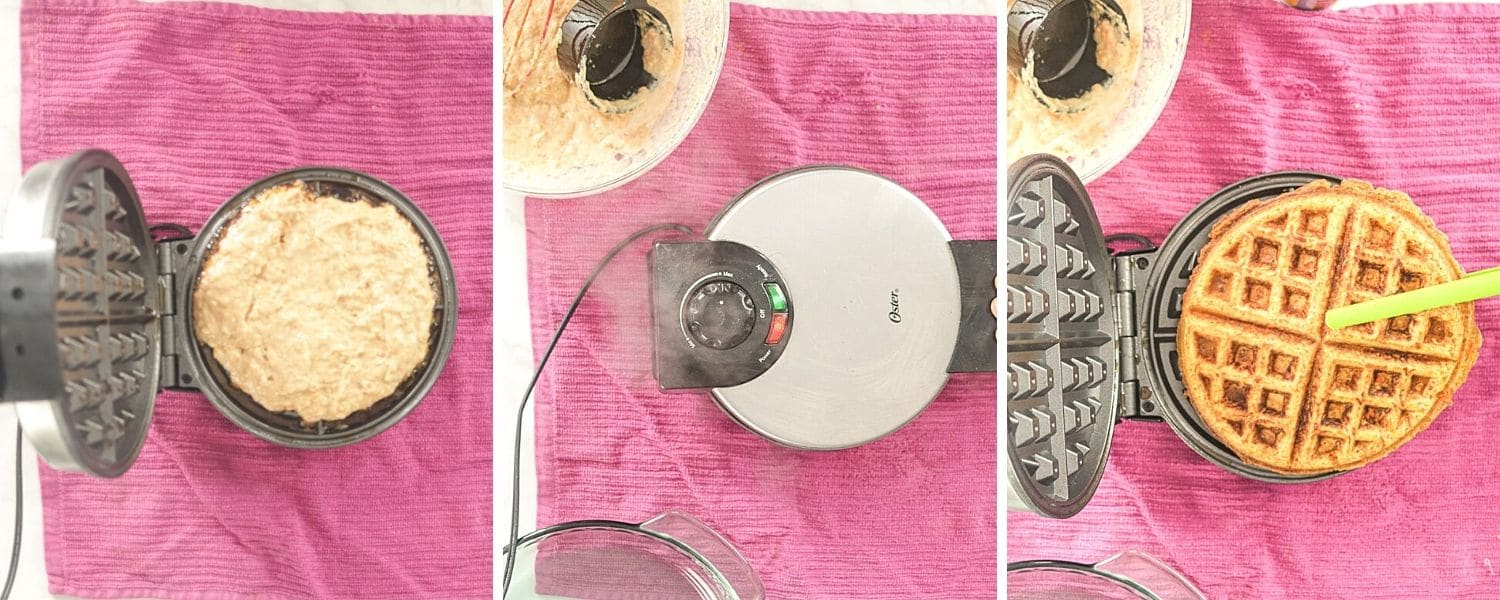 So the next time you have some extra carrots about, try these Healthy Waffles!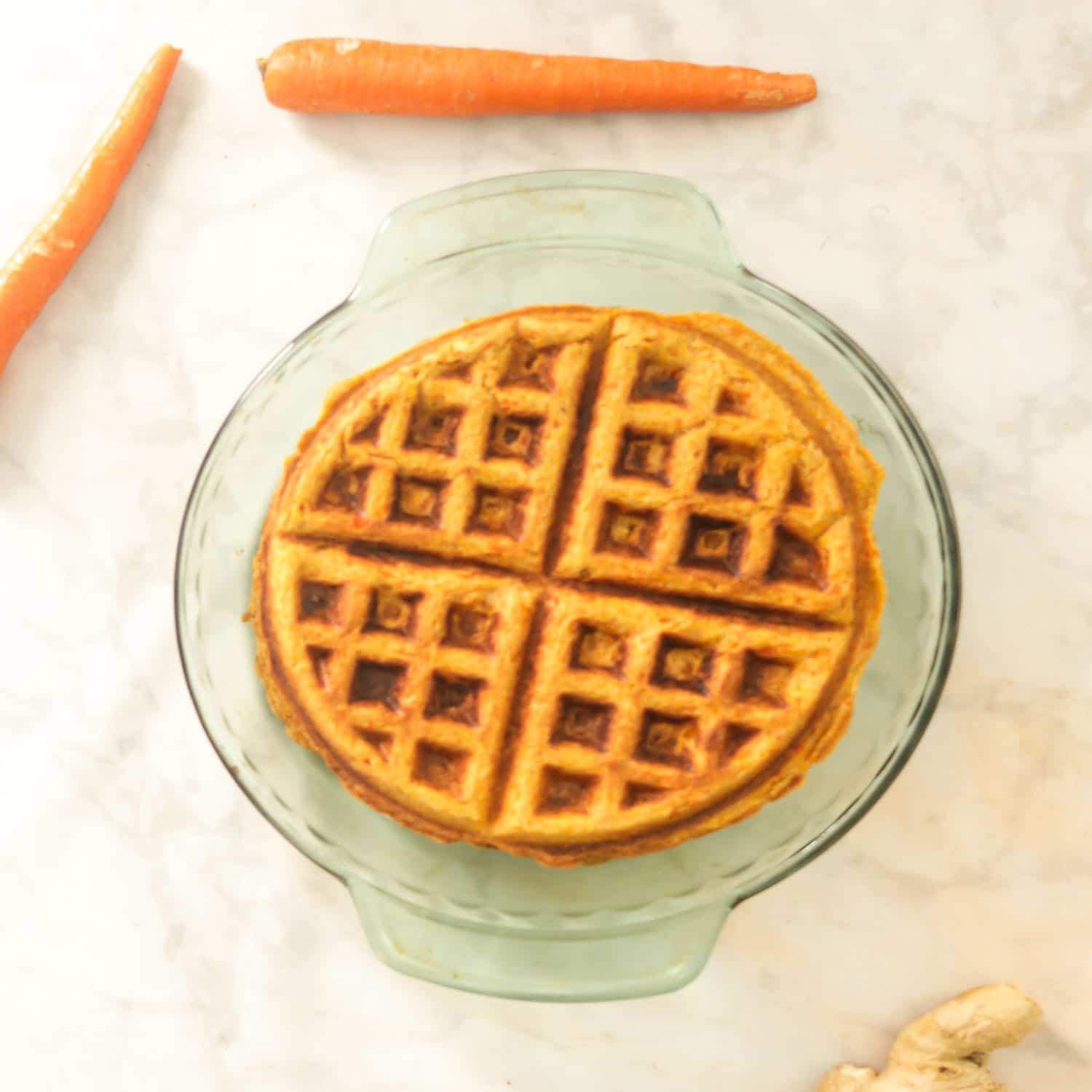 You can choose to enjoy it with or without syrup!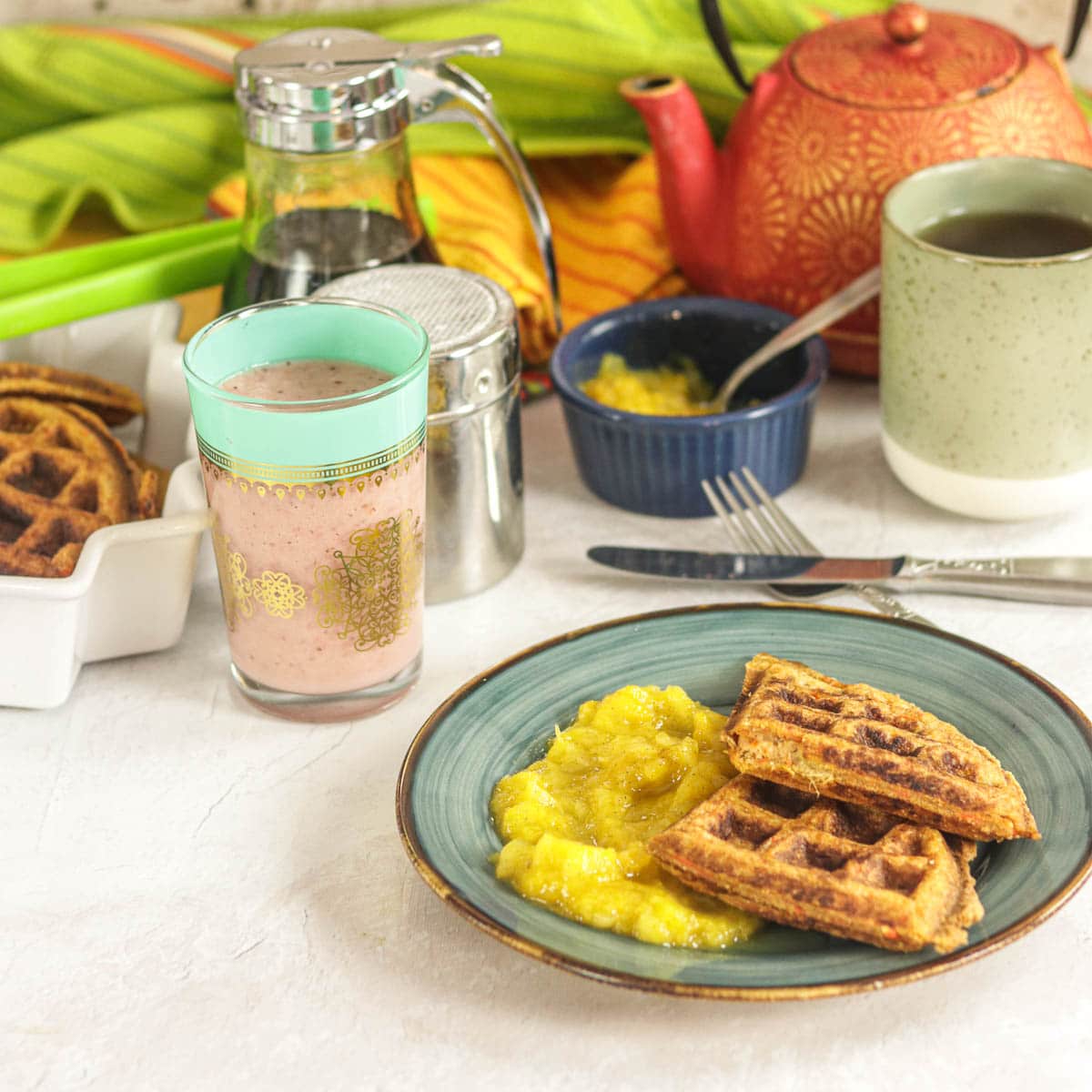 This combination of flavors worked even better than I thought they would. The ginger in the waffles really complements the mango in the applesauce, when they are in your mouth together. A big spoonful of the applesauce on every bite of waffle and you will be delighted! No one will be asking for syrup.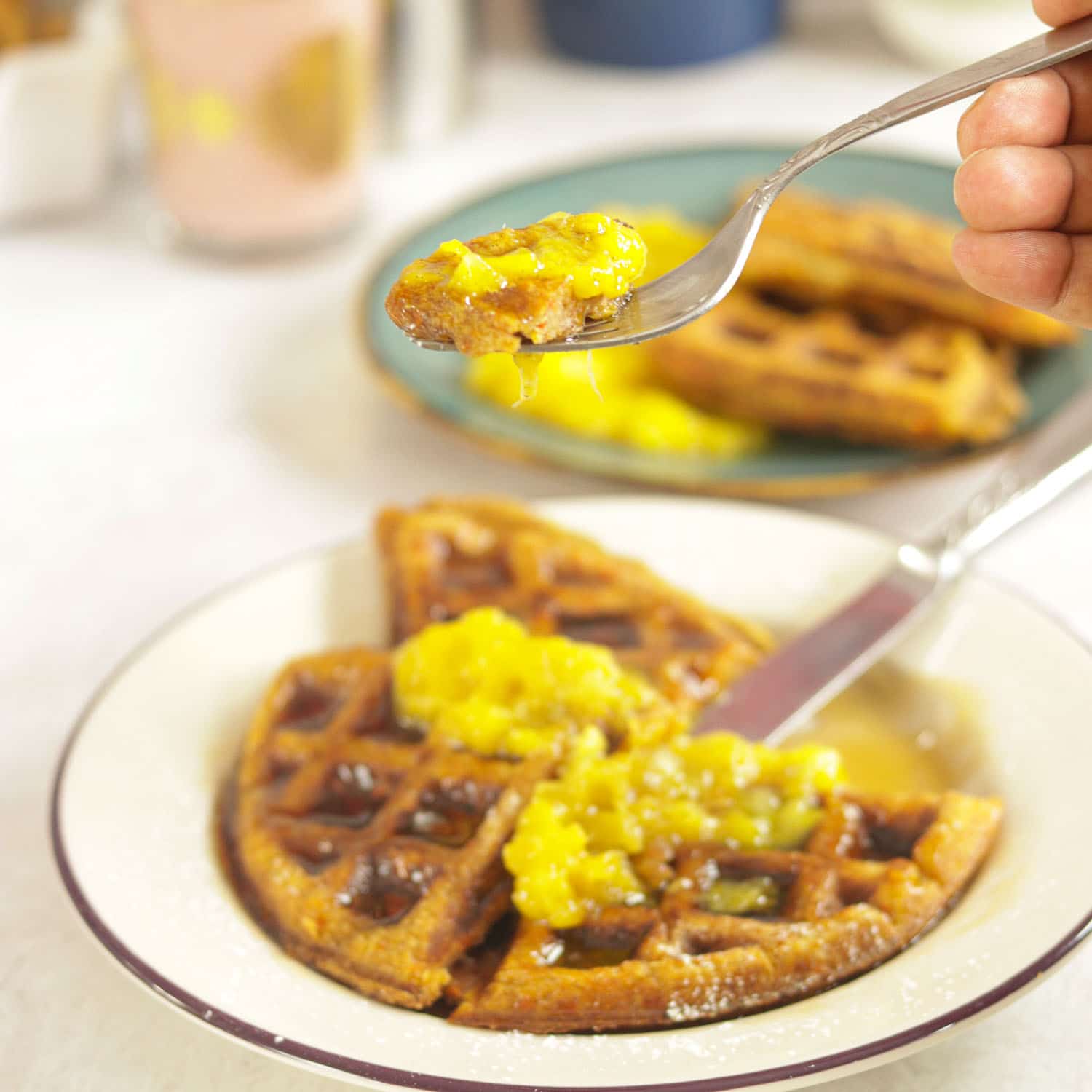 Healthy Carrot Cake Waffles
Delicious Healthy Carrot Cake Waffles made with whole grain flour is a hearty and filling breakfast. Made even healthier when served with Mango Applesauce instead of syrup.
Instructions
Cook carrots in boiling water until very soft.

Drain carrots and mash them.

In a bowl, combine pastry flour, cornmeal, baking powder, salt, sugar, cloves and ground ginger.

In another bowl, combine carrots, fresh ginger, milk and oil.  Beat well.

Add to dry ingredients and mix until just combined.

Preheat and grease waffle iron and cook, per your waffle maker instructions.

For my round Oster waffle iron, I used approximately 3/4 cup of batter for each waffle and cooked about 6 minutes each.
Notes
You will need approximately 5 medium sized carrots.
If you do not have whole wheat pastry flour, you can use half all purpose flour and half whole wheat flour.
Nutrition
Calories:
367
kcal
|
Carbohydrates:
38
g
|
Protein:
7
g
|
Fat:
22
g
|
Saturated Fat:
3
g
|
Polyunsaturated Fat:
6
g
|
Monounsaturated Fat:
13
g
|
Trans Fat:
1
g
|
Cholesterol:
7
mg
|
Sodium:
240
mg
|
Potassium:
452
mg
|
Fiber:
3
g
|
Sugar:
8
g
|
Vitamin A:
2790
IU
|
Vitamin C:
1
mg
|
Calcium:
184
mg
|
Iron:
2
mg
Did you try this recipe? Leave a comment below.
Please follow me on Instagram @chefmireille or tag me #chefmireille with your pics! I'd love to share them!
Don't forget to visit the RECIPE INDEX with over 1000 recipes from around the world including lots of Vegetarian Recipes and Gluten Free Recipes!