Last Updated on September 1, 2021 by Chef Mireille
Smoky Pork Stew with Sweet Potatoes & Carrots is the perfect comfort food stew for the whole family. Full of smoky spices and naturally sweet vegetables, it's a perfect marriage of flavors.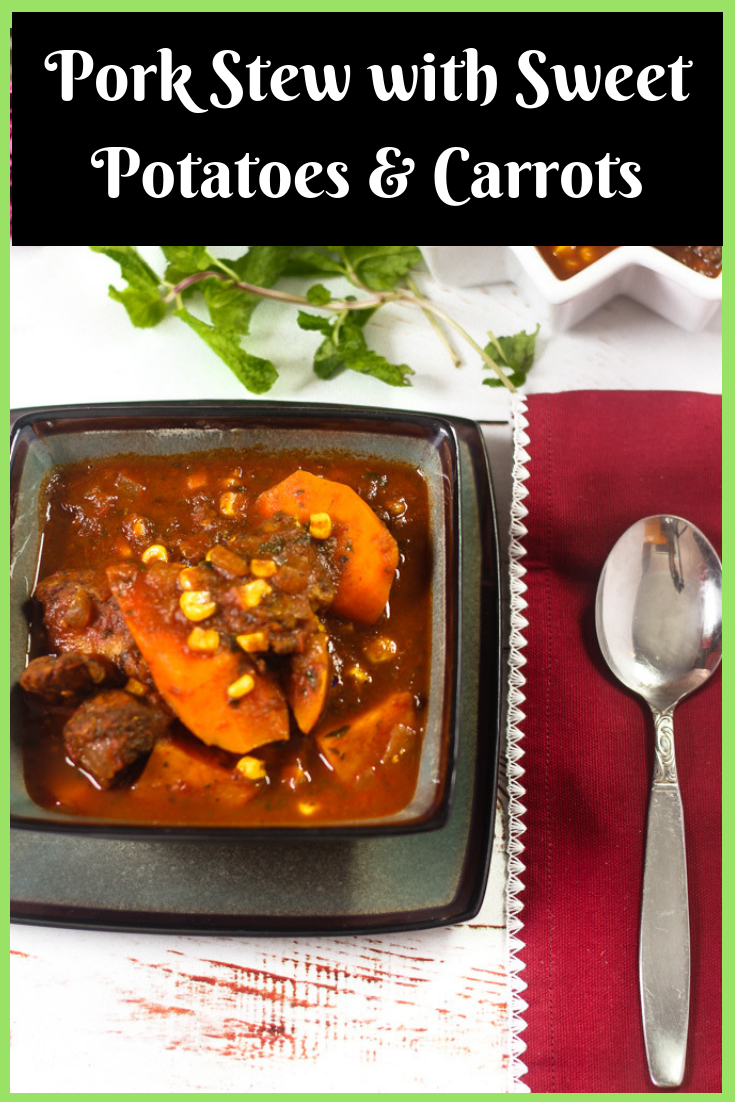 So the first thing that comes to mind is probably what country is this recipe from, since most of my posts are about the foods from around the world with cultural and historical notes of the country. However, I hope through my recipes , I have inspired you to use international ingredients and flavors to create your own special creations indicative of the cultures around the world.
If I was forced to pick a country that this stew represents, I would probably say Morocco with the use of the smoky spices and fresh herbs…but then I went and used an Indonesian chili paste…hmm but does it really matter as long as it is utterly delicious???
Except for baking which can be quite technical, I hope you use my recipes as a guide but not a Bible. If you have to pull out a recipe every time you go to cook, you probably will get tired of all the world. Instead I hope you go out there and try Sambal Olek which I used in this recipe and embrace it as much as I do so that you then incorporate it into your daily cooking.
and hey you don't have to use Sambal Olek – use harissa or aji amarillo (Peruvian)…or maybe you don't like spicy food – then all you have to do is omit the chili paste. The chili paste just gives the stew a little kick I find necessary, but I also have a penchant for spice.

---
My goal in presenting my recipes to you is to not only learn recipes, but to embrace the foods of other countries to make your own cooking more flavorful, as well as to learn a little more about people and cultures from around the world. The key to ending the violence and hate that seems pervasive recently is to eliminate fear of the unknown – whether it's a different religion, a different race or a different way of life. What better way to break down biases and learn about other people than to break bread with someone? The chance to try some delicious food even if it's a new cuisine, will always be a way to open communication. ok…getting off my soap box now…
---
Since the temperatures are cooling and it's that time of year when we crave hearty stews and warm soups. Here are some more stews and soups you might want to try out this season.
Soup & Stew Recipes
If all you do is try a new soup or stew every week, you can travel the world and teach your family about other cultures (at least what they eat 🙂 If you would like to still check out some other soups and stews — SEE HERE.
Nothing says #comfortfood more than a hearty soup!
Every spoon of this stew will just want you craving more…
especially on Day 2. Like almost all foods, they taste even better on the second day when the flavors have had time to really develop.
Smoky Pork Stew with Sweet Potatoes & Carrots
Smoky Pork Stew with Sweet Potatoes & Carrots is a hearty soup full of smoky flavors. Perfect for cold winter evenings.
Ingredients
1 1/2

lb.

lean pork shoulder

1

teaspoon

ground cumin

1

teaspoon

ground coriander

1

tablespoon

paprika

½

teaspoon

ground allspice

½

teaspoon

ground cloves

½

teaspoon

ground black pepper

2

tablespoons

oil

1

chopped onion

2

finely chopped garlic cloves

1

chopped bell pepper

28

oz.

can crushed tomatoes

2

small sweet potatoes

10 oz., peeled and chopped

1

large carrot

8 oz., chopped

1 15.25

oz.

can corn

drained

1

tablespoon

sambal olek

½

cup

finely chopped mixed herbs

mint, cilantro, parsley

salt

to taste
Instructions
Cut off any large fat chunks off of the pork and cut into bite sized pieces.

Toss the pork with the cumin, coriander, paprika, allspice, cloves and black pepper. Leave it to marinate for 10 minutes.

Meanwhile, you can spend the time chopping the vegetables.

In a large pot, heat oil.

Add onion, garlic and bell pepper. Stir fry until the vegetables are softened.

Push the vegetables to the perimeter of the pot and add the meat in a single layer in the middle.

Cook on high heat for 5 minutes.

Stir the meat with the vegetables to combine. Cook on high heat for another 5 minutes.

Add the can of tomatoes. Fill the can with water and add it to the pot.

Bring it to a boil.

Reduce heat to medium and cook, partially covered, for 45 minutes. The pan should be covered about 75%.

Add sweet potatoes, carrot, corn and sambal.

Cook on high heat for 15 minutes, until vegetables are tender. It is important to cook on high heat so that some of the liquid will evaporate.

Add herbs and salt. Stir to combine.
Did you try this recipe? Leave a comment below.
Please follow me on Instagram @chefmireille or tag me #chefmireille with your pics! I'd love to share them!
Don't forget to visit the RECIPE INDEX with over 1000 recipes from around the world including lots of Vegetarian Recipes and Gluten Free Recipes!