Last Updated on September 2, 2021 by Chef Mireille
Piri Piri is a spice blend used in many Portuguese colonized countries from Mozambique to Brazil and in Portugal itself. This 12 spice blend is so versatile and will add so much flavor to everything from grilled chicken to roasted potatoes.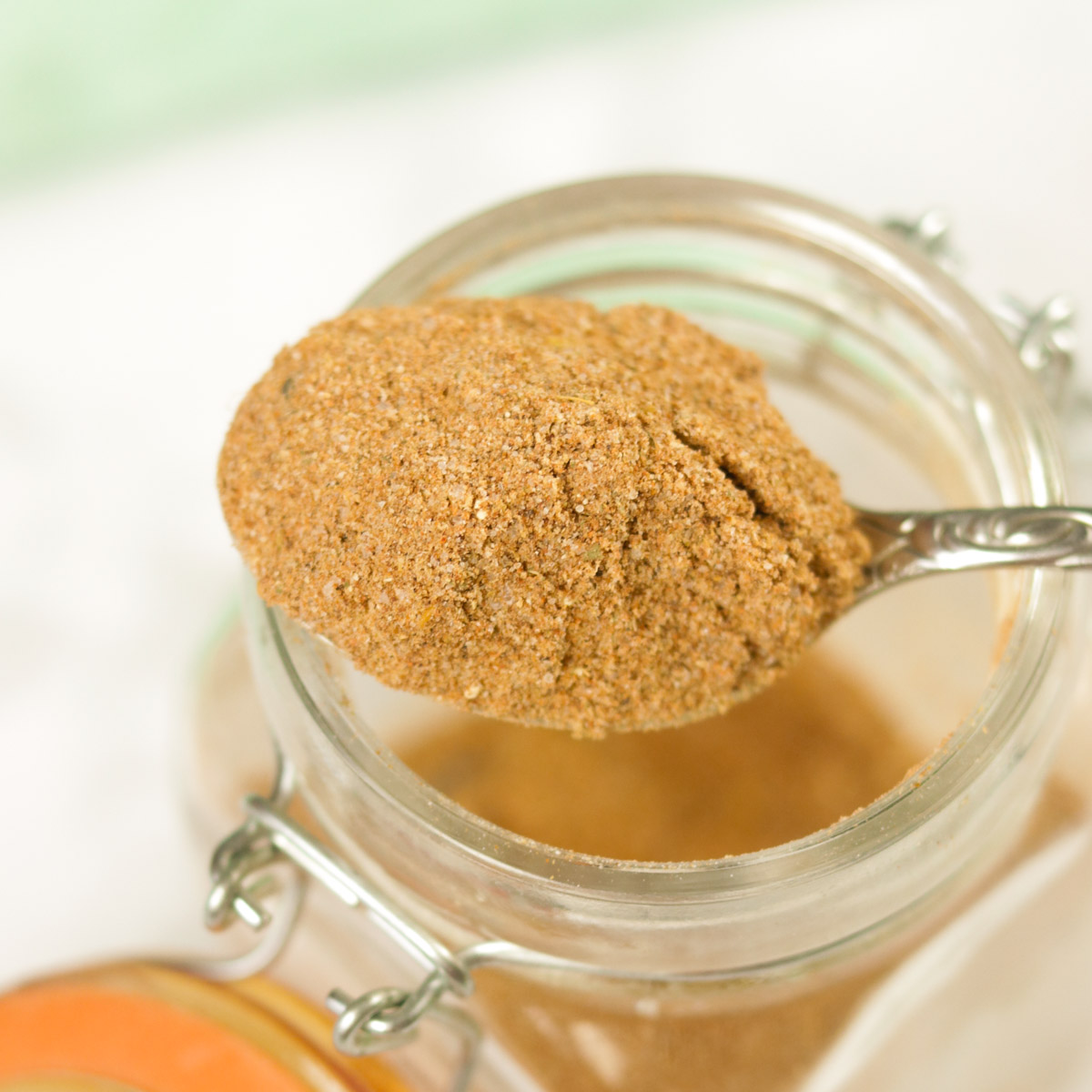 This post may include affiliate links.
First of all, you might have seen it spelled as peri peri and wonder Is Peri Peri the same as Piri Piri? The answer is YES!
Spelling variations occur from country to country, however, it all is rooted in the same Portuguese African Spice Blend.
History of Piri Piri
Piri Piri was created somewhere in the 15th century when the Portuguese first came into contact with the Malagueta pepper, sometimes referred to as African bird's eye chili pepper.
The Malagueta peppers were mixed with spices and herbs from Europe, creating a fusion spice blend called piri piri, which means pepper pepper in Swahili.
Both Mozambique and Angola will lay claim to the origin of this flavorful spice blend, however, it is now very popular throughout southern Africa especially in Angola, Mozambique, Zimbabwe and South Africa.
In addition to Africa, this flavorful spice blend followed the Portuguese wherever they went.
From Portugal to Goa in India and the Bahia state of Brazil, with the largest percentage of African descended people in Brazil, you will find versions of piri piri, also sometimes spelled as peri peri.
Peri Peri Sauce or spice blends are utilized in signature dishes in all of these countries.
Here's a bit of history to teach your family as you enjoy delicious recipes utilizing Piri Piri – Mozambique Spice Blend.
Portuguese Colonization in Africa
Did you know there are 6 Portuguese speaking countries in Africa?
Yes, at one time or another, Portugal had control of Mozambique, Angola, Cape Verde, Guinea-Bissau, Equatorial Guinea, Sao Tome and Principe.
African interest by the Portuguese first occurred in the early 1400's. Portugal had signed treaties with neighboring European countries, making their independence stable in Europe. They started exploring into North Africa to spread Chistianity to the Islam practicing Moor's and also to gain a larger interest in the lucrative spice trade.
Although the spice trade was their initial interest, Portugal eventually became major slave traders. As they set up trading posts throughout Africa, they monopolized the gold and slave trade industries.
At the height of the slave trade, Portugal was exporting slaves from Africa at about 800 annually to Portugal and Brazil.
Post World War II, Portugal began to lose control with guerilla or military uprisings in many of its international territories in Asia. When nationalist movements turned violent in Angola in 1961, that was the beginning of the end of Portuguese colonization in Africa.
By 1975, Portugal had lost control of all its former territories in Africa and Asia.
RELATED: Learn more about Portuguese colonization in India with these delicious Bolinhas – Goan Coconut Cookies Recipe
Now you are armed with all the historical background to teach your kids, let's talk about how you can use this spice blend.
What can you make with Peri Peri?
It is so versatile. You can use it with just about anything. Marinate with a little olive oil and vinegar and it is great with Roasted Chicken, Grilled Lamb Chops, Fried Fish. Check out this Piri Piri Sheetpan Chicken Dinner!
I also like to sprinkle a little in rice or grilled vegetables.
The possibilities are endless. Let me know in the comments section how you plan to use Peri Peri or Piri Piri – Mozambique Spice Blend.
Spice Blends
You may wonder why you should bother making your spice blends at home when they can easily be purchased. Well there are a few reasons to make your own spice blends.
Customization – Maybe you are allergic to garlic powder? You go ga ga for ginger and want to add more? By making your own spice blends, you can customize flavors to your own preference.
Salt – In most store bought spice blends, salt is the number one ingredient, meaning it has more salt in it that any other ingredient. By making your own spice blends, you can control the quantity of salt used.
Cost – It is more cost efficient to make your own spice blends. Blended spices are quite costly.
Variety – By having a few spice blends ready in your pantry, you can easily add variety to staple meals like roast chicken, chili or pot roast.
Don't forget to label your spice blends so you don't forget which is which!
Here are some other homemade Spice Blends you might want to check out!
Spice Blend Recipes
These seasonings are great to add flavor to holiday meals. When Thanksgiving and Christmas rolls around, season up the holiday bird with this flavorful spice mix.
Barbecue Season is around the corner. Piri Piri works great as a dry rub to put on all those delicious grilled meats. Get the grill going in the yard and add some African flavor to your table!
Now let's check the pantry and make sure we have all of the ingredients and equipment needed!
The Ingredients
Equipment Needed
Raw Spice Bar
Open a world of Flavor with the $10 a month
Raw Spice Bar Subscription
While I always keep a variety of spice blends in my pantry, as far as I am concerned, you can never have too many. If you want to guarantee that you NEVER get bored even with simple grilled chicken or steak recipes, Raw Spice Bar is a company I LOVE.
At an affordable price, you will get a new spice mix to try EVERY MONTH. This also makes a great birthday or holiday gift for the foodies in your family and friend's circle. Every month they will be thanking you as get to try a new spice mix.
Get a fresh blend of spices from around the world every month with
Raw Spice Bar
Piri Piri – Mozambique Spice Blend
Piri Piri is a spice blend used in many Portuguese colonized countries from Mozambique to Brazil and in Portugal itself.
Instructions
First grind piri piri peppers in a spice grinder.

Add all other ingredients to the grinder and mix until thoroughly combined.

Sift the blend to make sure there are no lumps.

Store in an air tight container and label accordingly.
Notes
If you cannot source piri piri peppers or ground piri piri, substitute cayenne pepper.
Nutrition
Calories:
197
kcal
|
Carbohydrates:
43
g
|
Protein:
7
g
|
Fat:
4
g
|
Saturated Fat:
1
g
|
Sodium:
7005
mg
|
Potassium:
744
mg
|
Fiber:
13
g
|
Sugar:
15
g
|
Vitamin A:
12424
IU
|
Vitamin C:
5
mg
|
Calcium:
121
mg
|
Iron:
7
mg
Did you try this recipe? Leave a comment below.
Please follow me on Instagram @chefmireille or tag me #chefmireille with your pics! I'd love to share them!
DO YOU YUM? SAVE IT BELOW!
Yum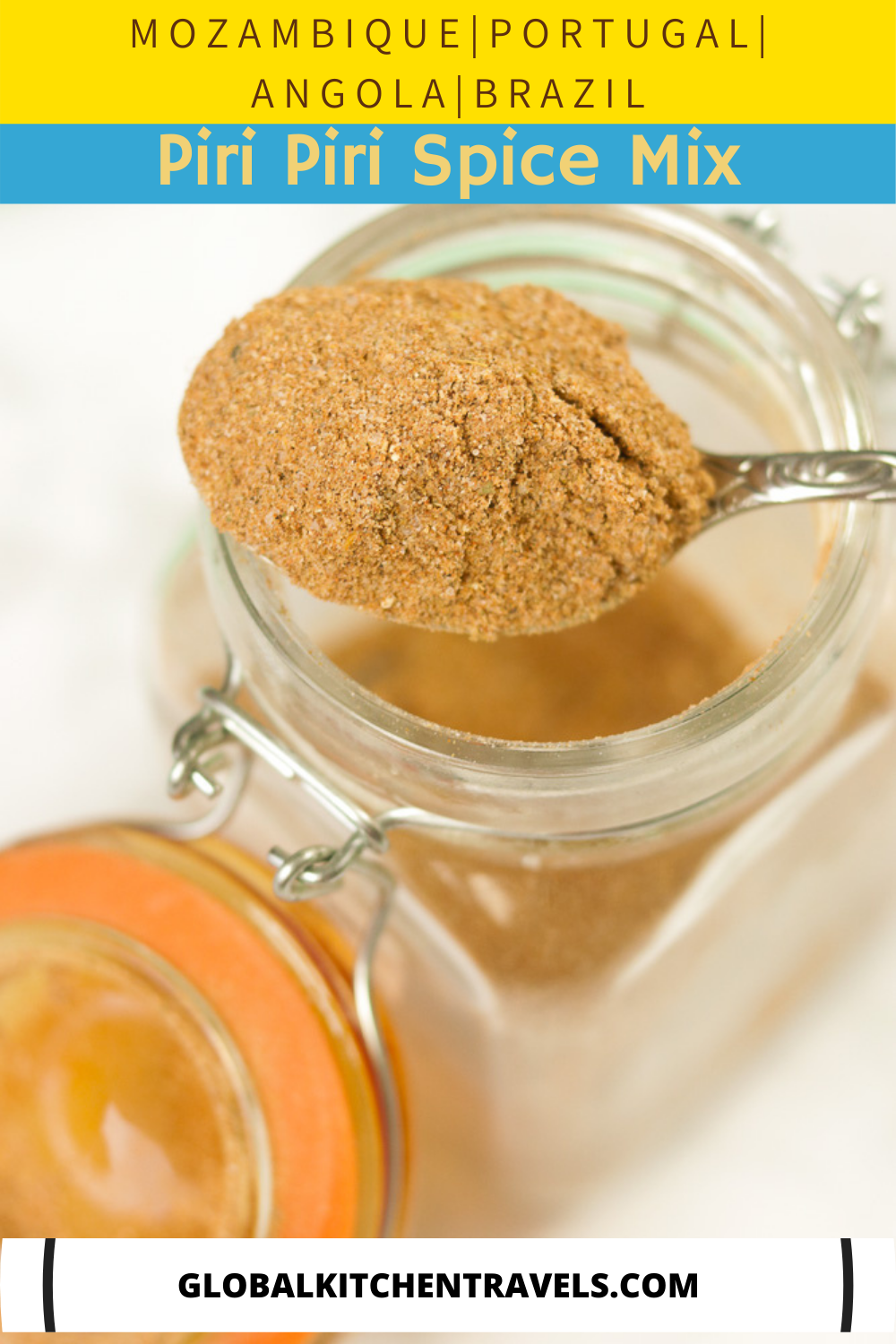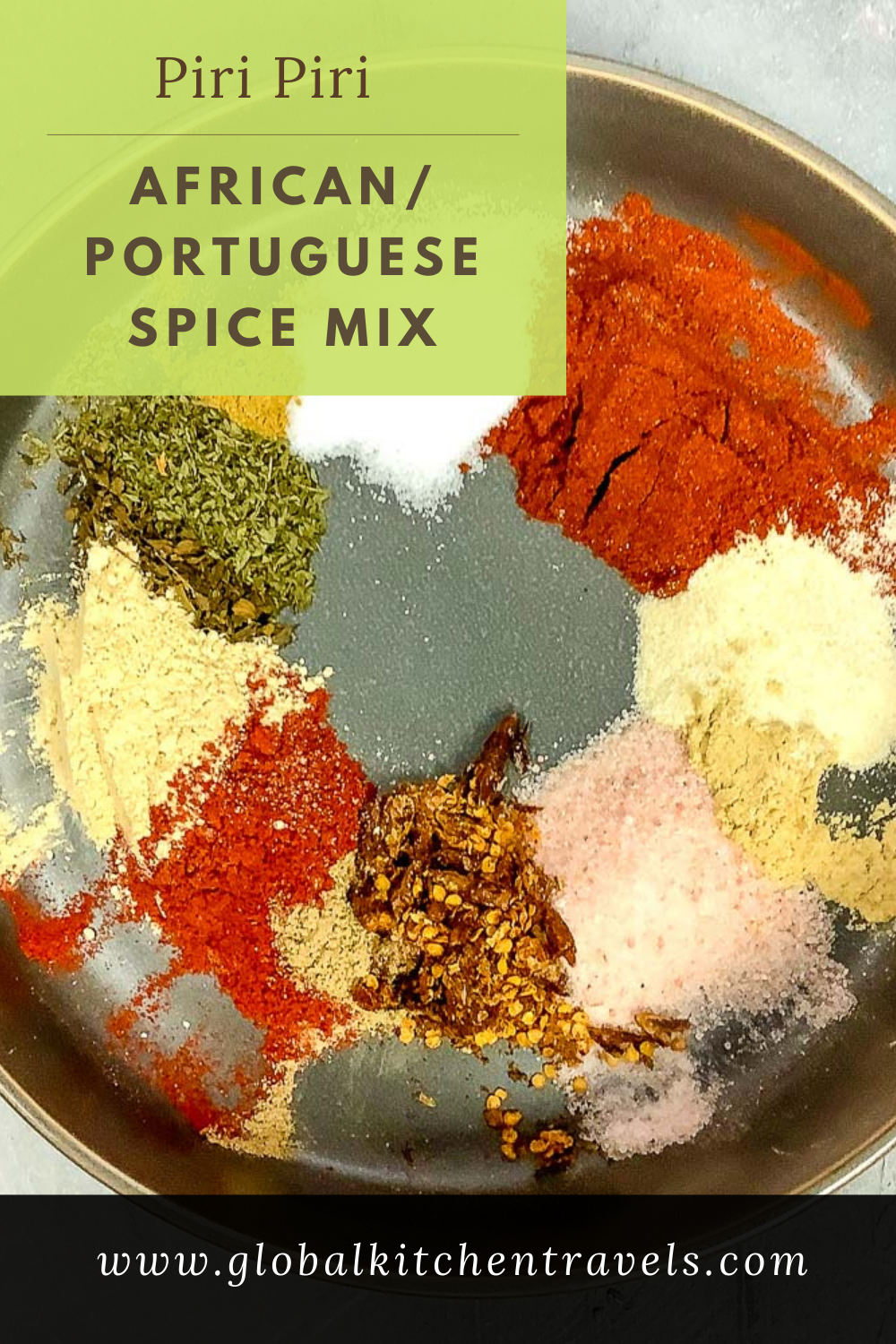 Don't forget to visit the RECIPE INDEX with over 1000 recipes from around the world including lots of Vegetarian Recipes and Gluten Free Recipes!