Last Updated on April 26, 2023 by Chef Mireille
Elevate your weeknight dinner routine with our flavorful Chana Fugad recipe, a hearty and satisfying dish that's easy to make and packed with protein and fiber. Featuring the earthy goodness of chickpeas and the fresh crunch of French beans, this recipe is sure to become a new favorite in your recipe rotation.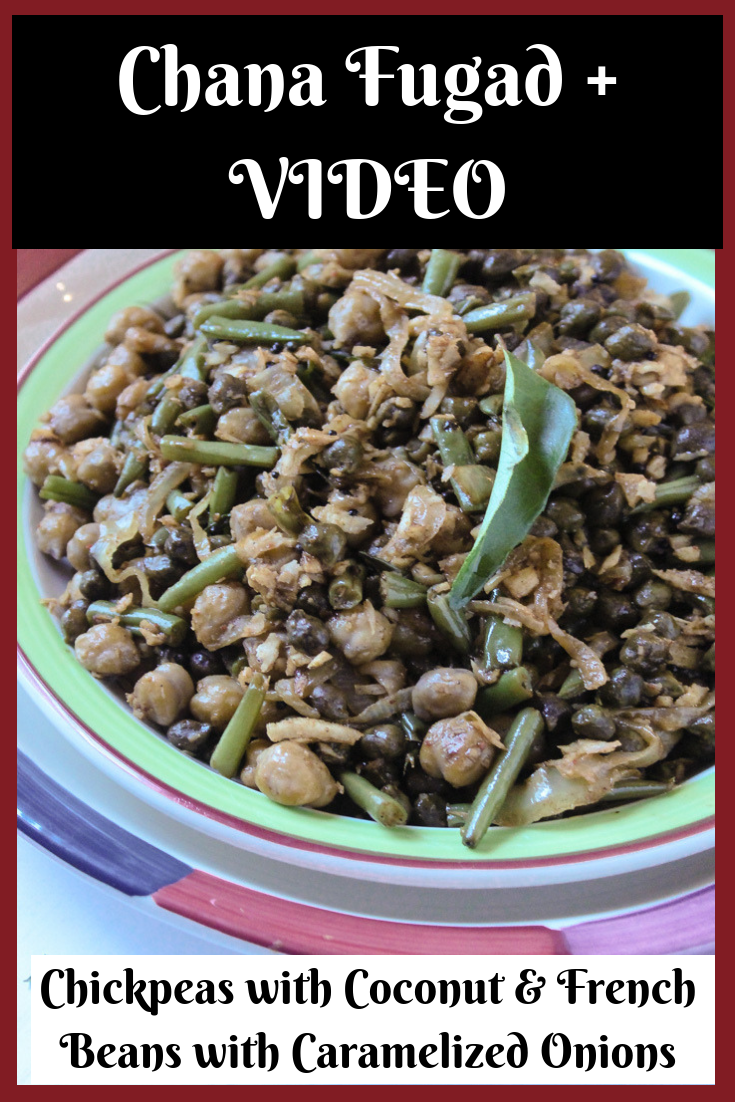 As soon as Valli announced the BM themes for this month, I knew immediately I would choose Karnataka for the one state, three cuisines theme. Most states of India have a variety of cuisines, usually divided by religious or ethnic differences and sometimes by geography. Sometimes, the cuisines of the coastal locations will vary greatly from those cities located more inland. I remember when we did the Indian Food Odyssey Mega Marathon in April that Karnataka had several distinct cuisines.
The first Karnataka cuisine I will be exploring is Konkani. There are different sects of Konkani people along India's western coast in the states of Goa, Karnataka, Maharashtra and Kerala, all speaking different dialects of the Konkani language. When the people of Goa were conquered by the Portuguese in 1510, many were forced to convert to Catholicism, although some fled to escape the conversion. There were also missionaries in Karnataka and the other states, which caused the Catholic conversion there. For this reason, many Konkani's are Catholic. They eat meat regularly and are especially fond of pork and chicken.
What is a sukka?
A sukka is basically the term to identify a dry curry, that will not include gravy and copious amounts of coconut. However, this type of sukka is also referred to as a fugad, where the tempering of curry leaves and mustard occurs before the main ingredient is added. This is a departure from the more common Indian food preparation method where the tempering of these ingredients occurs after the main ingredient is cooked and is called the tadka.
This type of sukka preparation is very popular in Mangalore and there are many variations based on each family. This variation I developed after consulting several recipes. While doing research to develop this recipe, I wanted to give a special nod to two Mangalore blogs I found that are full of interesting information about Mangalore culture and lots of delicious recipes – Ruchik Randhap & The Tiffin Box.

If you try this recipe, you will start craving more Karnataka cuisine so check out my Karnataka Thali that features:
Karnataka Thali
Kokum Rasam
Goli Baje
Coconut Chutney
Dried Shrimp Chutney
Konkani Kadhi
Nimbekai Chitranna (Lemon Coconut Rice)
Now let's get to today's recipe.
Bafat Spice Mix
Besides their heavy consumption of meat when compared to other South Indian cuisines, the other distinguishing part of their cuisine is the use of Bafat. Bafat is a Portuguese inspired spice blend that gives their foods its distinct flavor and aroma. Although more often used in meat preparations, it's also used often with kala chana (black chickpeas) or other legumes sometimes in combination with vegetables.
First we have to make the Bafat Spice Mix. You will have leftover that you can start using to flavor any variety of foods. Sprinkle on some roast potatoes before you stick them in the oven or roast pork or grilled chicken. The possibilities are endless.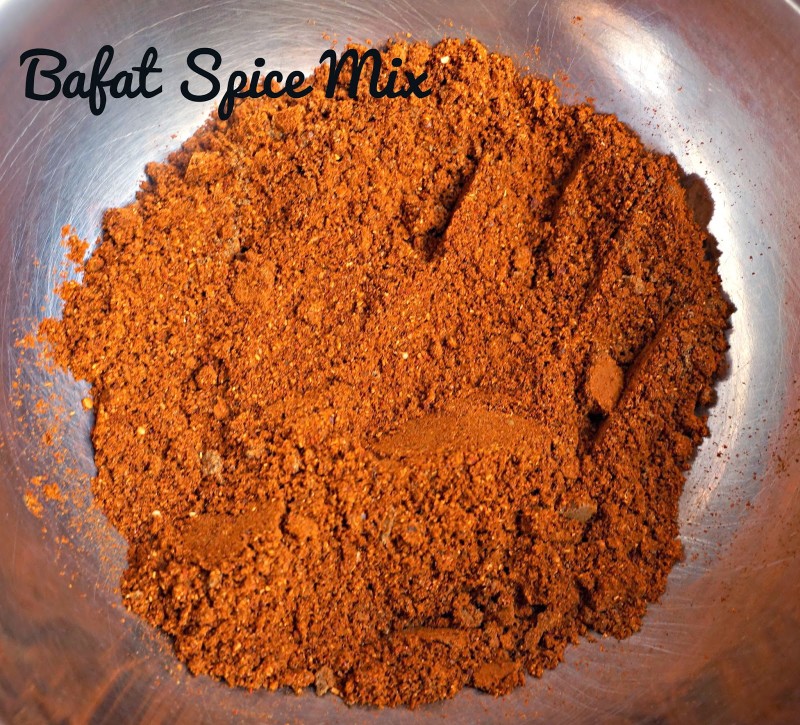 IN THE MAKING – HOW TO MAKE CHANA FUGAD
Chana Fugad/ Chickpea Saute with Coconut & Haricot Verts (French Beans)
Chana Fugad with Haricot Verts is a delicious side dish or can even serve as a Vegetarian main course.
Ingredients
Bafat Ingredients:

1

tablespoon

cinnamon bark

broken into pieces

1

star anise

1

teaspoon

black peppercorns

1

teaspoon

cloves

1

tablespoon

cumin seeds

2

tablespoons

coriander seed

8 4

" dried red chiles

if using the smaller 2″ chiles, use 14

Chana Fugad Ingredients:

1/2

cup

green chickpeas

soaked overnight

1/2

cup

chickpeas

soaked overnight

3

tablespoons

ghee

2

finely chopped cloves garlic

1

teaspoon

mustard seeds

1

sprig curry leaves

1

onion

thinly sliced

5

oz.

chopped into 1/2″ pieces haricot verts

1

teaspoon

tamarind concentrate

1

tablespoon

bafat spice mix

1/2

cup

frozen grated coconut

defrosted

1/2

teaspoon

jaggery powder

or palm sugar

salt

to taste
Instructions
In a dry skillet, roast all spices until they start to change color and become fragrant. Cool.

Place in a coffee/spice grinder and grind to a fine powder.

Store in an air tight jar.

Bring a large pot of water to a boil. Add chickpeas and cook on a simmer for about 45 minutes, until tender.

In a large skillet or wok, heat 2 tablespoons of the ghee.

Add mustard seed, garlic and curry leaves. Fry for 1 minute. Once the garlic starts to brown, add the onion and remaining ghee. Cook on low heat for about 5 minutes, until caramelized.

Add beans and 2 tablespoons water. Cook for 5 minutes.

Add tamarind, 1/4 cup water, coconut, jaggery and bafat. Cook on low heat for 5 minutes.

Add chickpeas and salt. Stir well and cook for another 2 minutes.
Notes
A very classic Mangalore dish using this preparation is kala chana (black chickpeas) and tindora (ivy gourd). You can adapt this recipe with those ingredients as well.
Did you try this recipe? Leave a comment below.
Please follow me on Instagram @chefmireille or tag me #chefmireille with your pics! I'd love to share them!
For a complete Karnataka meal, enjoy with Chicken Coorgi