Last Updated on May 14, 2021 by Chef Mireille
Haitian Sos ti Malice, literally means Devil Sauce is a Haitian style Hot Sauce with Scotch Bonnet Peppers (Habanero). This all purpose sauce is used for rice, for chicken, or as a dipping sauce for Banane Peze (Haitian Style Tostones).
So if you are looking for a quick and easy recipe for Meatless Monday, you can use this Haitian Sauce for Rice for a delicious gravy and add beans if you like for protein.
Explore some of the ways this Haitian Creole Sauce is used and more delicious Haitian Recipes here.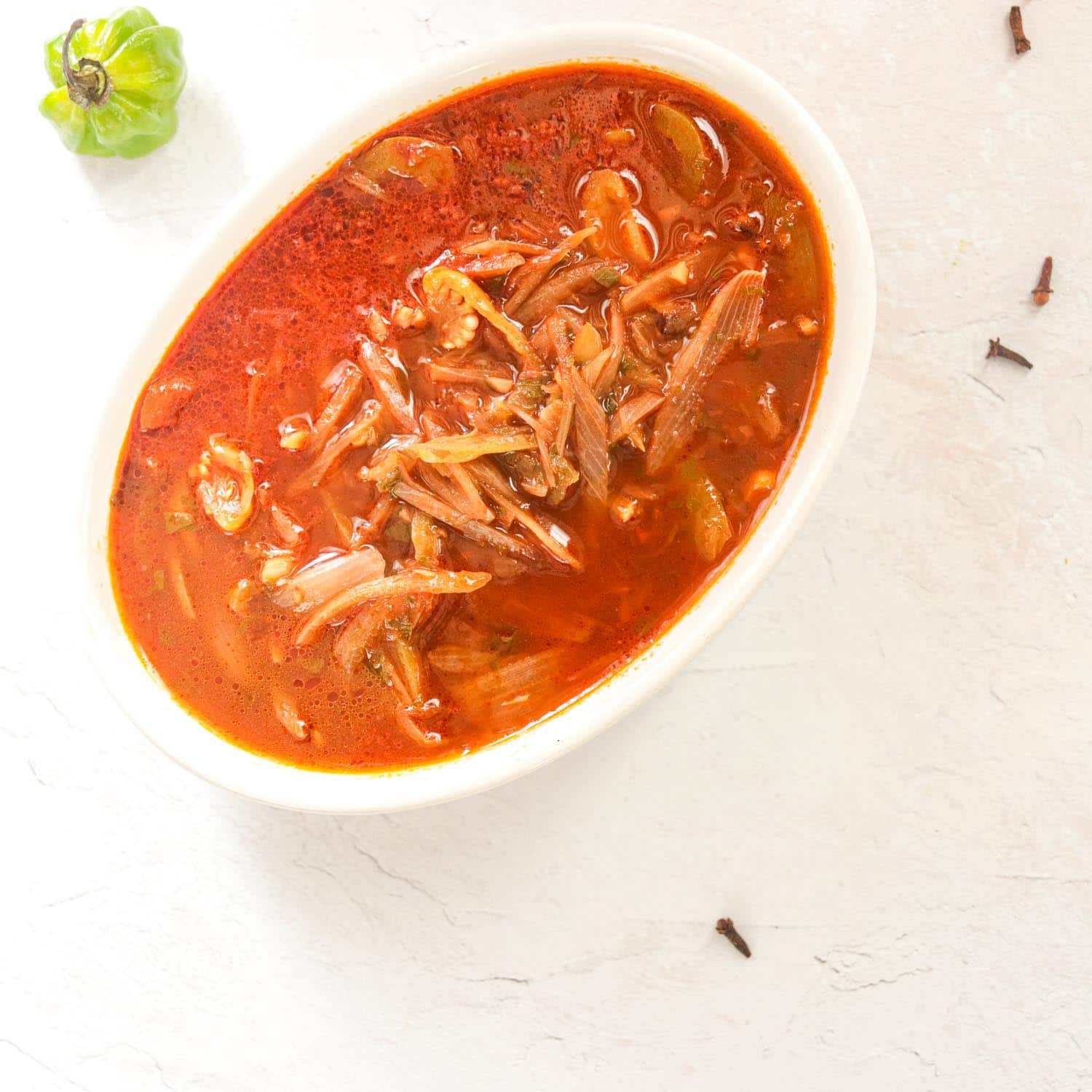 This post may include affiliate links.
For a while, there was a dearth of Haitian Recipes here, but I have been changing that recently. It's not that I don't eat and enjoy Haitian food, but I did not grow up eating Haitian food on a daily basis. When we did eat Haitian food perhaps because it was done not as often, we often ate the rich foods that are labor/time intensive like Griot (double fried pork) and Lambi (stewed conch) with one exception. Whenever Soup Joumou was made, I would have it for breakfast, lunch and dinner. This was the most common Haitian food in my house.
My Mom (yes even though my Mom isn't the Haitian one, she would make Haitian food) would make a huge pot of this pumpkin based soup that includes everything but the kitchen sink – meat, root vegetables, pasta – all in one pot and that is all I would eat for days on end. That is one recipe I need to develop and present. The problem is no one on either side of my family records recipes, so I have to rely on my knowledge of what's included and develop a recipe from scratch.Then will come the critical taste testers. Maybe that's why I avoid developing Haitian recipes!!! Today's Haitian Sos di Malice – Devil Sauce is very customizable so it will be pretty hard to mess up. I served this up last week with some chicken for traditional Haitian Chicken Sauce and there were no complaints! Whew!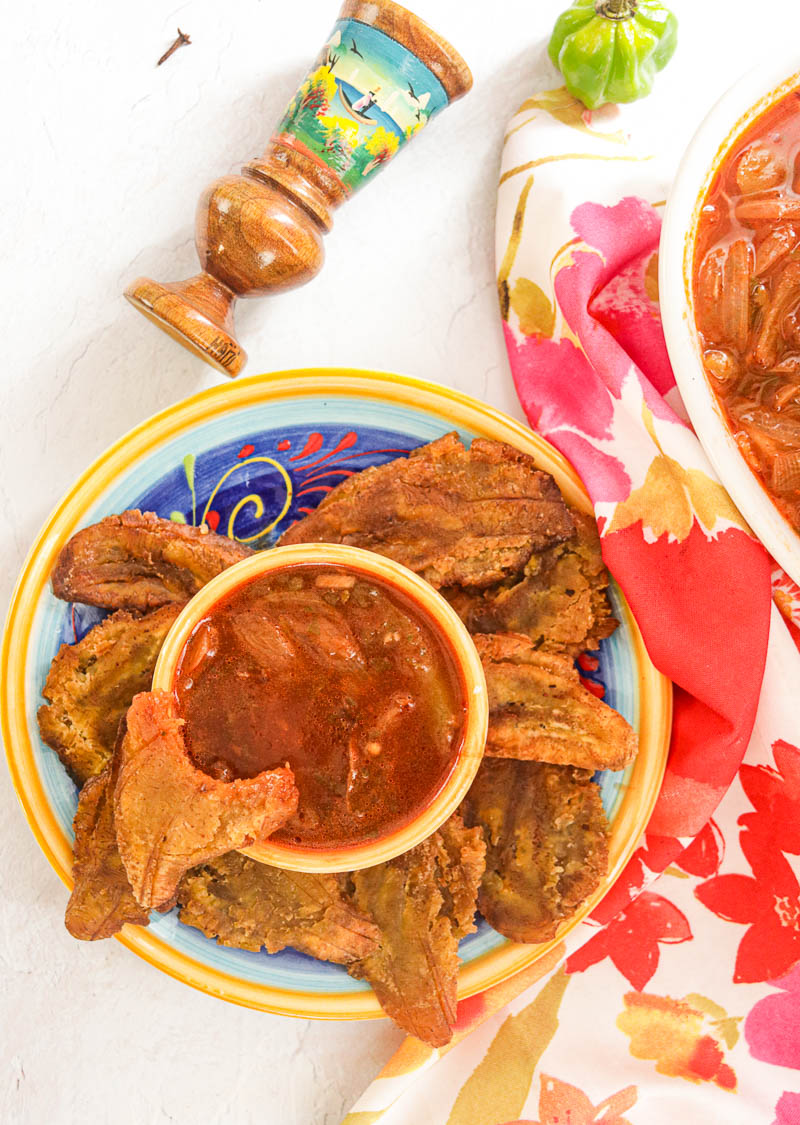 Before any Haitian critics come on here, my Mom learned how to cook Haitian food from my Dad's sisters and that is where I learned all of my Haitian recipes. I had an email from someone a few weeks ago criticizing because I did one minor thing different in a recipe and she asked for my family tree background – really! In any culture, there is NEVER one authentic version because in that household traditional recipes will be adjusted for the tastes of that family, therefore, the recipe becomes traditional for the family. This does not mean it is not authentic but every cook is allowed to input some artistic license, right? I guarantee you ask 20 Americans to make meatloaf and you will get several different versions. Ask 20 Jamaicans to make Jerk Chicken and each jerk marinade is going to be a little different. Otherwise, people in NYC wouldn't be arguing over which Jamaican restaurant is the best to get their Jerk Chicken. They would all taste the same right!
Anyway, back to today's recipe. Although the main course was rarely Haitian food, Haitian accompaniments were always on the table like Beet Salad, Avocado Salad (which I never ate…hated avocados then and I still do), Pikliz and Sos Ti Malice. Picklese & Sos Ti Malice are the two ways Haitians have of adding spicy heat to their food. This is such a versatile hot sauce because it can be served both as a dipping sauce or a stewing sauce. When used as a dipping sauce, it might be served with Griot, Tassot (double fried goat), Lambi and even Banane Peze (double fried green plantain). This sauce is so ubiquitous in Haitian culture and cuisine, people usually will just ask for "sos" which just means sauce when translated and yet everyone will know they are referring to Sos di Malice.
When used as a stewing sauce, simple brown your chicken. Add the sauce and a little water. Cook until meat is done and you have a flavorful Stewed Chicken. – simplified version of Haitian Poulet en Sauce.
Now let's check the pantry and make sure you have everything you need.
Ingredients:
2 tablespoons oil
3 shallots thinly sliced
2 cloves garlic finely chopped
3 tablespoons tomato paste
1 tablespoon red wine vinegar
½ green pepper sliced
2 Scotch Bonnet peppers thinly sliced
3 cloves
1 tablespoon finely chopped parsley.
1 teaspoon salt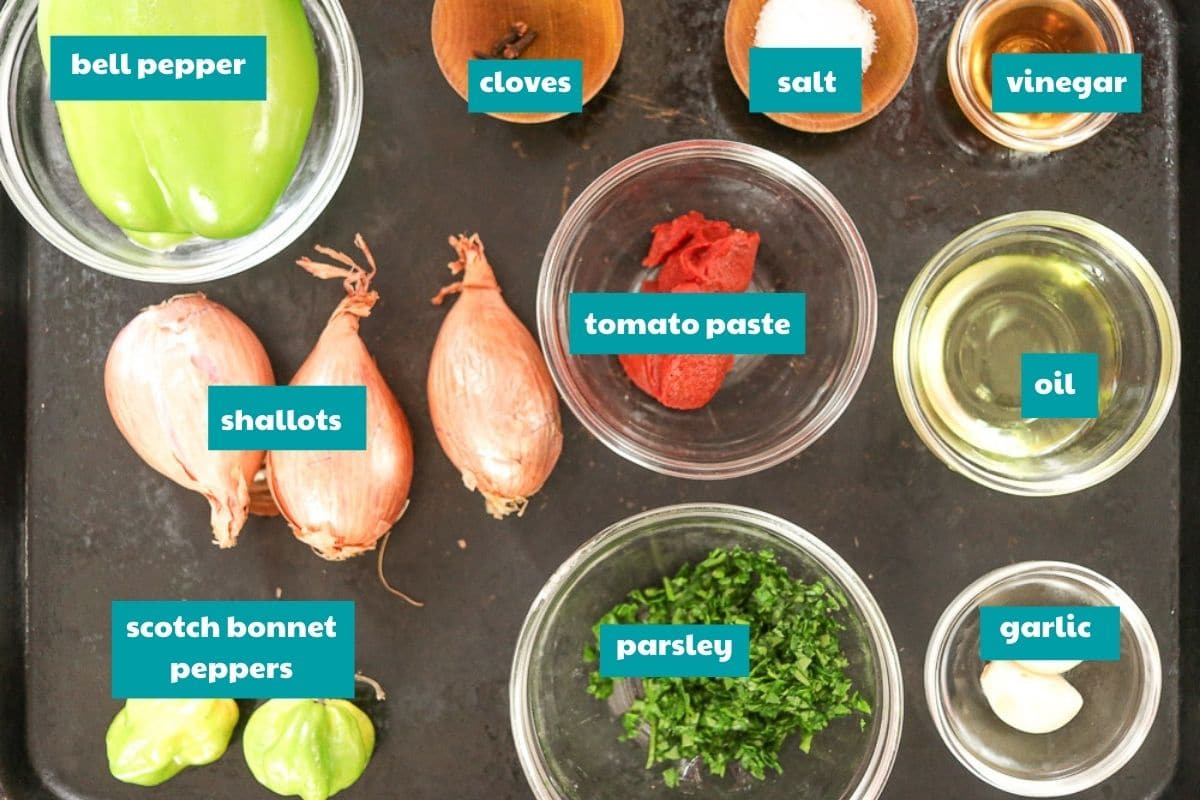 Have you tried instacart yet? It's how I get all of my fresh grocery items delivered within 2 hours!
How to make Sos
Saute shallots and garlic
Add tomato paste, vinegar and water.
Add bell peppers and spices.
Simmer.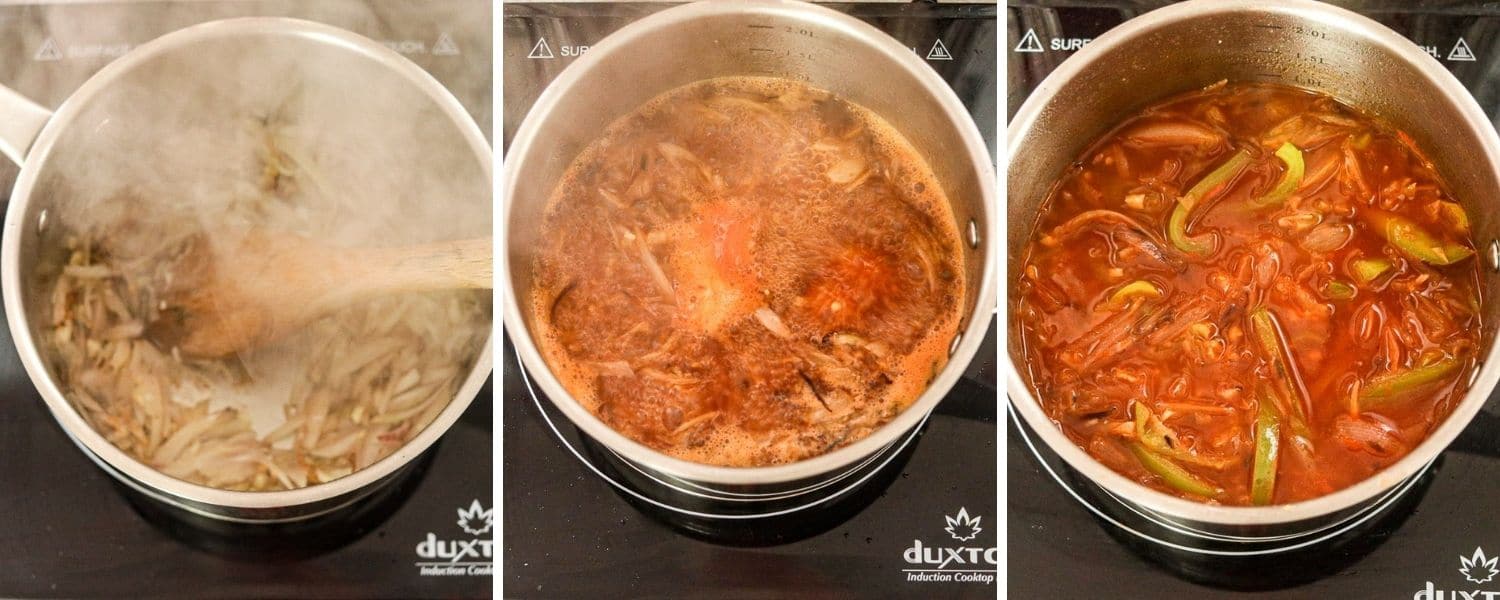 Use as stewing sauce or dipping sauce!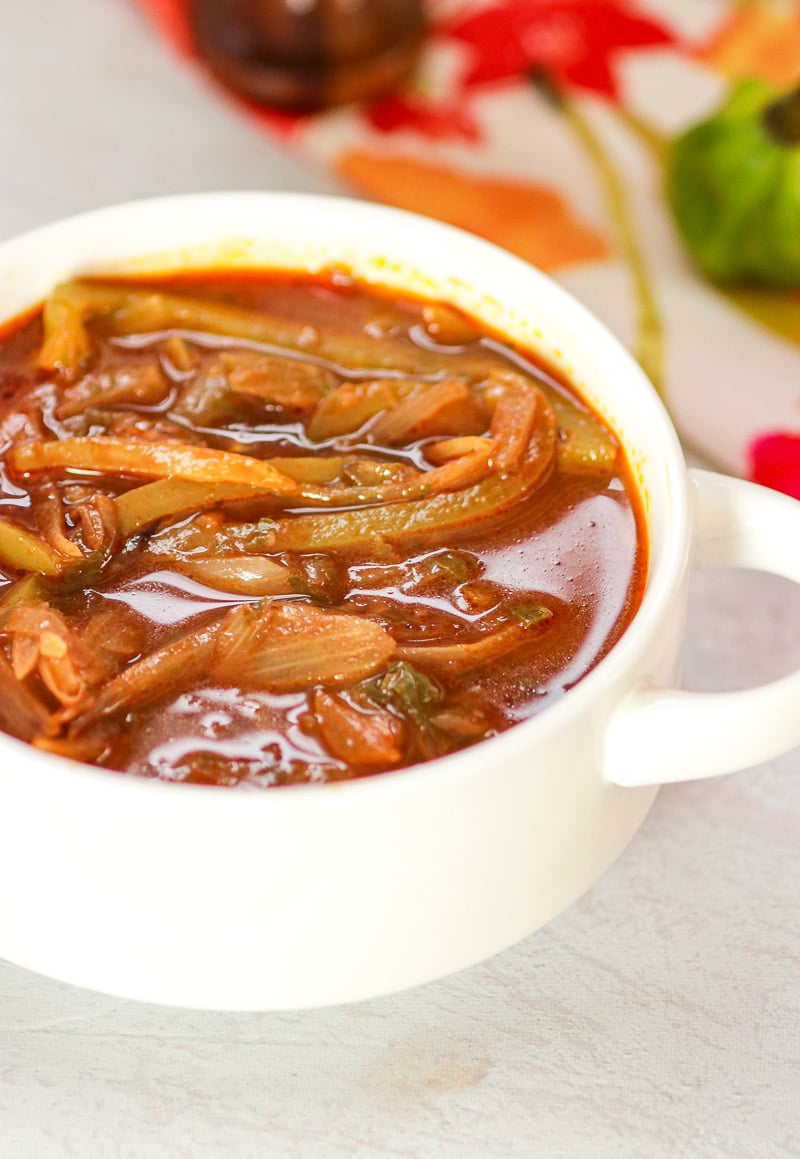 Haitian Sauce ti Malice – Creole Sauce
a spicy Haitian sauce that can be used as a dipping sauce for fried foods or a stewing sauce.
Ingredients
2

tablespoons

oil

3

shallots

thinly sliced

2

cloves

garlic

finely chopped

3

tablespoons

tomato paste

1

tablespoon

red wine vinegar

½

green pepper

sliced

2

Scotch Bonnet peppers

thinly sliced

3

cloves

1

tablespoon

finely chopped parsley.

1

teaspoon

salt
Instructions
Heat oil in a saucepan.

Add shallots and garlic. Saute until shallots are softened and translucent.

Add tomato paste, vinegar and 2 ½ cups water. Whisk well to dissolve the tomato paste in the water and bring to a boil.

Add bell peppers, Scotch Bonnet and cloves. Reduce heat to medium and simmer for 10 minutes.

Add parsley and salt. Stir to combine.

Sos ti Malice is now ready to use as either a condiment or a stewing sauce.
Notes
If you prefer a milder sauce, you can omit or reduce the quantity of Scotch Bonnet peppers.
Nutrition
Calories:
63
kcal
|
Carbohydrates:
5
g
|
Protein:
1
g
|
Fat:
5
g
|
Saturated Fat:
1
g
|
Trans Fat:
1
g
|
Sodium:
454
mg
|
Potassium:
161
mg
|
Fiber:
1
g
|
Sugar:
2
g
|
Vitamin A:
247
IU
|
Vitamin C:
17
mg
|
Calcium:
13
mg
|
Iron:
1
mg
Did you try this recipe? Leave a comment below.
Please follow me on Instagram @chefmireille or tag me #chefmireille with your pics! I'd love to share them!
Don't forget to visit the RECIPE INDEX with over 1000 recipes from around the world including lots of Vegetarian Recipes and Gluten Free Recipes!