Last Updated on October 21, 2021 by
Try this Vegan Beet Green Pesto recipe and avoid food waste! Yes, you can actually use the green tops from beets to make a delicious pesto.
Last week, a few blogger friends and I met for a hangout. It's always a fun time when I meet my blogger friends as we all have the same interests – food, backgrounds, and props. Conversations circle around blogging, photography, and SEO. Unless you are in this world, you would get sick of the conversation.
The day started at a visit to Jack's, a discount store that has lots of cooking stuff but it's a hit or miss. Sometimes you can go and find a large quantity of useful kitchen stuff and other times, not a thing.
It was mostly a missed day, with only one of us purchasing one item. That didn't disappoint us in the least as we were on our way to the main reason for this excursion – a visit to NYC's largest Farmers Market at Union Square.
It was a Monday, one of the slowest days at the market as not all of the purveyors come out, but we all came away with a stash of goodies. My stash included beets, both green and purple kohlrabi, mizuna, and sweet potatoes. With the beet greens, I made this Vegan Beet Green Pesto.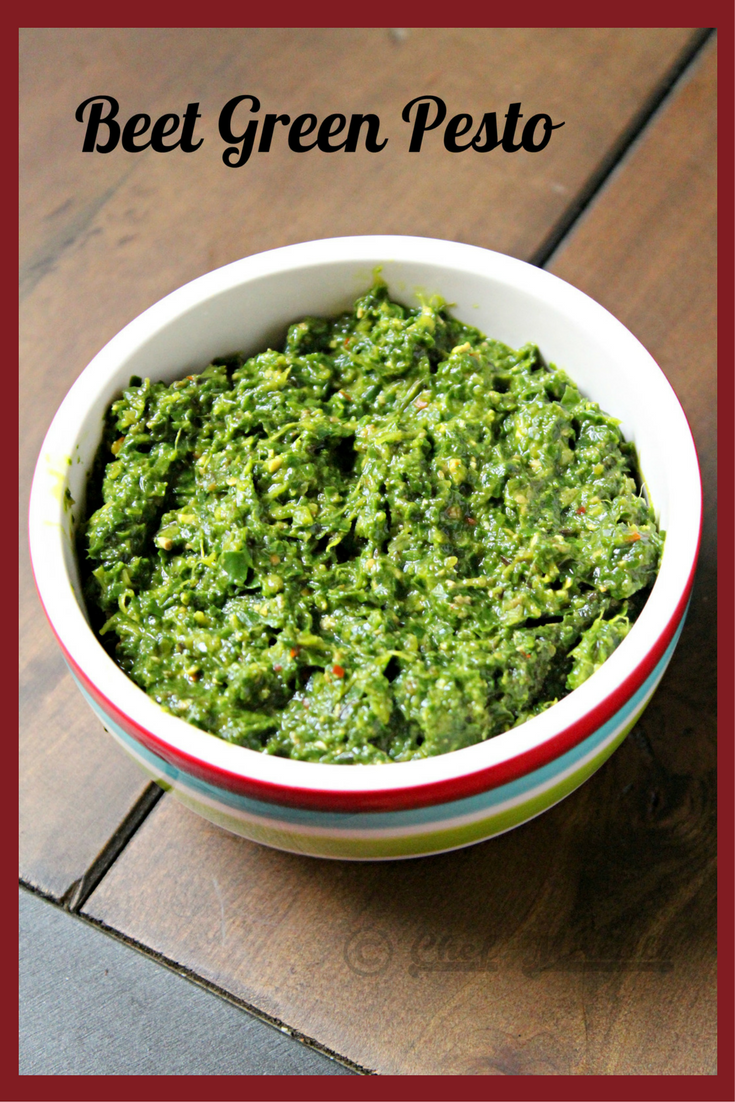 This post may include affiliate links.
Why Beet Greens?
At the farmers' market, vegetables aren't trimmed as they are in the supermarkets. You get all of the vegetables with the greens still attached. Many people throw away these beet greens but they are edibly delicious and so full of nutrition.
Sometimes I just chop them up and mix them with Romaine for a salad. The greens from golden beets are a little sweeter than the red beet greens, but mix them with spinach as I did in this pesto and it won't matter which beet green you use.
I also added some fenugreek which is a nutritious green herb with an earthy taste. You can find this at Indian markets sold as methi or in Middle Eastern markets. Recently, they have begun to appear in health food or organic markets.
This pesto is so versatile. Use it as a base for pizza, toss with your favorite pasta or use it as a sandwich spread as I did in this cheese sandwich!
Are Beet Greens Healthy to Eat?
Yes! Beet greens are loaded with nutrients such as vitamin K, iron, and calcium. Vitamin K plays a huge role in bone metabolism and also helps regulate calcium levels in the blood.
Are Beet Greens Healthier Than Beets?
"Beet greens" refer to the young and leafy tops you see in the beetroot plant. These contain more vitamins, minerals, and antioxidants compared to the taproot, so in a sense, they are "healthier."
These beet greens are also very low in calories. If you're looking to enjoy a low-calorie pesto pasta, this vegan green pesto recipe would be perfect for you.
Are Beet Greens Healthier Raw or Cooked?
Raw beets contain more antioxidants, vitamins, and minerals than when cooked. To make sure we got a balance of both nutrients and taste in our beet green pesto, it's best to blanch the greens quickly.
How Do You Blanch Beet Greens?
First, wash the leaves using 2 rinses of water.
Boil water in a large pot, and then add a tablespoon of salt.
Add your beet greens to the pot.
Keep them there for 1 to 2 minutes.
This blanching process makes the greens more tender, removes surface dirt and microbes, helps slow down vitamin loss, and brightens the color of your greens.
What Are Beets Greens Good For?
Beet greens are pretty common in salads. They're also a great substitute for other leafy greens such as bok choy, spinach, and swiss chard.
But beet greens are surprisingly also good for sauces or dips. This is why we're using beet greens for our vegan nut free pesto recipe.
Ingredients of Pesto Pasta Sauce (Beet Green Pesto)
beet greens
baby spinach leaves
pine nuts
fenugreek leaves
garlic
olive oil
salt
red pepper
How to Make Pesto Pasta Sauce
Blanche beet greens and spinach.
Toast nuts.
Process the spices with the blanched greens.
Add and process olive oil, nuts, salt, and pepper.
How Long Does Vegan Pesto Last?
You have a few options for storing your beet green pesto. A vegan pesto sauce can last for about 4 to 5 days if you refrigerate it.
If frozen as cubes and placed in freezer bags, it can stay at its best quality for up to 6 months.
If you place it in airtight plastic containers or small jars, it can last for about 9 to 12 months.
What Is the Best Way to Freeze Pesto?
Remove the oil layer.
Portion your pesto into ice cube trays or small freezer bags.
If you use ice cube trays, make sure to freeze them until solid.
Once the small portions are frozen solid, transfer the cubes to a plastic airtight freezer bag.
How Do You Defrost Pesto Quickly?
If you want to enjoy a quick pesto dip, you can use some of your frozen pesto cubes. Normally you can just thaw them by letting them sit at room temperature for around one hour.
For quick defrosting, you can microwave the pesto cubes even for just 15 to 20 seconds.
More Vegan Green Pesto Recipe Options
Don't forget to also check out some of my other pesto recipes!
Asparagus Pesto Pasta — This is a vegetarian pesto pasta recipe that's loaded with herbs and spices and bulks up the dish with roasted butternut squash. It's perfect for Meatless Mondays and for sneaking up a few more veggies into your family meal.
Spinach Pesto Pizza — Want a pesto twist on your pizza? Try this Spinach Pesto Pizza where you make the entire thing from scratch. It's a complete meal with lots of fresh veggies and fiber from the whole grain crust.
Roasted Bell Pepper Pesto — If you prefer a versatile pesto that you can use either as a dipping sauce or as a pasta sauce, this pesto recipe would be a great choice. It's thick and rich in flavor, and it has that fire-roasted, smoky flavor, too.
Vegan Beet Green Pesto
A delicious Vegan pesto utilizing beet greens.
Ingredients
5 1/2

oz.

beet greens

2

oz.

baby spinach leaves

2

tablespoons

pine nuts

1/4

cup

fenugreek leaves

2

cloves

garlic

1/3

cup

olive oil

1/2

teaspoon

salt

1/2

teaspoon

crushed red pepper
Instructions
In a pot of boiling water, blanche beet greens and spinach until they wilt, about 2 minutes. Drain.

In a dry skillet, toast nuts until golden brown.

In a food processor, chop garlic and fenugreek.

Add blanched vegetables. Process well. Slowly add olive oil and mix well.

Add nuts, salt and pepper. Process until thoroughly combined.
Nutrition
Calories:
119.01
kcal
|
Carbohydrates:
4.93
g
|
Protein:
2.26
g
|
Fat:
10.87
g
|
Saturated Fat:
1.44
g
|
Sodium:
102.53
mg
|
Fiber:
2.37
g
|
Sugar:
0.22
g
Did you try this recipe? Leave a comment below.
Please follow me on Instagram @chefmireille or tag me #chefmireille with your pics! I'd love to share them!
Don't forget to visit the RECIPE INDEX with over 1000 recipes from around the world including lots of Vegetarian Recipes and Gluten Free Recipes!