Last Updated on July 9, 2022 by Chef Mireille
Spinach Hummus with Harissa – This allergen free hummus without nuts or seeds is the perfect treat for those with nut/seed allergies.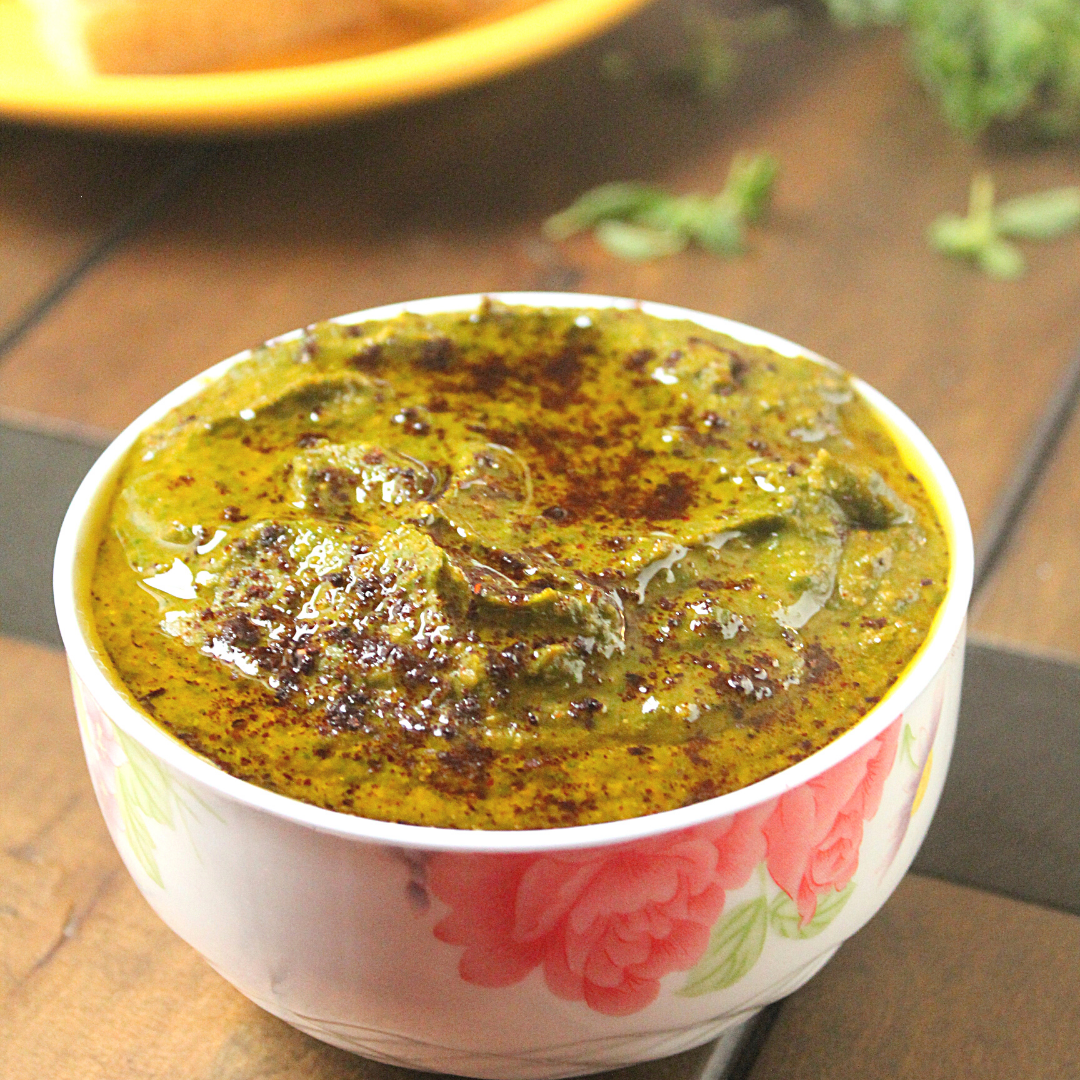 This post may include affiliate links.
Hummus
Do you love hummus? In the last decade, hummus has taken the world by storm with so many different flavors lining the supermarket shelves.
However, for people with nut and seed allergies, all you can do is eye your friend's oohaing and aahing over hummus with jealousy.
Are you one of those who look at your friends with jealousy as they dip their pita bread into that creamy luscious goodness called hummus, but just can't get past the overpowering flavor of tahini. You want to love it because it looks so good and your friends seem to go into a hummus coma every time they have it or maybe you have an allergy to nuts/seeds so can't have it even if you wanted to. Well I have the answer for you in this tahini free version of Allergen Free Spinach Harissa Hummus – now all of you with the nut/seed allergies can jump on the hummus bandwagon too!
All of you who always wanted to try hummus but couldn't because of the tahini, I've got you with this Allergen Free Spinach Hummus.
Before I go on, for some of you who are being introduced to hummus for the first time, might wonder what exactly is tahini.
What is tahini?
Tahini is sesame seed paste and is used often in recipes from Middle Eastern cuisines. Not only in hummus, but it is often used in desserts and other foods of the region.
It is basically peanut butter, made with sesame seeds instead of peanuts.
I made it with my homemade harissa recipe. Sure you can use store bought harissa, but everything tastes better homemade right! If you'd like to make it with homemade traditional pita bread also, try my pita bread recipe here. Homemade pita bread is a lot easier than you would think – Check it out!
Before we get to the recipe, you might wonder why should you make Allergen Free Spinach Hummus and how can you use it.
Why should you make Allergen Free Spinach Hummus?
Healthy

high in protein
high in fiber
high in iron

Dietary Restriction Friendly
Allergy Free

No nuts or seeds for those with allergies
Dairy Free

Time Efficient & Cost Efficient

low cost ingredients
easy and quick to make
Hummus is so versatile and can be used for so much more than just as a dip with pita bread or pita chips.
7 Ways to Use Hummus
Pasta Sauce (thin it out with a little water if necessary)
Sandwich Spread
Dip
Base for Creamy Salad Dressing
Healthy Mashed Potatoes (replace the milk/cream with hummus)
Healthy Deviled Eggs (replace the mayo with hummus)
Sour Cream replacement (wherever sour cream is used as a binder in recipes, replace with healthy hummus)
How to make Spinach Hummus
Most of the ingredients you will probably already have to make this Easy Spinach Hummus
Ingredients
garlic
baby spinach leaves
lemon juice
Have you tried instacart yet? It's how I get all of my fresh grocery items delivered within 2 hours!
Spinach Hummus in 4 easy steps!
Saute garlic.
Blanche spinach. Drain and squeeze out all water.
Combine everything else in the food processor.
Garnish with more olive oil and sumac.
Recipe FAQ
Can I use dried of fresh chickpeas?
Yes. Boil the fresh or dried chickpeas until tender.
If using fresh chickpeas, use 2 cups.
If using dried chickpeas, use 1 cup.
Do I have to saute the garlic?
No. Many people make hummus with raw garlic. However, I prefer the flavor of the pan roasted garlic.
Do I have to use the harissa? I can't tolerate spicy food.
No. You can easily omit the harissa.
Not only am I NOT a big fan of the flavor of tahini but I also have several nut allergies which have been increasing with each year as I get older. The only nut, which is actually a legume that I don't have problems with is peanuts.
All of the others I must be very cautious and can only eat in small quantities. Then there are Brazil Nuts which I cannot even touch them or I will start breaking out in hives and forget about eating them – anaphylaxis shock sets in just seconds and I'm gasping for air to breathe. Not a pretty sight! So for all of you who suffer with nut/seed allergies like me, this is the hummus for you!
I am one who prefers flavored hummus over plain hummus, so I make several Hummus Variations. Although these hummus recipes do include tahini, it is negligible and you can easily omit it.
Hummus Recipes

You can choose to have it with the extra olive oil garnish…
Allergen Free Spinach Hummus with Harissa
This allergen free hummus without any nuts or seeds is perfect for those with nut allergies.
Instructions
Heat olive oil in a skillet. Add garlic and pan fry until golden brown.

Drain chickpeas and rinse well.

Bring a pot of water to a boil. Add spinach leaves and cook until they wilt, about 1 minute.

Drain and place spinach leaves in a clean kitchen towel or cheesecloth. Squeeze out all of the excess water.

Pour garlic with the oil from the pan in a food processor with the chickpeas and spinach. Process well.

Add lemon juice, cumin, paprika, harissa, olive oil and salt, Process well.

Add oregano and process until smooth and well combined.

Add salt, as needed

To serve, garnish with a sprinkle of sumac and a drizzle of extra virgin olive oil.
Notes
If you like tahini and don't have nut/seed allergies, you can add 2 tablespoons of tahini to this hummus recipe.
You can also use dried chickpeas soaked overnight and then boiled until tender or cook them faster in an Instant Pot. 1 cup of dried chickpeas will be equal to 1 can of chickpeas.
Nutrition
Calories:
280.6
kcal
|
Carbohydrates:
14.2
g
|
Protein:
4.9
g
|
Fat:
23.7
g
|
Saturated Fat:
3.18
g
|
Sodium:
266.15
mg
|
Fiber:
4.39
g
|
Sugar:
2.48
g
Did you try this recipe? Leave a comment below.
Please follow me on Instagram @chefmireille or tag me #chefmireille with your pics! I'd love to share them!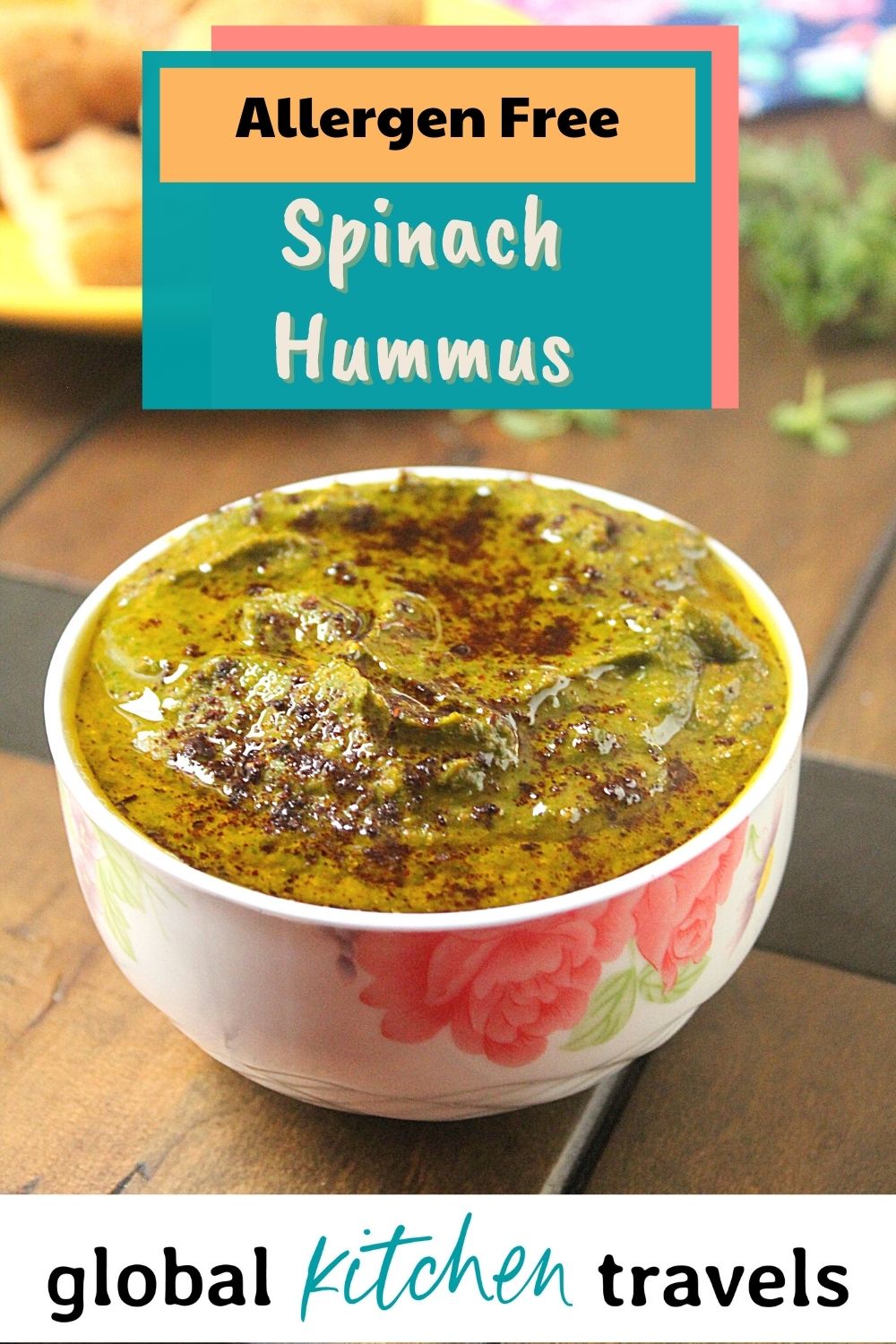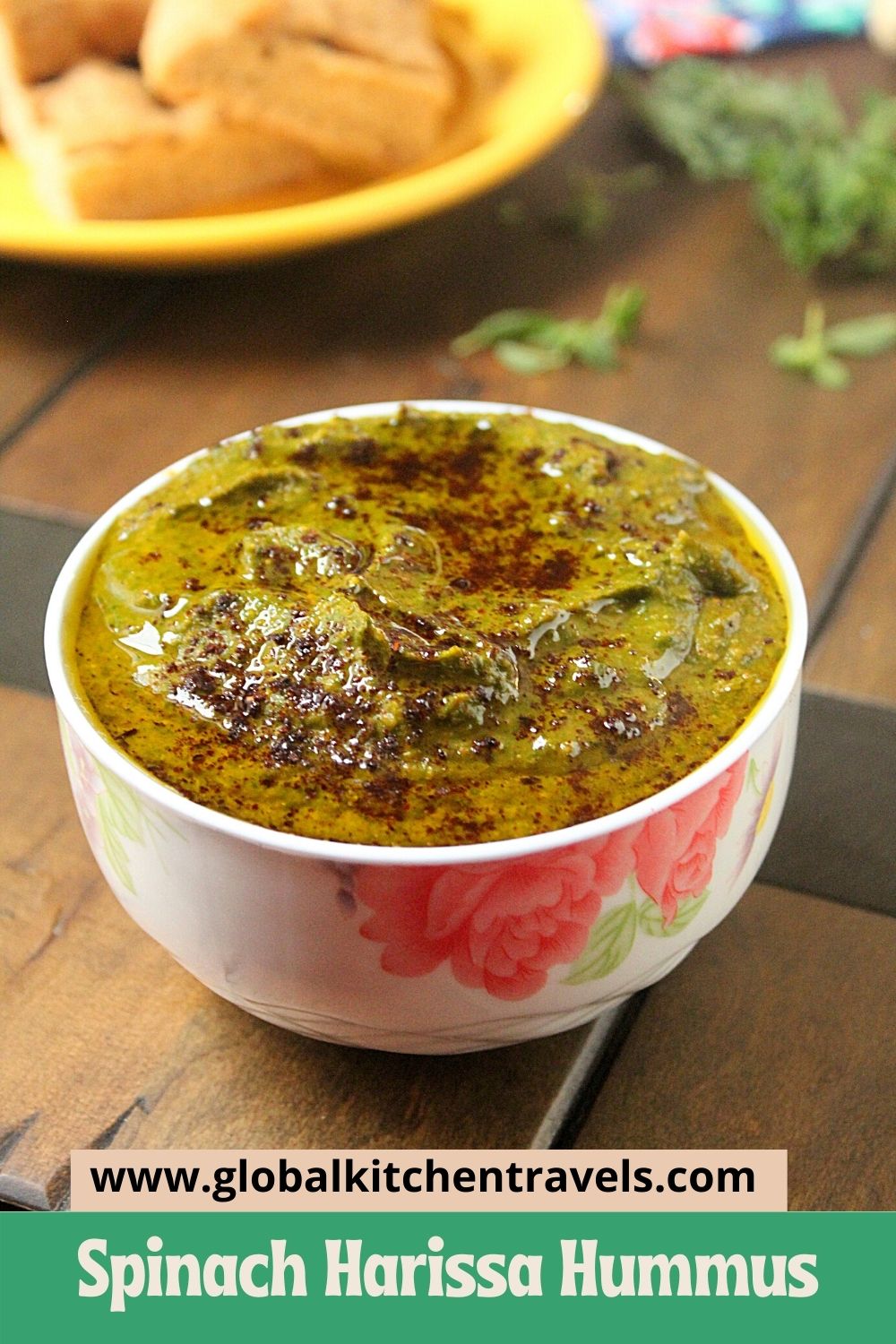 Don't forget to visit the RECIPE INDEX with over 1000 recipes from around the world including lots of Vegetarian Recipes and Gluten Free Recipes!