Last Updated on January 12, 2020 by Chef Mireille
Healthy Beet Hummus Wrap is packed with protein and flavor! A filling an healthy wrap for lunchtime!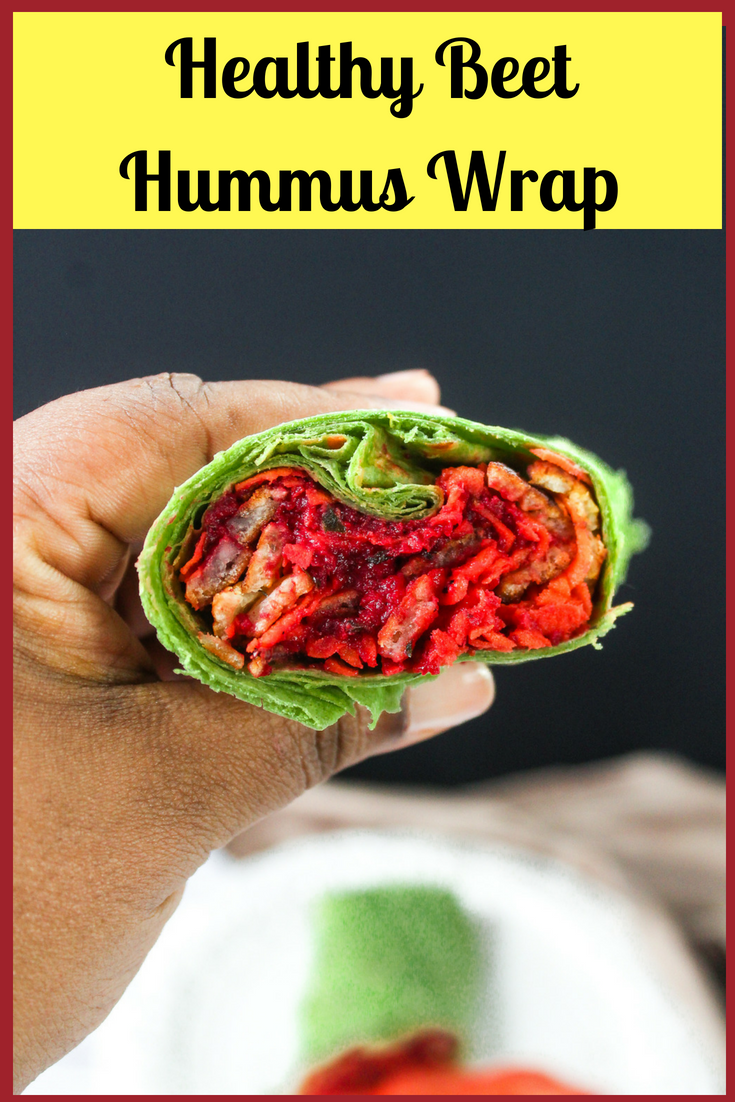 Wraps don't have to be complicated with labor intensive fillings to be delicious. A few simple ingredients and an amazing wrap is easy to put together!
This recipe isn't mind blowing or anything that's going to become the next new thing but sometimes we fall into a rut with our sandwiches and need a little inspiration to get out of the same old lunch routine. I hope these simple wraps I am showing you this week give you some ideas to make lunchtime just a little more interesting!
Hummus Wraps are one of the most common Vegetarian sandwiches here in the US. Hummus, lettuce and tomato on a wrap is included on most corporate sandwich platters. Perhaps you're not in the corporate world and hummus wrap is a new concept for you. If so, I promise you won't be disappointed with this delicious and healthy protein packed wrap! I've added even more protein by adding some pan seared halloumi. Haven't discovered halloumi yet?
Halloumi
Halloumi is a cooking cheese from Cypress, It is popular throughout the Middle East. It can be grilled, fried or roasted. Once you try it, you will become an instant fan also. It has gained popularity and is now available in many supermarkets, especially if you have one that has a good international section.
Want to discover some other uses of halloumi – check out some of my other recipes that feature halloumi.

Halloumi Recipes
Firinda Makarna – Turkish Mac & Cheese
The grated carrots create some needed crunch but first, let's put together the Beet Hummus, which is the star of this wrap!
Healthy Beet Hummus Wrap
Ingredients
Beet Hummus

Pan Seared Halloumi slices

Grated Carrots

Spinach/ Garden Herb Wraps
Instructions
Spread a little or a lot as you desire of the beet hummus on the wrap.

Add halloumi and carrots.

Wrap and roll.
Did you try this recipe? Leave a comment below.
Please follow me on Instagram @chefmireille or tag me #chefmireille with your pics! I'd love to share them!
Do you know anyone else who likes learning about international food, culture, history and travel? Bring them over here to join the party! Don't forget to use those share buttons!
Start Here to find out how the Schizo Chef can help you with your cooking, travel and other needs!
If you like this recipe, PLEASE LEAVE A COMMENT & SUBSCRIBE

Check out the Blogging Marathon page for the other Blogging Marathoners doing this BM#90