Last Updated on June 8, 2023 by Chef Mireille
Tandoori Paneer Wrap is a quick and easy wrap to put together. Put a little bit of Indian spice into lunchtime!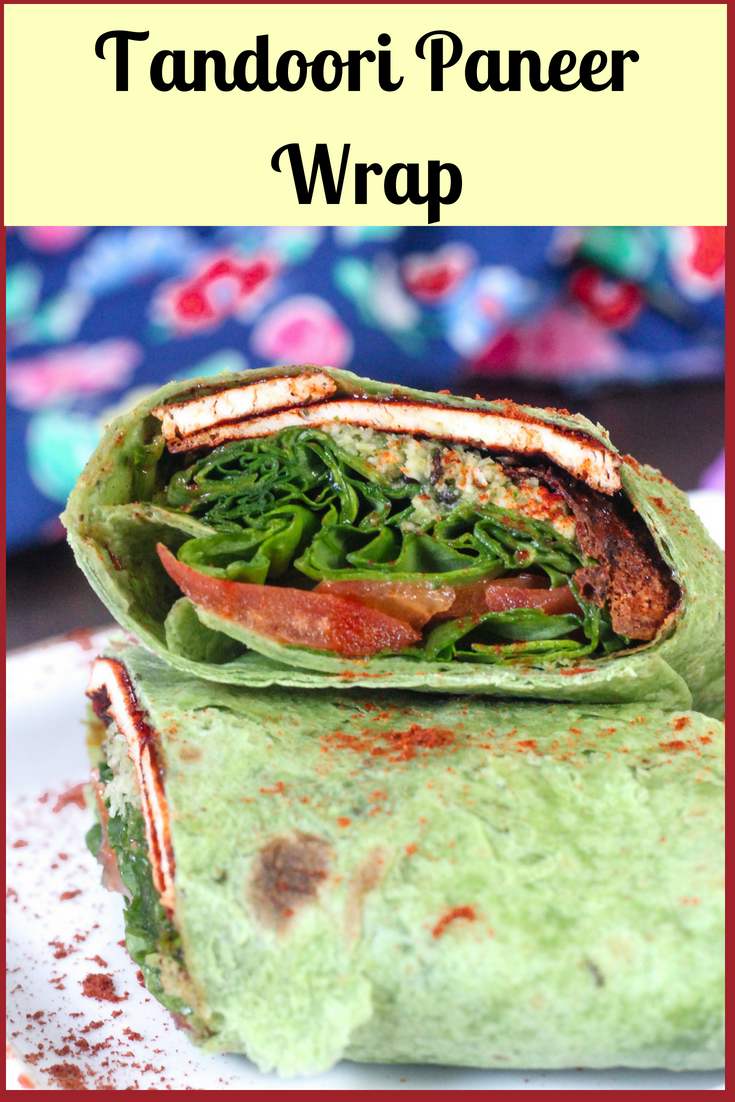 The other two wraps I presented this week both included halloumi, a cooking cheese from Cypress. Today I am taking you to India and so have included their most popular cooking cheese, paneer. Unlike halloumi, store bought paneer has no seasoning which makes it adaptable to both sweet and savory dishes. You will often see to it referred as cottage cheese on Indian restaurant menu's. I think this does such a disservice to wonderful paneer. You couldn't pay me to eat cottage cheese, but I will gladly eat paneer in all its sweet or savory presentations.
I am still yet to try making home made paneer, which can have a softer texture from what I've seen and read and is probably better to use for paneer recipes that are desserts. Until I do, store bought paneer will work just fine for any savory dish for sure.
The Indian Supermarket
Nowadays, so many more international food products are available at supermarkets. Therefore, most international meals can be planned without having to go too much out of your way. However, if you want the full array of options, it is still wonderful to go to an Indian supermarket if you have one in your area. So you may ask why – surely the stuff I can't find is it really worth the trip? Well, I think it is.
One of those sections is the masala section. Instead of having to buy a bunch of spices, to make Indian masala spice mixes yourself, you will find spice mixes for almost any dish you can think of – Paneer Tikka Masala, Shammi Kebab Masala…and the list is never ending. Find a few you like and you can use it to create your own Indian meals, not only reserving it for the one dish in its name.
One masala powder that I always keep stocked is Tandoori Masala. Whenever I want to make Tandoori Chicken, this makes it super easy. Just add the masala in some yogurt with a little food coloring to get the customary color. Marinate chicken and roast or grill. What could be easier? Tandoori Masala makes this wrap super flavorful!
Another great section is the chutney and pickle/achar section. These condiments are a great way to add flavor to anything from sandwiches to full Indian meals. Not sure what to do with achar – try this Bengali Achari Paratha (you won't be disappointed). Although I made today's wrap with home made chutneys, you can make this wrap even easier by using store bought chutneys. One should be more spicy like coriander or mint chutney and other should be more sweet like tamarind, date or mango chutney. You want a contrast of flavors in the wrap.
There are so many more sections to the Indian supermarket. Most likely, you will feel overwhelmed your first time going. Start off with these two sections, then you can work yourself up to explore the rest of the market 🙂 – So don't be afraid to explore the Indian market and buy something new you've never tried before even if it's not on your shopping list. I often go to the Indian supermarket and do the procedure in reverse. Instead of making a shopping list before I go, I go to the market blindly. I pick up a few vegetables I've never used before. I then go home and research recipes to find out how to cook them. Once you have a well stocked Indian pantry with the most commonly used spices, grains etc., then you can be adventurous and shop this way, knowing it is most likely you will already have all the other necessary ingredients to make the recipe you find with the new vegetable.
For today's Tandoori Paneer Wrap, the two chutneys I used are Tamarind Chutney (get the recipe here) and Green Coconut Chutney . If you'd like to experiment with making some of your own chutney's, here are some of my other chutney recipes you might like to try.
Here in America we mostly think of chutney's as chilled fruit based condiments like this Nectarine Chutney. However, they can be made with any variety of sweet or savory ingredients and even warm vegetable based curries if they have a smooth pureed texture will be referred to as a chutney in India like this Oriya Roasted Tomato version.
Chutney Recipes
Now, let's get to today's wrap. Again, quantities are subjective according to your own personal tastes.
HOW TO MAKE TANDOORI PANEER WRAP
I hope the wraps this week have inspired you to put a little more oomph into lunchtime!
Tandoori Paneer Wrap
This Indian inspired wrap is perfect for lunch!
Ingredients
4

paneer slices

tandoori masala

red chile powder

1

tablespoon

oil

1

teaspoon

cumin seeds

green coconut chutney

or other green chutney

tamarind chutney

or other sweet chutney

baby spinach leaves

tomato slices

spinach/garden herb wraps
Instructions
Sprinkle paneer slices liberally with tandoori masala, red chile powder and salt, according to taste.

Heat oil in a skillet. Add cumin seed.

When cumin starts to change color, add paneer slices. Cook until golden brown on both sides.

Lay out a wrap. Spread a little of the tamarind chutney.

Add paneer slices and coconut chutney on top.

Add spinach and tomato on top.

Wrap and roll.
Did you try this recipe? Leave a comment below.
Please follow me on Instagram @chefmireille or tag me #chefmireille with your pics! I'd love to share them!
Do you know anyone else who likes learning about international food, culture, history and travel? Bring them over here to join the party! Don't forget to use those share buttons!
Start Here to find out how the Schizo Chef can help you with your cooking, travel and other needs!
If you like this recipe, PLEASE LEAVE A COMMENT & SUBSCRIBE!
Check out the Blogging Marathon page for the other Blogging Marathoners doing this BM#90