Last Updated on January 12, 2020 by
This Green Coconut Chutney is perfect to enjoy with your favorite roti. It's also great inside of wraps and is a go-to chutney recipe for vegans and vegetarians.
Were you excited to try the Dashmi Roti I posted yesterday? If so, I have this fabulous chutney you can have it with. Not only pairing well with Indian roti's, but this also works great inside a wrap. Check out this Tandoori Paneer Wrap where I slathered some of this chunky chutney inside. It's a great summertime lunch!
I have previously posted a Coconut Chutney here when I was exploring the cuisine of Karnataka. Today, this green version of Coconut Chutney is representing the cuisine of Maharashtra. While Maharashtra is hardly the only state to have a green coconut chutney, it's a delicious addition to any Maharashtrian meal.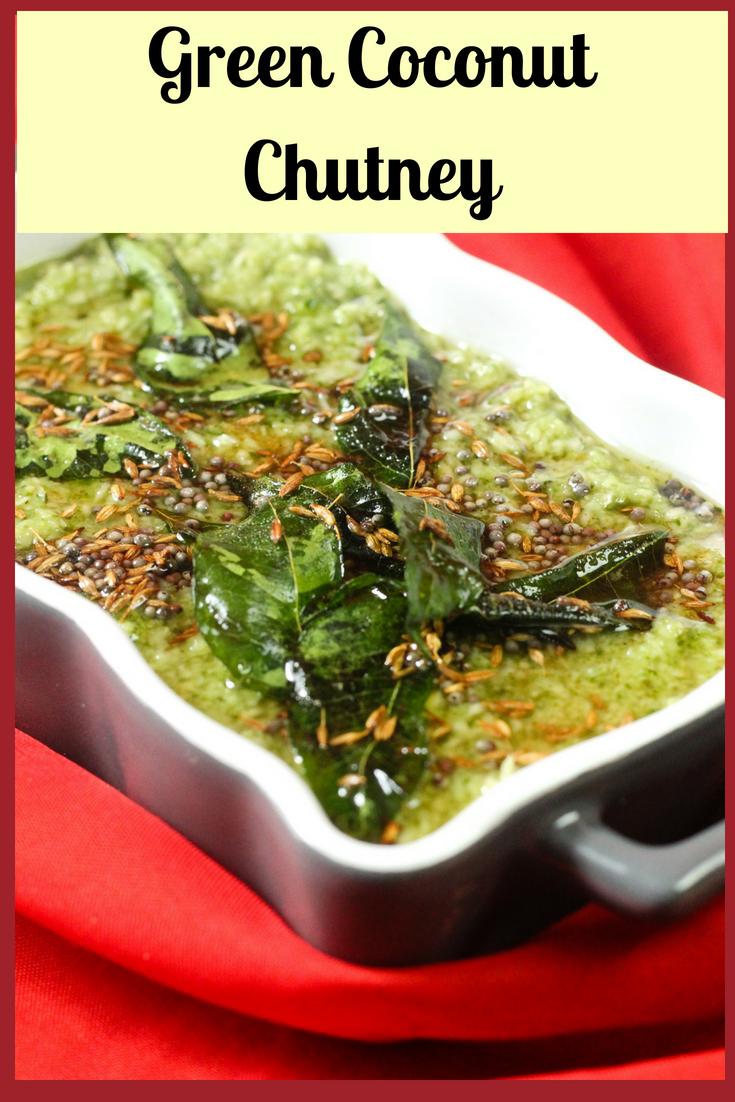 This post may include affiliate links.
What's So Special About the Maharashtrian Cuisine?
The Maharashtrian Cuisine has distinctive attributes, including characteristic mild and spicy dishes. Part of the staples in this cuisine are:
Rice
Wheat
Vegetables
Lentils
Fruits
It also includes jowar, which is simply sorghum in English, and bajri, which is pearl millet.
Maharashtra is also famous for its freshly ground masalas. By the way, a masala is an Indian spice blend. Among the most popular Maharashtrian masalas are malvani masala, goda masala, and kala masala.
Another popular dish from this Indian state is its chutney. A chutney is simply a sauce or a relish that hails from East India and includes a blend of sweet and sour flavors. You could think about it as a type of Indian preserve.
The Maharashtrian green chutney includes grated coconut, which is super rich in fiber. Coconut flesh is also a source of protein and essential minerals such as iron and manganese.
Is Green Chutney Good for Health?
Green chutneys can be the healthiest if you prepare them at home. That is, you don't make them with too much sugar, salt, or preservatives.
Not all green chutney recipes include coconut. The more common ingredients that give green chutney its color are green chilies, mint leaves, and coriander.
Depending on which state your chutney recipe is from, you'll have two or three of these ingredients in your chutney.
Green chilis, mint, and coriander are all great sources of vitamins, minerals, and antioxidants, which help boost your immune system. Some chutney recipes also include cumin, which is also known for its anti-inflammatory effect.
Coconut Chutney Ingredients
grated coconut
green chiles
curry leaves
cilantro
garlic
sugar
salt
water
Tadka Ingredients
oil
asoefetida
mustard seed
cumin seeds
curry leaves
Chutney Coconut Recipe
Process the main chutney ingredients in the food processor.
Prepare the tadka in a skillet.
(Optional) Sprinkle the tadka over the chutney.
You can make it with or without the tadka seasoning on top. Either way, it is delicious!
Here's the green coconut chutney without the tadka.
What is a Tadka?
Your grated coconut chutney can do without a tadka, but a tadka may enhance your chutney experience.
A tadka literally means "tempering." Somehow it describes what happens to spices when they are heated in hot oil or ghee. The process "tempers" the spices.
Sprinkling tadka over your favorite Indian dishes can enhance their flavor. The spices release their flavor and aroma after being cooked in hot oil, and these unique and appetizing tastes often blend well with any other Indian dish—just like your green coconut chutney.
How Do You Keep Chutney Green?
You can retain the light green color of your coriander coconut chutney by adding lemon juice during the grinding process (or processing in the food processor).
The lemon juice can help prevent oxidation, a loss of color, or darkening.
How Can I Use Leftover Chutney?
You can use leftover green chutney in many ways. You may keep it first and then store it in the fridge for use the next day.
Then you can take it out to pair with roasted sweet potatoes or some winter squash.
Got some tortillas? You may use your leftover chutney too and turn it into a chutney dip. Simply combine the chutney and the salsa with some additional parsley or cilantro in a food processor.
Dip your tortillas in the resulting chutney dip and it will be gone in no time!
How Do You Preserve Coconut Chutney?
You can store your green coconut chutney in an airtight container and keep it in the freezer. When frozen, the chutney can stay fresh for up to 6 months.
Using Frozen Coconut Chutney
You can take out your frozen chutney from the freezer and transfer it to the refrigerator to allow it to thaw the night before you're using it.
Once you've taken the portion you're planning to use, immediately put the rest into the freezer again.
To keep out of the hassle of taking out some chutney and refreezing the rest, you can freeze small portions of your chutney in smaller containers.
This way, the rest of your green chutney may also be preserved for longer, without compromising its quality.
How Long Will Chutney Keep?
Typically, a chutney can last a good 2 to 3 days inside the fridge. Freezing your green chutney can preserve it for about 6 long months.
More Chutney Recipes
Take a look at some other chutney recipes that can complement any Indian chaat (snack):
Apple Date Chutney — It's a type of sweet and sour chutney that is so popular in the west. I combined apples with some dates from India and made this chutney.
Sesame Seed Chutney — This chutney has sesame seeds as its main ingredient. I've paired it up with Bafra ki Roti (Millet Flatbread) for a fuller Indian cuisine experience.
Besan (chickpea flour) Chutney — Want something hot? This humble-looking chickpea flour chutney is going to surprise you with a kick! The ground chile-and-herb mixture makes sure it goes well with fried foods.
Tamarind Chutney — If you love a sweet and sour counterpart to your usually salty and spicy chutneys, then this fourth chutney recipe might appeal to your tastebuds. I have paired it with spinach phulourie and what I got in return is a super healthy snack!
Want to learn more about the cuisine of Maharashtra and specifically the Mumbai food culture? You could also check out this post here!
Now here's the chutney with the tadka seasoning:
The tadka makes your coconut green chutney look and taste more flavorful!
Green Coconut Chutney
This coconut green chilli chutney is perfect with any Indian flatbread or inside a wrap. It's also great for both vegans and vegetarians!
Ingredients
1

cup

frozen grated coconut

defrosted or freshly grated coconut

4

green chiles

8

curry leaves

1

large handful of cilantro

6

cloves

garlic

½

teaspoon

sugar

¾

teasoon salt

½

cup

+ 1/8 cup water

Tadka Ingredients:

1

tablespoon

oil

a pinch asoefetida

1

teaspoon

mustard seed

1

teaspoon

cumin seeds

5

curry leaves
Instructions
In a food processor, combine coconut, chiles, curry leaves, cilantro, galic, sugar and salt. Process until coarsely chopped. Add water and blend until smooth.

In a skillet, heat oil. Add asoefetedia and mustard seed.

When the mustard seed stops popping, add cumin seed and curry leaves. Fry until cumin seed changes color.

To serve, transfer chutney from food processor into a bowl. Pour the tadka on top.

Enjoy with your favorite roti.
Nutrition
Calories:
65
kcal
|
Carbohydrates:
4
g
|
Protein:
1
g
|
Fat:
5
g
|
Saturated Fat:
3
g
|
Polyunsaturated Fat:
1
g
|
Monounsaturated Fat:
1
g
|
Trans Fat:
1
g
|
Sodium:
79
mg
|
Potassium:
53
mg
|
Fiber:
2
g
|
Sugar:
2
g
|
Vitamin A:
82
IU
|
Vitamin C:
36
mg
|
Calcium:
16
mg
|
Iron:
1
mg
Did you try this recipe? Leave a comment below.
Please follow me on Instagram @chefmireille or tag me #chefmireille with your pics! I'd love to share them!
Don't forget to visit the RECIPE INDEX with over 1000 recipes from around the world including lots of Vegetarian Recipes and Gluten Free Recipes!