Last Updated on June 19, 2022 by Chef Mireille
This post may include affiliate links.
Bannann Peze is one of the most delicious and beloved side dishes in Haitian Cuisine. This Haitian Style Fried Plantain is fried twice with a secret step in between which gives it such a deep flavor that is quite indescribable. Without Bannann Peze, a Haitian meal remains incomplete.
Banan Peze will become your new way to enjoy Fried Green Plantain.
Try Banane Peze and other Haitian Recipes and you will be so happy yu have gone exploring into this island cuisine.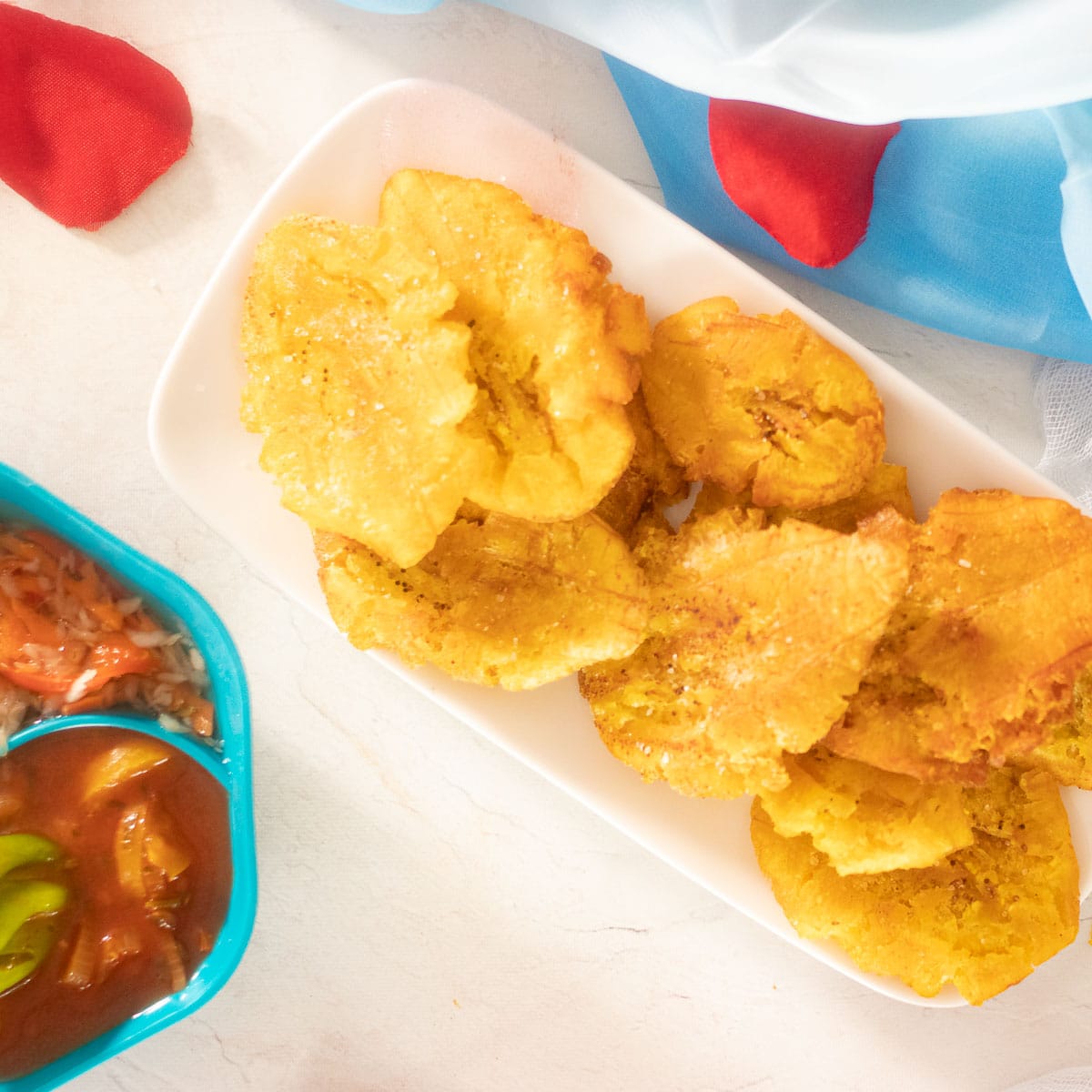 Fried Plantain is a ubiquitous side dish to any Caribbean meal. Either boiled or fried green or ripe plantain accompany almost every meal. Frying ripe plantain is pretty easy. Simply peel, slice and fry in oil.
Frying green plantain takes a little bit more work. Even just learning how to easily remove the skin off of the green plantain takes some skill. To see how it's done, take a look at how easy it is to remove the skin of a raw green plantain here on Instagram or here on Tik Tok.
In most of the Caribbean, green plantain is double fried. It is first cut into thick slices and fried just o give it a little color. They are then trned into flattened plantains with a plantain press called a Tostonera and then fried again. If you don't have a tostonera, you can also press down on the plantain with a heavy cast iron pan wrapped in aluminum foil. I've also seen some people use a tortilla press to do this.
What makes the Haitian Style twice fried plantains a little different is that in between it is dipped in a salt water with vinegar solution. This creates an additional level of flavor that brings Haitian Fried Plantains to the next level!
But before we get to making Bannann Peze, let's first talk about picking plantains. Your Haitian Fried Green Plantain recipe won't come out right if you don't know how to select the plantains.
HOW TO PICK GREEN PLANTAINS
I still meet people every day who have never eaten plantains. It no longer surprises me, but being from Caribbean parents, I try to convince them what they're missing out on. Many sometimes tell me that they want to try it, but they are not sure how to pick the plantains at the market with the color range from green to yellow to black.
The worst plantain in my opinion is when it is in that in between stage. It's not quite ripe yet, but it is no longer green. It's half way savory and sweet and for me it's like a schizophrenic plantain. It doesn't know what it is. Am I green? Am I ripe? It just doesn't know!
To make Bannann Peze, you wan't your plantain to be green. Even the ends should not be yellow. If you see yellow anywhere on the plantain, it is starting to turn ripe. Pick another one that is completely green.
TO REMEMBER
To learn more about picking, peeling and cooking both green and ripe plantain, see here!
Frequently Asked Questions
What's so great about this recipe is that it's so easy and only requires a few simple ingredients.
The Ingredients
green plantains
oil
salt
vinegar
How to Cook Green Plantain (Haitian Style)
Peel and cut the plantains into large pieces of equal size.
Place the plantain slices in a pan of hot oil and fry until it just starts to turn golden brown. Alternately, you can do this in a deep fryer.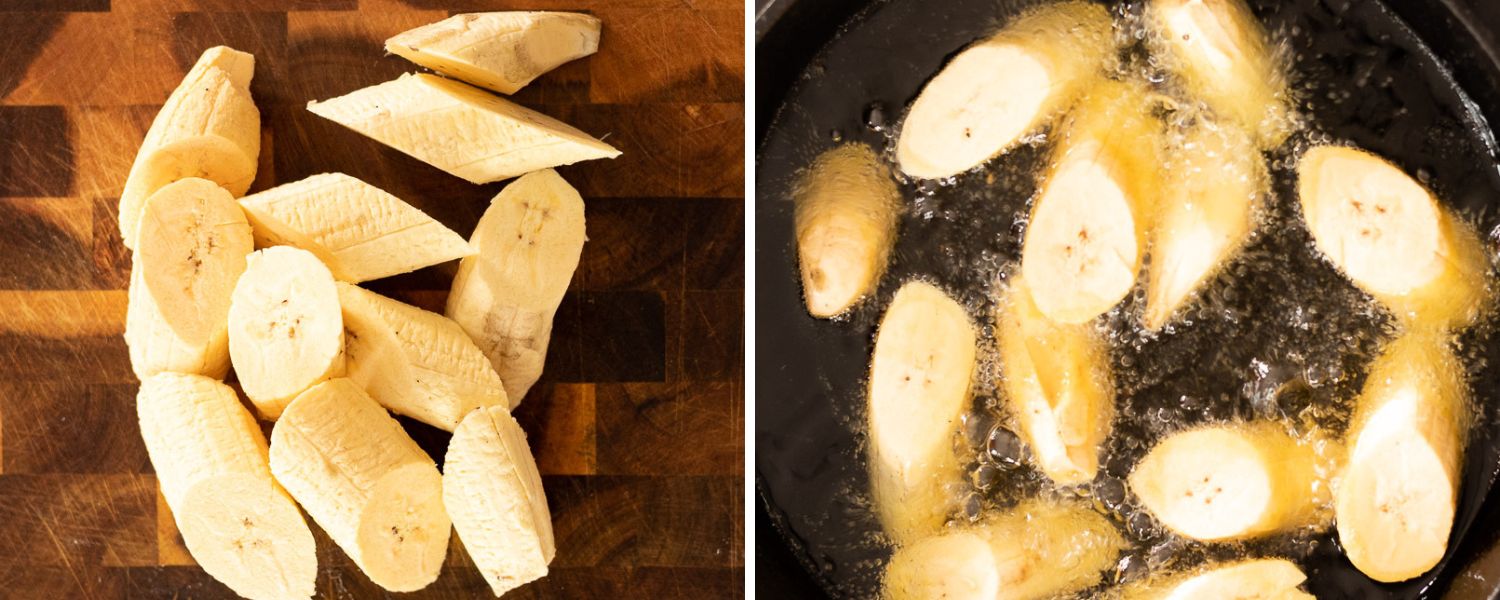 In a medium bowl, whisk together the vinegar, salt and 1/2 cup of water.
Place the plantain slices in the vinegar solution for 1-2 minutes.
Flatter the plantain slices with some kind of plantain smasher like a tostonera or heavy pan.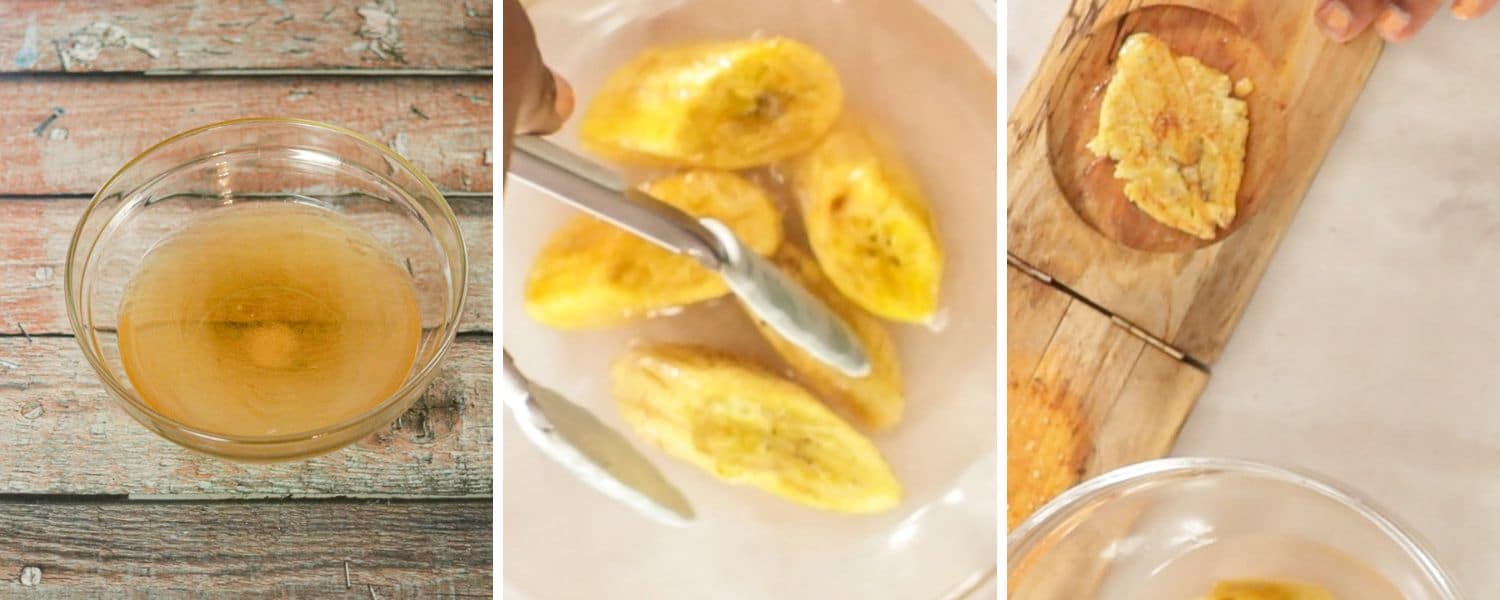 Place the plantain slices back into the hot oil for a second time, until golden brown and crispy.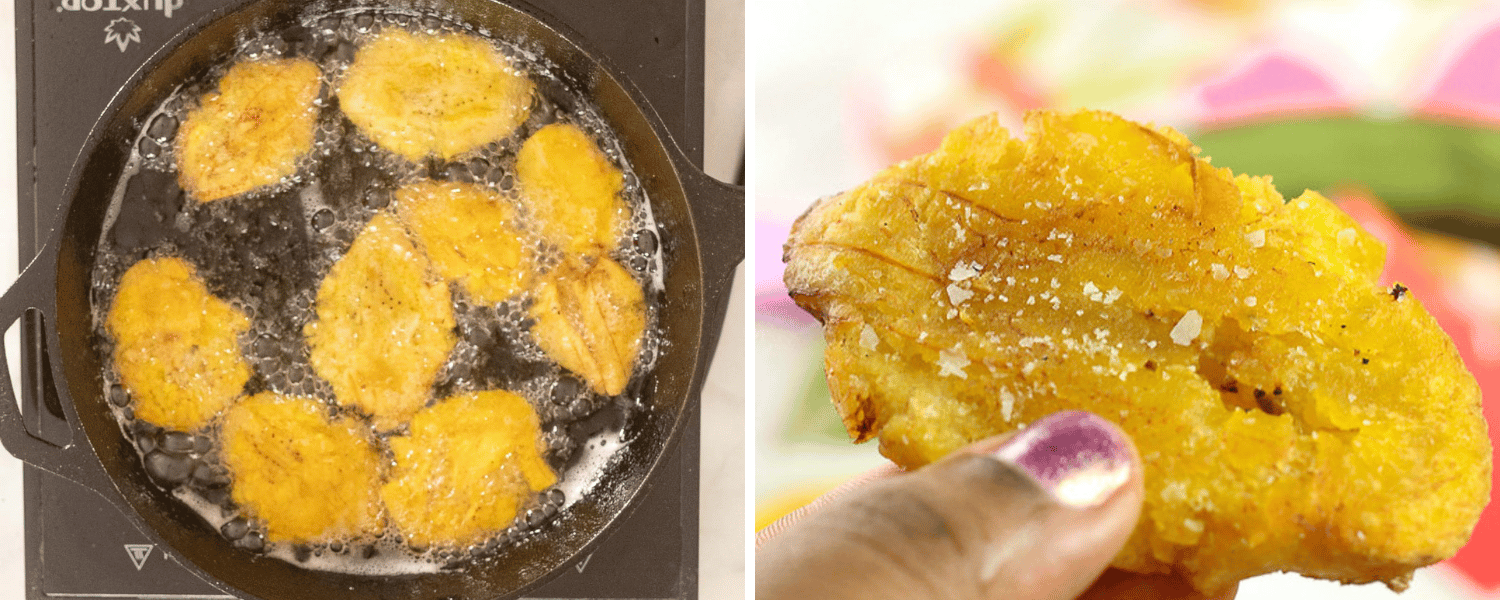 Remove and place on a paper towel lined plate to drain any excess oil.
Serve with Sos Malice and/or Pikliz.
In Haiti, if we are serving it as a party appetizer, it would be served with Pikliz or Sos Ti Malice. Otherwise, it is a common side dish served with most Haitian meals.
Make it a Meal
Here's a complete Haitian meal you can enjoy with your Haitian Plantains recipe.
In Haiti, if we are serving it as a party appetizer instead of just with a meal, it might be served with Pikliz or Sos Ti Malice.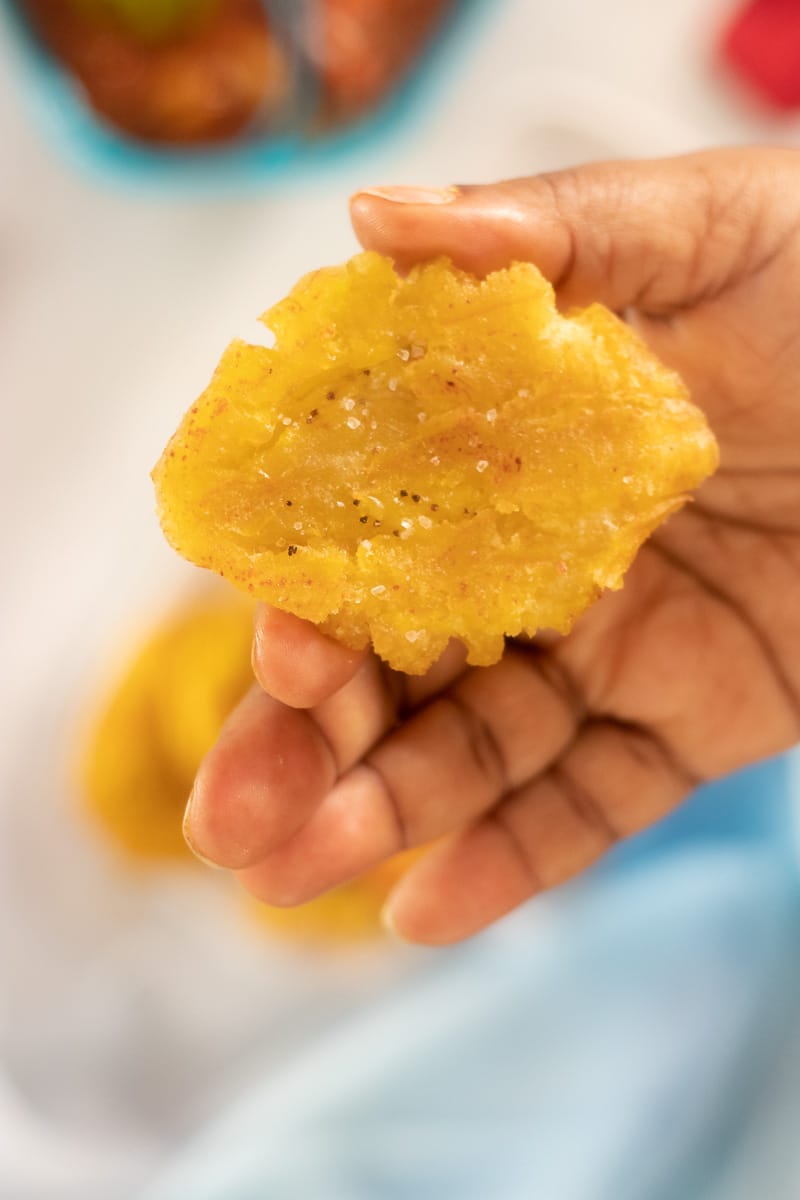 Banane Peze – Haitian Double Fried Plantain
Haitain Fried Plantains are fried twice, with a vinegar bath in between for a uniquely Haitian flavor different from the more popular tostones.
Ingredients
2

green plantains

1/2

cup

water

3

tablespoons

vinegar

1 1/2

teaspoon

salt

extra salt

for post frying

oil

for frying
Instructions
Peel and slice plantains into large pieces.

Heat a skillet with enough oil for deep frying. Fry the plantain slices about 2-3 minutes until they just start to turn golden.

Remove onto paper towels.

In a medium bowl, combine water, vinegar and salt.

Transfer the plantain slices in vinegar solution for about 1-2 minutes.

For the next step, you can use the flat side of a large knife like a cleaver or wrap a heavy pan (cast iron) in foil and use the bottom of the pot. You can also use a tostonera or a tortilla press.

Place the fried plantain slices in the tostonera and lightly press down. Alternatively, place the fried plantain slices on a chopping board and with the cleaver or the cast iron pot, press down until the fried plantain slice is flattened.

Fry again in the hot oil for a few minutes on both sides, until golden brown and crispy.

As soon as it comes out of the hot oil, give it a scant sprinkle of salt and place on paper towels to absorb excess oil.

Serve with every Haitian meal!
Notes
Make sure to use completely green plantains.
You can fry the plantain in the most common method, using a cast iron skillet or you can also use a deep fryer.
Nutrition
Calories:
165.82
kcal
|
Carbohydrates:
19.03
g
|
Protein:
0.78
g
|
Fat:
10.59
g
|
Saturated Fat:
0.85
g
|
Sodium:
226.13
mg
|
Fiber:
1.37
g
|
Sugar:
8.95
g
Did you try this recipe? Leave a comment below.
Please follow me on Instagram @chefmireille or tag me #chefmireille with your pics! I'd love to share them!
Now I know you want to try some more Caribbean food! Check out my collection with over 100 Caribbean Recipes from the Caribbean diaspora!