Last Updated on May 4, 2021 by Chef Mireille
Pan Bati – Antillean Cornmeal Pancakes – Fried Cornmeal Smash Bread from Aruba is a great way to start the day with your scrambled eggs or for a complete Caribbean meal, enjoy it with Saltfish Saute or enjoy it simply with butter and jam.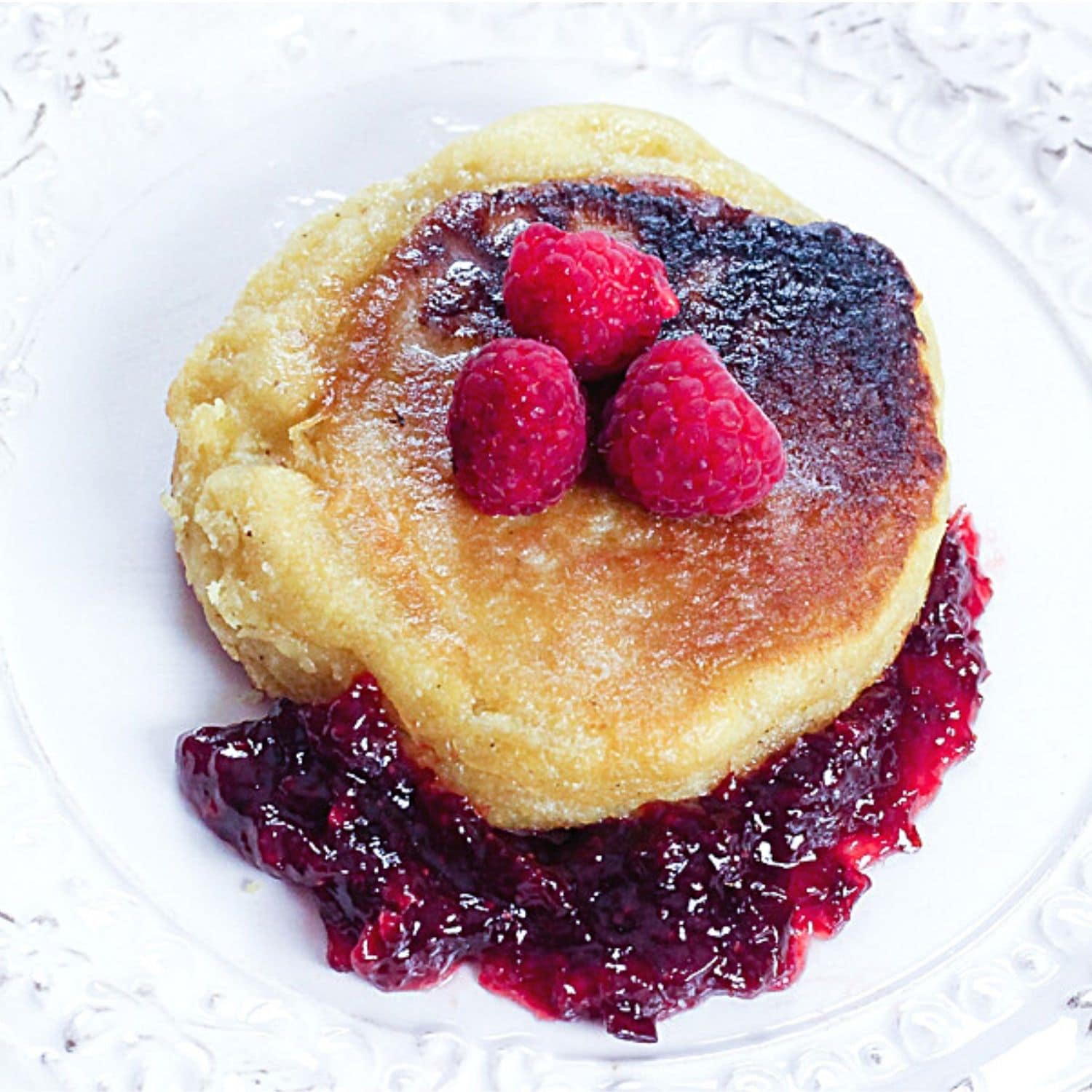 This post may include affiliate links.
My mother is from the island nation of Aruba, an island formerly part of the Nederland Antilles. The ABC islands, Aruba, Bonaire and Curacao are the three largest islands of the Nederland Antilles and the cuisine and people refer to themselves as Antillean. Sure there are slight differences from island to island, but you will find many common dishes between the ABC islands.
This Antillean cuisine is little known outside the islands and even in the larger Caribbean diaspora. I'd like to say I am doing my little part to bring a wider audience to the delicious foods of the Dutch Caribbean and my Mom's birthplace.
Cornmeal plays a major role in all Caribbean cuisine. It is used to make everything from breakfast porridge to savory side dishes to desserts like Cornmeal Pudding. Yes, I grew up eating cornmeal porridge instead of oatmeal for breakfast.
Polenta in Italy, Cou Cou in Barbados, Nhopi in Zimbabwe and Antillean Funchi are all different versions of a savory cornmeal porridge. I've made the holiday version we make in Aruba called Tutu over here, but the basic version is called funchi and is a common side dish with any meal. Traditionally, Pan Bati would be made with leftover funchi from the night before. My mom remembers as a child flour and eggs would be added to chilled funchi leftover from dinner the night before. It would then be fried up and served with something savory like saltfish (dried cod). Although this saltfish recipe represents Dominica, it is ubiquitous throughout the Caribbean. For a complete Antillean meal, you can have this Pan Bati with the Saltfish Saute recipe for breakfast!
The English speaking Caribbean has Johnnycake and we have Pan Bati, which means smash bread translated literally. In modern times, instant Pan Bati – Antillean Cornmeal Pancakes is often made on the fly with cornmeal and flour and that's what I'm showing you today.
HOW TO MAKE ARUBAN PAN BATI
light and airy and just a hint of sweetness, these are great with any meal
You can easily have it for breakfast with some scrambled eggs for a simpler meal. Although I can just as easily enjoy it with Caribbean Stew Fish, I also like it for breakfast with just soft butter and my Strawberry Rose Red Pepper Jam.
Aruban Pan Bati – Cornmeal Pancakes (Smash Bread)
These cornmeal pancakes from Aruba can be eaten just as easily for breakfast with jam and butter as with savory stews.
Ingredients
Instructions
In a bowl, combine flour, cornmeal, baking powder, salt and sugar. Whisk through to get rid of any lumps.

In a small bowl, whisk egg and vanilla until well beaten.

Add egg and milk to dry ingredients. Mix until just combined.

In a skillet, add enough oil to shallow fry the pan bati.

It's a very sticky batter so spray your spatula and an ice cream scoop well with non stick spray.

Using the scoop, place a scoop of batter in the hot oil for each pan bati. Cook on each side until golden brown just as you would for pancakes. Cook on medium low heat to ensure the inside gets cooked before the exterior is well browned.
Notes
Aruban Pan Bati can be eaten with savory foods as well as eaten as breakfast or brunch pancakes.
Nutrition
Calories:
263.65
kcal
|
Carbohydrates:
30.69
g
|
Protein:
4.66
g
|
Fat:
13.58
g
|
Saturated Fat:
1.7
g
|
Sodium:
207.49
mg
|
Fiber:
1.08
g
|
Sugar:
4.18
g
Did you try this recipe? Leave a comment below.
Please follow me on Instagram @chefmireille or tag me #chefmireille with your pics! I'd love to share them!
Now I know you want to try some more Caribbean food! Check out my collection with over 100 Caribbean Recipes from the Caribbean diaspora!