Last Updated on April 1, 2022 by Chef Mireille
This Haitian Cake Recipe flavored with orange and nutmeg is delicious for special occasions or an everyday tea cake. This traditional Haitian Cake (Gateau Orange) is synonymous in Haiti and Dominican Republic.
Today we are going to delve into the similarities between Dominican and Haitian cake.
…and don't forget to check out more Haitian Recipes so you can compliment this cake with more traditional Haitian food.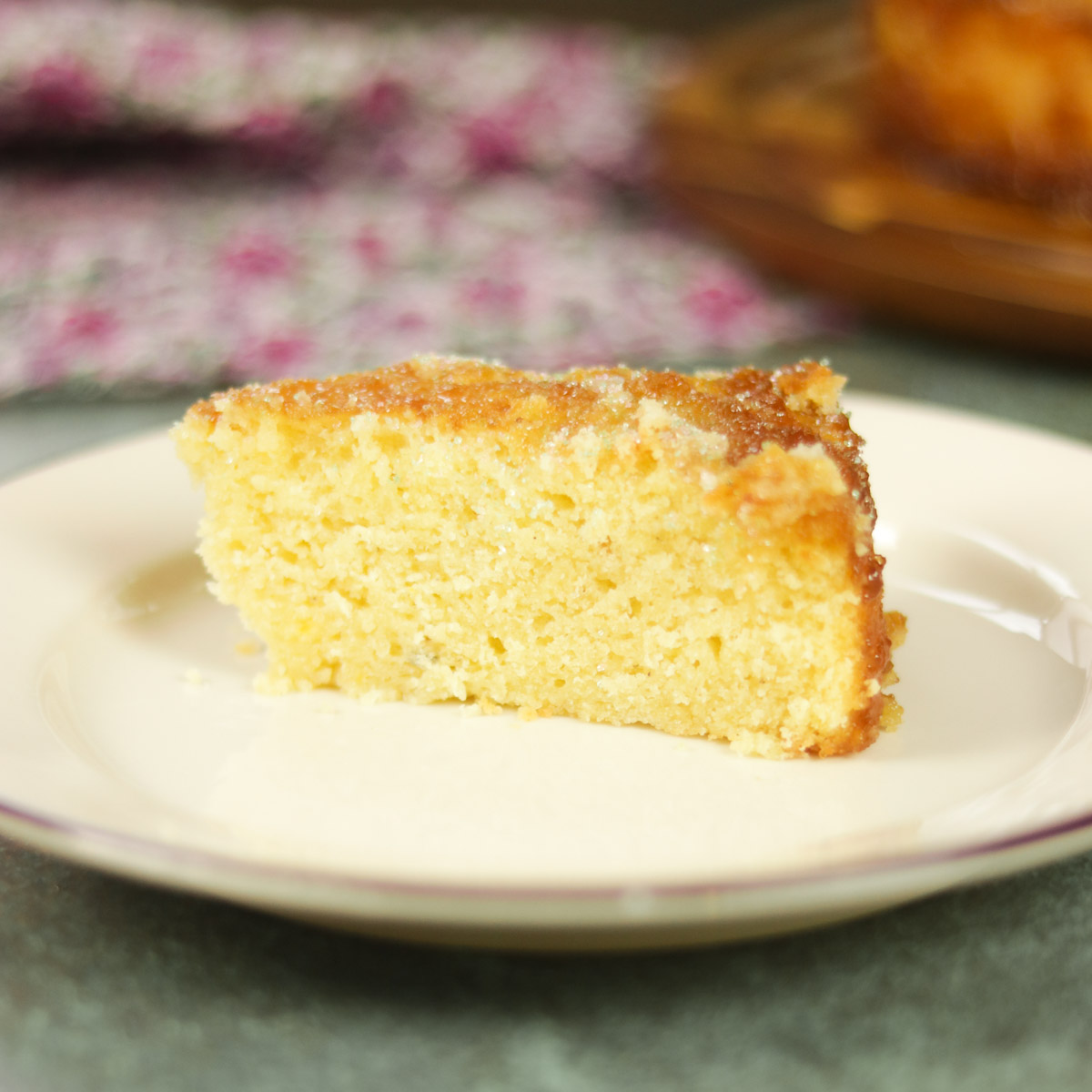 This post may include affiliate links.
People from Haiti and the Dominican Republic will often argue over who has the best recipes – Tostones or Banane Peze? Soup Jou Mou or Sancocho? Pan de Maiz or Pain Mais? Sauce Pois or Habichuela Guisada?
They may speak two different languages, however they share the same island so it is no wonder their foods are very similar. In a way, I am a child of both sides of the island of Hispaniola as I am half Haitian and my best friend since I am 8 years old is Dominican. I am kind of an honorary Dominican in her family. Since in a way I am part of both cultures, I am lucky to have intimate knowledge of both cuisines, having grown up with both.
One thing that both sides of the island are known for is cake. If you live in a city with either a large Haitian or a large Dominican population, people will often refer to these bakeries for their birthday cakes, even if they are not part of either of these cultures.
Basic Butter Cake really is the most common of Haitian desserts. This orange flavored one is a close second.
This basic cake recipe is used for all occasions – simple and elaborate. It is often just had plain with a cup of tea or decorated beautifully for any special occasion. When filled, the most common fillings on both sides of the island are pineapple and guava. Sometimes, in the Dominican version, they might also fill it with dulce de leche.
On both sides of the island, this cake is made in two ways. It is usually flavored with orange, although sometimes for the simple homestyle cakes, the orange juice will be replaced with evaporated milk. The Haitian version is usually more heavily spiced with nutmeg, vanilla extract and/or almond essence.
When decorated for special occasions, a light and airy merengue frosting is made called suspiro on the Dominican side of the island.
In both the Haitian and the Dominican version, it is also flavored with a little rum. However, Haitians take their rum a little more seriously than Dominicans and will only ever use Rhum Batancourt.
My birthday was yesterday and I decided to share this delicious Haitian Orange Cake recipe with you. I am celebrating at home this year as I am on lockdown like everyone else.
I am not a big frosting person, so instead of filling the cake with guava, I decorated it with a simple guava glaze.
The cake crumbled a bit on top because I brushed the glaze on, instead of pouring it on. If you watched my IGTV last week, you will know this was an experiment that didn't work. You can catch me decorating the cake here to see all the details.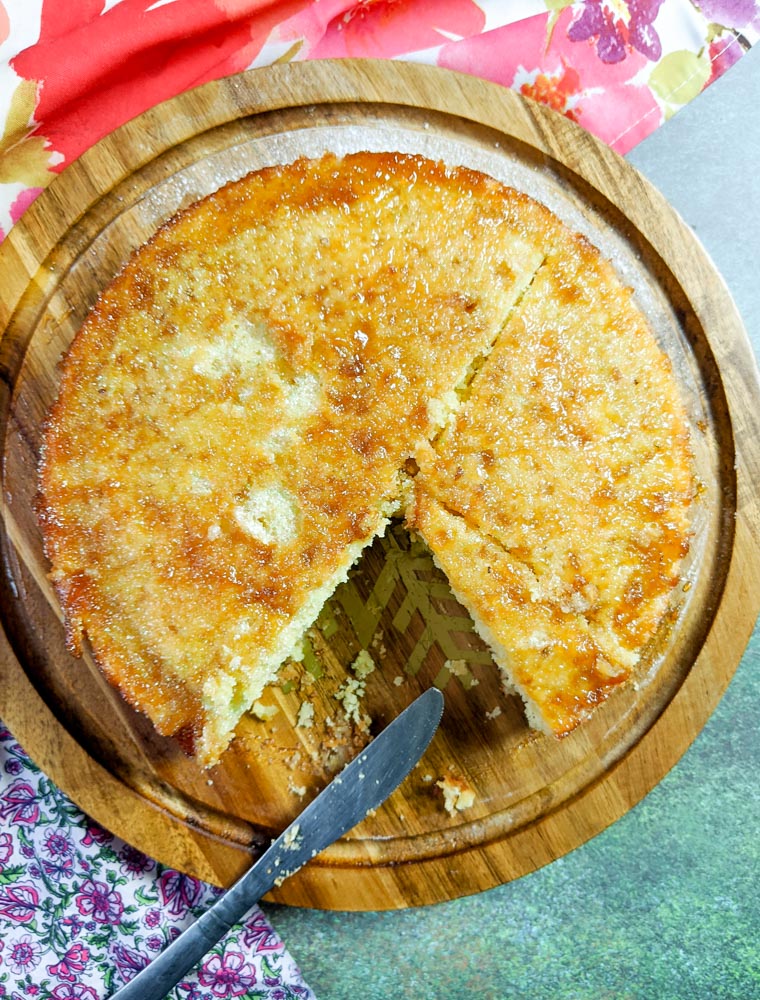 Use the glaze or don't. Regardless, this cake is going to become a family fave! It is so soft and tender!
Whether you choose to call this Traditional Haitian Cake – Gateau Ayisyen Zoranj or Traditional Dominican Cake, it is just as delicious!
I guess this really should be called Hispaniola Cake. Before we get to this delicious Haitian Orange Cake, let's learn a little more about Hispaniola.
Hispaniola History
Hispaniola is one of two islands in the Caribbean that share the island with two nations. St Martin has a French side and a Dutch side and Hispaniola has Dominican Republic on one side and Haiti on the other.
The island of Hispaniola was the first European settlement in the Americas. The capital of the Dominican Republic, Santo Domingo is the oldest permanent settlement in the Caribbean dating back to 1498.
When Columbus first landed on what is now called Hispaniola in 1492, he encountered the Taino's, a tribe of the Arawak Native Americans. Most natives of the Caribbean are Arawak tribes.
Haiti was the name the Taino's called the island, while Hispaniola is a combination of the terms in both Spanish and Latin for the Spanish island.
Harsh slavery practices and food deprivation decimated much of the Taino population. The Spanish then brought in African slaves. While the African slaves mostly did the hard physical labor of the sugar cane fields, the Taino's were forced to work in the gold mines.
Hunger, difficult working conditions and diseases brought by the Europeans, reduced the Taino population by 2/3 in just 6 years.
When the Spanish leaders moved most of the population to the eastern side of the Island to avoid attacks by pirates who were travelling the Caribbean in the late 1500's, it left the western side of the island unprotected. This is how the French was able to gain control for part of the island.
This would start a battle between the French and Spanish over control of the island. Control of the different parts of the island would continue to be fought over the next 300 years between the French, Spanish and native or slave revolts.
To make a long story short, Haiti became the first independent black nation in 1804 and the Dominican Republic earned their independence in 1844. However, internal conflict caused them to go back to colonial rule. They have now been independent since 1865.
Hispaniola is the second largest island in the Caribbean, after Cuba, and Dominican Republic is the largest economy in the Caribbean.
Dominican Republic is a popular tourist destination and despite the negative press often received, Haitian inland areas are gorgeous and safe. Did you know Anderson Cooper has a house in Haiti and many people love Haiti for it's gorgeous waterfalls and beautiful beaches.
This is a VERY BRIEF HISTORY of the long and complicated history of Hispaniola, but just so you get a little reference.
Kid's Project
An interesting project for the kids who may still be quarantined is to research and learn about the Taino's. What did they eat and what was their society like before the Europeans came? Why did most of them die when the Europeans came? Are there any Taino's left on the island today?
History lesson is over. Now let's get to baking this delicious cake!

Baking Tips for Traditional Haitian Cake
All ingredients should be at room temperature.
The butter and sugar should be beaten until very light and fluffy – a full 5 minutes with an electric mixer.
After the eggs are added, they should be beaten until they are very light and airy – a full 5 minutes with an electric mixer.
The cake batter will have almost a whipped cream consistency, albeit a little thicker. If you don't have this result, you need to beat your batter a little more.
Not only is it my birthday, but May is also Haitian Heritage Month in the United States. Cities with large Haitian populations usually have events to celebrate Haitian history and culture. Although they have been cancelled this year, you can still celebrate by whipping up this delicious Haitian cake!
Here are a few of my favorite savory Haitian Recipes you can enjoy before your Haitian dessert!
Haitian Recipes
Now let's check the pantry to make sure you have all the ingredients you need.
Ingredients
all purpose flour
baking powder
butter
3 eggs
Zest of 1 orange
vanilla extract
rum
orange juice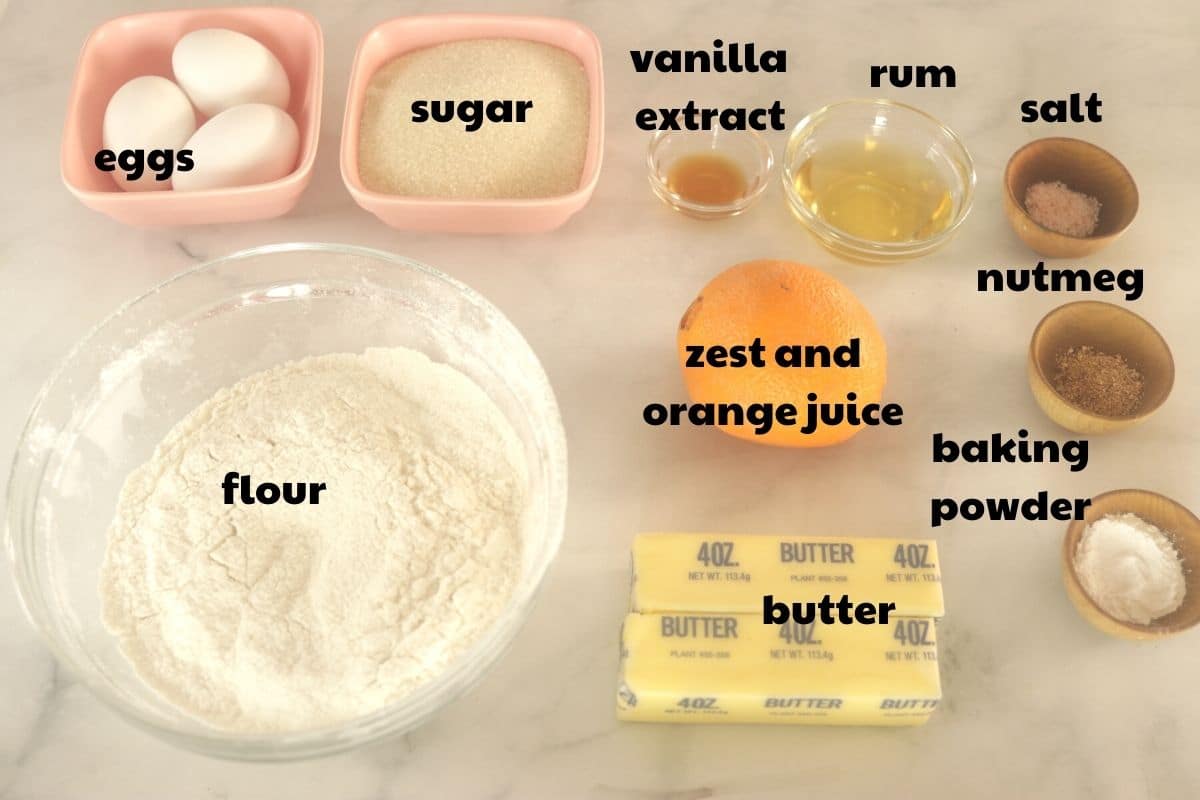 If you follow the steps exactly as described, you will get this light and airy cake too!
How to Make Haitian Orange Cake
Beat the butter and sugar until very light.
Add eggs, one at a time.
Add vanilla , rum and zest.
Add orange juice.
Sift the flour with the baking powder, salt and nutmeg.
Add sifted flour.
The batter should have an almost whipped cream consistency.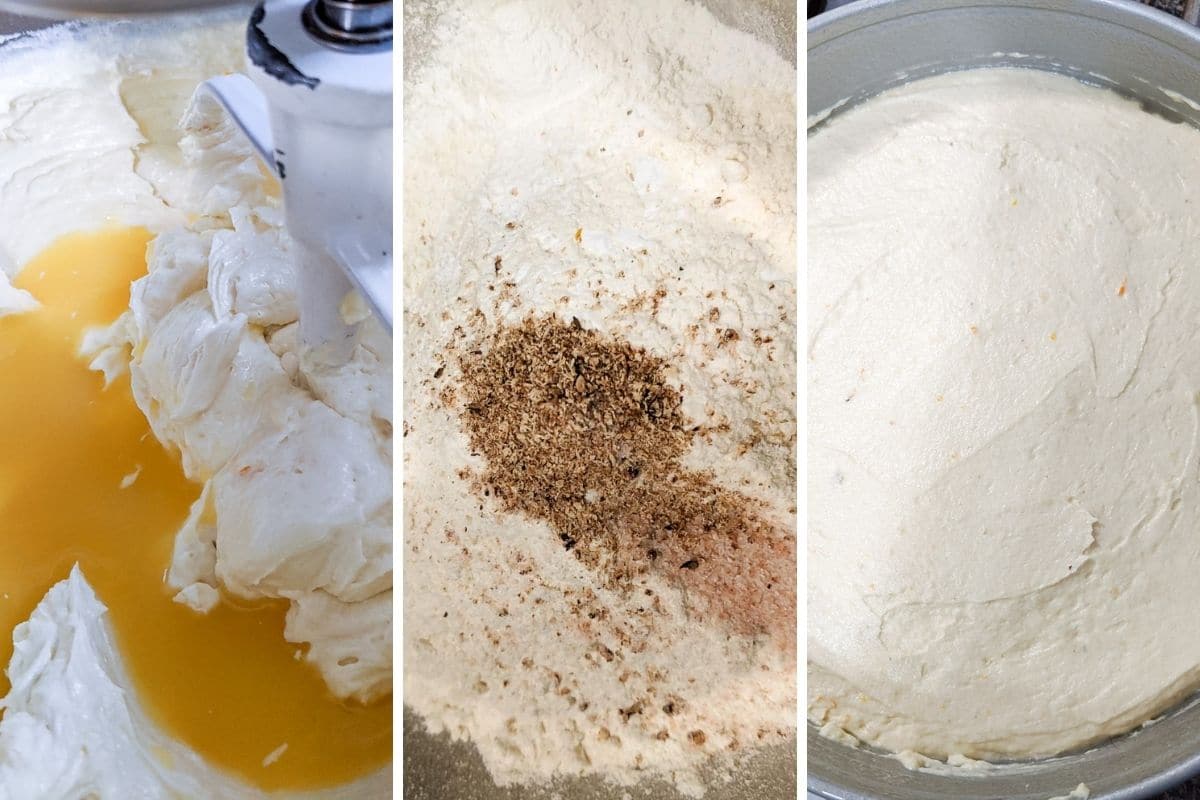 All you need is a glass of milk or a cup of tea! Either way, this cake is going to just melt in your mouth!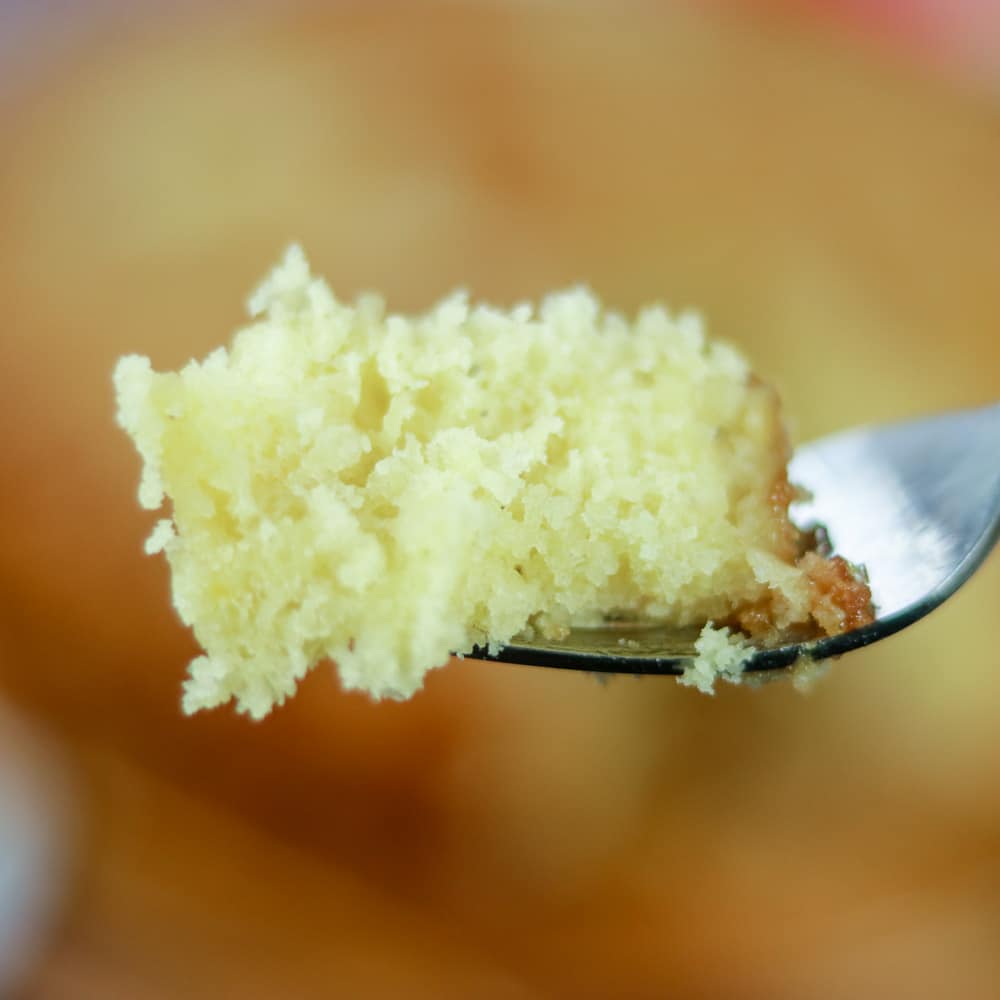 Traditional Haitian Cake Recipe will soon become a family favorite!
Traditional Haitian Cake – Gateau Ayisyen Zoranj
Flavored with orange and nutmeg, Traditional Haitian cake is a versatile cake. It can be eaten simply as a tea time cake or decorate it up fancy for a special occasion. So light and airy.
Ingredients
2

cups

all purpose flour

2

teaspoons

baking powder

½

teaspoon

salt

1

teaspoon

freshly grated nutmeg

½

lb.

butter

softened

1 ½

cups

sugar

3

eggs

Zest of 1 orange

2

teaspoons

vanilla extract

2

tablespoons

rum

1

cup

orange juice
Guava Glaze Ingredients
½

cup

guava jelly

2

tablespoons

water
Instructions
Preheat oven to 350 F. Spray a 9" springform pan with non stick spray.

In a large bowl, combine flour, baking powder, salt and nutmeg. Mix to combine.

In the bowl of an electric mixer, beat butter and sugar until very light and creamy, about 5 minutes.

Add eggs, one at a time, beating well after each addition.

After all the eggs have been added, beat for about 5 minutes.

Add orange zest, vanilla, rum and orange juice. Beat until thoroughly combined.

Add flour in two batches, beating well after each addition.

The batter should have a whipped cream like consistency.

Transfer batter to prepared cake pan.

Bake for 40-45 minutes, until a tester inserted comes our clean.

To make the glaze, melt the jam in the saucepan and add water a little at a time, until you achieve desired consistency. If you prefer a thinner glaze, you can add more water.

Leave the cake to cool in the pan for 15 minutes.

Remove the cake from the pan and brush the glaze on top of the cake.

To prevent the top of the cake crumbling (like mine did), you can just pour the glaze over the cake.
Nutrition
Calories:
286
kcal
|
Carbohydrates:
40
g
|
Protein:
3
g
|
Fat:
12
g
|
Saturated Fat:
8
g
|
Cholesterol:
61
mg
|
Sodium:
190
mg
|
Potassium:
121
mg
|
Fiber:
1
g
|
Sugar:
25
g
|
Vitamin A:
430
IU
|
Vitamin C:
9
mg
|
Calcium:
36
mg
|
Iron:
1
mg
Did you try this recipe? Leave a comment below.
Please follow me on Instagram @chefmireille or tag me #chefmireille with your pics! I'd love to share them!
DO YOU YUM? SAVE IT BELOW!
Yum
Now I know you want to try some more Caribbean food! Check out my collection with over 100 Caribbean Recipes from the Caribbean diaspora!