Haitian Pate – Salted Cod Fritters are a popular street food and party item. Puff pastry stuff with seasoned salted cod.
Most Caribbean islands have some translation of a pattie – a meat filling stuffed inside a pastry. While most islands use a short crust pastry, Haiti uses puff pastry for a flaky crust. Chicken and beef are usually the most common fillings, but the Haitian patties are often stuffed with salted cod. In the French based patois language of Haiti, these are called pate (pah-tay).

Dried salted cod is used extensively throughout the Caribbean. On Spanish speaking islands, it is called bacalao. The rest of the Caribbean uses it to make the ubiquitous fish cakes & a little is added to flavor vegetable dishes. It is commonly sauteed and eaten for breakfast with ground provision (a variety of boiled, root vegetables). It is part of Jamaica's national dish of Salt Fish & Ackee. The salt is used as a preservative. I believe this was a way to preserve fish which is abundant in the Caribbean, before the refrigerator was readily available to everyone. However, the salt needs to be soaked off before it can be utilized.
A few months back I went to a burger joint in Williamsburg. I was amazed at the variety of burgers they had, including Vegetarian options and so excited when I saw a burger with dried, salted cod. I think the owner is trying to be inclusive of the diverse community of Williamsburg (Brooklyn, NY) by including this on the menu. However, his staff are obviously unfamiliar with the product and they failed to soak the fish first. It was so salty and completely unpalatable. I can't believe any of them including the owner actually tasted it and felt it was alright to serve this to people. So please don't skip the soaking part of this recipe. It is vital.

Most people in Haiti would make the puff pastry themselves. I took a shortcut and utilize store bought puff pastry.
IN THE MAKING – HOW TO MAKE HAITIAN PATE – SALTED COD FRITTERS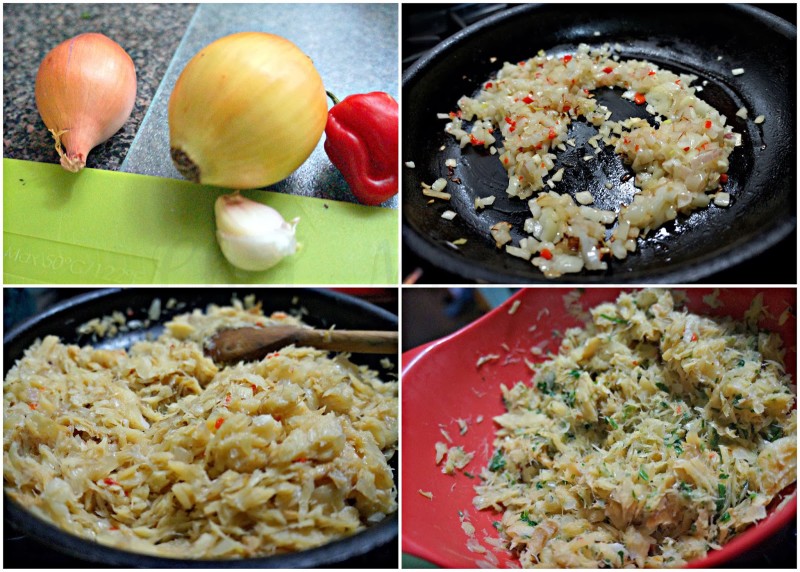 To make square pate:

Although they are most commonly made in squares, I prefer the triangular ones. They make the perfect party treat!
Enjoy with a little bit of Pikliz – Haitian Pickled Vegetable Hot Sauce.
The flaky crust is what makes Haitian pate totally different from other Caribbean meat patties.
Byen Manje!!! (Eat Well!!! in Haitian Creole language)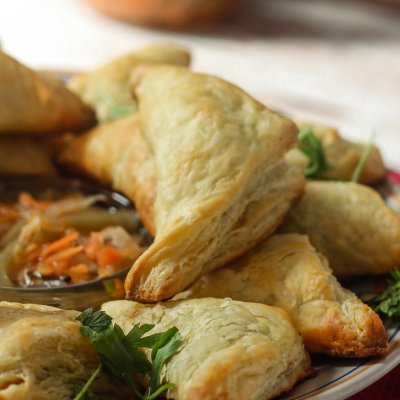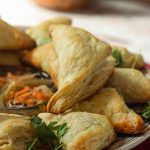 Print Recipe
Haitian Pate – Salted Cod Fritters
Haitian pate is the most common appetizer that's served at every party and is also a popular street food.
Ingredients
1

pound

dried salted cod

1

small onion

chopped

1

bell pepper

chopped

2

cloves

garlic

finely chopped

1

Scotch Bonnet pepper

finely chopped

2

tablespoons

parsley

finely chopped

1

tablespoon

lime juice

a pinch of salt

3

sheets puff pastry

2

tablespoons

milk
Instructions
Place fish in a pot with enough water to cover. Soak for 2 hours.

Drain and change the water.

Boil in the fresh water for 20 minutes. Drain.

As soon as it is cool enough to handle, flake the fish by hand.

In a skillet, heat oil.

Add onion, bell pepper, garlic and Scotch Bonnet. Saute until vegetables are softened.

Add fish, parsley, lime juice salt. Mix and cook until thoroughly combined.

Preheat oven to 400 F.

Defrost puff pastry for about 15 minutes. It should be pliable, but not too soft.

Lay out a sheet on a lightly floured surface. Sprinkle a little more flour on top.

Dock the pastry by piercing with a fork or by using a docking tool.

Square Pastries:

Cut each pastry sheet into 9 equal squares.

Place about 2 tablespoons of the fish filling on each square.

Roll out another pastry on another lightly floured work surface. Dock the dough and cut into 9 equal sized squares.

Brush the perimeter of the squares with the fish filling with water

Place the plain squares on top of the squares with the fish filling and seal the edges with a fork.

Place on a baking sheet. Brush the tops with the milk.

Triangle Pastries:

Cut each pastry sheet into 12 pieces

Place about 1 1/2 tablespoons of the fish filling on each square.

Brush the perimeter of the squares with the fish filling with water.

Fold over into a triangle and seal the edges.

Place on a baking sheet. Brush the tops with the milk.

Bake for 20 minutes.
Notes
Prep Time includes 20 minutes resting time.
Do you know anyone else who likes learning about international food, culture, history and travel? Bring them over here to join the party! Don't forget to use those share buttons!
Start Here to find out how the Schizo Chef can help you with your cooking, travel and other needs!
If you like this recipe, PLEASE LEAVE A COMMENT & SUBSCRIBE!
Check out the Blogging Marathon page for the other Blogging Marathoners doing BM#37
Sign up for our updates!
Subscribe to get our latest content by email and get your FREE Pantry Cheat Sheet - Learn the basics to cook any International cuisine!