Last Updated on December 14, 2020 by Chef Mireille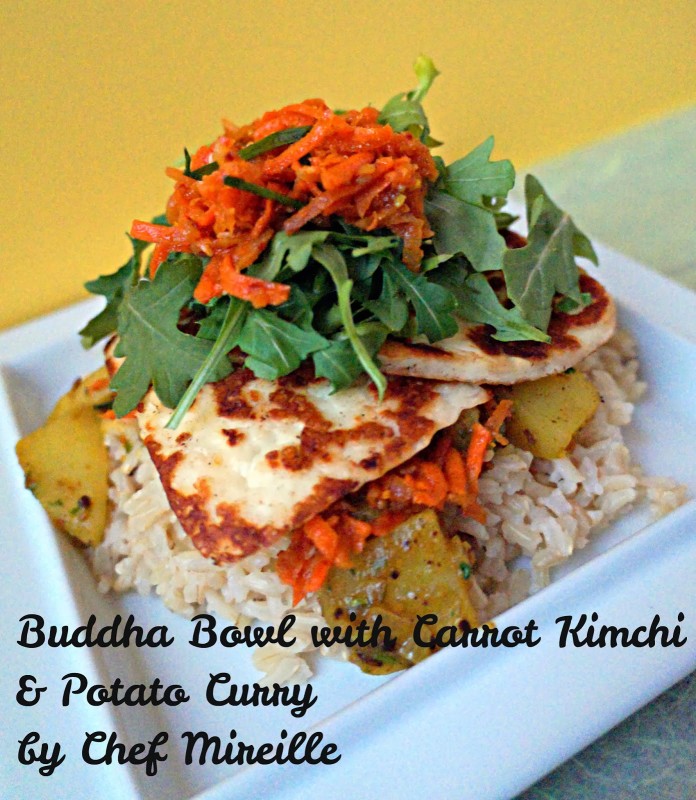 I saw this dish on an episode of the Travel Channel's Street Eats when they were in London. London, like my hometown city of New York, is very multi-cultural. What I love about this is that it encompasses the many cultures that make up London – India, Korea & Cypress all in one healthy bowl.
There is a food truck called Buddha Bowls that serve several different Vegetarian, Vegan & Gluten Free Bowls. This was the only one I had time to jot down before Street Eats went to a different city. I wrote down the components and then made my version of each one here.
Street Foods often have many components like when I made these Quinoa Arepas. Don't be afraid of the many components. Most of them are super easy and some involve virtually no prep.
Steamed Brown Rice
Serves 4
Ingredients:
2 1/2 cups water
1 cup long grain brown rice
salt, to taste
Bring water and salt to a boil. Add rice. Stir, cover and reduce heat to a simmer. Cook until all water has been absorbed, approximately 30 minutes. Alternatively, combine all ingredients in a rice cooker and cook until done.
I still had a little leftover homemade Andhra Pradesh curry powder fellow blogger Pavani had given me when we met last year. I used that to make this flavorful curry, however, you can use whatever curry powder you have access to.
Potato Curry
Serves 4
Ingredients:
1 tablespoon oil
1 teaspoon cumin seed
1/2 teaspoon mustard seed
1 teaspoon ginger garlic paste
1 onion, chopped
2 chiles, finely chopped
1 lb. potatoes, peeled and chopped
2 tablespoons curry powder
1/4 teaspoon ground turmeric
1 3/4 cups water
2 tablespoons cilantro, finely chopped
1/4 teaspoon garam masala
Heat oil. Add cumin seed and mustard seed. After the mustard seed stops spluttering, add ginger garlic paste, chiles and onion. Saute for 2 minutes until onion softens. Add curry powder and fry for 1 more minute
Add potatoes and water and bring to a boil. Cook for 15 minutes.
Add cilantro and salt, to taste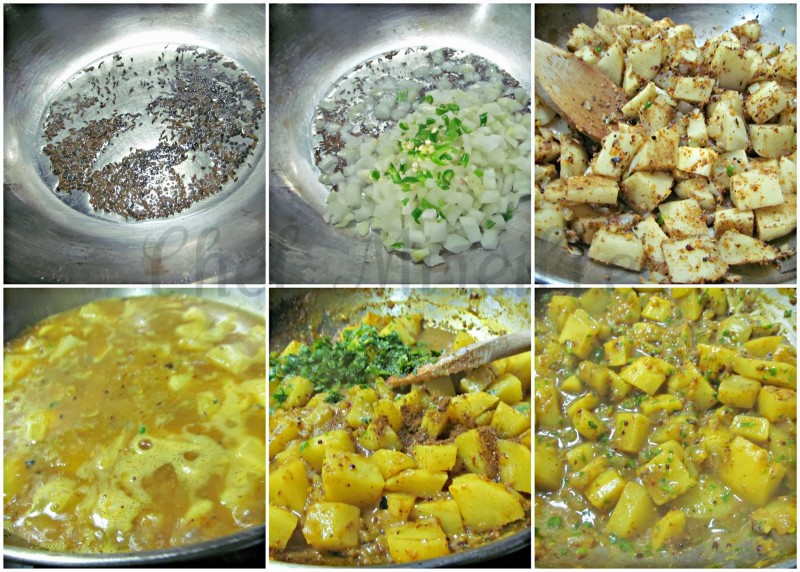 Kimchi is a basic Korean condiment, found on every Korean table. It is basically a very spicy pickled salad, achieved by fermentation instead of vinegar. In the West, the most common varieties are cabbage and radish. However, Koreans make kimchi from basically any vegetable including bean sprouts, eggplants, pepper leaves, sweet potato leaves, cucumbers…and so much  more! Here is my version of a carrot interpretation of kimchi.
Carrot Kimchi
Yield: 4 cups
Ingredients:
4 cups carrots, grated
1 cup Daikon radish, grated
2 teaspoons salt
2 teaspoons sugar
3/4 oz. chives, cut into 2″ pieces
3 tablespoons Korean chili flakes
2 garlic cloves, finely chopped
1 tablespoon ginger, finely chopped
3 tablespoons fish sauce (Korean fish sauce is much saltier than Thai fish sauce, but I used the Thai one since that is the only one I had, however, for a more Korean taste to your Kimchi, use the Korean one but reduce the quantity)
1/2 teaspoon sugar
4 tablespoons sesame oil
2 tablespoons toasted sesame seeds
Combine carrots, radish, sugar and salt in a bowl. Leave for 30 minutes. Drain and place in a large bowl.
Add all of the other ingredients, except the sesame seeds and sesame oil. Toss very well, so that ingredients are well combined.
Add sesame oil and sesame seeds. Toss and leave to ferment at room temperature for 1 day (or 1/2 day in warmer temperatures).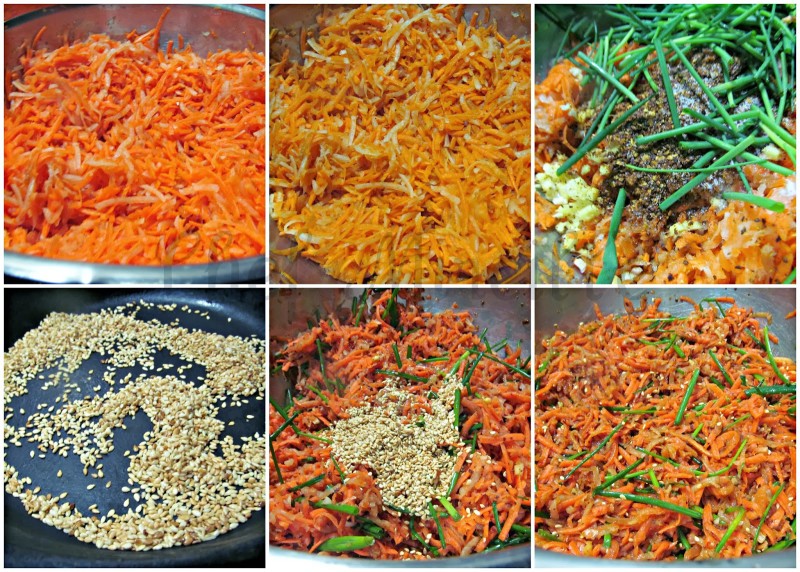 Store in refrigerator and it can stay forever. The flavor gets better, the longer it's there.
Halloumi is one of my favorite things to eat. I have prepared it many times on this blog like this Oregano Sumac Halloumi or this Halloumi Fig Sandwich. It is an unaged cheese from Cypress sold in a light brine with mint. Like paneer or queso de freier, it can be grilled or fried, without melting.
Pan Seared Halloumi
Serves 4
Ingredients:
Heat a non stick skillet. Place slices of halloumi and pan fry until golden brown on both sides.
Now that we've done all the prep, let's assemble our Buddha Bowl….
Buddha Bowl
Serves 4
Ingredients:
steamed brown rice
potato curry
carrot kimchi
pan seared halloumi
baby arugula
For each serving, place some cooked brown rice in a bowl or on a plate. Top with some of the potato curry. Add a little kimchi on top.
Add a 2 slices of halloumi on top and then add some baby arugula leaves on top. If desired, add a little more kimchi on top.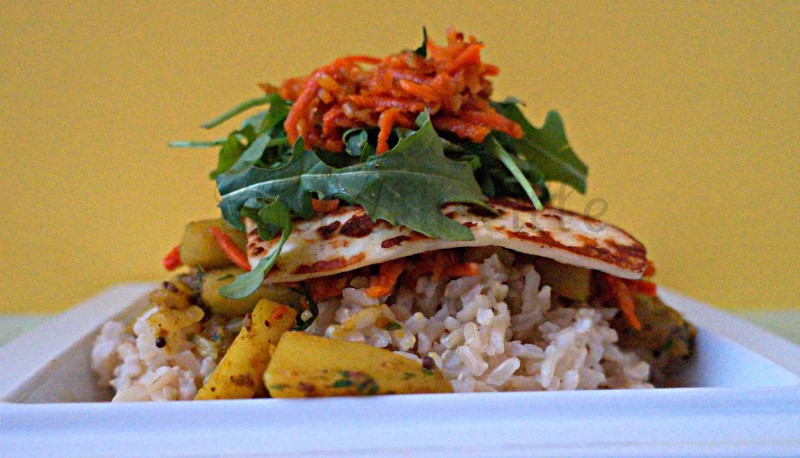 As adventuresome as I am, I would never have thought of this combination, but it works! This is such an amalgamation of amazing flavors and they complement each other well.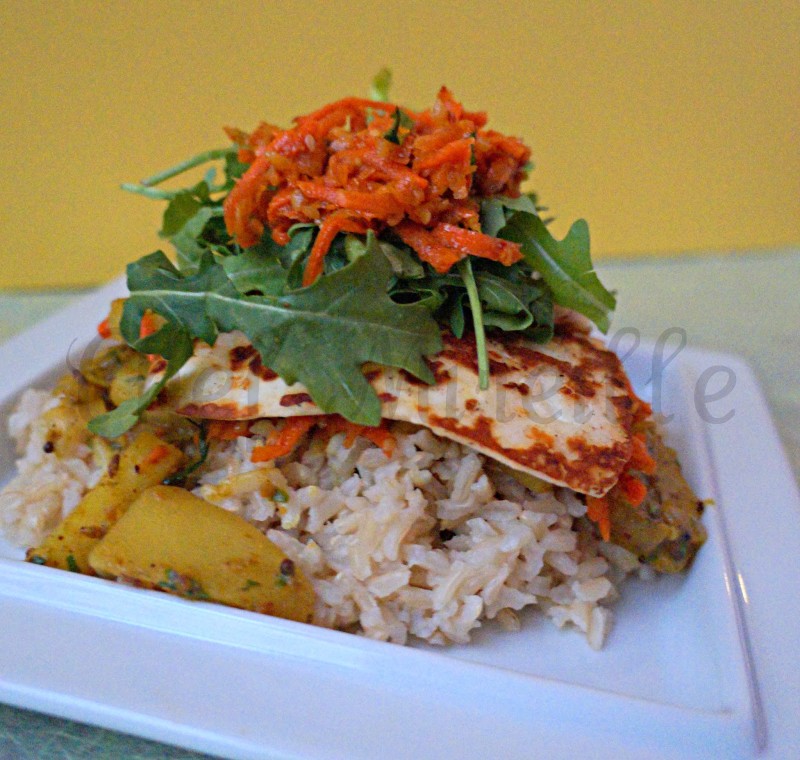 Check out the Blogging Marathon page for the other Blogging Marathoners doing BM#37
…linking to Flavours of the World Grand Finale  & Totally Tasty Tuesdays
LIKE THIS RECIPE? LEAVE A COMMENT..I LIVE FOR THEM!
Chef Mireille