Last Updated on May 20, 2020 by Chef Mireille
Sri Lankan Turmeric Rice – Kaha Bath is perfect to compliment any meal with all the health benefits of turmeric and all the flavor of cinnamon, cloves, cardamom and lemongrass.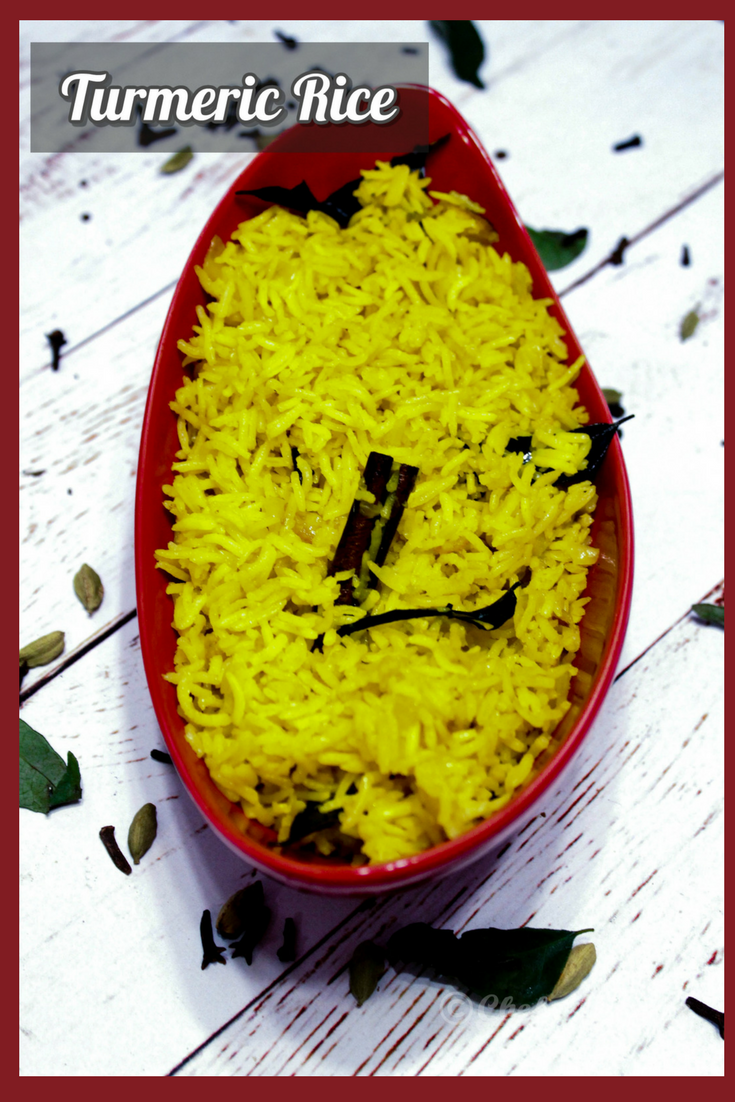 This post may include affiliate links.
Have you ever had Sri Lankan food? Here in NYC we have a small Sri Lankan enclave on Staten Island, with a variety of both take out style and more upscale Sri Lankan restaurants. If you love Sri Lankan food as much as I do and would like to replicate the cuisine at home, I will show you how!
Sri Lankan is a delicious fusion cuisine, representative of their culture with three major distinct populations. Most of the Indian descended population of Sri Lanka came from Tamil Nadu in southern India. In fact, Tamil is one of the two official languages, along with Sinhala. Pongal, the Tamil holiday, is celebrated in Sri Lanka, with as much fanfare as it is in Sri Lanka.
The Sinhalese refers to the native population of Sri Lanka and the Burghers are descendants of European mixed heritage people, mostly Dutch with Tamil or Sinhalese.
Ok to figure out how all these cultures happened in Sri Lanka, we are going to have a mini history lesson here.
Sri Lanka History…in brief
The Portuguese first arrived in Sri Lanka in 1505. The Portuguese established a settlement in what was then known as Ceylon and soon Portuguese traders arrived.
These Portuguese intermarried with Sinhalese and Tamil women, which is how the Burgher community started.
In 1602, the Dutch signed a trade treaty and by 1640, the Dutch East India Company had taken over much of the Portuguese control and had a governor established in Sri Lanka. By 1658, pretty much all of the Portuguese had been expelled and the island was entirely under control of the Dutch.
The word Burgher came from the Dutch word burger meaning citizen or town dweller mixed with the French word bourgeois. As many of the European settlers were middle class tradesman, who lived in town.
When the British took over the island in 1796, most of the Dutch returned to Europe. However, those with mixed heritage stayed as they now had family ties to local Tamil or Sinhalese people.
This multi cultural history is why everything from Shrimp Curry to Tuna Krokets is part of Sri Lankan cuisine. The Tamil, Portuguese & Dutch all left their mark on Sri lankan cuisine.
Sri Lankan Staple Ingredients
There are a few ingredients that permeate Sri Lankan cuisine that you need to stock up on if you want to cook more Sri Lankan food at home.
Pandan Leaves, which Sri Lankans refer to as rampe. These leaves have an almost vanilla like flavor and aroma to them. They are the main flavoring used in Southeast Asian Desserts. However, in Sri Lankan cuisine, it is used in both sweet and savory recipes. If you cannot source fresh or frozen pandan leaves, you can substitute with a little pandan extract.
Sri Lankan Curry Powder – unique with it's inclusion of pandan leaves.
Coconut Milk. Coconut Milk permeates Sri Lankan cuisine. Dal, curries, vegetable dishes and desserts are all enriched with coconut milk or grated coconut.
Where to find pandan leaves?
Unless you live in Southeast Asia or Sri Lanka, finding fresh pandan leaves is going to be almost impossible.
You can find them frozen in many Asian supermarkets. They may be labeled as pandan, pandanus, screwpine tree leaves, rampe or bai toey.
Don't forget to check out my other Sri Lankan recipes that you can have with your Sri Lankan Turmeric Rice to complete your Sri Lankan meal!
Sri Lankan Recipes
HOW TO MAKE SRI LANKAN TURMERIC RICE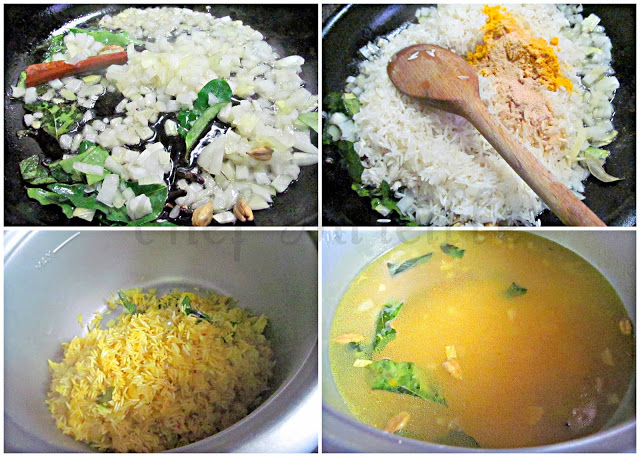 This Sri Lankan Turmeric Rice or Kaha bath with all of the health benefits of turmeric and all the flavor of cinnamon, cloves, cardamom and curry leaves will compliment any meal.
Sri Lankan Turmeric Rice – Kaha Bath
Ingredients
2

cups

Basmati rice

2

tablespoons

ghee

1

onion

chopped

1

sprig curry leaves

4

cloves

1

teaspoon

ground turmeric

2

inch

stalk lemongrass

or 1/2 teaspoon of lemongrass powder

2

teaspoons

salt

2

cups

chicken stock

1

cup

water
Instructions
Heat ghee in a skillet. Add onion, curry leaves, cardamom, cinnamon and cloves. Stir fry for 2 minutes, until the onions are translucent.

Add rice, turmeric and lemongrass powder. Stir fry for another minute.

Add salt, stock and water. Bring to a boil.

Reduce to a simmer, cover and cook for 15 minutes.

Alternately, transfer to a rice cooker with salt, chicken stock and water.

Once rice is done, fluff with a fork to distribute the spices.
Did you try this recipe? Leave a comment below.
Please follow me on Instagram @chefmireille or tag me #chefmireille with your pics! I'd love to share them!
You might also like
DO YOU YUM? SAVE IT BELOW!
Yum
Don't forget to visit the RECIPE INDEX with over 1000 recipes from around the world including lots of Vegetarian Recipes and Gluten Free Recipes!