Last Updated on December 28, 2020 by Chef Mireille
Caribbean Root Vegetable Roast – Learn all about ground provision and how to make this simple Caribbean side dish to accompany any meal!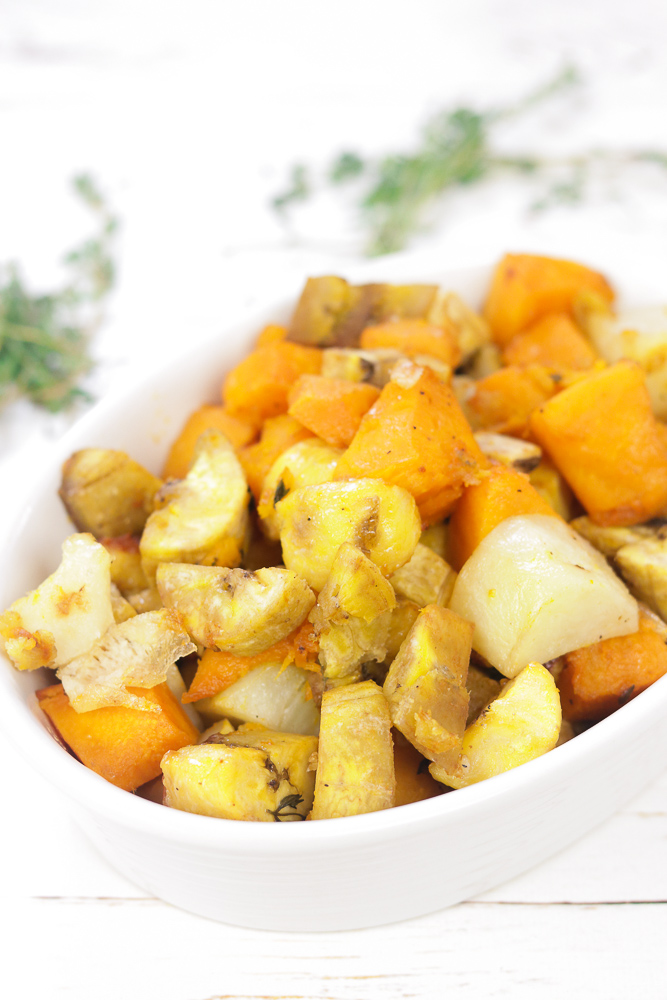 This post may include affiliate links.
This quick and easy side dish is ubiquitous throughout most of the Caribbean.
There are more similarities in the cuisines of the Dutch, English and French speaking Caribbean than with the Spanish speaking Caribbean.
Therefore, this type of recipe is something that might be eaten to start the day in any one of this category of islands with salt cod (bacalao) and/or eggs. To see how the complete breakfast comes together, check out Saltfish Ground Provision Caribbean Breakfast.
What is Ground Provision?
Ground Provision is a large category of starchy fruits and vegetables that often accompany meals in the Caribbean.
It can include any variety of potato, sweet potato, yam, plantain, breadfruit, eddoe (colocassia), tania, taro root, cassava, pumpkin, green banana, etc.
It's basic provision that the land provides.
Often they are simply boiled because most of our meat dishes have a lot of gravy, so the gravy from the main protein dish will be used to flavor the boiled ground provision.
This Ground Provision – Caribbean Root Vegetable Roast has more flavor, so it does not need gravy. You can serve it with any variety of roasted, stewed or even fried meats. It would go great with this Caribbean Fried Fish with Pumpkin Sauce.
These fruits and vegetables are very filling. I think this tradition comes from a history of people in the Caribbean doing hard physical labor like cutting down sugar cane – the Caribbean's main crop.
People needed food that was filling and nutrition to fortify them of a day of this hard, manual labor.
Most of these fruits and vegetables are very high in Vitamin C, potassium and fiber!
This Ground Provision – Caribbean Root Vegetable Roast makes an awesome breakfast with saltfish (salted cod) and fried egg. This is quite a common breakfast in the Caribbean, or at least in Dominica where I had it on many mornings.
RELATED – DOMINICA – NATURE ISLAND OF THE CARIBBEAN
…and if you need more ideas for High Protein Caribbean Breakfasts like this Ground Provision – Caribbean Root Vegetable Roast – Check out this Dominican Breakfast (Dominican Republic).
Just a few simple ingredients are needed to put this Ground Provision Roast together.
Ingredients
root vegetables –  any combination of plantain, pumpkin, breadfruit, potato, yam etc.
oil
fresh thyme
1 Scotch Bonnet pepper
garlic
Have you tried instacart yet? It's how I get all of my fresh grocery items delivered within 2 hours!
Ground Provision Roast
Ground Provision is any variety of starchy Caribbean vegetables and fruit.
Ingredients
1 1/2

lbs

root vegetables

any combination of plantain, pumpkin, breadfruit, potato, yam etc.

2

tablespoons

olive oil

few

sprigs

sprigs of fresh thyme

1

Scotch Bonnet pepper

split in half

2

garlic cloves

crushed

salt

to taste
Instructions
Chop vegetables into small pieces.

In a square baking dish, toss the vegetables with the olive oil, thyme, Scotch Bonnet, garlic and salt. Spread vegetables in a flat layer.

Transfer to oven and roast for 40-45 minutes, until fork tender.

Remove pepper or it will continue to spice up the dish.
Nutrition
Calories:
193
kcal
|
Carbohydrates:
31
g
|
Protein:
2
g
|
Fat:
8
g
|
Saturated Fat:
1
g
|
Sodium:
18
mg
|
Potassium:
638
mg
|
Fiber:
8
g
|
Sugar:
8
g
|
Vitamin A:
24
IU
|
Vitamin C:
33
mg
|
Calcium:
64
mg
|
Iron:
1
mg
Did you try this recipe? Leave a comment below.
Please follow me on Instagram @chefmireille or tag me #chefmireille with your pics! I'd love to share them!
Other Caribbean Recipes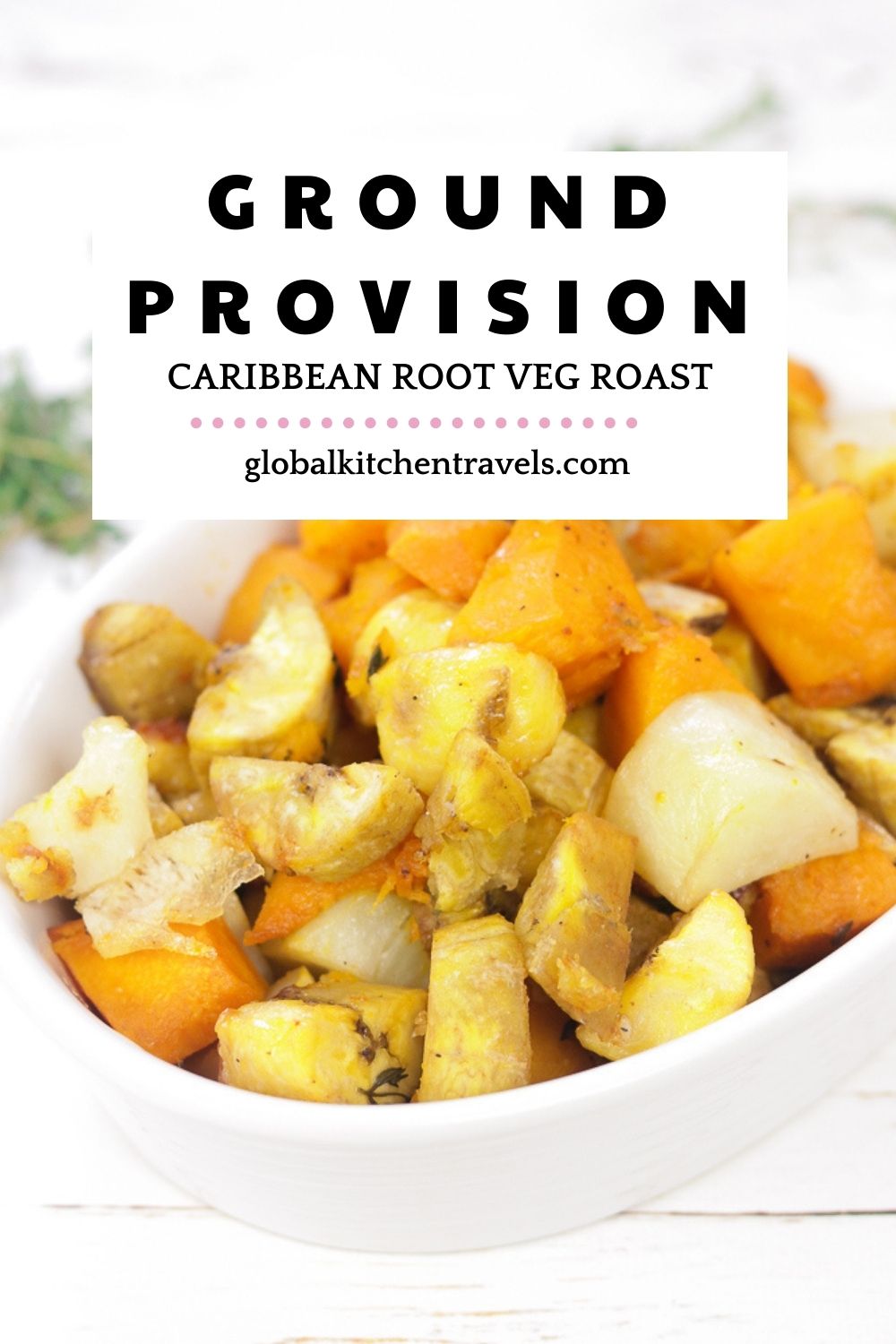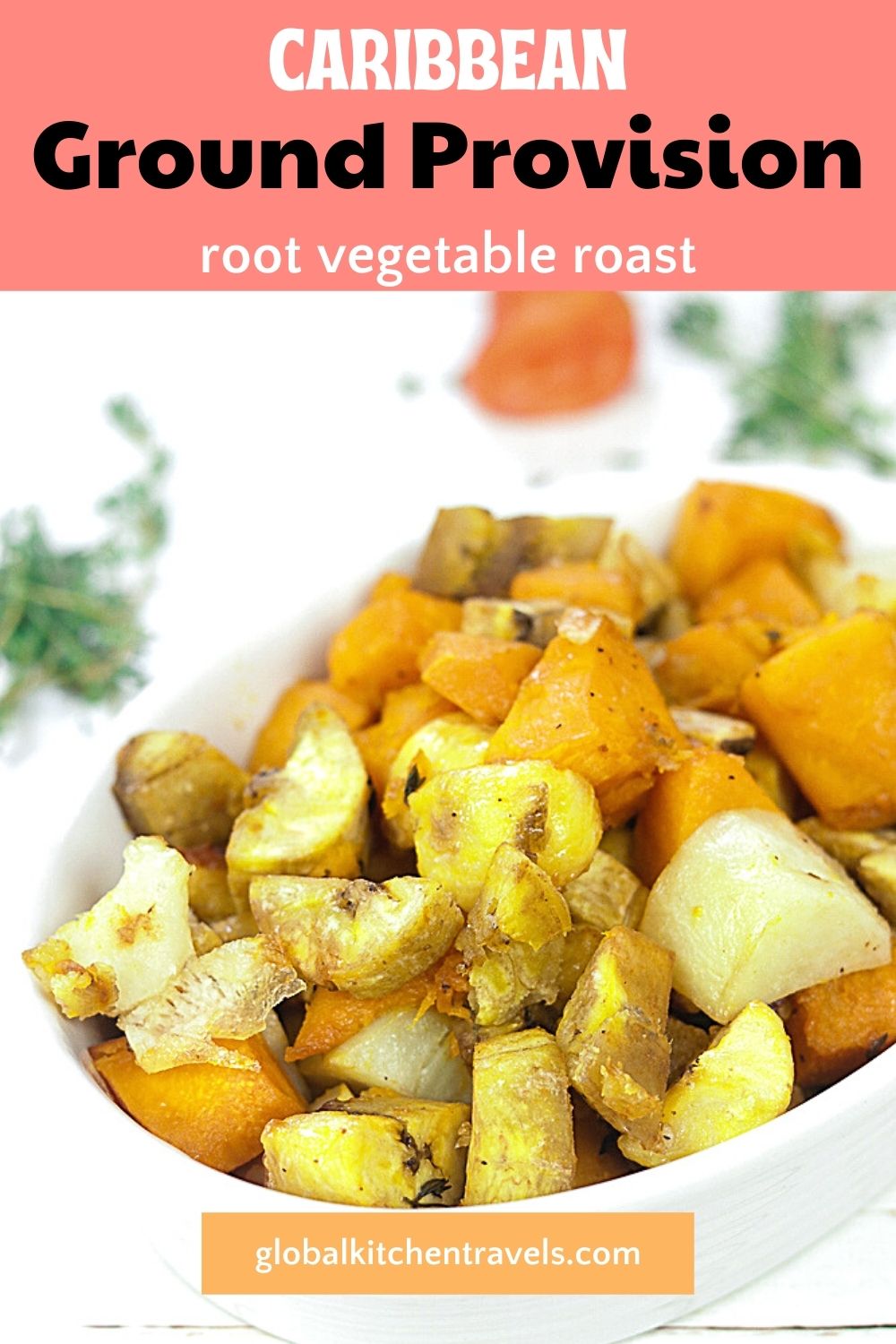 DO YOU YUM? SAVE IT BELOW!
Yum
Now I know you want to try some more Caribbean food! Check out my collection with over 100 Caribbean Recipes from the Caribbean diaspora!