Last Updated on May 20, 2015 by Chef Mireille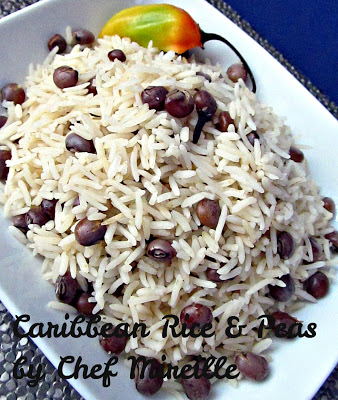 Blogging Marathon #26
Theme: One Ingredient Three Ways – Beans
When I presented my recipe for Sauce Pois, I had referenced this basic one pot Caribbean Rice & Peas dish. Using just a few spices and herbs transforms a simple side dish into something flavorful that can be eaten on its own.
This basic rice and peas which was a standard meal accompaniment to dinner practically every night of my life, as a child. Every night before going to bed, beans were put to soak and they were cooked the next day with rice. To embrace the convenience of the rice cooker, I adapted this traditional recipe.
Caribbean Rice & Peas
Serves 8
Ingredients:
1 cup pigeon peas, soaked overnight (sometimes red kidney beans are also used)
2 cloves garlic
a few sprigs of thyme
2 cups vegetable or chicken broth
2 cups water
3 cups rice
3 cloves
1/2 Scotch Bonnet pepper
salt, to taste
Place pigeon peas, garlic, and thyme in a saucepan. Cover with water. Bring to a boil and reduce to a simmer. Cook until peas are tender; about 1 hour. Drain and discard garlic and thyme.
Place peas in the rice cooker along with all of the other ingredients. When the button pops up, toss to combine.
This is usually served with any non-curry like Stewed Chicken, Escovitch Fish or Fried Fish.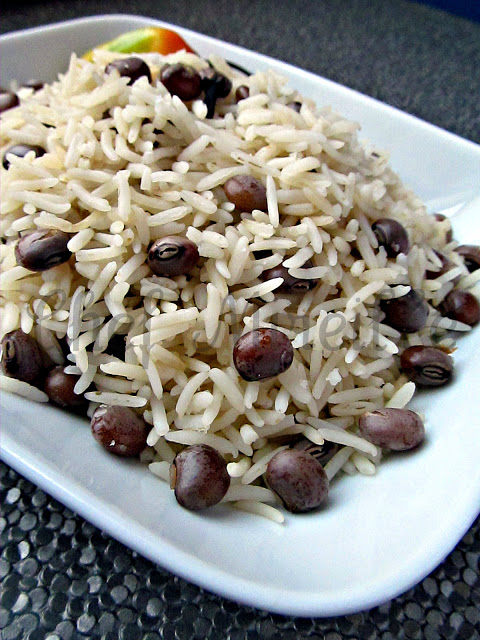 It almost seems ridiculous to post such a simple recipe, but the subtle flavors in this rice makes it the perfect side dish to any meal!
Check out the Blogging Marathon page for the other Blogging Marathoners doing BM#26
LIKE THIS RECIPE? LEAVE A COMMENT..I LIVE FOR THEM!
Chef Mireille