Last Updated on January 13, 2020 by Chef Mireille
Caribbean Spice Cake – This basic cake full of spices is perfect for tea time. America has Pound cake and the Caribbean has Spice Cake.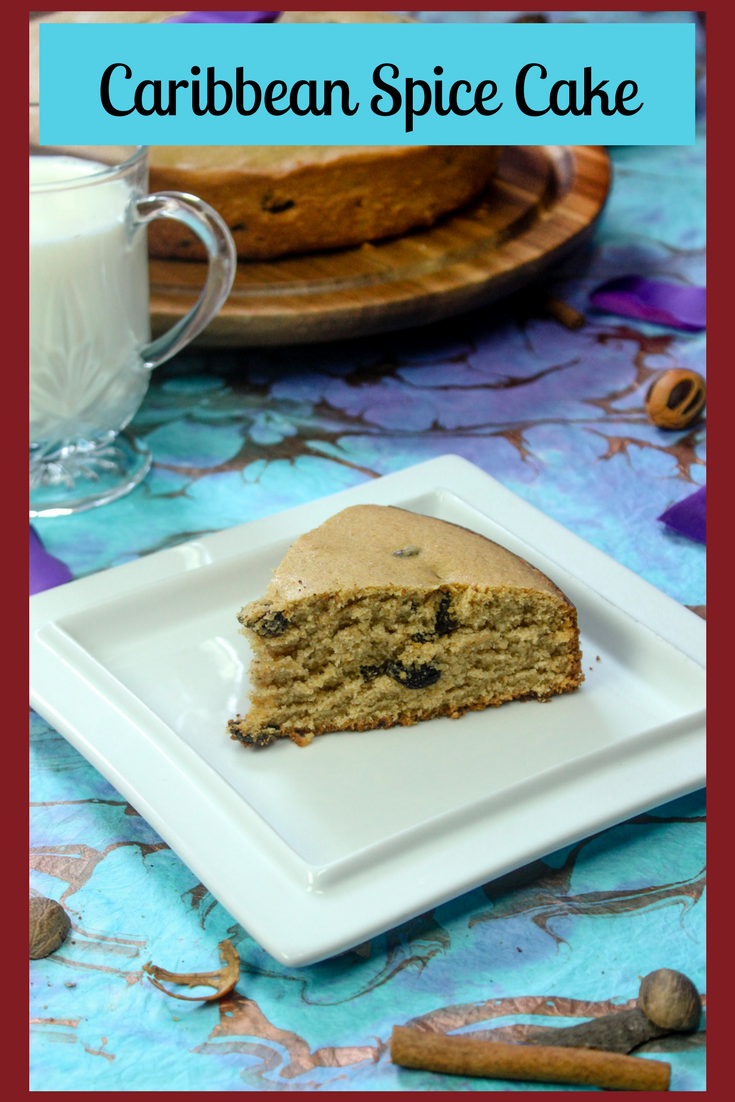 This is my Mom's recipe and I tell you it was no easy task to get it!
For years, people have been asking my Mom for a recipe for her cake and her answer always is, "I don't know. Just watch me when I bake it." As if you can duplicate what she does when she says things like, "You know you have added enough milk when it looks right." FINALLY, I cornered her down and forced her to measure as she went along and now have her recipe for eternity. It wasn't easy and took a lot of arguing back and forth with me stopping her before every ingredient she added so I could measure it.
This is why for most family recipes I just ask her what's in it and then I develop the recipe myself because this is a stressful endeavor for us both. She gets frustrated with me stopping her and I get annoyed as she knew the plan at the beginning so why is she screaming at me!!!
It is an all purpose Caribbean spice cake. We usually only frost or ice cakes for big events like weddings, so it is meant to be eaten as is, straight out of the oven. This cake is a slightly dense cake but super soft and fluffy, that is perfect with tea or a glass of milk. It's not one of those fall apart in your hand cakes – it has body. Haitians, like my dad, like to eat it, dunking it in a glass of liqueur, along the lines of Grand Marnier. Besides, adding frosting both adds additional unnecessary sugar and the sugar will overpower the amazing flavor of the spices and rum.I guarantee you, once you make this cake, it will be often requested.
This is perfect to serve for Mother's Day. Bake it in a square pan and cut in small squares and it will be the star of your Mother's Day Brunch.
This recipe makes 2 cakes, as my Dad and I shared the same birthday so there were always two birthday cakes at our house.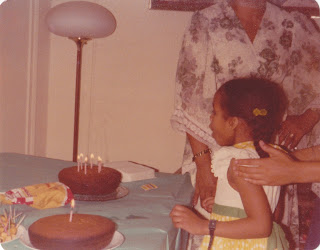 blowing out candles on my 6th birthday
Before we get to today's recipe, let's check out some other Caribbean treats!
Caribbean Recipes
IN THE MAKING
Enjoy with a glass of milk!
Soft and fluffy cake and my favorite part is the crusty edges!
Caribbean Spice Cake
A super soft and fluffy pound cake infused with spices and rum
Ingredients
2

cups

all purpose flour

2

cups

whole wheat flour

3

teaspoons

baking powder

2

teaspoons

ground cinnamon

1

teaspoon

freshly grated nutmeg

1/2

teaspoon

ground mace

1/4

teaspoon

ground clove

1/2

teaspoon

salt

1

cup

raisins

1

cup

milk

1

cup

evaporated milk

2

teaspoons

vanilla extract

1

teaspoon

almond essence

3

tablespoons

rum

1

cup

softened butter

1 1/2

cups

white sugar

1

cup

brown sugar

6

eggs
Instructions
Preheat oven to 350 F. Spray 2 cake pans with non stick spray.

Sift flours and baking powder with spices and salt. Add raisins and mix thoroughly. Tossing the raisins with the dry ingredients ensures that the fruit does not sink to the bottom.

Combine milks, vanilla, almond essence and rum and whisk to combine in a bowl.

Using an electric mixer, beat the butter and regular sugar until very creamy. Add brown sugar and mix until thoroughly combined.

Add eggs one at a time, beating well and making sure each egg is incorporated before adding the next one.

Add half the flour combination and mix until combined. Add half the milk combination and mix until combined.

Add the remaining flour and mix and then the remaining milk. Mix until all ingredients are thoroughly incorporated.

Divide the batter between the two cake pans.

Bake for 40-50 minutes, until a tester comes out clean.

Cool for 15 minutes before removing from cake pans.

Cool completely before slicing.
Notes
Vegetarian Eggless version can be made by substituting 1 cup of sour cream for the eggs.
Nutrition
Calories:
325.91
kcal
|
Carbohydrates:
48.53
g
|
Protein:
6.09
g
|
Fat:
12.26
g
|
Saturated Fat:
7.12
g
|
Sodium:
154.46
mg
|
Fiber:
2.07
g
|
Sugar:
28.41
g
Did you try this recipe? Leave a comment below.
Please follow me on Instagram @chefmireille or tag me #chefmireille with your pics! I'd love to share them!
If you like this recipe, PLEASE LEAVE A COMMENT & SUBSCRIBE!