Last Updated on May 29, 2017 by Chef Mireille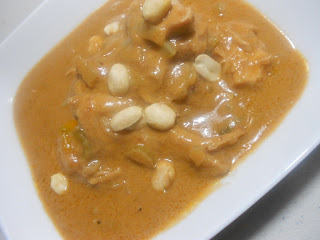 Today is the first day of my participation in Blogging Marathon, a weeklong marathon of a group of food bloggers, who commit to blogging on a particular topic every day, for a solid week!  Most of my blogging marathon partners are vegetarian or vegan, so I am starting off the marathon with a recipe that is easily adaptable to a vegan.
I will be blogging about Holiday Recipes for the week.  Since I come from such a diverse family, my holiday recipes have origins in several countries, depending which family I am spending the holidays with.  It could include Nasi Goreng and Satay or Fishcakes and Macaroni Pie.
I've decided to kick off the Blog Marathon with a recipe from my grandfather's birthplace, Suriname.  Suriname is one of the most diverse countries on the planet, with large populations of Indonesians, Indians, Chinese and Africans; not to mention descendants of the Dutch colonizers, who are still there.  One of the recipes we received from the African slaves who came to Suriname is Peanut Soup.  Many African countries, as well as countries they were brought to, like the southern United States and the Caribbean, have versions of this soup.
In Suriname, peanut soup is always eaten with tom tom (little green plantain balls).
Although this recipe includes chicken, it is easily adaptable to vegetarians by replacing the chicken broth with water and replacing the chicken with vegetables like carrots and potatoes.
This is a homestyle type of soup, where people pick up the chicken pieces and eat the meat straight from the bones. If you want to make this soup for a formal event, I would still cook the soup with the bones – that's where the flavor is! Once the soup is finished cooking, remove the meat from the bones before serving.
1 ½ pounds chicken pieces, including bones
1 large onion, chopped
2 stalks celery, chopped
4 tablespoons oil
16 ounces natural creamy peanut butter
2 tablespoons tomato paste
1 teaspoon ground allspice
1 Scotch Bonnet pepper, halved (or Habanero)
2 quarts chicken broth or water (if using water, dissolve 1 bouillon cube in the water)
2 green plantains, cut in half, skins left on
1 tablespoon roasted peanuts (optional)
Put a large pot of water to boil, to cook the plantains. While you are waiting for the water to come to a boil, start the soup. Once the water boils, add the plantains and cook for 30 minutes, until plantains are cooked through.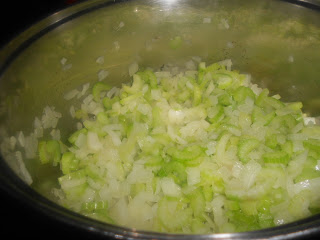 In a large pot, heat 2 tablespoons oil. Add onions and celery and cook until translucent, about 5 minutes. Remove from pot. Add 2 tablespoons oil and cook chicken, until light golden brown, about 5-8 minutes.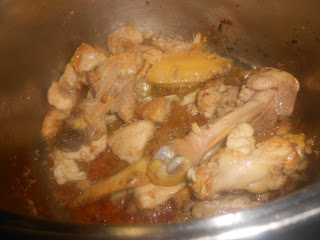 Put cooked vegetables back into pot. Add tomato paste, allspice, peanut butter, 2 cups broth or water and stir to combine.
Add the rest of the water and the Scotch Bonnet pepper. Bring to a boil. Reduce to a simmer and cook for about 30-40 minutes, until flavors have developed and chicken is cooked through.
Meanwhile, drain the cooked plantain as soon as it is cooked. While still warm, remove the skin. Using tongs, they should come right off. Mash the green plantain.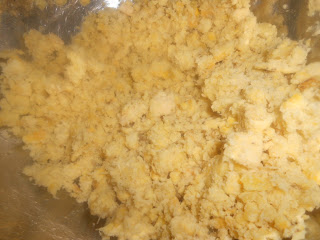 It is important to do this while the plantain is still hot. To make the Tom Tom, take about 2 tablespoons of the green plantain into your hands. Your hands must be wet. You will need to wet your hands after making each one. The moisture is needed for the plantain to stick together. Using your wet hands, form balls.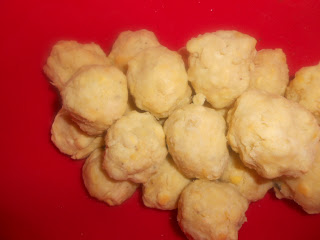 To serve, place a few of the tom tom in a bowl.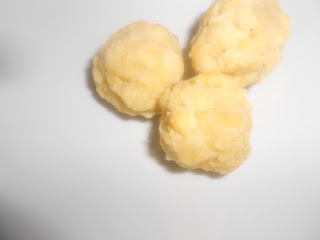 Spoon the soup over it. Garnish with a little roasted peanuts, if desired.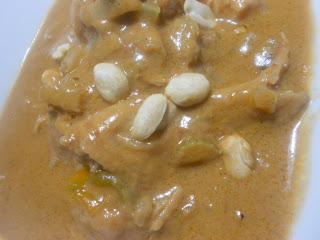 4/17/2012 Update:
Sending to Chicken Feast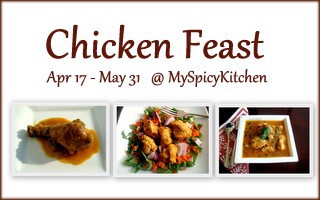 Sign up for our updates!
Subscribe to get our latest content by email and get your FREE Pantry Cheat Sheet - Learn the basics to cook any International cuisine!