Last Updated on December 30, 2020 by Chef Mireille
Pindakaas Soep – Suriname Style Peanut Soup with Chicken and Green Plantain Balls is a filling and hearty protein packed soup, perfect for the winter season.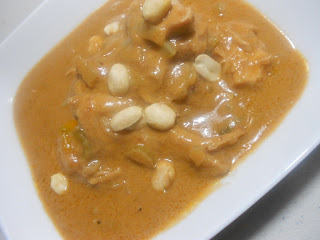 Have you ever tried Peanut Soup before? There are many versions around the world.
Where does Peanut Soup come from?
African Peanut Soup is ubiquitous throughout the continent with each country having their own version. This is one recipe that travelled the world. Where slavery existed, you will find a version of Peanut Soup.
Some parts of the southern United States like Virginia, the Caribbean and South America all have different versions of African Peanut Soup, adapted with local flavors.
In Suriname, due to the Dutch colonization, allspice and celery are key ingredients in our cuisine. Therefore, our version of Peanut Soup includes these ingredients with are central to Suriname cuisine.
In Suriname, peanut soup is always eaten with tom tom (little green plantain balls).
Although this recipe includes chicken, it is easily adaptable to vegetarians by using vegetable bouillon cubes and replacing the chicken with vegetables like carrots and potatoes.
About Suriname
My grandfather and many of my aunts, uncles and cousins are from Suriname. In fact, my family has a mango plantation there that any descendant can live on, if desired. Who knows – maybe I'll move there one day 😉
Suriname is the only Dutch speaking country in South America, located on the northeast coast. Originally it was one of the three Guyana's.
There used to be three Guyanas – British, French & Dutch. However, in 1975 Dutch Guyana earned independence from the Netherlands and became the country of Suriname.
Similar to Guyana, although located in South America, Suriname is economically and culturally linked to the Caribbean.
Suriname is one of the most diverse countries in the world with large communities of Indian, Indonesian, Chinese, African and Dutch people. Now you know why my family is so diverse!
In fact, it was with the Indonesian Surinamese part of my family that I learned this recipe from my aunt. That section of my family is Muslim as many Indonesian are. I was visiting them one year in the Netherlands, where much of my family migrated after Independence, right when Ramadan was ending.
To celebrate, my aunt prepared a big feast including this Suriname Style Peanut Soup. In Suriname, this delicious Pindakaas Soep is one of the ways the end of the Ramadan is celebrated with.
The only I change I made is that my aunt makes her own peanut butter. I just make sure to use all natural peanut butter, with no additional sugar added and achieve the same result with a lot less work.
Suriname Style Peanut Soup
There are a few unique qualities of the Suriname Style Peanut Soup that may be different to the African Peanut Soup's you may have had before.
Allspice
Due to the fact that Indonesia was also colonized by the Dutch, their colonial name of the Spice Islands is represented in Surinamese cuisine. Nutmeg, allspice, cinnamon and star anise permeate our cuisine in both sweet and savory recipes.
In this soup, it is seasoned with allspice as the only seasoning as allspice really does have a flavor that combines many smoky spices into one.
Tom Tom
The other unique quality of Pindakaas Soep met Kip is the inclusion of Tom Tom. Tom Tom of small balls made of green plantain. If you try to process green plantain alone into a dough, it can be really challenging.
The trick my aunt taught me was to add a little bit of grated cassava. This makes all the difference. You will find it very difficult to assemble the tom tom without the cassava. My aunt also will use freshly grated or frozen coconut, if she does not have any cassava.
Type of Chicken
You can use chicken thighs or drumsticks. I do not like to use chicken breast in soup because it dries out too quickly.
Whenever you cook chicken on the bone, the end result will have a lot more flavor. Therefore, I prefer to cook the soup with the chicken on the bone.
However, if you are cooking it for a dinner party and need more refinement in the end product or for small children, you can use boneless chicken thighs or drumsticks. If using boneless chicken, raise the chicken quantity to 2 lbs.
Suriname Style Peanut Soup
Suriname Style Peanut Soup with Chicken & Green Plantain Balls – Pindakaas Soep
Ingredients
1 ½

pounds

chicken pieces

including bones

1

large onion

chopped

2

stalks celery

chopped

4

tablespoons

oil

2

tablespoons

tomato paste

1

teaspoon

ground allspice

1/4

teaspoon

ground black pepper

16

ounces

natural creamy peanut butter

1

Scotch Bonnet pepper

halved (or Habanero)

2

quarts

chicken broth or water

2

bouillon cubes

salt

to taste
Tom Tom Ingredients
2

green plantains

cut in half, skins left on

¼

cup

grated frozen cassava

or coconut

1

tablespoon

roasted peanuts

optional garnish
Instructions
Let's first start the tom tom.

Bring a large pot of water to boil.

Add plantains and cook for about 30 minutes, until very soft.

Meanwhile, start the soup.

In a large pot, heat 2 tablespoons oil.

Add onions and celery and cook until softened and onions are translucnet, about 5 minutes. Remove from pot.

Add 2 tablespoons oil and saute chicken until light golden brown, about 5-8 minutes.

Put cooked vegetables back into the pot.

Add tomato paste, allspice, black pepper peanut butter, 2 cups broth or water and stir to combine.

Add the rest of the water, bouillon cubes and the Scotch Bonnet pepper. Bring to a boil. Reduce to a simmer and cook for about 30-40 minutes, until flavors have developed and chicken is cooked through.

Meanwhile, drain the cooked plantain as soon as it is cooked.

While still warm, remove the skin. Using tongs, they should come right off. Mash the green plantain.

Grind the plantains with the cassava in a

food processor

until you have a pliable plantain dough.

To make the Tom Tom, take about 2 tablespoons of the plantain dough into your hands, with wet hands.

You will need to wet your hands after making each one. The moisture is needed for the plantain to stick together. Using your wet hands, form balls.

To serve, place a few of the tom tom in a bowl

Spoon the soup over it. Garnish with a little roasted peanuts, if desired.
Notes
It is important to make the tom tom dough when the plantains are still hot. If you wait for them to cool, they will not grind into a dough.
If you don't want the soup to be too spicy, it is best to remove the Scotch Bonnet as soon as the soup is finished cooking.
Use 2 lbs. chicken if using boneless chicken.
Nutrition
Calories:
614
kcal
|
Carbohydrates:
31
g
|
Protein:
27
g
|
Fat:
46
g
|
Saturated Fat:
9
g
|
Cholesterol:
43
mg
|
Sodium:
957
mg
|
Potassium:
978
mg
|
Fiber:
5
g
|
Sugar:
13
g
|
Vitamin A:
658
IU
|
Vitamin C:
31
mg
|
Calcium:
53
mg
|
Iron:
2
mg
Did you try this recipe? Leave a comment below.
Please follow me on Instagram @chefmireille or tag me #chefmireille with your pics! I'd love to share them!