Last Updated on June 5, 2015 by Chef Mireille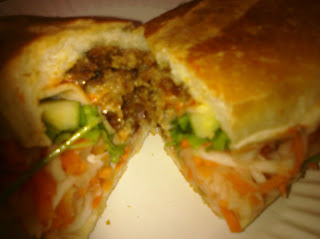 Last year, when I went on a mission to find the best Bahn Mi in NY, I found the best one to be Hanco's on Bergen. At the time, Hanco's only had 2 locations in Brooklyn. Now, they have opened a new location on one of the trendiest streets in Brooklyn, Montague Street in the most expensive neighborhood in Brooklyn, Brooklyn Heights.
I had jury duty recently and was trying to figure out what to have for lunch in expensive Brooklyn Heights, where the courthouses are located. I whipped out my smartphone and using my Yelp application, I found out that Hanco's had a new location just two blocks away. Perfect..I hadn't had a Bahn Mi in over a year!
Off I went to the new Hanco's. The atmosphere is definitely a great improvement over the cramped, Bergen street location. Two floor of seating. Light colored wood paneling and a large window make for a bright, cheerful setting.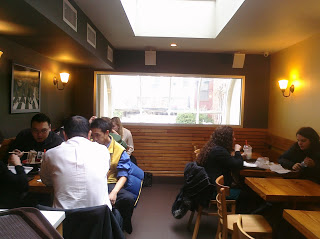 There is additional seating outside in the front that can be used, during the summertime.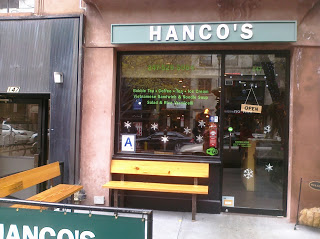 Although they have a full menu, everyone pretty much orders one of two things – Bahn Mi or Pho. As far as the Bahn Mi itself goes, I found it a little surprising that I did not enjoy the classic Bahn Mi as I had in the past. Maybe I am just over the Bahn Mi, after eating so many of them last year, when I was on my Bahn Mi kick. I found the meat to be not as flavorful – I came in right before the lunchtime rush, so they were not yet super busy. I felt the meat could have been browned a little more. My favorite part of the sandwich this time was the pickled vegetables. If I remember correctly, it was, when I went to the other Hanco's last year. When I was leaving, the lunchtime rush was in full swing, with the line about 15 people deep. Perhaps this busier location just isn't paying attentin to the details.
Maybe they were rushing, preparing for the busy period or maybe my penchant for the Bahn Mi has changed. I'm going to have to go back to the other location to compare.
Chef Mireille
facebook.com/GlobalTastes
twitter.com/GlobalTastes
https://digg.com/scribingchef
https://www.globaltasteinc.com/
[email protected]