Last Updated on June 22, 2023 by Chef Mireille
This post may include affiliate links.
Travel your Tastebuds with this authentic Caribbean Rice and Peas Recipe without coconut milk. It's easy to make and full of flavor. This Caribbean staple makes a delicious and flavorful side dish but so simple you can make it every day to compliment all of your meals.
Both the traditional stove top method and Instant Pot method is included for your convenience.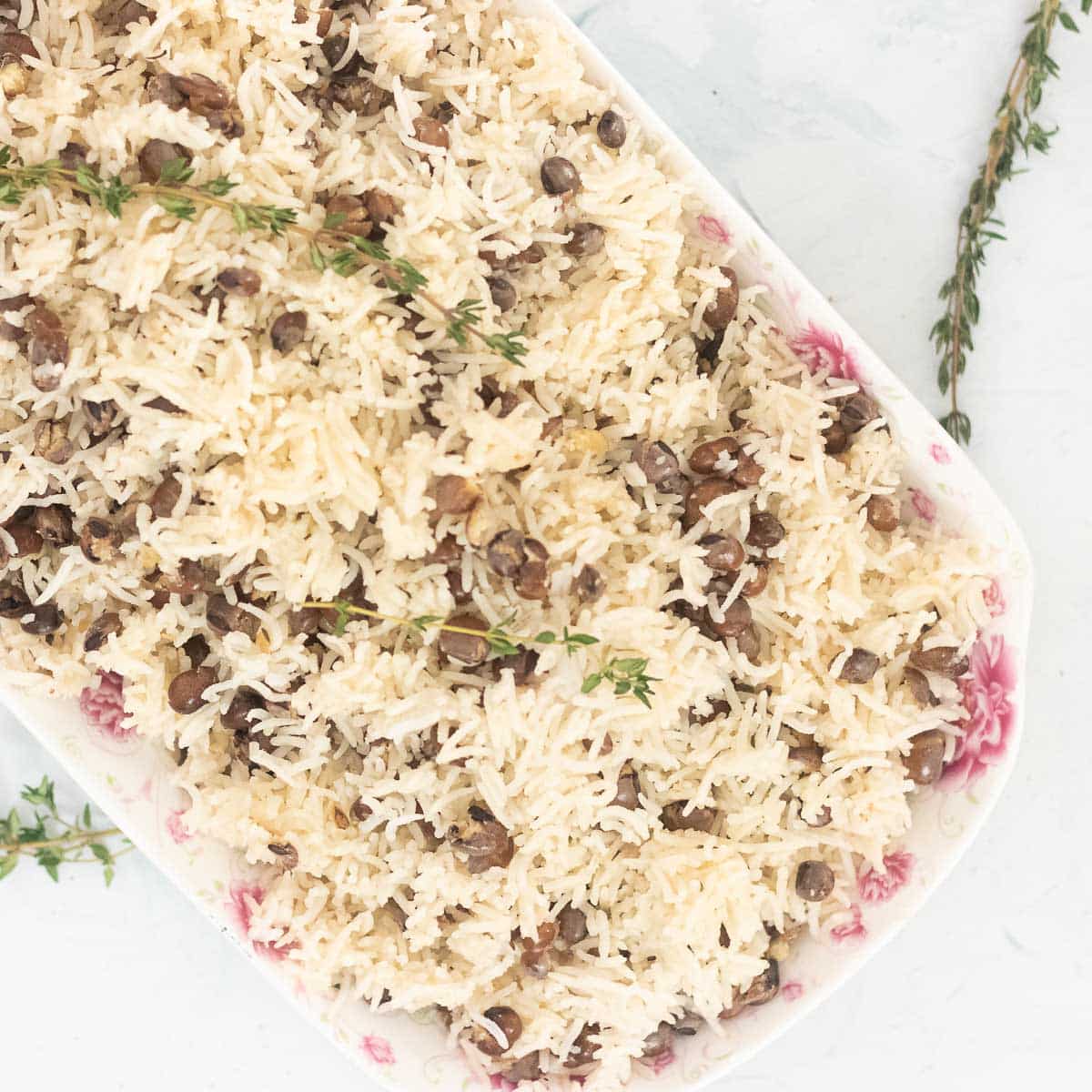 SUBSCRIBE TO CARIBBEAN RECIPES
Ready to spice up your kitchen with the vibrant flavors of the Caribbean? Sign up for our 10-week email series packed with authentic recipes and handy shopping lists!
Table of Contents
One of my pet peeves is that here in America Jamaica gets all the credit for many recipes that are ubiquitous throughout the Caribbean. From Brown Stew Chicken to Rice and Peas to Black Cake, many Americans think these are all Jamaican recipes. However, they are all Caribbean Recipes or West Indian recipes.
Since Jamaica is one of the largest Caribbean islands with one of the largest representations in America compared to smaller Caribbean islands like Dominica, Antigua or Curacao, they get all of the credit for delicious recipes that are made throughout the Caribbean.
Now don't get me wrong. I like Jamaican cuisine as much as the next person, I just don't think they should be the only ones getting the credit for things we all make.
While each Caribbean island is unique in its own way with island specific recipes, many recipes are common on many, if not all Caribbean islands and this is one of them. Now Jerk Chicken recipes totally belong to Jamaica, but not rice and peas!
Pigeon Peas
Though less common in American cuisines, pigeon peas are one of the most common peas used throughout the Caribbean and Latin America.
They can be purchased in three forms.
Types of Pigeon Peas
Dried – Make sure you purchase whole pigeon peas; not split pigoen peas available at Indian supermarkets. Like toor dal/ toovar dal. Just like any other dried beans, you should soak these overnight if making this recipe using the traditional stove top method. If using the Instant Pot, I still suggest soaking the peas for a few hours. Although they can easily be cooked in the Instant Pot without soaking, soaking releases the gases that lead to people having digestion issues with beans.
Canned – If using canned beans, you can skip the first part of the recipe, which includes cooking the beans. Just rinse the beans from the can and add it to the pot where adding the cooked beans is indicated.
Frozen Green Pigeon Peas – Defrost the frozen peas and then add the beans to the pot where adding the cooked beans in indicated.
Variations
It is very typical to make Caribbean rice and peas with fresh coconut milk. Jamaican Rice and Peas will most times include coconut milk or coconut cream. However, for many Caribbean islands, the coconut milk version is reserved for holidays, special occasions or maybe Sunday dinner. This pigeon peas and rice recipe is one we will have daily with out meals. The pigeon peas can also be substituted with red beans (kidney beans).
You can also add 1 tablespoon of green seasoning for added flavor.
If you can't take the heat, omit the hot peppers.
Frequently Asked Questions
Which type of rice should I use?
You can use any long grain rice. If using white rice, you can use any rice you prefer. I like using Jasmine Rice or Basmati rice for the flavor.
If you use brown rice, it is best to use parboiled brown rice. Raw whole grain brown rice will need more water and more cooking time.
If I am cooking rice and peas in the Instant Pot, do I still need to soak the peas?
While soaking the peas is not necessary to cook the peas until tender, it does help with digestion. Presoaking the peas releases the gases that cause digestion problems with peas and beans. However, you do not need to soak them overnight – 2-4 hours is ideal.
Are Scotch Bonnet chiles and Habanero pepper the same thing?
Although they are in the same family of the Capsicum Chinense species, there are slight differences.
They are both sweet with a slightly fruity flavor, however there is a slight bitterness in the taste of the habanero that is not present in the Scotch Bonnet pepper. Also, habaneros are slightly higher on the Scoville meter, which measures spice indexes of peppers.
Caribbean Rice and Peas Ingredients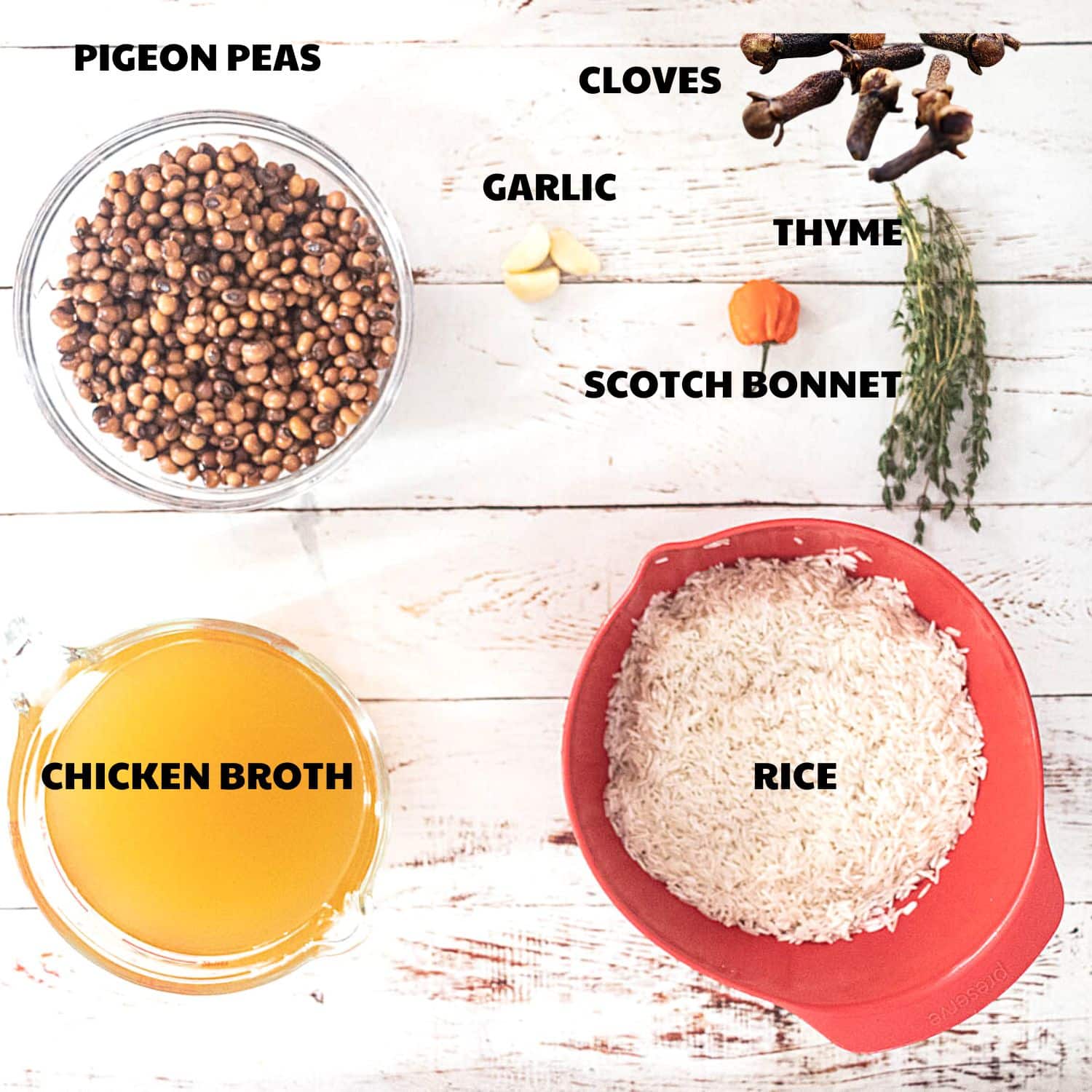 dried pigeon peas (canned or frozen can also be used)
bay leaves
garlic
fresh thyme
vegetable broth or chicken broth
long grain rice
whole cloves (or allspice berries aka pimento berries)
whole Scotch Bonnet pepper (habanero pepper)
How to Cook Caribbean Rice and Peas in the Instant Pot
Presoaking the beans is not essential, but it helps releases the gases to avoid digestion problems. Soaking for at least 2 hours is recommended.
Combine soaked peas, garlic cloves, thyme and bay leaves in the Instant Pot with 4 cups of water.
Cook for 10 minutes on natural release.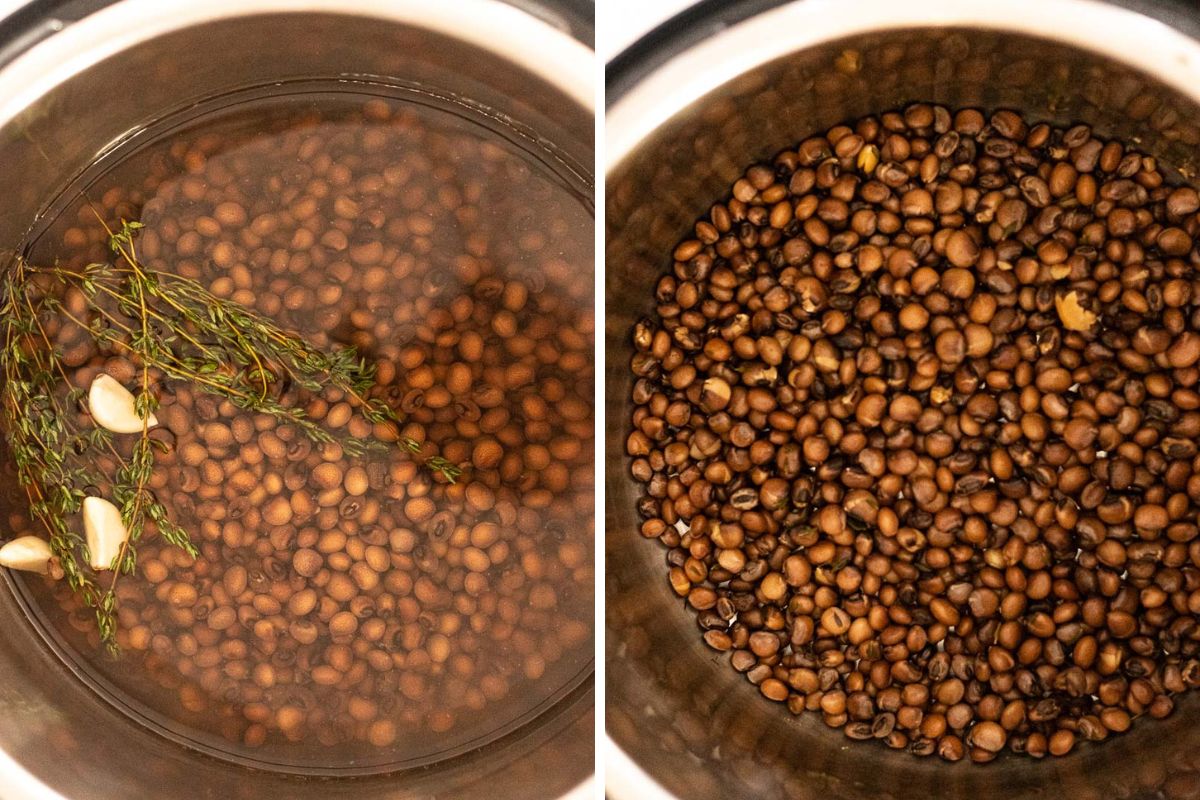 Add rice, broth, cloves, Scotch Bonnet pepper and salt.
Cook on 4 minutes on high pressure natural release.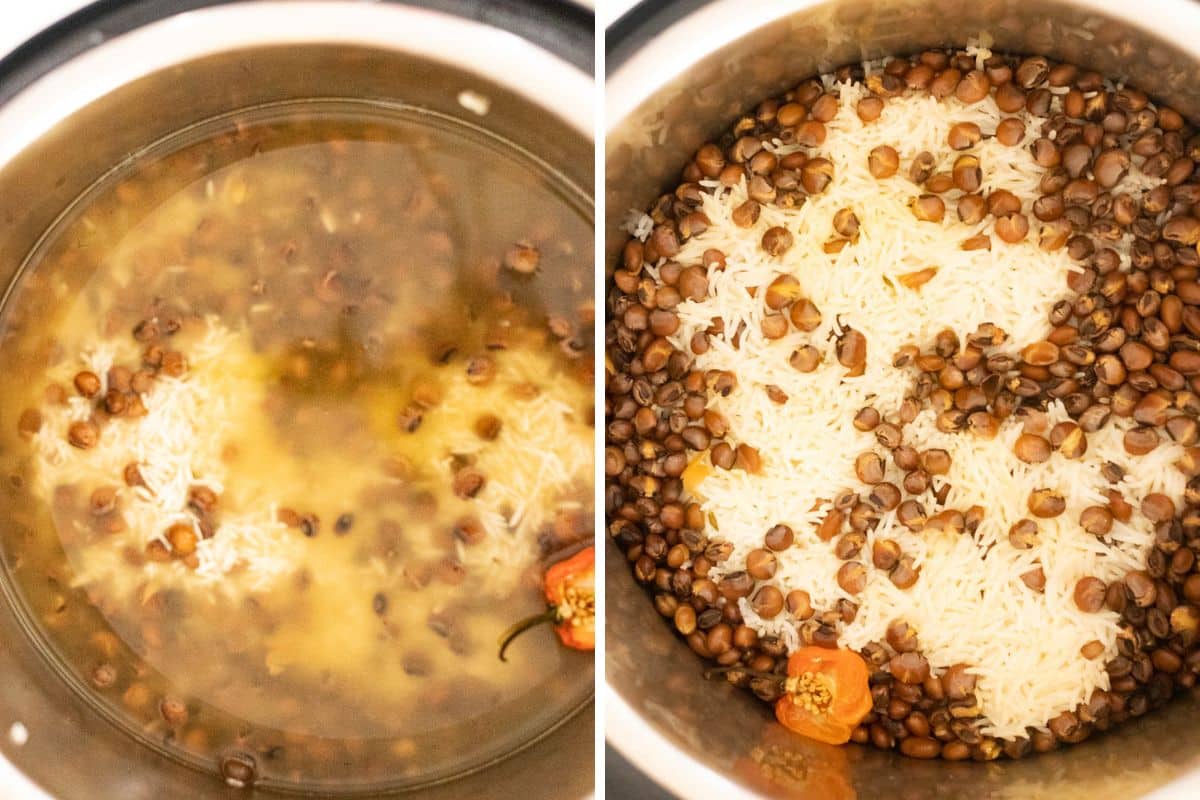 Remove the hot pepper.
Fluff rice with a fork.
If you're a fan of Caribbean cuisine, you won't want to miss this amazing Rice and Peas recipe. It's the real deal! It is a great compliment to most of the main dishes of the Caribbean.
Bring the taste of the Caribbean into your home with this mouthwatering Rice and Peas recipe. Your family will love it!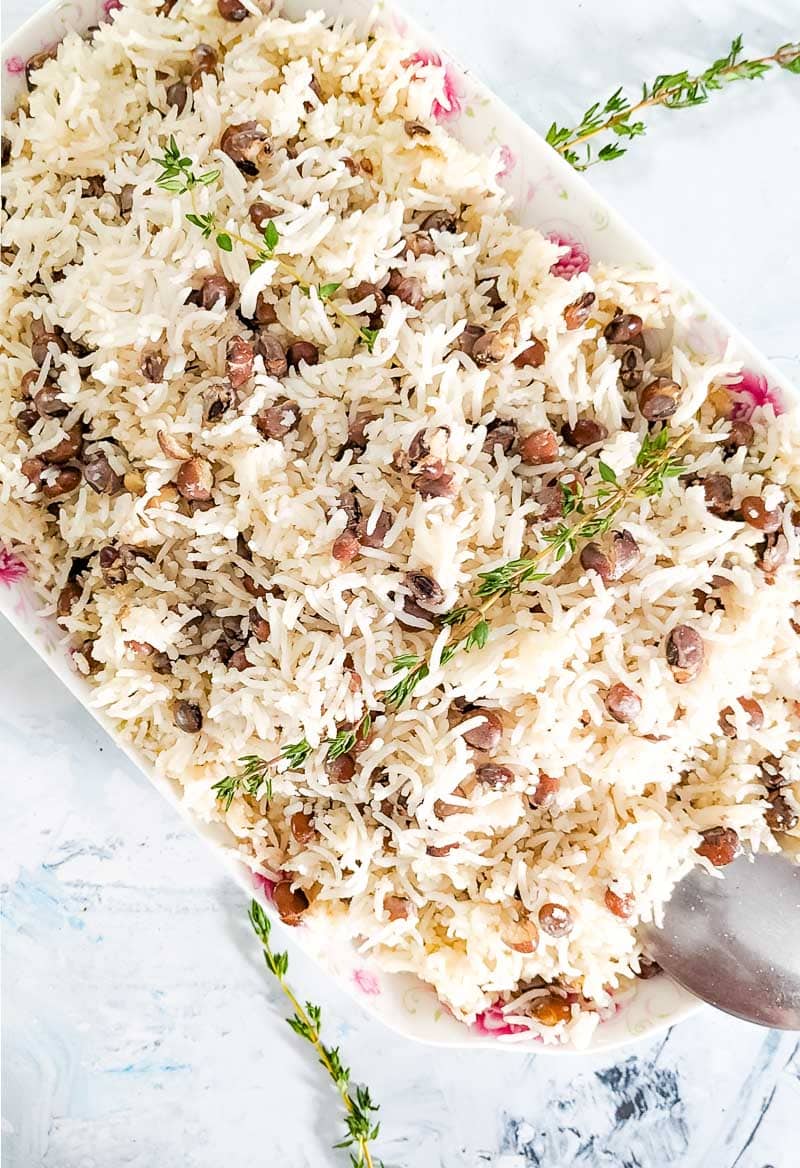 It almost seems ridiculous to post such a simple recipe, but the subtle flavors in this rice makes it the perfect side dish to any meal!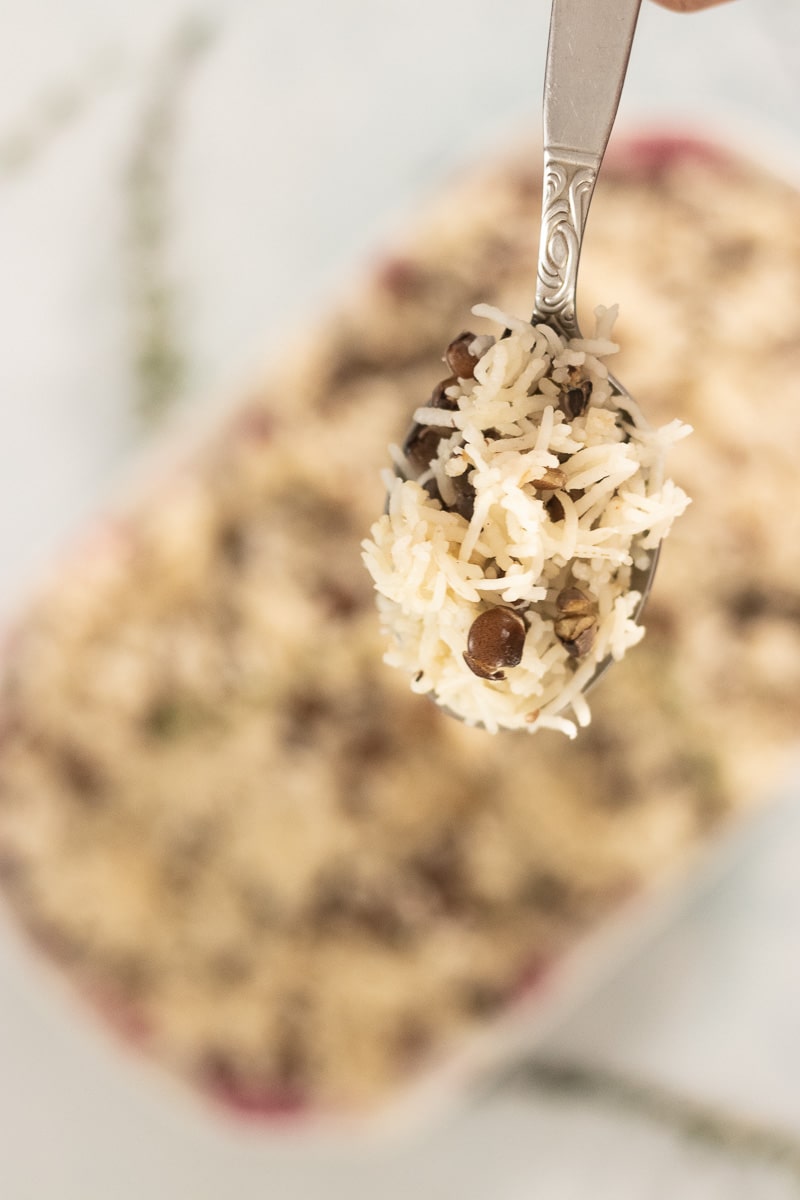 Make it a Meal
Incorporate it into a simply homestyle Caribbean meal with Creole Chicken, Fried Plantain and a simple salad of cucumbers and grape tomatoes.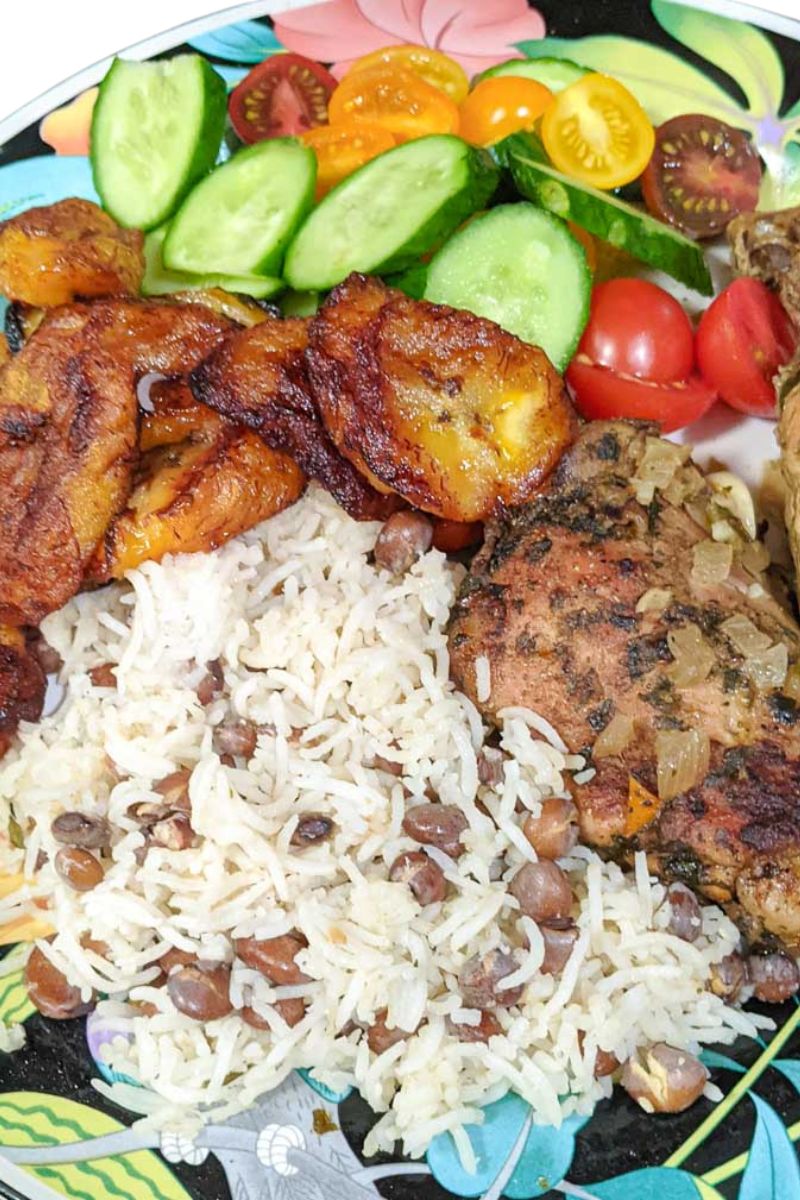 Rice Cooker Caribbean Rice & Peas
Ingredients
1

cup

pigeon peas

soaked overnight (sometimes red kidney beans are also used)

2

cloves

garlic

2

bay leaves

a few sprigs of thyme

3-4

cups

water or vegetable/chicken broth

3

cups

rice

3

cloves

or allspice berries

1/2

Scotch Bonnet pepper

or a whole Scotch Bonnet pepper, according to your preference

salt

to taste
Instructions
Instant Pot Method:
Soak beans for at least 1 hour, but preferably 4 hours.

In the Instant Pot, combine peas, garlic, bay leaves and thyme.

Add 4 cups water.

Cook for 10 minutes on natural release, if the beans were soaked for 4 hours. (Less soaking time will require more cooking time).

Most of the liquid will have evaporated, however, if you have remaining liquid, drain the peas.

Add rice and 3 cups vegetable broth.

Add Scotch Bonnet pepper, cloves and salt. Mix to combine.

Cook for 4 minutes on high pressure natural release.

Once natural release has occurred, open Instant Pot and discard the Scotch Bonnet pepper.

Fluff with a fork and serve.
Stovetop Method:
Place pigeon peas, garlic, bay leaves and thyme in a large pot. Add enough water to cover the peas.

Bring to a boil and reduce to a simmer. Cook on medium heat until peas are tender; about 1 hour.

Drain and discard garlic and thyme.

In a large pot, bring 4 cups water (or 1/2 water and 1/2 vegetable/ chicken broth).

Add rice, peas, cloves, hot pepper and salt and give it a stir.

Cover and cook on low heat.

Simmer for about 15 minutes, until all the water has been absorbed and rice is cooked.

Fluff with a fork.
Notes
Don't forget to rinse your rice.
Nutrition
Calories:
280
kcal
|
Carbohydrates:
61
g
|
Protein:
6
g
|
Fat:
1
g
|
Saturated Fat:
0.1
g
|
Polyunsaturated Fat:
0.2
g
|
Monounsaturated Fat:
0.1
g
|
Sodium:
5
mg
|
Potassium:
166
mg
|
Fiber:
2
g
|
Sugar:
0.1
g
|
Vitamin A:
8
IU
|
Vitamin C:
1
mg
|
Calcium:
30
mg
|
Iron:
1
mg
Did you try this recipe? Leave a comment below.
Please follow me on Instagram @chefmireille or tag me #chefmireille with your pics! I'd love to share them!
Now I know you want to try some more Caribbean food! Check out my collection with over 100 Caribbean Recipes from the Caribbean diaspora!