Last Updated on September 23, 2021 by Chef Mireille
Moksi Alesi is the Suriname version of Easy Cook Up Rice. This One-Pot Chicken and Rice Recipe with vegetables is an entire meal in one pot. As it includes meat, grains and vegetables, nothing else is needed for dinnertime.
Are you looking for a new dinner recipe?
Moksi Alesi (mawk-si ah-lay-si) which means mixed rice in our local Sranam language is one of the most popular dishes in Suriname. It has many variations but the most popular is made with rice, chicken and vegetables, but it has an extra secret ingredient that makes it taste like nothing else – star anise! This unique flavor gives this dish its own special kick. You won't find another dish quite like this anywhere else.
Throughout the Caribbean, there are many versions of cook up rice or pelau – a one pot dish of rice, meat and vegetables. Due to the Indonesian influence of Surinamese cooking, the pervasive star anise gives the Surinamese Moksi Alesi it's unique flavor profile.
There are so many reasons to love cooking up moksi alesi at home tonight! First of all, this easy dinner recipe only takes about 30 minutes from start to finish so you can have dinner on the table in no time flat. Plus, it is adaptable to whatever you have in the refrigerator.
I guarantee the entire family will be asking for seconds once they get their first bite of Moksi Alesi! So read on to learn more about how easy cooking up this One Pot Chicken and Rice really is!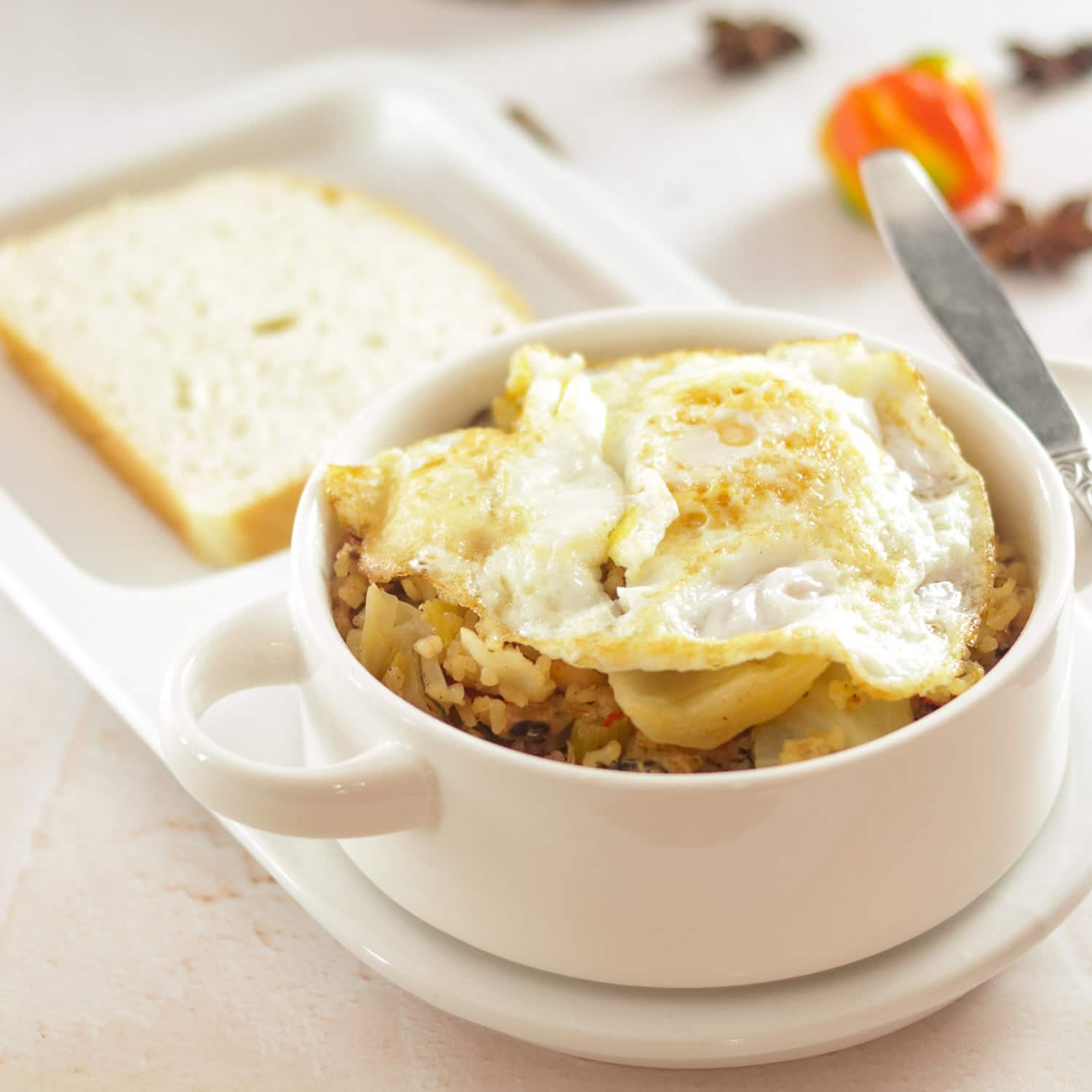 This post may include affiliate links.
Although here in America I often make Moksi Alesi for dinner, traditionally it is a breakfast dish in Suriname, utilizing whatever leftover meat and vegetables there is from the previous night's dinner
Suriname Style Breakfast Rice can be made vegetarian or with meat. Although I am showing you a fresh version here, you can make with any leftover meat or veggies you have about.
You can eat it alone as is or serve it with a fried egg and a slice of bread, as we often enjoy it for breakfast in Suriname.
This one pot meal can be adapted in so many ways. It can be made simple with just chicken and rice and one vegetable or you can make it packed with veggies and protein like I did in this version.
This is the perfect no waste recipe as you can utilize whatever bits and bobs of veggies you have in the refrigerator that need to be utilized before it's time for the trash. It's also a great way to utilize leftovers from Thanksgiving and Christmas.
Holiday Leftovers
With the holiday season fast approaching this is a delicious meal to serve the day after Thanksgiving or Christmas. You can just dump your holiday leftovers into this instead of using fresh chicken. Some popular holiday leftovers you can dump into this Cook up Rice are:
roast turkey
baked ham
glazed carrots
autumn succotash
So if you have ever wondered what is a typical meal in Suriname, here's breakfast for you!
Nasi Goreng is also a common breakfast item in Suriname due to its large Indonesian population. While Nasi Goreng is basically a version of Fried Rice, this version you can easily make at a moment's notice as you don't need leftover cooked rice to make it.
Moksi Alesi is the Spiced Rice version where you don't need to have pre cooked rice ready to whip it up quickly.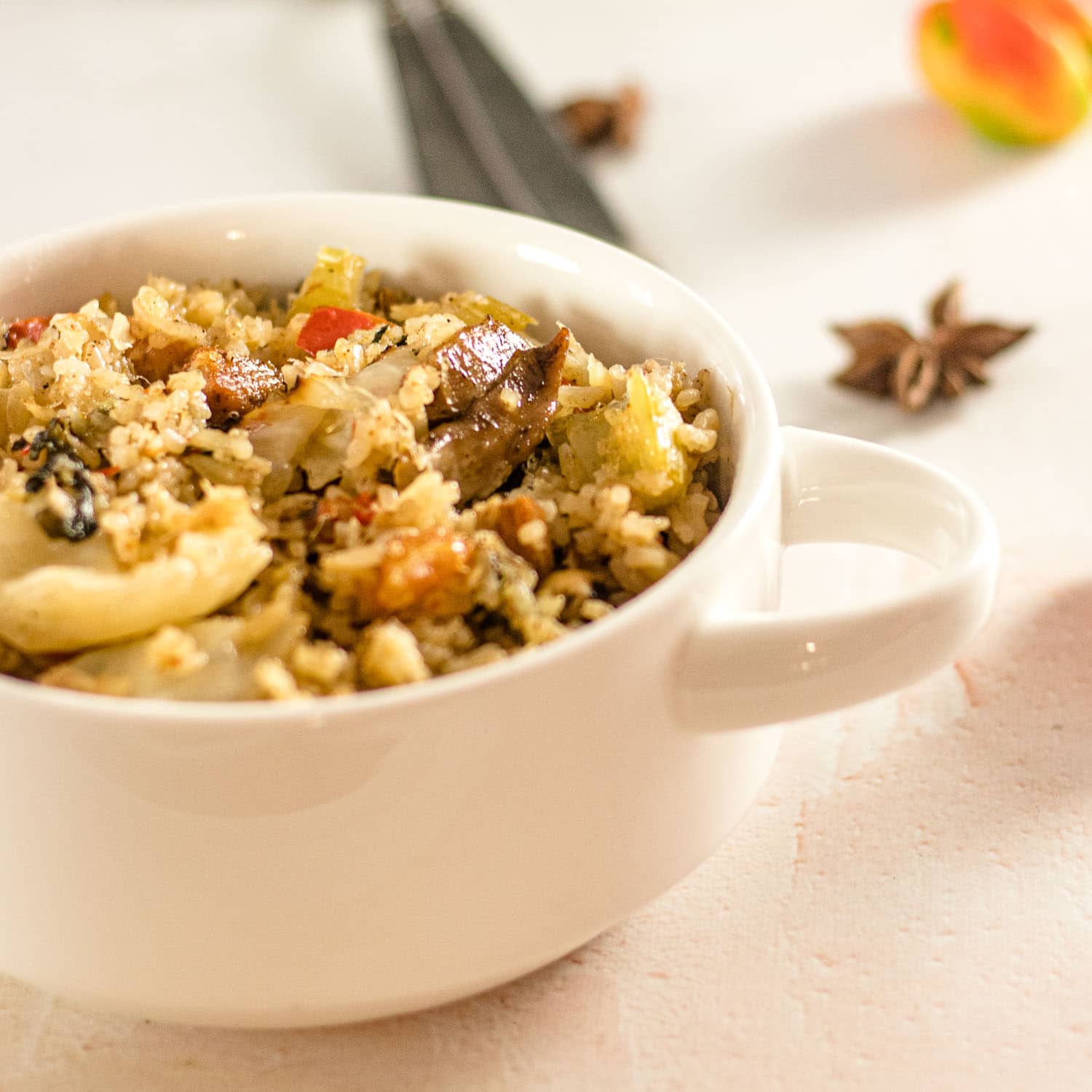 Before we get to the recipe, let's talk a little about Suriname as I often get the question where the heck is that? when I tell people my grandfather is from Suriname and much of my extended family still lives there.
Suriname
Suriname is the smallest independent country in South America, located on the northeastern coast.
Formerly a Dutch colony, it is one of the most diverse countries with large communities of Indonesian, Chinese, Indian, African and leftover Dutch descendants – all mixed up in this small country that is mostly uninhabited as 90% of it is jungle.
With a small population of about half a million, there is a lot of cross cultural relations. Now you know why I present so many diverse cuisines – they are all included into my immediate family.
Learn more about Suriname
Check out my Suriname Travel post here
Are you a homeschooling parent or virtual educator? Join Kids Korner and get access to the Suriname Info Packet plus educational packets on more countries….
Now to the recipe!
I only used the veggies included in the recipe because that is what happened to be in my refrigerator, but you can use any other vegetables you have like carrots, bok choy and zucchini.
Most of the meat and vegetables can be adapted to whatever you have about, however, the dried salted cod, also called saltfish or bacalao is required. Like many Caribbean islands, saltfish is a common addition to many meals and is a staple of Caribbean cooking. My Tante Margot (aunt) would never dream of making Moksi Alesi without salt cod.
Specialty Ingredients
Bacalao (dried salted fish)
Dried Salted Fish – usually cod or hake – also known as bacalao is a common ingredients used in many countries including the Caribbean and South America.
The fish is preserved by salt. Therefore it is essential that you soak off the salt before you use it.
This prep work can be done the night before. Then just put the fish in the refrigerator until you are ready to make your Breakfast Rice – Moksi-Alesi the next morning.
This is one of the essential ingredients always included in our Cook Up Rice because most people will always have some prepared in the refrigerator to add to a variety of rice and veg dishes we make.
The only reason it is excluded is if we are making a Vegetarian version of Moksi-Alesi, our Breakfast Cook Up Rice.
Spices
Star Anise and allspice permeate Surinamese cuisine and they are generally not mixed with other spices.
This way the smoky sweet flavor of these spices can shine in the dish.
Madame Jeanette Pepper
What the rest of the Caribbean calls the Scotch Bonnet pepper, is called Madame Jeanette peppers in Suriname.
So if you are ever reading a Surinamese recipe and you see Madame Jeanette pepper, now you know what they are talking about.
You can easily substitute the Habanero pepper, which is closely related to the Scotch Bonnet.
Variations
Suriname Style Cook Up Rice is so adaptable to whatever you have on hand:
You can make it a little more fancy and veggie forward and pack it with vegetables and various proteins as I did here.
Keep it simple with just one vegetable and chicken.
Make it Vegetarian and omit the chicken, ham and salt cod.
The Ingredients
Don't be overwhelmed by the long list of ingredients. These are mostly basic ingredients you most likely already have in your kitchen. Regardless you can omit any of the protein and vegetables you don't have.
What is so great is this dish is so adaptable to whatever you have in your refrigerator and a great way to use up any leftovers.
chicken (you can use chicken on the bonor boneless skinless chicken thighs). You can use white meat like skinless chicken breasts, but I definitely think you will get more flavor from the dark meat.
ham
dried salt cod
oil
onions
garlic
celery
bell pepper
Scotch Bonnet pepper (habanero)
tomato
cabbage
spinach
frozen green peas (and/or corn)
cooked black eyed peas (or canned)
star anise
ground allspice
rice (Any long-grain rice. You can even use Jasmine Rice, Basmati Rice or parboiled brown rice)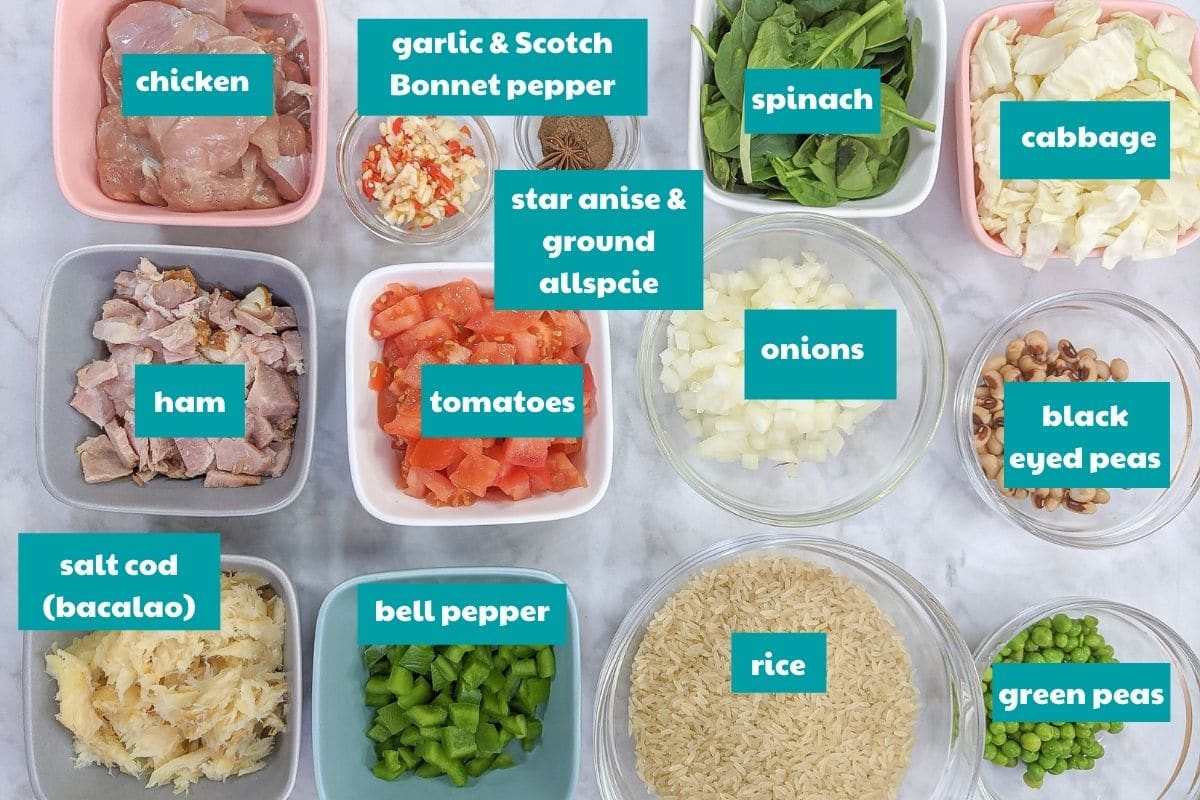 How to make Cook Up Rice
How to Prep the Salt Cod
Soak the salt cod for about 2 hours to remove the excess salt.
Change the water and boil the fish until it is cooked, about 15 minutes.
Once the fish is cool enough to handle, drain it and shred the fish by hand.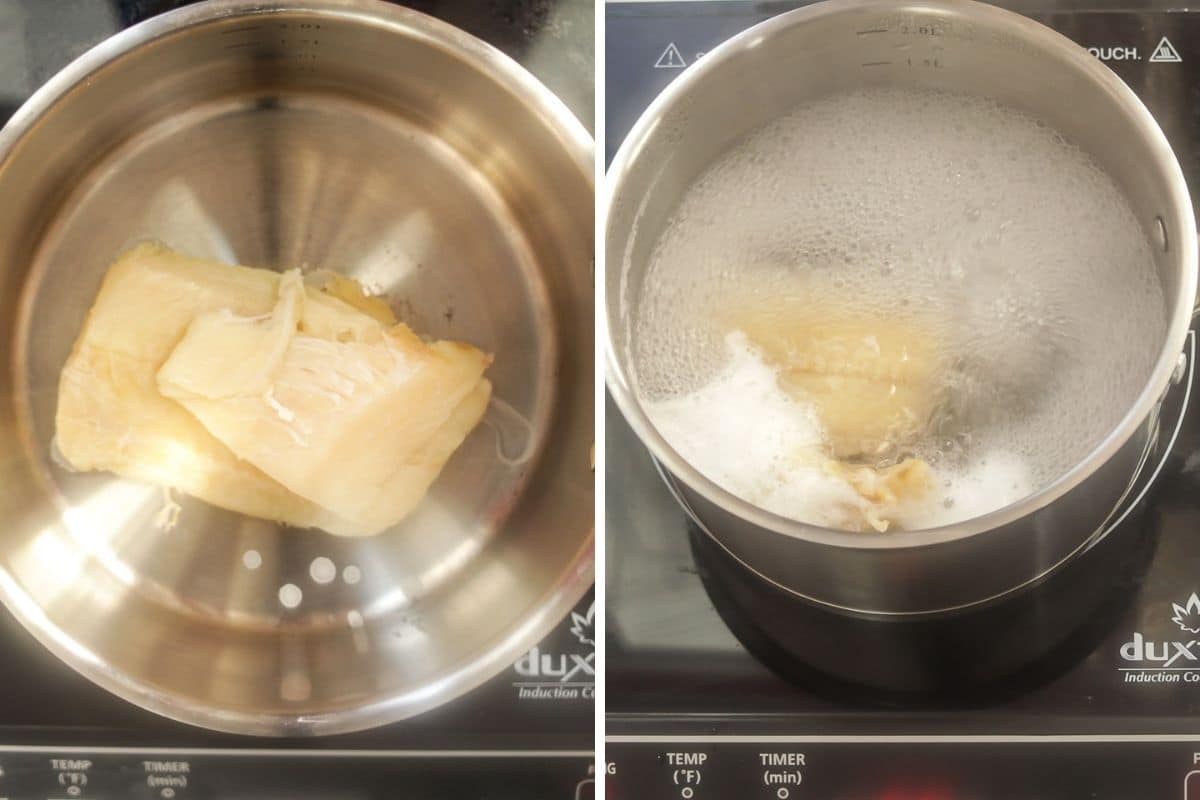 Season chicken with black pepper and allspice.
In a large Dutch oven or similar pot, brown chicken pieces and ham.
Add seasoning vegetables.
Add the rest of the vegetables.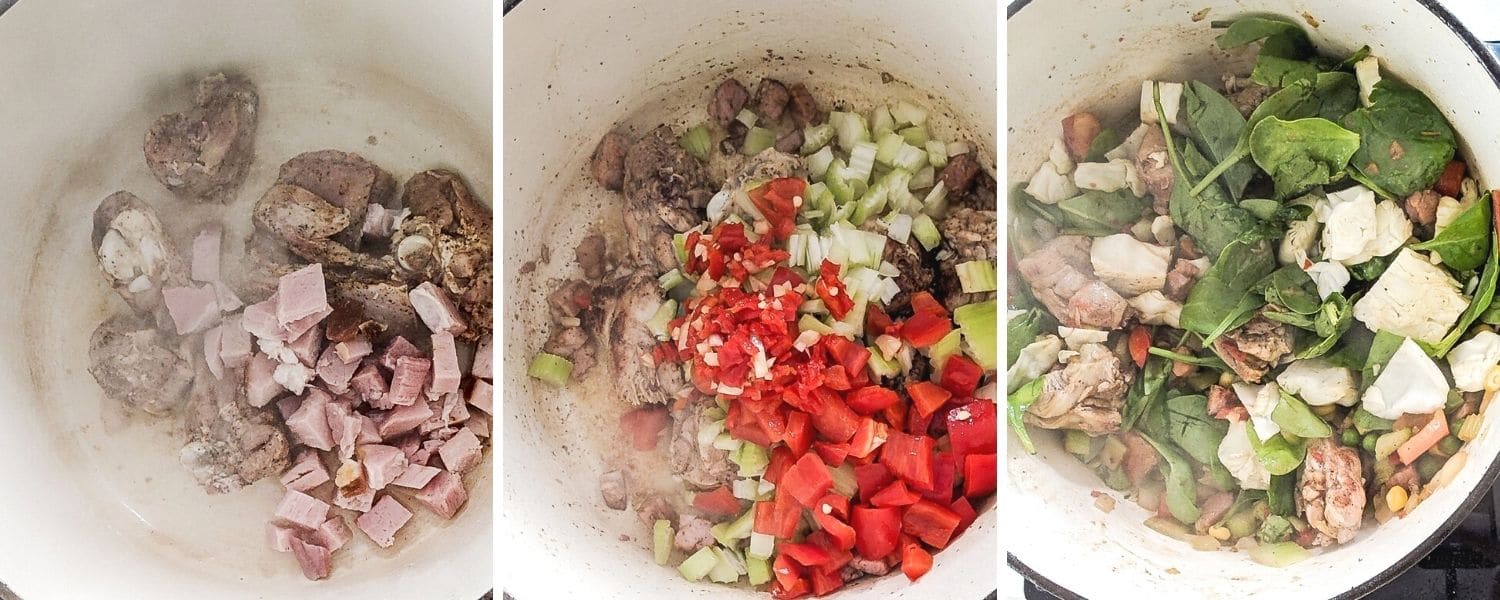 Add black eyed peas, salt cod and spices.
Add water or chicken broth and bring to a boil.
Add rice.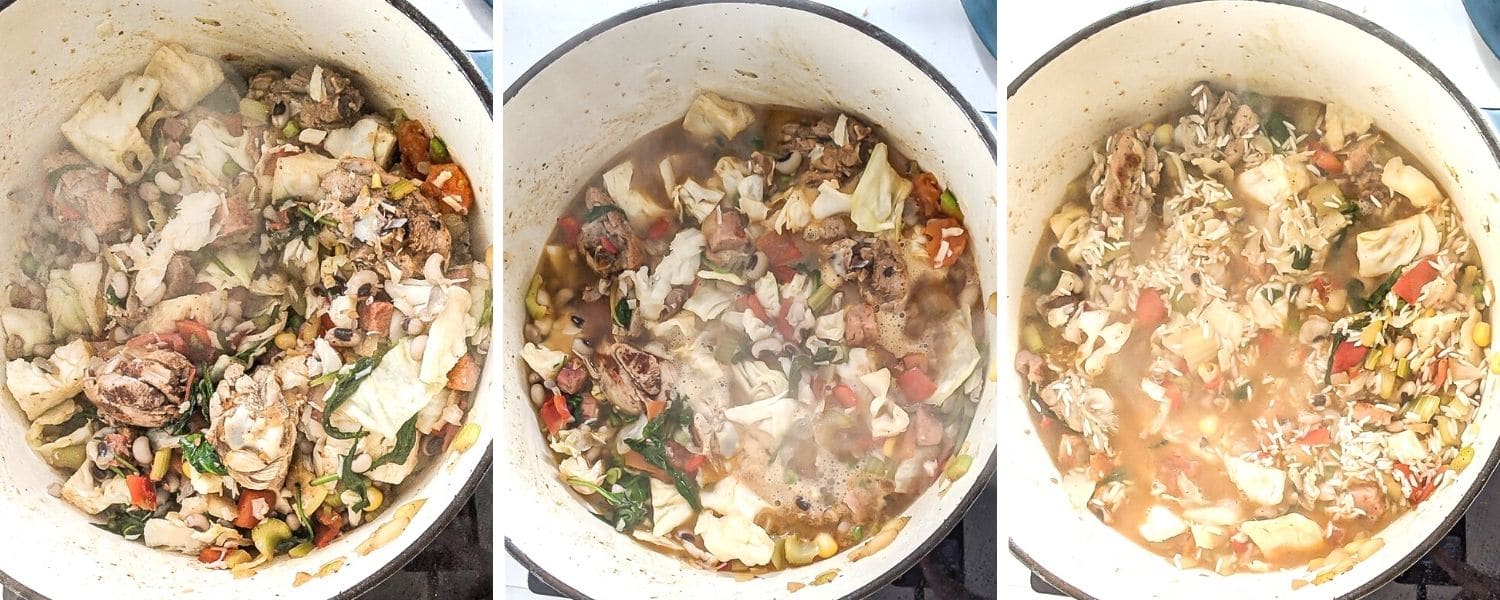 Cover and cook on a medium heat until rice is cooked and water has been absorbed.
This is the perfect one pot meal with fluffy rice made even more delicious with extra veggies and a variety of proteins.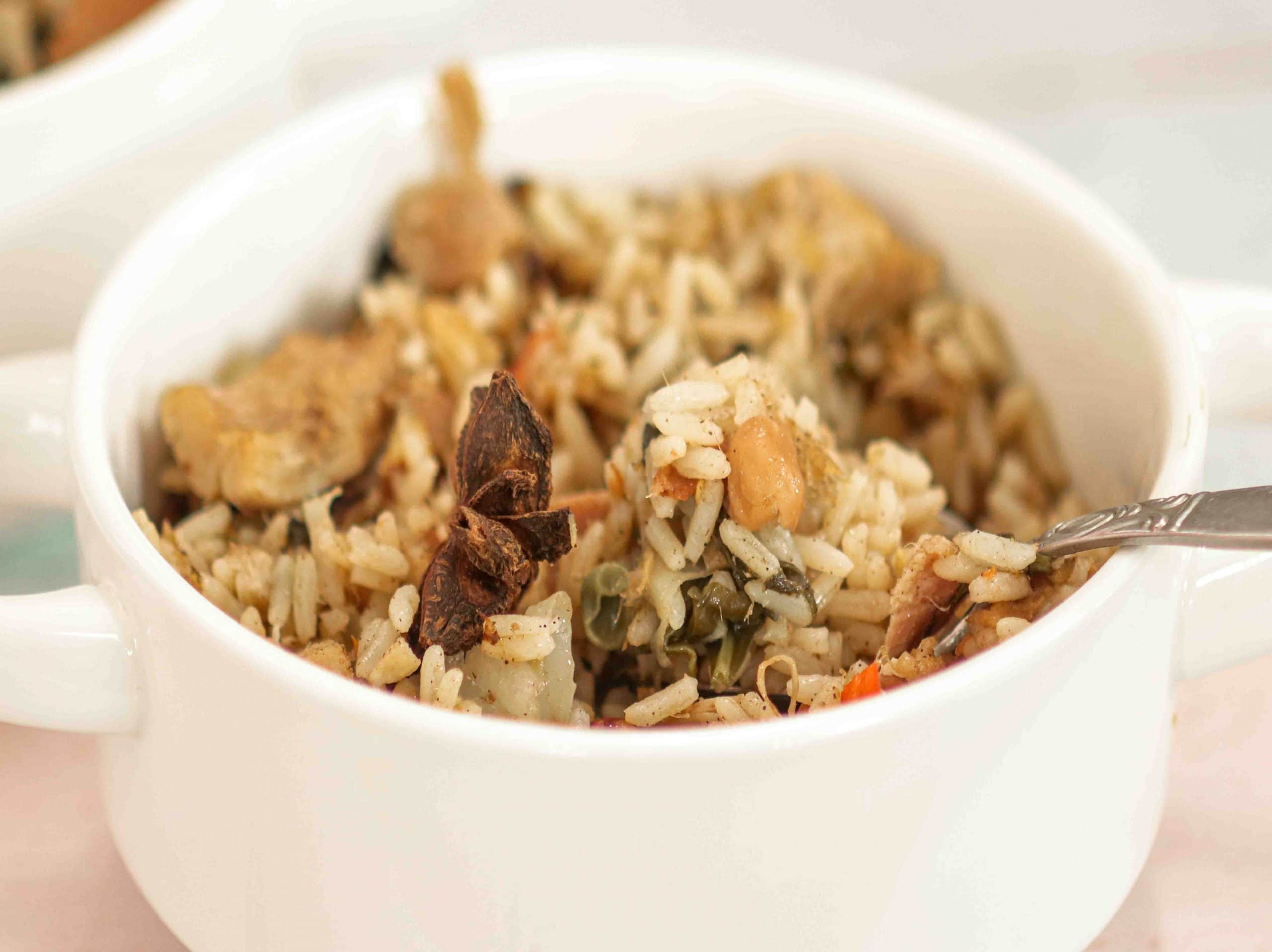 When we have it for breakfast, it is often served with a fried egg and a slice of bread. Can you think of a more perfect dish to celebrate a holiday morning with?
Suriname Food is one of the most multi cultural cuisines in the world with many influences, including Indonesian, Indian, Chinese and African. This great recipe is just one example of our delicious fusion cuisine.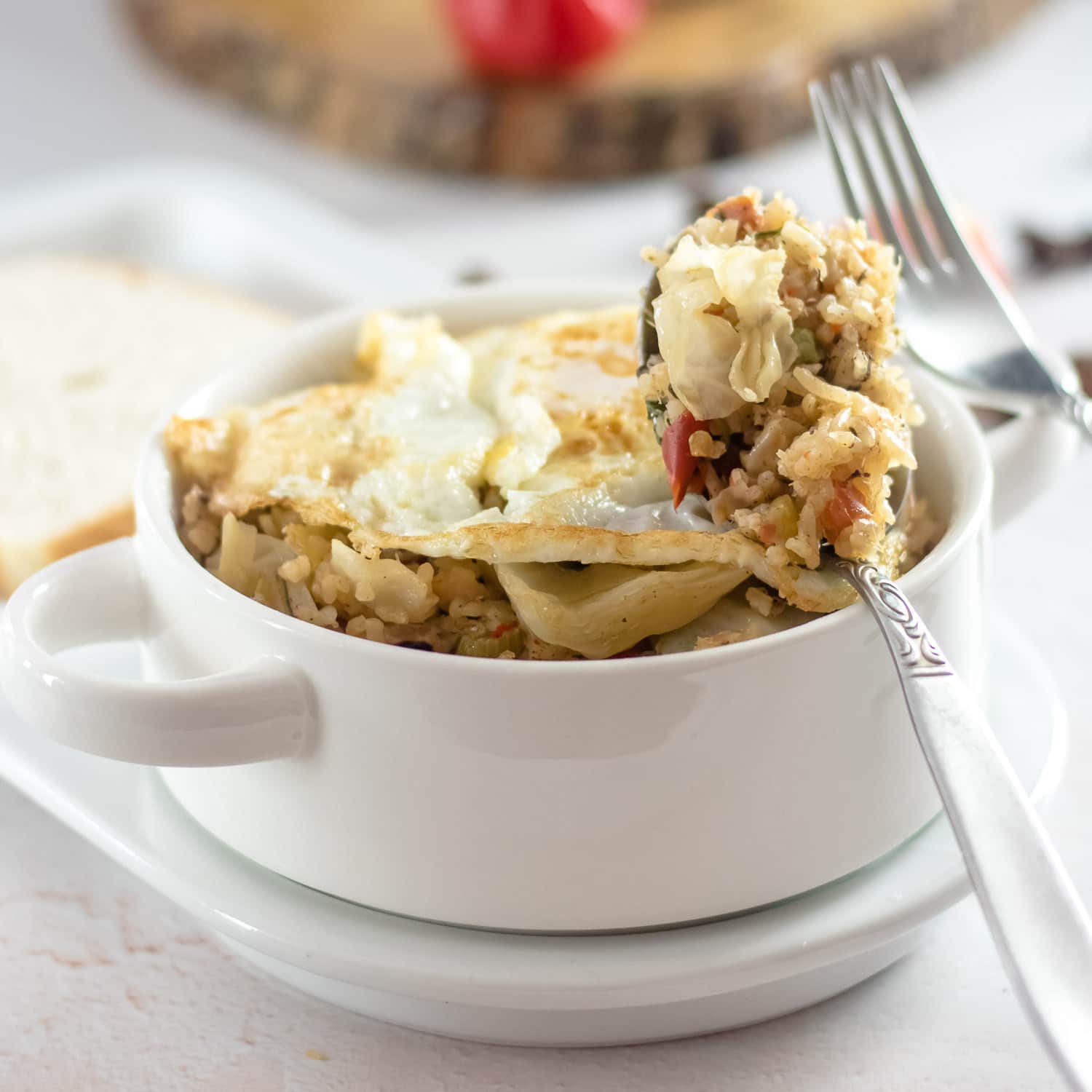 How to Store Leftovers
Let your Moksi Alesi cool completely at room temperature.
Store in an airtight container in the refrigerator for up to 3 days.
Additional leftovers can be stored in the freezer for up to 3 months.
One of the best One Pot Rice Dinners you will ever have!
Suriname Style Cook Up Rice
Moksi Alesi is a one pot chicken and rice meal that can be made simply or more complex depending on the variety of meats and vegetables you choose to include. An adaptable recipe to any leftovers you may have.
Ingredients
Ingredients:
2

tablespoons

oil

2/3

cup

chopped ham

1

chopped onion

2

garlic cloves

finely chopped

1

Scotch Bonnet pepper

habanero

½

bell pepper

chopped

1

chopped tomato

1

cup

baby spinach leaves

1 1/2

cups

chopped cabbage

½

cup

green peas

½

cup

black eyed peas

5

oz.

dried salted cod

soaked and cooked

2

star anise

1

teaspoon

ground allspice

2

cups

rice
Instructions
Place the cod in a pot with enough water to cover.

Boil until cooked through, about 10 minutes.

Strain the fish and reserve the cooking liquid.

Cut the chicken into small pieces.

Season the chicken with the ground star anise and black pepper.

As soon as the fish is cool enough to handle, flake the fish by hand.

In a large dutch oven or similar pot, heat oil.

Add chicken and ham.

Cook for about 5 minutes, until golden brown.

Add onion, garlic, Scotch Bonnet Pepper and bell pepper.

Saute until vegetables soften.

Add tomato, spinach, cabbage, green peas and black eyed peas.

Cook for about 5 minutes, until cabbage has softened.

Add cooked salt cod, 2 cups water (or chicken broth), star anise, and allspice.

Bring to a boil.

Add rice and reduce to a medium high heat.

Cover and cook on a medium simmer for about 15 minutes, until the rice cooks.
Notes
Use chicken broth or chicken stock instead of water for additional flavor. You can also add a bouillon cube, if you like.
To prepare the salt cod:
Soak the salt cod for about 2 hours to remove the excess salt.
Change the water and boil the fish until it is cooked, about 15 minutes.
Once the fish is cool enough to handle, drain it and shred the fish by hand.
Depending how salted the fish is, you may have to repeat the soaking process. You need to use your judgement. If it is caked in a layer of salt, then you would do the process twice. If it is only lightly salted, once will be enough.
Nutrition
Calories:
392
kcal
|
Carbohydrates:
46
g
|
Protein:
25
g
|
Fat:
11
g
|
Saturated Fat:
3
g
|
Polyunsaturated Fat:
3
g
|
Monounsaturated Fat:
5
g
|
Trans Fat:
1
g
|
Cholesterol:
58
mg
|
Sodium:
1492
mg
|
Potassium:
648
mg
|
Fiber:
3
g
|
Sugar:
4
g
|
Vitamin A:
813
IU
|
Vitamin C:
28
mg
|
Calcium:
86
mg
|
Iron:
2
mg
Did you try this recipe? Leave a comment below.
Please follow me on Instagram @chefmireille or tag me #chefmireille with your pics! I'd love to share them!
Don't forget to visit the RECIPE INDEX with over 1000 recipes from around the world including lots of Vegetarian Recipes and Gluten Free Recipes!