Last Updated on September 16, 2021 by Chef Mireille
Caribbean Pumpkin Soup is a classic recipe, with all islands having their own variations of this Spicy Pumpkin Soup. This version is made with smoked meat, a characteristic of many of the smaller British and French Caribbean islands.
Although Jamaican Pumpkin Soup may be the most popular in the United States, due to them having the largest representation of Americans of Caribbean decent, there are many versions that are just as delicious.
Fresh Pumpkin and Scotch Bonnet Peppers are the core ingredients that every West Indian Pumpkin Soup starts with and then the interpretations on each island and of each family, can vary. Since it starts with the Scotch Bonnet, all Caribbean Pumpkin Soup variations are a Spicy Pumpkin Soup.
This Spicy Pumpkin Soup can be Vegetarian or sometimes made with meat. Homestyle Pumpkin Soup in the Caribbean can happen several types a week. Therefore, it will vary in the type of meat, if any, is added to it for variety.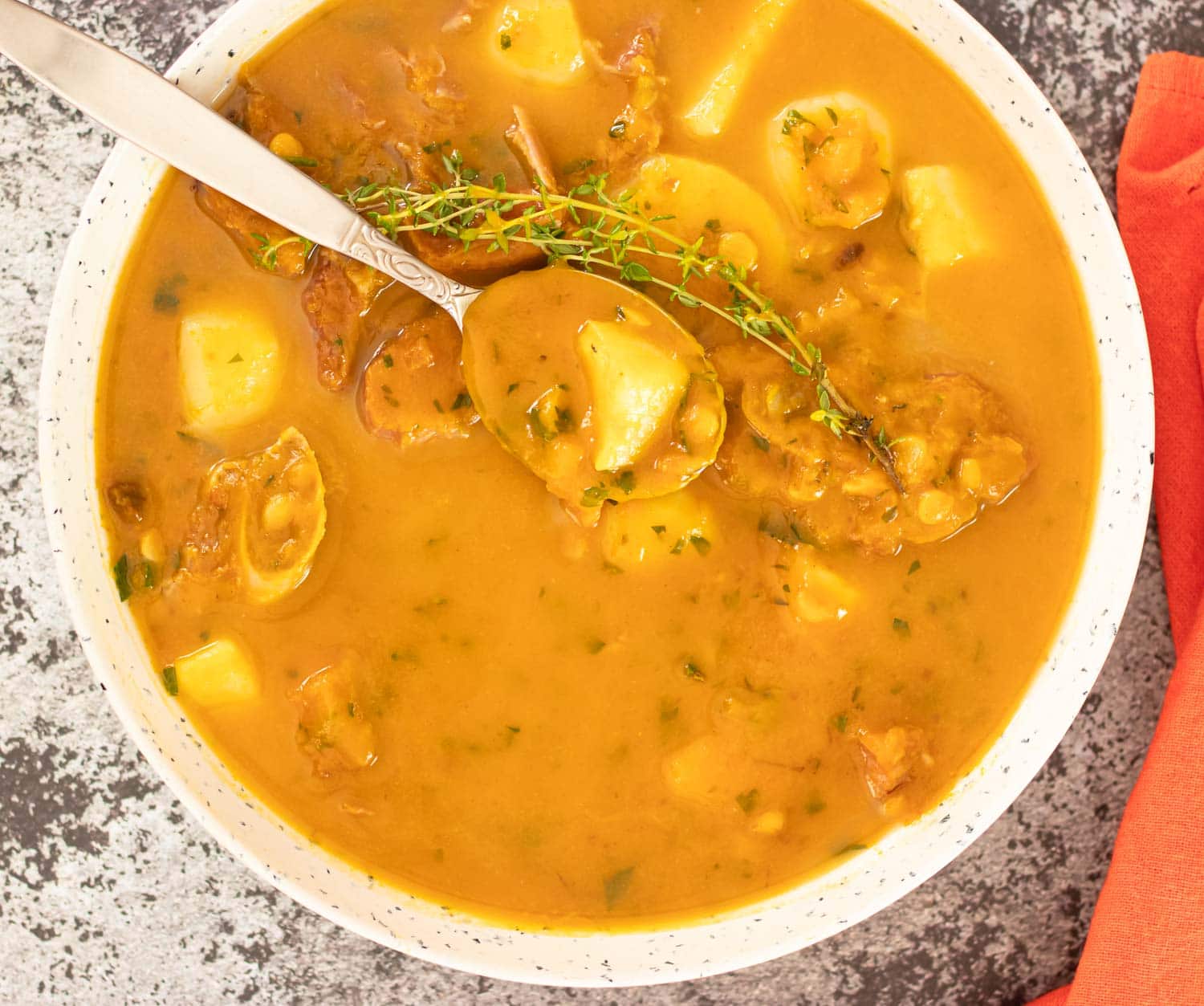 This post may include affiliate links.
My family comes from some of the smaller islands like Dominica and Aruba, where little is known in America about the traditional cuisines of these small islands. Therefore, I have appointed myself to teach you all about what you're missing out on by not having experienced the French influenced cuisine of Dominica and the Dutch influenced cuisine of Aruba.
Although not specific to Dominica only, this type of homestyle West Indian Pumpkin Soup you will find on many of the smaller islands like Martinique, Guadeloupe, Antigua and Anguilla.
What's the difference with Jamaican Pumpkin Soup?
With Jamaican Pumpkin Soup, it is usually made with fresh chicken unless it is the Vegetarian Pumpkin Soup version.
In the smaller Caribbean islands, the use of smoked meat is more prevalent. I remember the first time I visited Dominica as an adult, I was amazed at the variety of smoked meat in the supermarkets. Just like we have chicken wings, chicken thighs, pork chops, etc. , in Dominica, all of these meat varieties were smoked there.
I think the reason is that with these smaller islands, modern things like refrigeration came much later, therefore, they needed a way to preserve meat.
This version of Pumpkin Soup is closer to the versions you may find on islands like Dominica or Antigua.
The smoked meat really adds a unique flavor profile – smoky and salty. You will find you need very little additional salt, if any.
What type of pumpkin is the best?
There are many classifications of winter squash that can be classified as pumpkin. Everything from tender Butternut Squash to hearty Acorn Squash.
However, in the Caribbean we basically use two varieties of pumpkin, which has now become widely available in the United States.
Both of these Pumpkin Varieties have bright orange flesh:
Calabaza can be very large in size so very rarely sold whole, but cut up. The skin ran range from tan to golden with light green accents.
Kabocha has a dark green skin and are usually smaller in size, therefore they can be sold whole or cut up.
Pick your own Pumpkins at your local UPICK FARM
Now that you know all about the different types of pumpkin, in my opinion, the best pumpkins are always the ones you pick yourself so if you have the time I suggest going to visit a local UPICK farm. Pick fresh seasonal produce at local farms. There are locations throughout the United States and remember fresh is always best!
Either of these two pumpkin varieties are good options for Caribbean Pumpkin Soup. Caribbean people do not utilize canned pumpkin for soup so I have never done it, however, if fresh pumpkin isn't available, I don't see any reason why you can't make this Spicy Pumpkin Soup with canned pumpkin since the base is a puree.
Us Caribbean People LOVE our Pumpkin and use it in so many ways – both in Savory Recipes & Sweet Recipes. If you are as pumpkin obsessed as I, make sure to check out this collection of Over 30 Pumpkin Recipes!
Seasoning
Caribbean Seasoning is not just salt and pepper. When a Caribbean person says they added seasoning, this can be any combination of onion, garlic, ginger, bell peppers, celery, carrots and thyme.
What is included is really dependent upon whatever you have in your refrigerator but the required ingredients are onion, garlic and bell pepper. With my Mom being from Aruba, I probably use more bell pepper than most. In the Dutch Caribbean, we love our bell pepper. However, you can adjust the quantities according to your own preference.
Usually, this is all chopped up together once a week and kept in the refrigerator to add to most food cooked – we add it to rice, soup, vegetables, meat marinades and would definitely add flavor as this Pumpkin Soup seasoning. This is basically a homestyle rough version of green seasoning, Epis or sofrito.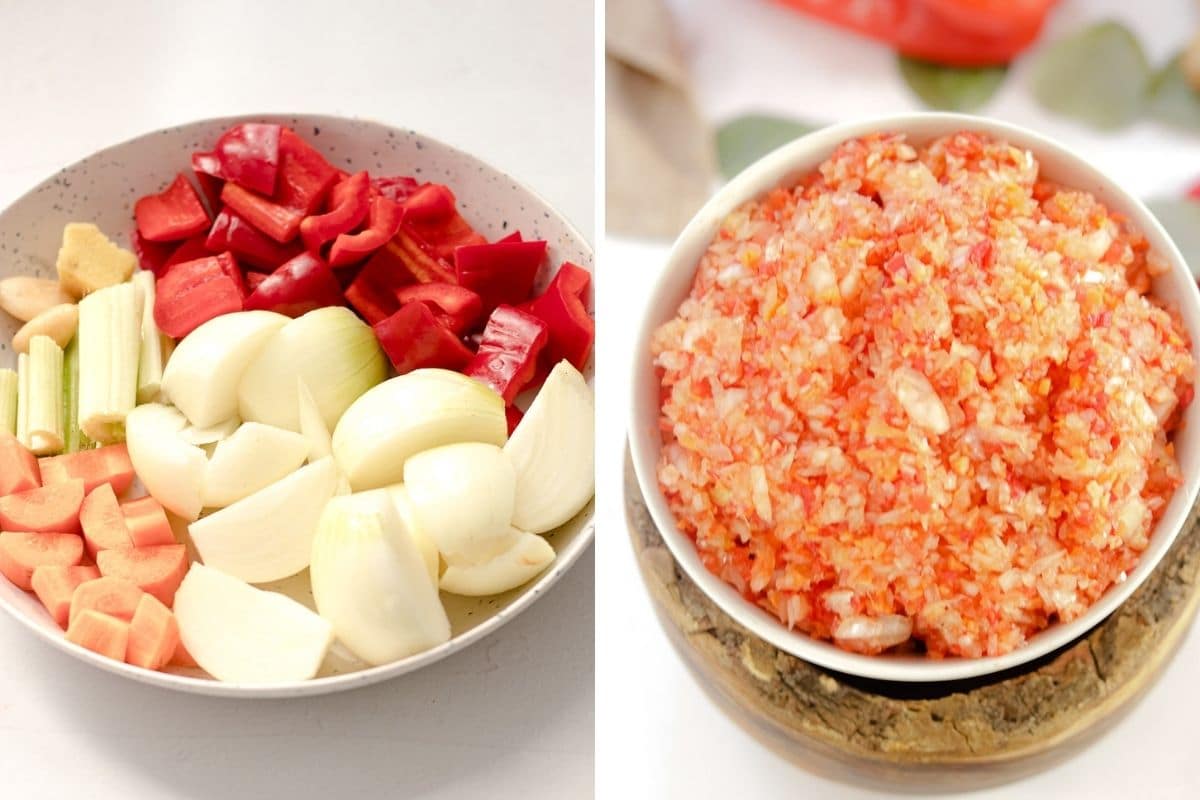 If you make this to add to the soup, you would add it at the stage when you are boiling the pumpkin. However, this soup has a lot of flavor and it is not a required ingredient.
Variations
In addition to or instead of, you can utilize any kind of root vegetables/ fruit commonly utilized in Caribbean Food Recipes. This can include plantains, sweet potatoes, breadfruit or yam.
Split peas are not always added to Caribbean Pumpkin Soup, however, it does add some protein and make the soup more filling. Regardless, you are free to omit it if desired.
Smoked Chicken is a common supermarket item in Caribbean neighborhoods and many Eastern European neighborhoods also (at least here in NYC). However, if smoked chicken is hard for you to come by, you can use fresh chicken. You will just have to let it cook a bit longer so that the chicken is cooked through.
Use as much or as little Scotch Bonnet pepper, depending how hot you want this Spicy Pumpkin Soup.
If you don't use the smoked meat, adding a little liquid smoke would add a similar flavor profile.
This pumpkin soup is customizable. You can keep it thicker if you prefer a more creamy pumpkin soup or you can make it thinner by adding more water, depending upon your preference.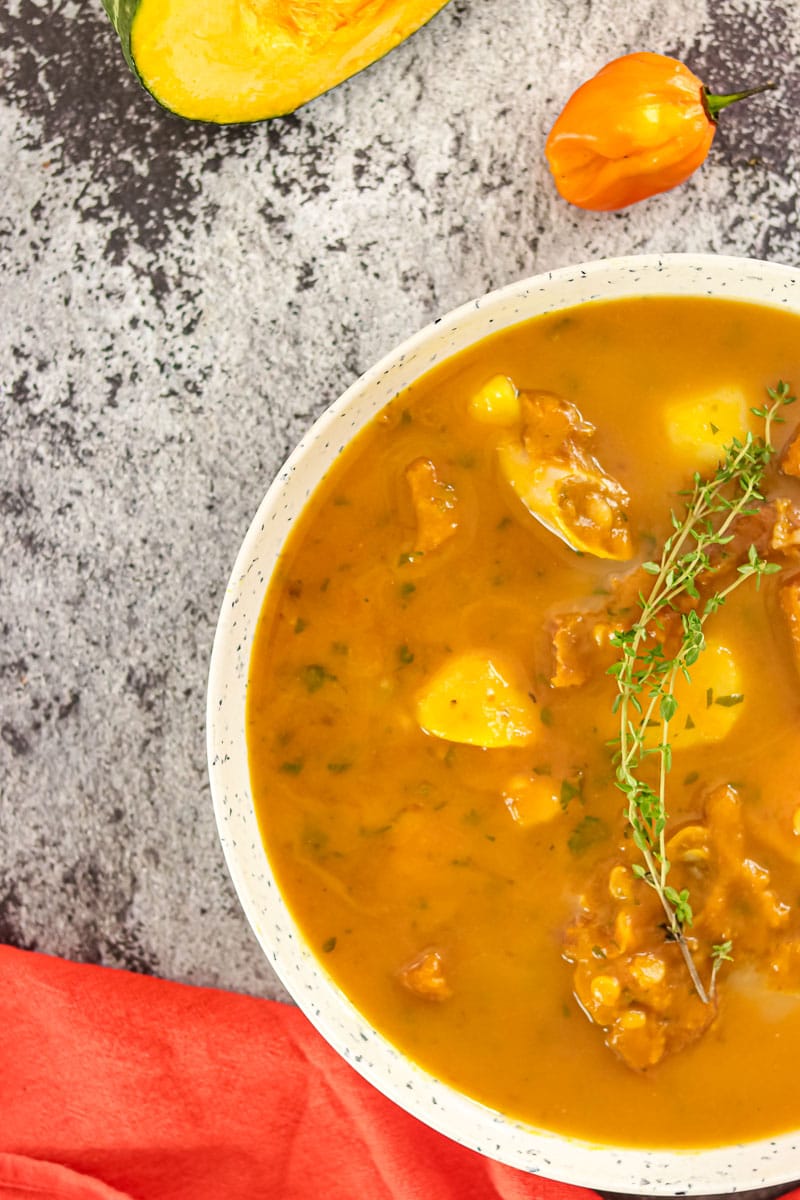 Recipe Notes
Cook the peas in an Instant Pot to reduce the cooking time.
Don't forget to remove the Scotch Bonnet pepper if you don't want the leftovers to continue to get spicier.
Don't chop the potatoes too small as you don't want them to disintegrate into the broth.
Now you have everything you need to know to make the most delicious homestyle Caribbean Pumpkin Soup. Let's check the ingredients you will need.
Ingredients for Pumpkin Soup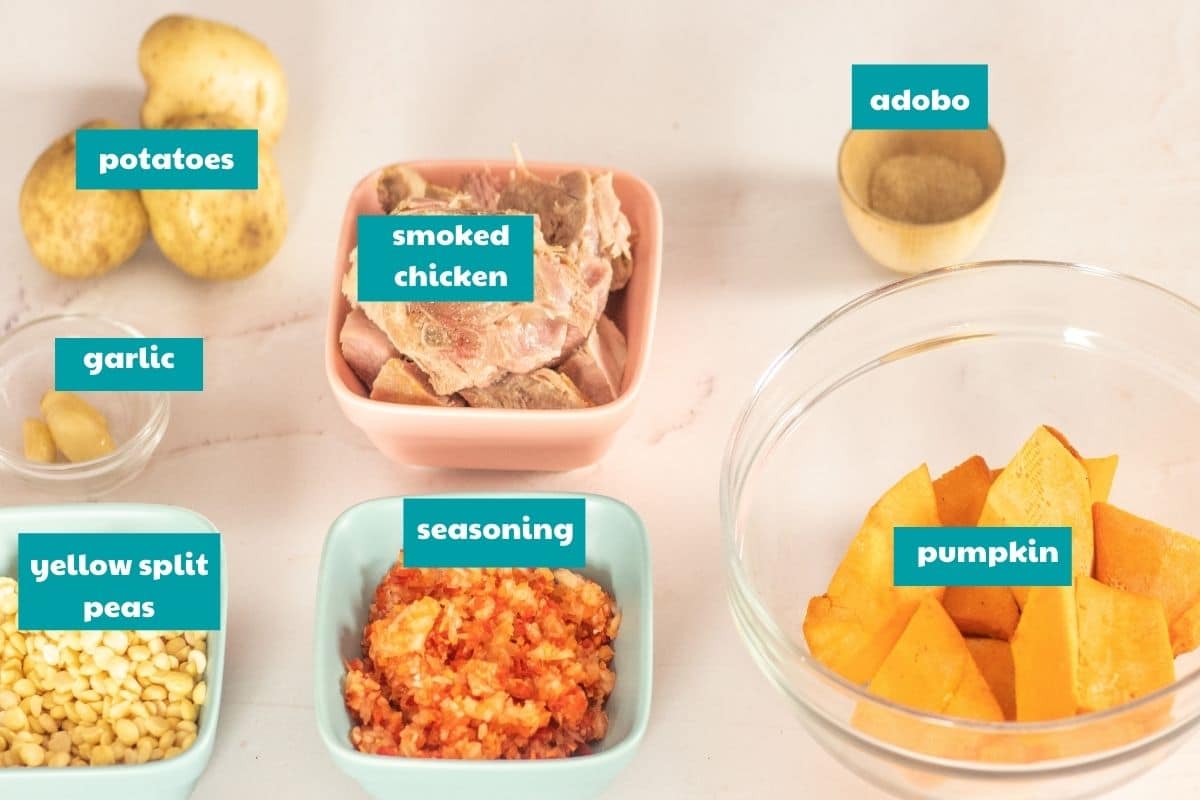 garlic
pumpkin
adobo or bouillon cube (maggi block)
seasoning (optional)
smoked chicken drumsticks
potatoes
Scotch Bonnet pepper
thyme
parsley
salt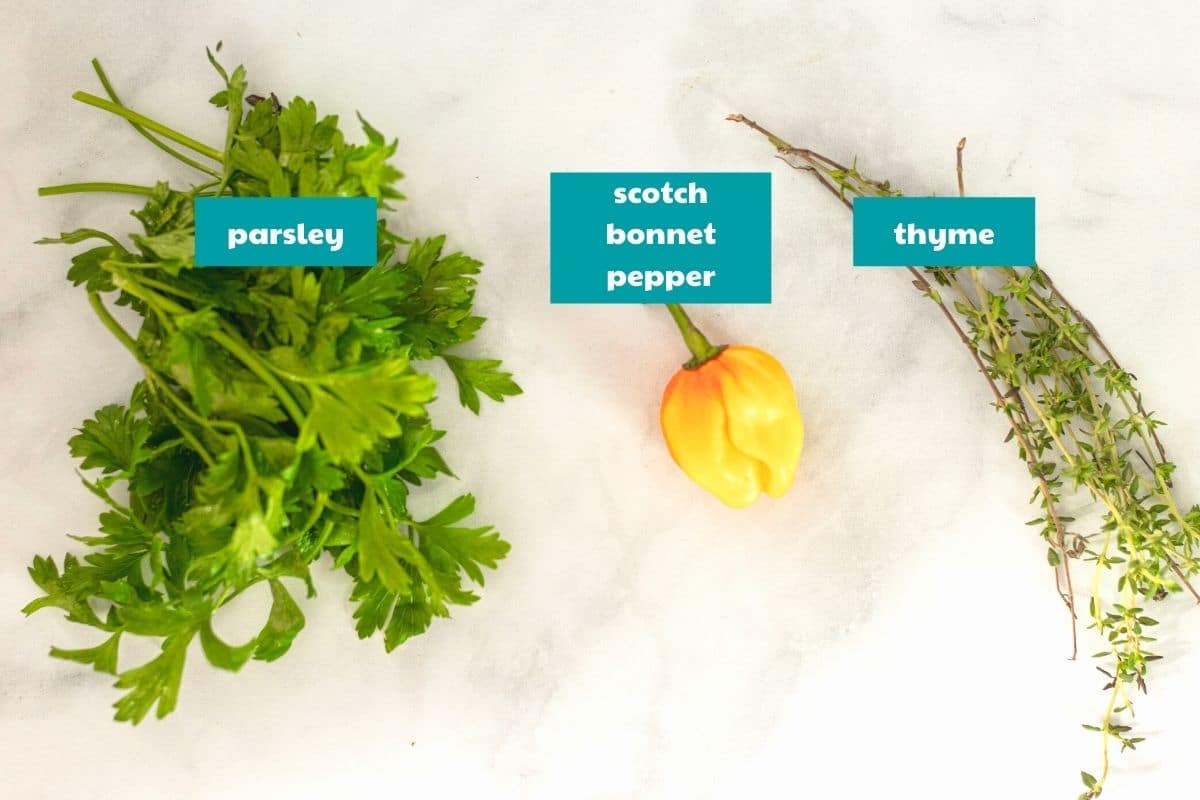 Have you tried instacart yet? It's how I get all of my fresh grocery items delivered within 2 hours!
How to make Caribbean Pumpkin Soup
Boil the split peas.
Boil the pumpkin and puree.
Add water and bring to a boil.
Add Scotch Bonnet, thyme and seasoning.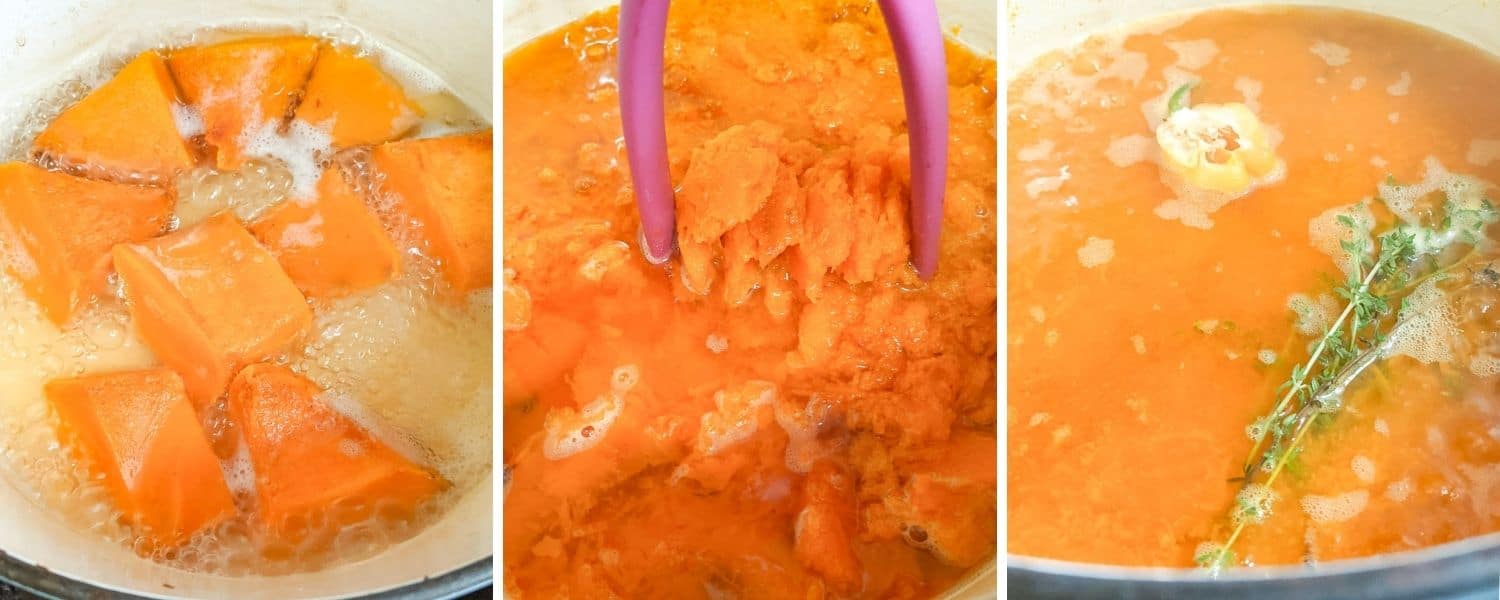 Add split peas and chicken.
Add potatoes or other root vegetables.
Add parsley.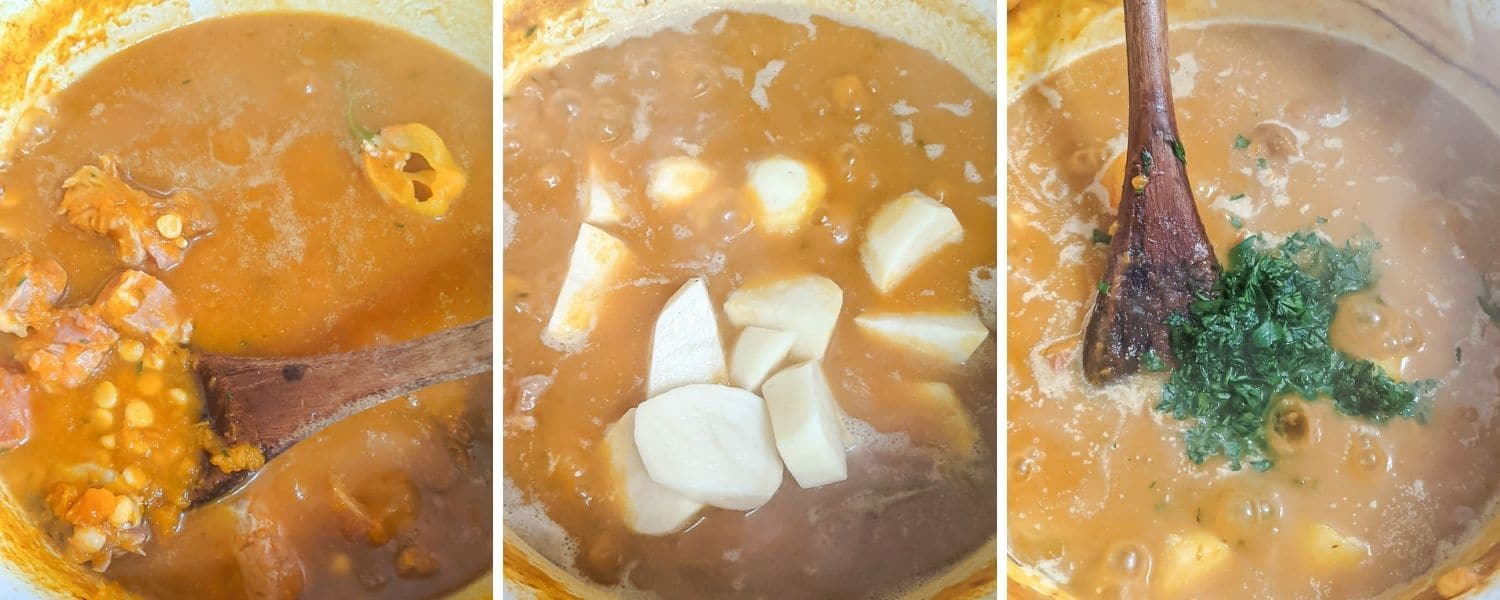 Cook until done, adjusting water according to desired thickness.
Remove the Scotch Bonnet if you don't want the pepper to continue to make your Spicy Pumpkin Soup spicier and spicier.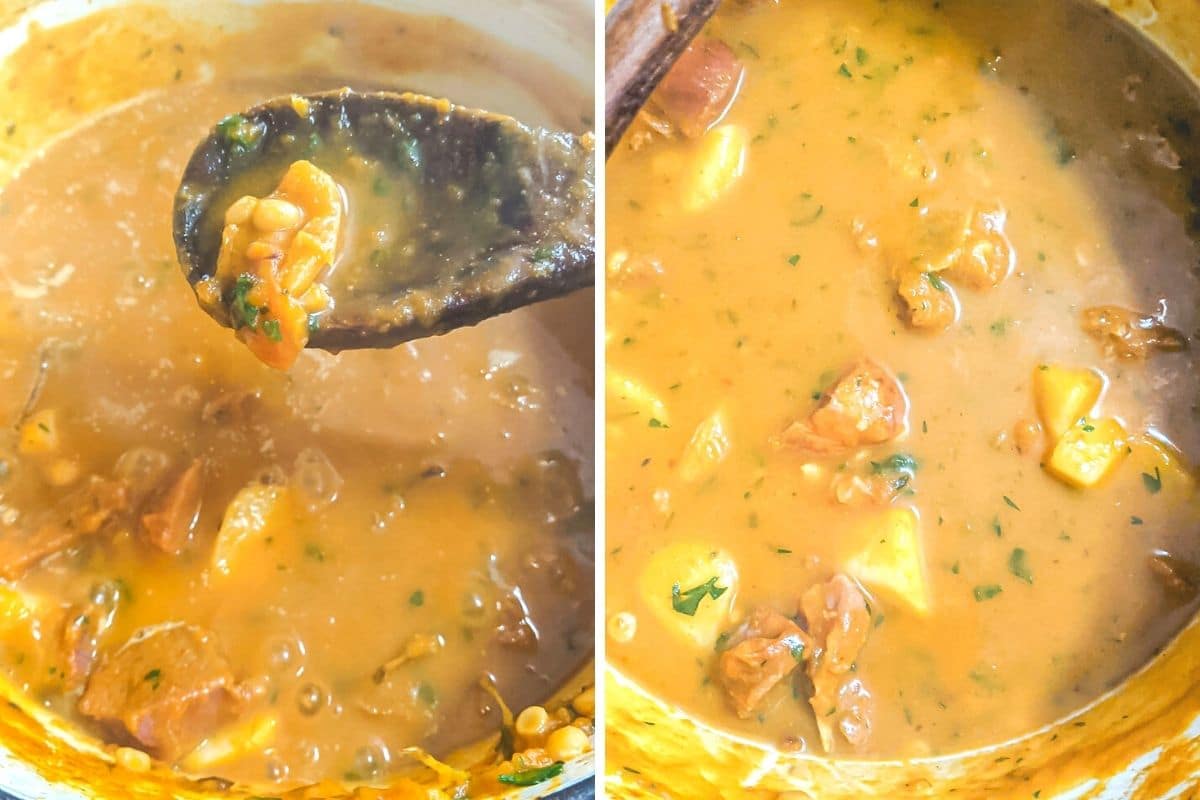 What to serve with Pumpkin Soup
In the Caribbean, Pumpkin Soup in this style with meat and spit peas is quite filling. Therefore, it is generally served on its own as a meal.
However, you can serve it with bread. Whether it is Jamaican Pumpkin Soup or this Spicy Pumpkin Soup, West Indian Style Hard Dough Bread is what would be best with this version of West Indian Pumpkin Soup.
If I have inspired you to visit the Nature Island of the Caribbean with this recipe, you can find out more what you can expect when you go to Dominica with these posts:
Don't forget to check out some more recipes from Dominica, to explore all the delicious flavors of this little island.
Dominica Recipes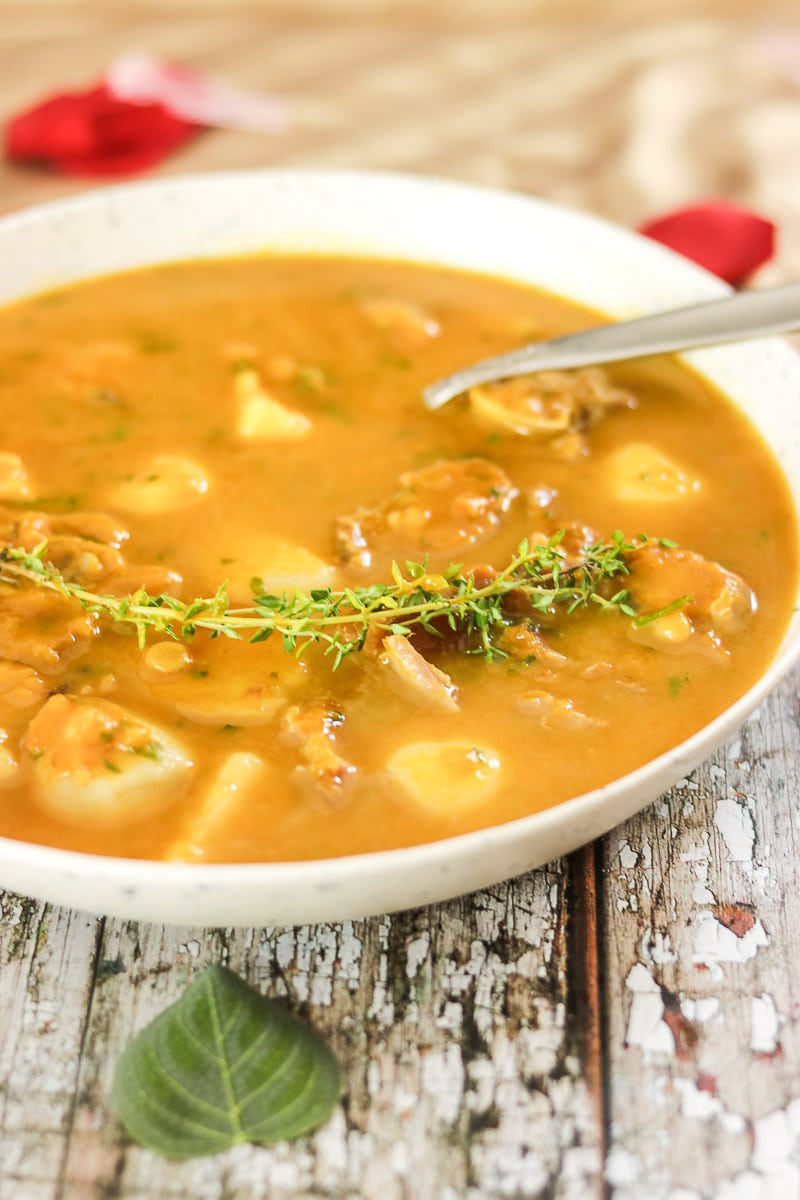 Spicy Pumpkin Soup – Caribbean Style
This Caribbean Style Pumpkin is the most delicious Spicy Pumpkin Soup. West Indian Pumpkin Soup is both spicy and smoky with the flavor of smoked chicken.
Ingredients
½

cup

Yellow split peas

soaked overnight

2

garlic cloves

1

lb.

Pumpkin

peeled and chopped

2

teaspoons

adobo

or bouillon cube

½

cup

seasoning

optional

12

oz.

smoked chicken drumsticks

chopped

8

oz.

potatoes

chopped

½

Scotch Bonnet pepper

sprig of Thyme

2

tablespoons

finely chopped parsley

Salt

to taste
Instructions
Boil split peas in a large pot of water with the garlic until soft, about 40 minutes.

Boil pumpkin in a pot with just enough water to cover, about 3 cups. Add adobo/ buillon or seasoning to pot, if using.

Cook pumpkin until soft, about 20 minutes after it comes to a boil.

Using a blender or by hand with a masher, puree pumpkin with the cooking water.

Add an additional 2 cups of water.

Add thyme and scotch bonnet and bring to a boil.

Simmer for 10 minutes until the broth is smooth and homogenous.

Add the smoked chicken and the cooked split peas.

Add the potatoes and 1 cup of water.

Simmer until the potato is cooked, about 15 minutes.

Add parsley and salt as needed. Stir to combine.

Remove the Scotch Bonnet pepper if you want to stop the spiciness at this point.

If the soup has thickened too much with the addition of the potato, add a little more water until it is the perfect thickness for you.
Notes
Cook the peas in an Instant Pot to reduce the cooking time.
Don't forget to remove the Scotch Bonnet pepper if you don't want the leftovers to continue to get spicier.
Don't chop the potatoes too small as you don't want them to disintegrate into the broth.
As the soup chills, it will thicken. If you have any leftovers, reheat with a little water added.
Nutrition
Calories:
257
kcal
|
Carbohydrates:
29
g
|
Protein:
17
g
|
Fat:
10
g
|
Saturated Fat:
3
g
|
Polyunsaturated Fat:
2
g
|
Monounsaturated Fat:
4
g
|
Trans Fat:
1
g
|
Cholesterol:
43
mg
|
Sodium:
335
mg
|
Potassium:
791
mg
|
Fiber:
13
g
|
Sugar:
4
g
|
Vitamin A:
6999
IU
|
Vitamin C:
12
mg
|
Calcium:
352
mg
|
Iron:
9
mg
Did you try this recipe? Leave a comment below.
Please follow me on Instagram @chefmireille or tag me #chefmireille with your pics! I'd love to share them!
Now I know you want to try some more Caribbean food! Check out my collection with over 100 Caribbean Recipes from the Caribbean diaspora!