This Pumpkin Smoothie Bowl is a filling and healthy breakfast with banana and freshly made pumpkin pie spice mix. It can be enriched with such a large variety of toppings that may include nuts, fruits and grains.
You can make this Healthy Breakfast Smoothie using homemade pumpkin puree or canned pumpkin.
While I grew up eating pumpkin in a variety of sweet and savory recipes due to my Caribbean parents, America has finally latched onto what a versatile ingredient pumpkin is.
When I was younger and my friends thought it was weird I ate Pumpkin Soup, Pumpkin Curry and Pumpkin Smoothies for breakfast, all of a sudden now every one wants to try all the pumpkin recipes.
To that end, here is a complete list of the 30 Best Pumpkin Recipes You Want to Try!
This delicious Healthy Pumpkin Smoothie Bowl is just one of the many delicious ways you can enjoy pumpkin!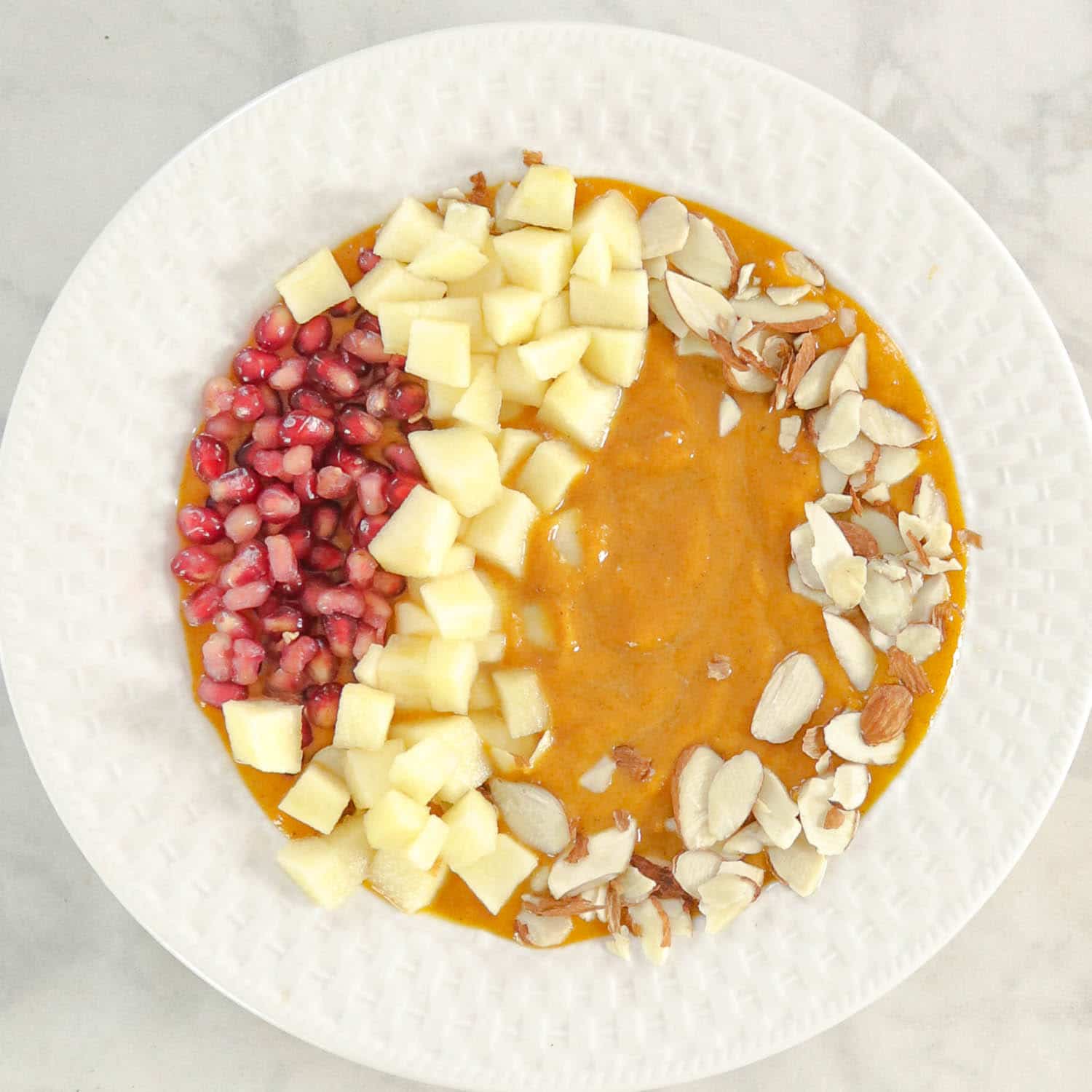 This post may include affiliate links.
The ingredients to make this Healthy Pumpkin Smoothie Bowl are few and basic, so you will most likely have these ingredients already in your pantry.
Is Pumpkin Smoothie Bowl Healthy?
Pumpkin Smoothie Bowl has high levels of:
Vitamin A

Helps the heart, lungs, kidneys and organs function properly. Helps boost the immune system.

Vitamin C

Helps boost the immune system and is essential as both a preventative and an aid in helping to battle the common cold or flu.

Potassium

Essential for the normal function of cells. Regulates the heartbeat and helps to reduce the risk of stroke.

Protein

Provides energy. Essential to repair cells. Essential for development – especially in children and pregnant women.
PICK YOUR OWN PUMPKINS
Yes that's right you can easily pick your own fresh pumpkins at your local UPICK FARM! Remember what Mom always said – Fresh is best!
The Ingredients
Pumpkin Puree – You can use canned pumpkin or homemade Roasted Pumpkin Puree. I personally think the homemade pumpkin puree has more flavor than the canned versions, which sometimes depending on the brand, can be a bit too watery.
Banana – The banana adds thickness to the smoothie and makes it filling so that this Pumpkin Pie Smoothie can be a meal on its own. It's a healthy way to start your day!
Milk – Although I made this version with low fat milk, you can use vegan plant based milks if you prefer.
Pumpkin Pie Spice Mix – I love the complexities of the spice mix instead of flavoring it with just cinnamon. In this homemade Pumpkin Pie Spice Mix, you will find two versions – the classic one and one that has a little more kick and spice to it. Personally, I am partial the the spicier version of Pumpkin Spice Mix.
Honey – Depending on the ripeness of your banana, no sweetener will be needed. However, if your banana is not very sweet, a little sweetener may be needed. You may also use other natural sweeteners like agave syrup or monkfruit sugar.
How to make a Pumpkin Smoothie Bowl
Combine pumpkin, banana, milk and spice in the blender and puree.
Transfer to a bowl and add the toppings of your choice.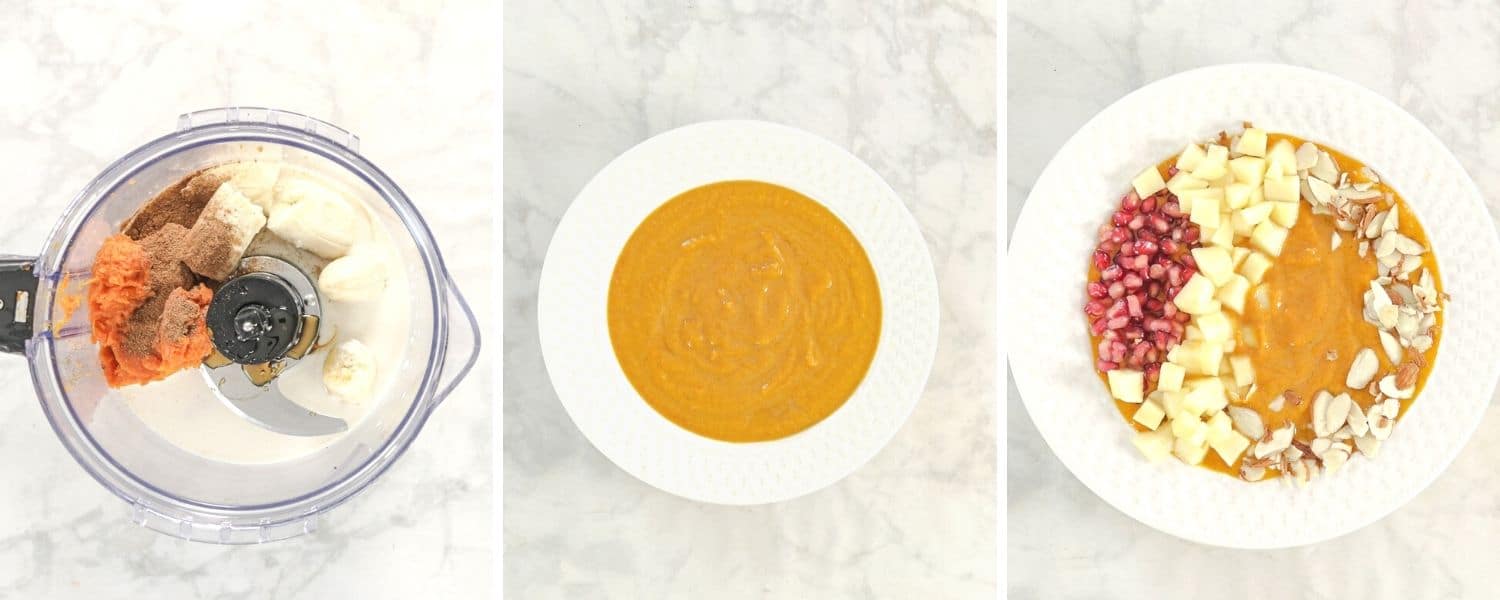 Variations
Add extra protein – add 1 tablespoon of ground flaxseed, chia seed or peanut butter/ peanut powder to get an extra protein shot in this Pumpkin Smoothie Bowl.
Toppings – There are so many toppings you can add on top of your Smoothie Bowl. Some other popular toppings include dried cranberries, pumpkin seeds/pepitas, dried coconut, mango, sliced banana, other nuts like pistachios, walnuts, or cashews. Try my Coconut Peanut Crumble!
Make it Vegan – You can easily turn this into a Vegan Pumpkin Pie Smoothie Bowl by using plant based milk, like oat milk, rice milk, coconut milk, almond milk or cashew milk.
Spices – If you don't have Pumpkin Pie Spice, you can make it yourself with this Pumpkin Spice Mix Recipe or use only ground cinnamon and/or ginger. However, it is much more flavorful with the pumpkin spice mix.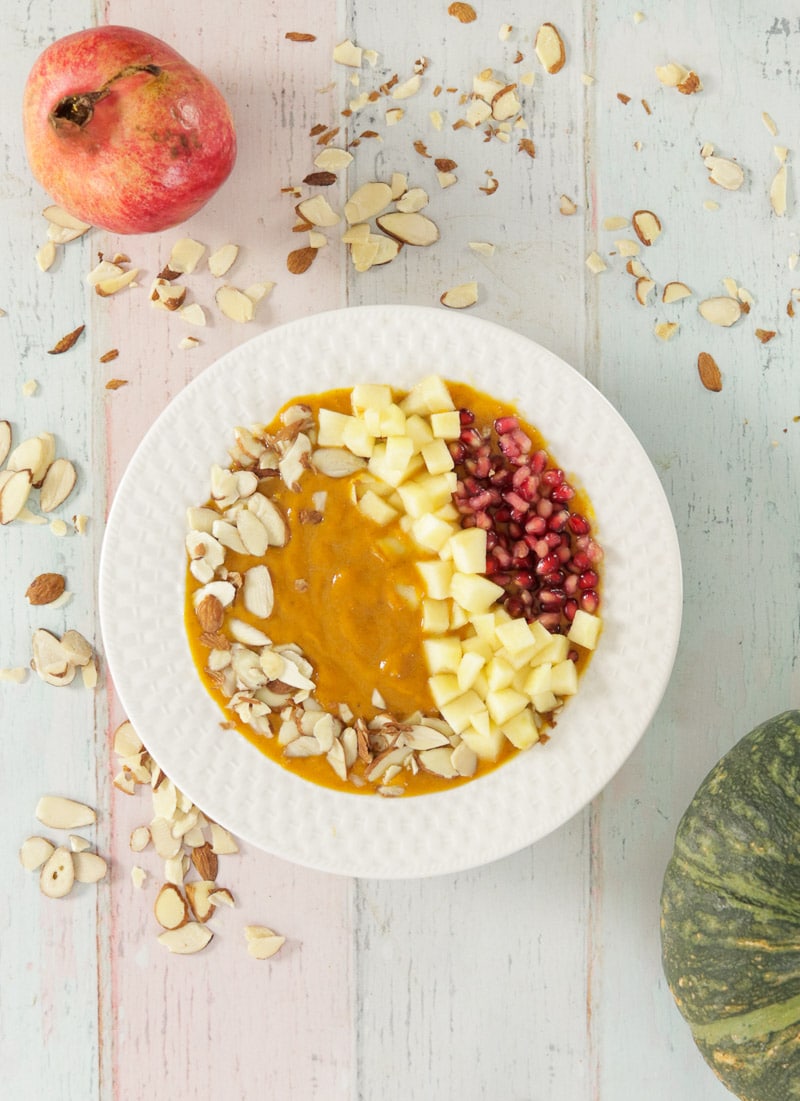 So creamy and luscious. This will become your go to breakfast especially in the fall.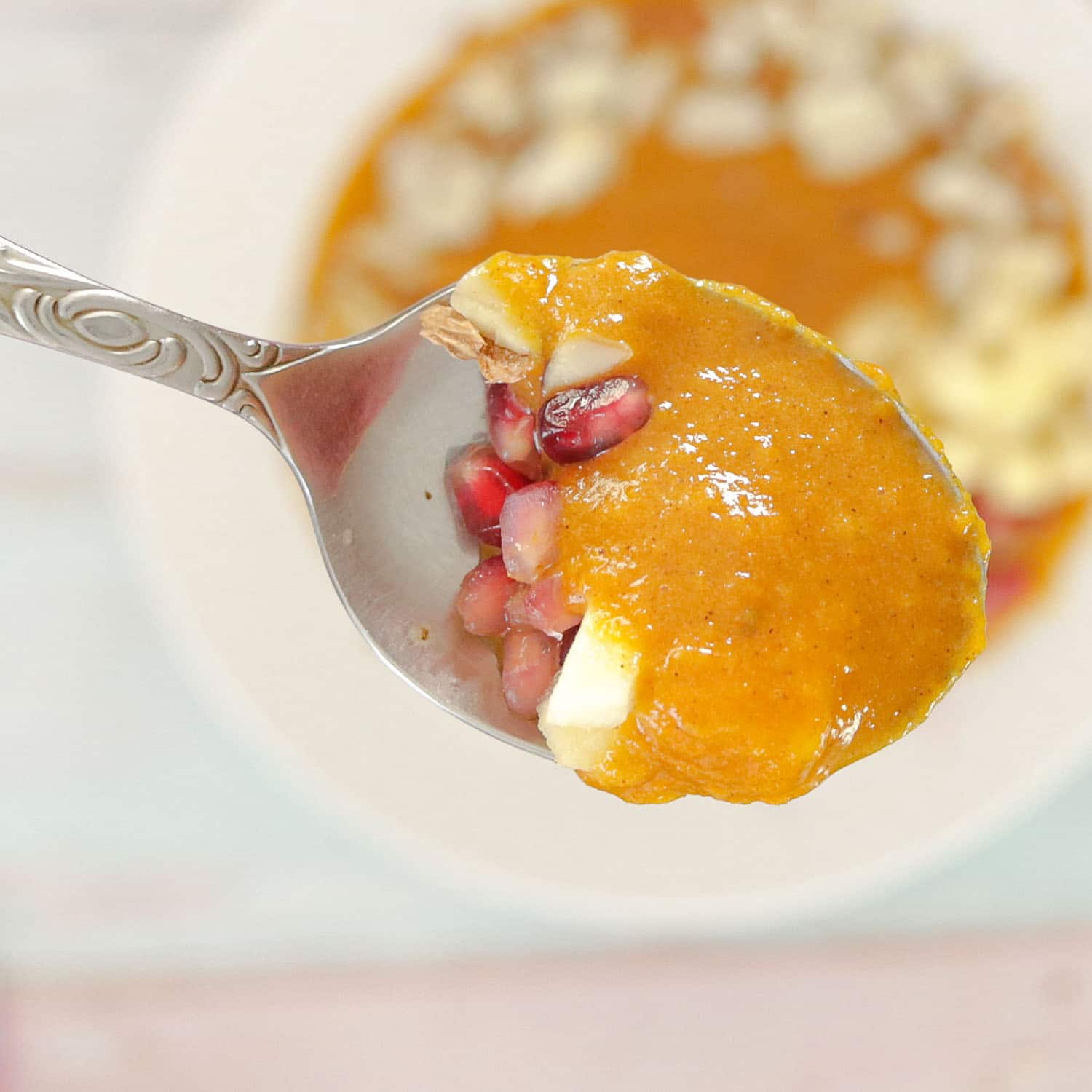 For variety, here are some other Breakfast Smoothie Recipes you might want to try.
Breakfast Smoothie Recipes
Pumpkin Pie Smoothie Bowl
A healthy and filling Pumpkin Breakfast Bowl made simply or you can add as many healthy toppings like fruit and nuts, per your preference.
Ingredients
1/2

cup

milk

3/4

cup

pumpkin puree

1

banana

1

tsp.

pumpkin pie spice

1

tablespoon

honey

optional
Topping Ingredients:
2

tablespoons

pomegranate seeds

2

tablespoons

sliced almonds

⅓

cup

chopped apples
Notes
You may use canned pumpkin or homemade roasted pumpkin puree
Other Toppings you can add:
chopped pistachios or other nuts
pumpkin seeds
dried cranberries
granola
Nutrition
Calories:
484
kcal
|
Carbohydrates:
84
g
|
Protein:
12
g
|
Fat:
16
g
|
Saturated Fat:
4
g
|
Polyunsaturated Fat:
3
g
|
Monounsaturated Fat:
7
g
|
Cholesterol:
12
mg
|
Sodium:
68
mg
|
Potassium:
1262
mg
|
Fiber:
14
g
|
Sugar:
53
g
|
Vitamin A:
28906
IU
|
Vitamin C:
24
mg
|
Calcium:
285
mg
|
Iron:
5
mg
Did you try this recipe? Leave a comment below.
Please follow me on Instagram @chefmireille or tag me #chefmireille with your pics! I'd love to share them!
Don't forget to visit the RECIPE INDEX with over 1000 recipes from around the world including lots of Vegetarian Recipes and Gluten Free Recipes!