Last Updated on May 20, 2020 by Chef Mireille
Vegan Avocado Superfood Smoothie – Full or fruits and superfood rich with ginger and turmeric, this is the smoothie for you who hate avocados but want to enjoy all the health benefits of it.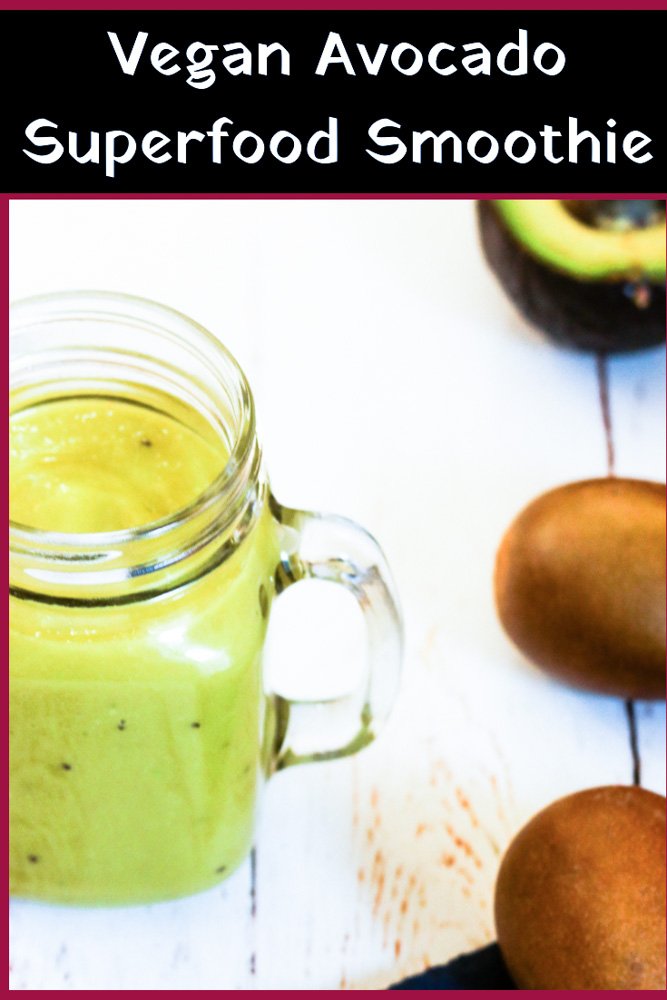 I have always hated avocado. When I tell people this, I usually get one of two reactions. The first is another avocado hater who is so happy to find a kindred spirit as most people think we are so weird…just because we have an aversion to avocado. We are so happy and revel that we are not the only ones.

The second is when people look at me as if I have 4 heads with their mouths just gaping open in shock! I love when people tell me – oh it's because it's a new flavor. You will get accustomed to it. America has discovered the avocado in recent years, but it is a food that has a long history in the part of the world where my family is from.
My parents are Caribbean and one of those parents was Haitian. For Haitian people, avocado salad is their basic salad, I grew up with avocado on my dinner table every single night and I NEVER ate it. My sisters even used to tease me and say I must be adopted since I don't like avocado, That is how much of a staple it is in our cultural cuisine.
My Mom buys a bag of avocados every single week and has 1/2 an avocado every morning with her breakfast. I stayed at her for some days after she came home when she was in the hospital last month. I decided to use the opportunity to add some avocado content to the site. There was someone else to enjoy my avocado creations since I wasn't going to be eating it. But then I thought what if I could come up with a delicious smoothie full of superfood goodness and heart healthy avocado for other avocado haters like me who want all the goodness that avocado provides, but doesn't want to taste it…
My sister lives just two doors down from her, so I raided both apartments to get as much fruit as I could, hoping it would mask the flavor of the avocado. I added some ginger and turmeric for more superfood goodness and came up with this delicious smoothie that was so good, I barely wanted to share it with my Mom and sister.
This Vegan Avocado Superfood Smoothie is for the avocado hater in your life. With all the fruit, you can't taste the avocado but get all the health benefits of the avocado.
Vegan Avocado Superfood Smoothie
This Vegan Avocado Superfood Smoothie is perfect if you hate avocado. Get all of the health benefits of avocado without the taste of it.
Ingredients
½

avocado

1

mango

1

cored apple

2

peeled kiwis

1

tablespoon

chopped ginger

½

teaspoon

ground turmeric

½

cup

coconut water

2

teaspoons

agave nectar

a few ice cubes
Instructions
Combine all ingredients in a

blender

and blend until smooth.
Nutrition
Calories:
306.48
kcal
|
Carbohydrates:
60.64
g
|
Protein:
3.97
g
|
Fat:
8.69
g
|
Saturated Fat:
1.39
g
|
Sodium:
71.77
mg
|
Fiber:
11.54
g
|
Sugar:
45.48
g
Did you try this recipe? Leave a comment below.
Please follow me on Instagram @chefmireille or tag me #chefmireille with your pics! I'd love to share them!
Ready to make this recipe? I would love to see your photos! Tag me on Instagram @chefmireille #theschizochef with your pics!
Do you know anyone else who likes learning about international recipes, culture, history and travel? Bring them over here to join the party! Don't forget to use those share buttons!
Start Here to find out how the Schizo Chef can help you with your cooking, travel and other needs!
If you like this recipe, PLEASE LEAVE A COMMENT & SUBSCRIBE!