Last Updated on January 24, 2021 by Karen Lasta
This Malay-Style Vegan Coconut Smoothie Recipe is a refreshing summertime treat. Try this coconut corn smoothie as a delicious addition to any Chinese New Year menu!
Have you ever had corn in a smoothie?
I bet you are surprised to see corn in a smoothie. I know it was the first time I saw this drink at my favorite Malaysian restaurant here in NYC. As I have made it my life mission to try everything at least once, I chose this drink over and above the lychee and rambutan drinks you will encounter at most Southeast Asian restaurants.
I therefore based this recipe off of the delicious Coconut Corn drink I had at Nyonya. Corn is really big in Southeast Asia. If you ever visit Thailand where I was earlier this year, you will notice corn in everything from drinks to desserts and savory foods.
I hope you enjoy my version of this Malay Style Asian Coconut Corn Smoothie.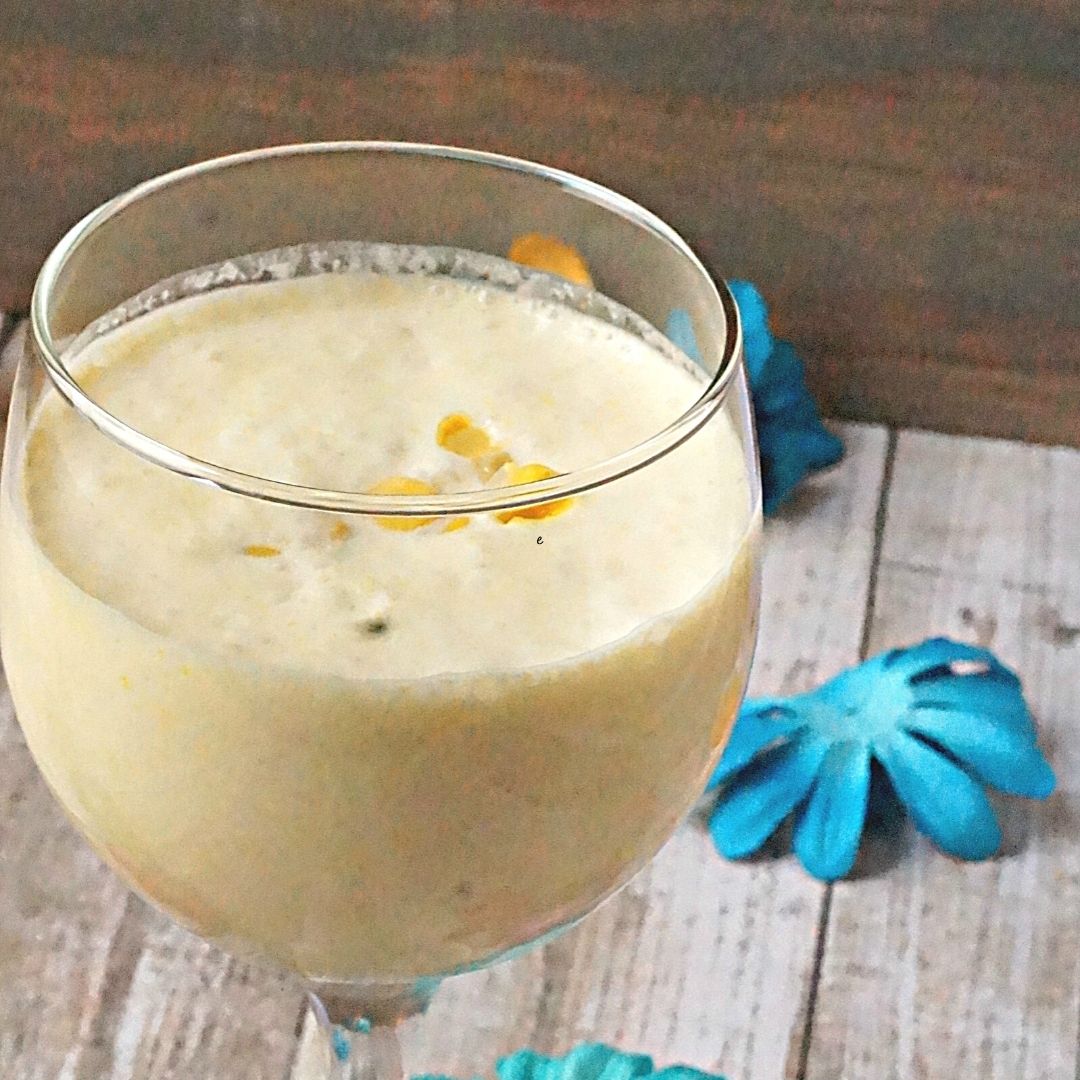 This post may include affiliate links.
Are Coconut Milk Smoothies Healthy?
Coconut milk smoothies can be the healthiest smoothies you can make—depending on the kinds of ingredients you would include in the drink.
Coconut milk itself has plenty of health-boosting benefits. It contains antioxidants that are well-known for keeping the body protected against cancer risks. It also contains other substances that can help strengthen your immune system.
In the coconut smoothie recipe that I'll be showing you shortly, you'll see it only has corn as the other main ingredient. Still, the coconut-corn combination is already packed with health-boosting benefits.
Is Canned Corn Healthy?
In any corn recipe, you may use fresh corn and boil it yourself, and take out the kernels for your coconut corn smoothie.
But for convenience's sake, you might want to use canned corn instead. Some people wonder if canned corn is healthy. The quick answer is yes. Corn is nearly as good out of a grocery store can as it is fresh.
One key is to choose canned corn that only has three ingredients: corn, water, and salt. In terms of quantity, it helps if they're in that order.
Canned corn gives you a good amount of protein, dietary fiber, and fat. Together with coconut milk, it can supply you with an energy boost for a lazy afternoon or a quick power-up in cold mornings.
What is the Main Nutrient in Sweet Corn?
Sweet corn contains vitamins A, B1, B5, and C. These bunch of nutrients can give your immune system the help it needs to protect the body against diseases.
Why are Smoothies Good for Weight Loss?
If your smoothie is high in protein and fiber, then it could aid in weight loss. This vegan coconut smoothie recipe we have here quite fits the bill.
Are Smoothies Good for Nutrient Absorption?
You may be able to absorb more nutrients from fruits and veggies when you blend them in a smoothie. The process of blending can make the nutrients more available to you.
What Type of Corn Should You Use?
I recommend you use sweet yellow corn. White corn is not as sweet and won't taste as good in this delicious vegan smoothie.
You can use either fresh corn, frozen, or canned whole kernel corn.
To learn more about the differences between the types of coconut milk, read all about it here – Types of Coconut Milk.
Have you tried instacart yet? It's how I get all of my fresh grocery items delivered within 2 hours!
The Best Occasions to Celebrate with this Coconut Corn Smoothie
Aside from having this as a deliciously refreshing summer drink, you can also add this coconut milk smoothie to your Chinese New Year menu to celebrate the Lunar Festival – Malay style!
Now let's get to making this delicious Coconut Corn Smoothie. All you need is a few simple ingredients.
Coconut Smoothie Recipe Ingredients
How to Make Coconut Smoothie
Blend most of the corn with the rest of the ingredients.
Blend until smooth.
Garnish with the remaining corn kernels.
Is It Okay to Freeze a Smoothie?
Yes, a smoothie would pretty much do well inside the freezer. So you can prep a big batch even for a month in advance, and then enjoy your cold drink week after week.
Can You Freeze Smoothies with Coconut Milk?
Yes! I sense you might be worried about coconut milk smoothies in particular but not much for other smoothie recipes with different milk bases.
The good news is that yes, you can freeze smoothies that contain coconut milk. There might be a slight change in the texture—it could turn grainy, but the flavor remains the same.
But since the recipe is a corn smoothie, the slightly coarser texture due to the graininess wouldn't matter so much.
More Malaysian Recipes
Looking to explore some more Malay flavors? Check out these other recipes!
Chicken Curry Puffs — If you want to bring the Malaysian night market vibe into your home, you might want to try these curry puffs. It's closest to the authentic dish when you use Malaysian curry powder.
Malay Fish Curry — It's an easy, 10-minute prep dish that cooks in just 20 minutes. You'll enjoy the deep curry flavor along with all the spices and the fish fillets cut into bite-sized pieces.
Puteri Ayu – Steamed Pandan Cake — This dish gives you a unique Malaysian experience when it comes to sweets. The fresh, light, earthy taste of this pandan cake, along with its fluffiness, makes it a suitable recipe for an intimate Valentine's Day celebration.
Water Spinach Laksa — It's a traditional Malaysian soup with the freshness of spinach spreading through the entire bowl.
Banana Blossom Salad — This banana blossom salad also uses coconut milk and a variety of spices to flavor up the whole dish.
Coconut Corn Smoothie
This corn coconut smoothie is an energy-boosting, healthy, delish summertime smoothie that's fit for vegans and vegetarians alike.
Instructions
Notes
Use canned full fat coconut milk. Carton (tetra pack) coconut milk will not yield the same thick, creamy result.
Nutrition
Calories:
340
kcal
|
Carbohydrates:
30
g
|
Protein:
4
g
|
Fat:
24
g
|
Saturated Fat:
20
g
|
Polyunsaturated Fat:
1
g
|
Monounsaturated Fat:
1
g
|
Sodium:
179
mg
|
Potassium:
367
mg
|
Fiber:
2
g
|
Sugar:
15
g
|
Vitamin C:
4
mg
|
Calcium:
19
mg
|
Iron:
2
mg
Did you try this recipe? Leave a comment below.
Please follow me on Instagram @chefmireille or tag me #chefmireille with your pics! I'd love to share them!
Need more culinary inspiration? Check out the Recipe Index with over 1500 Recipes from Around the World with lots of Vegetarian 🥕🍆🍅and Gluten Free Recipes!