Coriander Crusted Brined Roasted Lamb & Bell Pepper Coulis
This boneless leg of lamb roast is extremely tender and a delicious addition to your Easter table!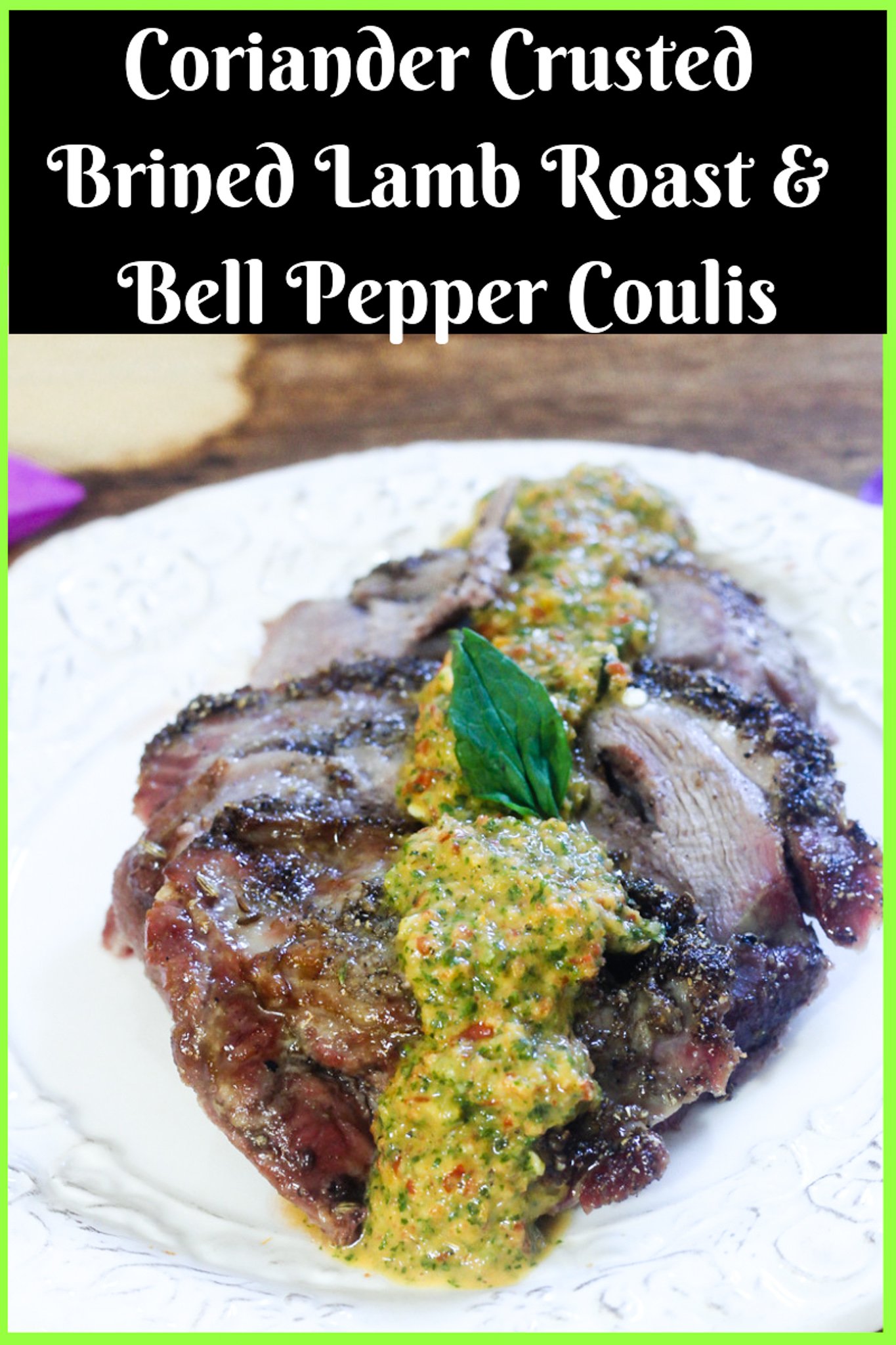 Spring is here and the spring holidays are just around the corner. Whether you celebrate Passover or Easter or both, it is traditional in both the Jewish faith and the Christian faith to eat lamb for these Spring religious holidays.
The history of this tradition comes from the Passover Sacrifice when a lamb was sacrificed on the eve of the Israelites' exodus from Egypt. Blood from the animal was sprinkled on the doorsteps of the Jews as a sign to God that he should bypass these homes as he went to slay the first born of the Egyptians that night.
I don't subscribe to any organized religion and am hardly an expert, but I am a history fanatic and always find it educational and interesting to learn the history of the different religious traditions.
Whether you are eating lamb with bitter greens and matzah for Passover or eating it with a variety of tasty side dishes and a rich Easter bread like Armenian Choereg or this Finnish Paasiaisleipa for Easter, this flavorful lamb is a delicious addition to your holiday table.
What is brining?
Brining is a cooking method used to achieve super soft and tender meat. It involves pre soaking the meat in water with sugar, salt and spices for a minimum of a few hours and up to a few days.
Brining is especially good when the meat is going to be roasted. Since roasting is a dry cooking method, brining ensures soft and tender meat, regardless of the cooking time in the dry heat oven.
The meat literally just falls apart it is so tender!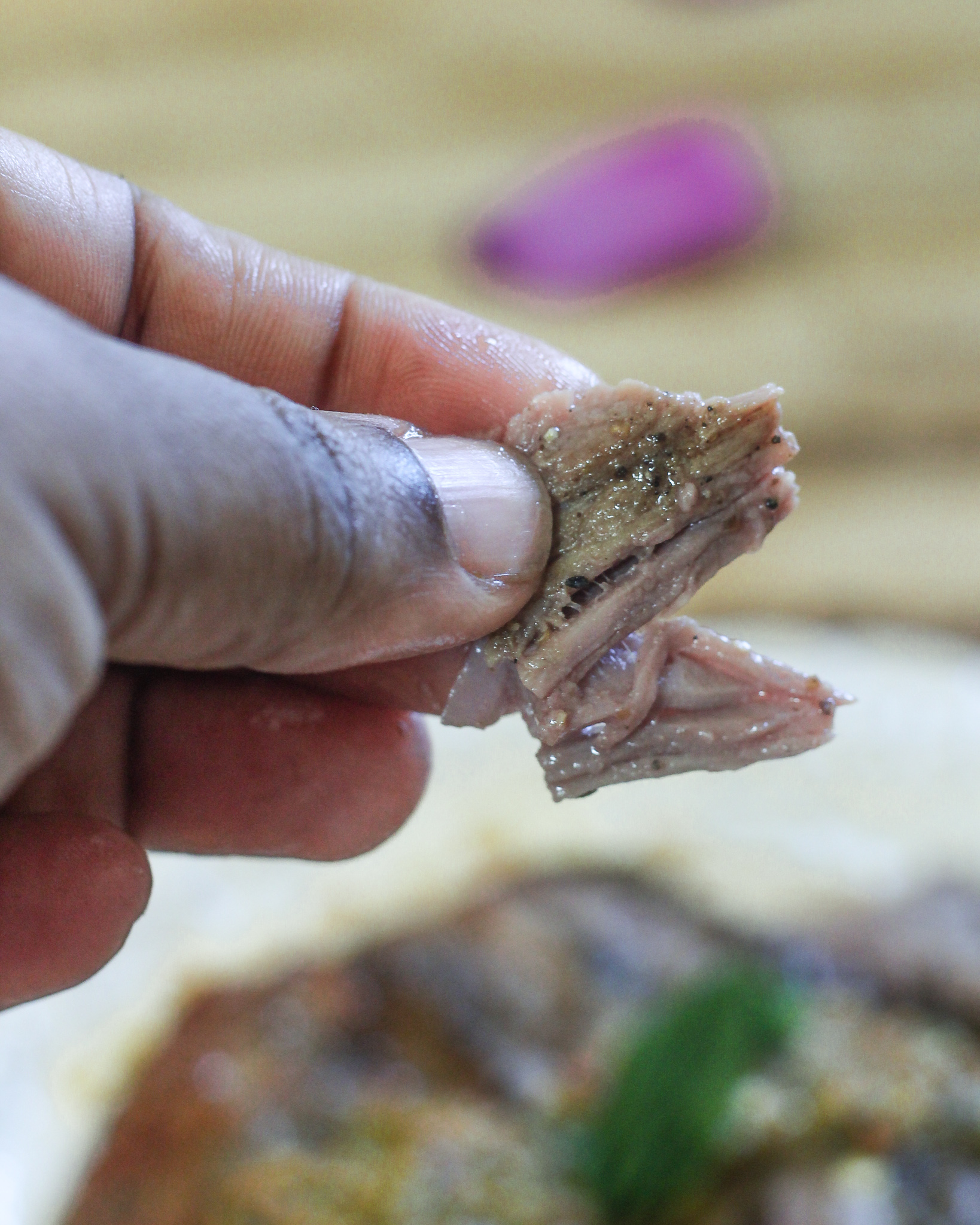 Do take a look at some of the other recipes that I utilized this wonderful cooking method!
Check out some other brined recipes!
---
The pepper adds a nice bit of spice in the crust.
I have never been a fan of the traditional mint jelly with Easter lamb. Instead try this fresh and vibrant bell pepper coulis and I am sure this will become a new holiday regular on your table!
Depending on the size of your holiday party, you might have some leftover lamb. During the next few weeks, I am going to be giving you some ideas to use up the leftover lamb. So don't be afraid to cook up the whole leg of lamb and you will be able to get 3- 4 meals out of the boneless leg of lamb!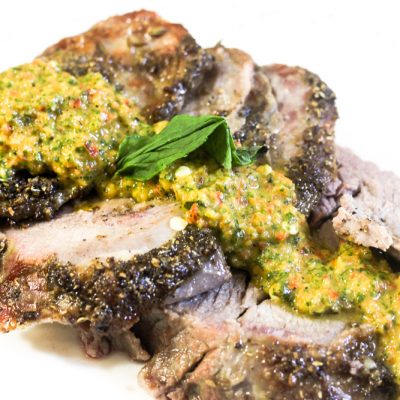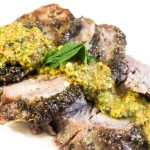 Print Recipe
Coriander Crusted Brined Roasted Lamb
Brining and then roasting lamb yields a super soft and tender meat. This roast leg of lamb is a perfect addition to your Passover or Easter table!
Ingredients
5

lbs.

boneless leg of lamb

¼

cup

salt

1/8

cup

sugar

1

teaspoon

cumin seed

½

teaspoon

fennel seed

1

teaspoon

coarsely ground black pepper

5

crushed garlic cloves

7

allspice berries

1

inch

sliced ginger

1

quartered lime

Crust Ingredients:

2

tablespoons

coriander seed

1

tablespoon

black peppercorns

Coulis Ingredients:

2

bell peppers

2

garlic cloves

1

cup

mint leaves

½

cup

olive oil

salt and pepper

to taste
Instructions
Remove most of the fat from the outside of the lamb.

To create the brine, heat 4 cups of water with the sugar and salt, until the sugar and salt dissolves.

Remove from heat and add 4 cups cold water.

Add cumin seed, fennel seed, black pepper, garlic, allspice berries, ginger and lime.

Add lamb, cover and place in the refrigerator for at least 4 hours and up to 2 days.

For the crust, combine coriander seed and peppercorns in a coffee/spice grinder. Grind to a coarse crumb.

Preheat oven to 450 F.

Remove the lamb from the brine and pat dry.

Brush the top with olive oil.

With your hands, pat the crust on the top of the lamb.

Place in a roasting pan and transfer to the oven.

Roast for 30 minutes. Reduce oven temperature to 375 F.

Roast for 30 additional minutes for a medium well roast.

Reduce cooking time if you prefer your roast more rare and add cooking time if you prefer a well done roast.

Leave to rest for at least 15 minutes before slicing.

Meanwhile, combine the bell peppers, garlic cloves and mint in a food processor to make the coulis.

With the processor running, slowly add the olive oil until well blended.

Add salt and pepper, as needed.

To serve, slice roast and serve with leftover coulis.
Nutrition
Calories:
507.51
kcal
|
Carbohydrates:
7.65
g
|
Protein:
35.9
g
|
Fat:
36.74
g
|
Saturated Fat:
13.07
g
|
Sodium:
557.65
mg
|
Fiber:
2.17
g
|
Sugar:
3.06
g
---
Ready to make this recipe? I would love to see your photos! Tag me on Instagram @chefmireille #theschizochef with your pics!
Do you know anyone else who likes learning about international recipes, culture, history and travel? Bring them over here to join the party! Don't forget to use those share buttons! Start Here to find out how the Schizo Chef can help you with your cooking, travel and other needs! If you like this recipe, PLEASE LEAVE A COMMENT & SUBSCRIBE!
Sign up for our updates!
Subscribe to get our latest content by email and get your FREE Pantry Cheat Sheet - Learn the basics to cook any International cuisine!