Last Updated on September 2, 2021 by
This Goji Berry Smoothie is full of antioxidant power! It's a filling and healthy vegan way to start your day. This non-dairy smoothie is also deliciously satisfying as a healthy afternoon snack!
Every few years a new superfood fad comes around and we learn of its amazing health benefits. Then all of a sudden, they can be found in every market and gourmet restaurants are including these products in everything from salads to muffins.
About 10 years ago, you would have to go to a gourmet market to find even one brand that produced pomegranate juice, and now even in ordinary supermarkets and corner stores, you can find several varieties.
After pomegranate, the next fad was goji berries and then acai and now it is chia seeds. As each new fad comes about, people have the tendency to stop consuming the first one to get on the new fad bandwagon.
However, you should try to include all these in your diet as much as possible as they ALL have amazing health benefits.
After watching Dr. Oz several ago where he suggested putting Goji Berries in smoothies, it has become a standard for me.  Full of antioxidant power, it multiplies the health benefits of your breakfast smoothie.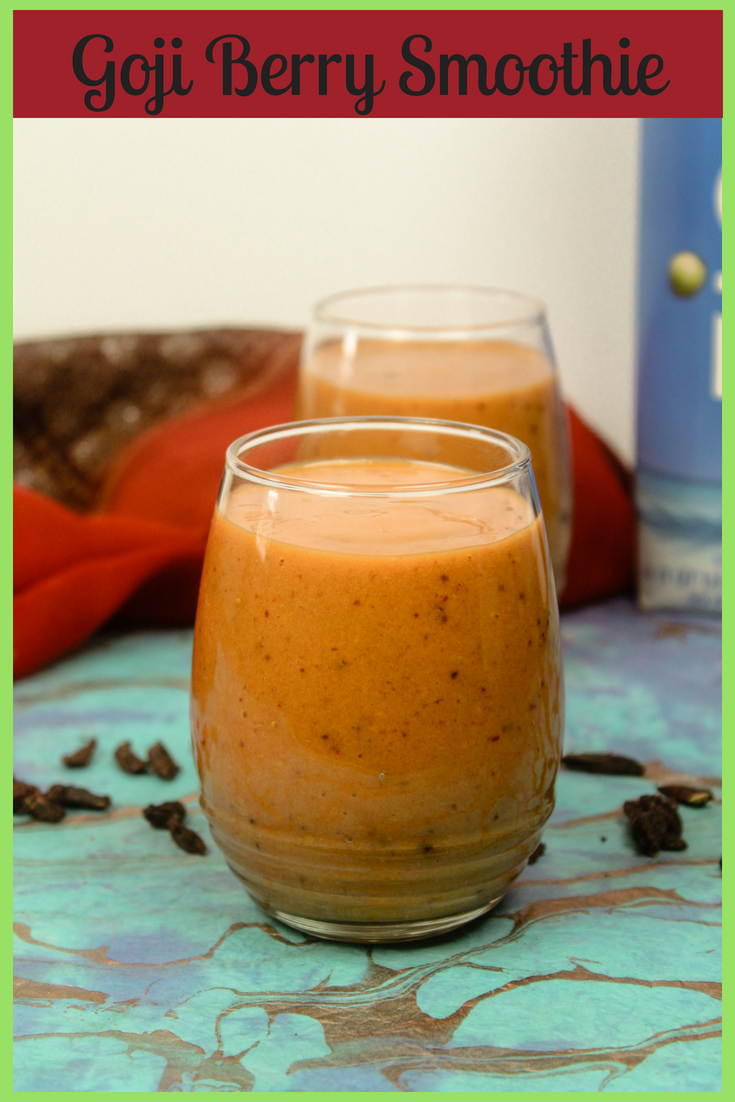 This post may include affiliate links.
What are the Health Benefits of Goji Berries?
Goji berries contain high levels of antioxidants, which can help boost your immune system. Goji berry also has beta-carotene, which is known to help promote healthy skin.
If you want to load up with dietary fiber, goji berries are a great source of that, too.
What Does Goji Berry Taste Like?
Dried goji berries taste close to a sour cherry or a cranberry. Meanwhile, fresh goji berries taste more bitter than sweet.
The drying process helps lose some of the bitterness, which is why we're using dried ones in this berry smoothie recipe.
How Do You Eat Goji Berries?
Goji berries can be great as a snack, as a smoothie ingredient, or as an add-on to your baked goodies. These berries can add pleasant levels of bitterness and a chewy texture to your dishes.
Can You Eat Raw Goji Berries?
You can eat them raw—a small handful will already give you a quick vitamin boost! Or, you can also cook them or turn them into goji berry juice.
Do You Need to Wash Dried Goji Berries?
You don't need to wash them until you're ready to use your dried goji berries. You can use warm water to wash them once or twice just to wash off pesticides and dust.
By the way, there's no need to soak and rehydrate your dried goji berries before turning them into a smoothie.
What Would Be Your Top Ingredients for a Superfood Smoothie?
A superfood smoothie would be high in protein, carbs, and fiber, more like a complete meal. Many vegans love having superfood smoothies for breakfast.
Some goji berry recipes would have lots of add-ons like natural peanut butter or almond butter. Or, they would use soymilk or almond milk.
Our berry smoothie here would be a lot simpler, but you can always try to experiment with yours if you want to add some more plant power. You can have some chia seeds into the mix, some ground flaxseed, or even your favorite protein powder.
Goji Berry Smoothie Recipe Ingredients
ripe bananas
frozen mango
dried goji berries
coconut water
sweetener of your choice
How to Make a Vegan Goji Berry Smoothie
Blend all the ingredients.
Add sweetener.
Serve immediately.
Variations
You can skip adding the sweetener if your bananas are already very ripe.
You may use slightly chilled mangoes if you don't have a frozen one ready for use.
Some sweetener options are maple syrup and agave nectar.
How to Store Your Vegan Berry Smoothie
I typically make fruit smoothies and enjoy them right away rather than storing them in the fridge for a long time.
But that can happen sometimes if I wanted to make something in advance and serve them to kids, friends, or family later.
Can You Keep Your Goji Berry Smoothie in the Fridge?
So the short answer is yes, but only for 1-2 days.
Use a glass container that has an airtight lid.
Fill the glass up to the very top.
Note: Filling it up to the top prevents air from getting trapped in the container. You don't want the air to oxidize the nutrients in your berry smoothie.
Can You Freeze Your Vegan Fruit Smoothie?
Yes, you can keep berry smoothies in the freezer for up to 3 months.
Use Mason jars or freezer-safe containers.
You can transfer your frozen berry smoothie to the fridge a few hours before serving so it can thaw.
More Healthy Smoothie Recipes
Looking for some other Smoothie Recipes to start your day right? You can try any of the following breakfast smoothie recipes:
Meanwhile, enjoy this vegan goji Colorful and inviting – who can resist?
Goji Berry Smoothie
This vegan goji berry smoothie is a delicious and filling smoothie to start your day. It gives you an immune system boost, too!
Ingredients
3

very ripe bananas

broken into a few pieces

10

oz.

package frozen mango

slightly defrosted

1/4

cup

dried Goji Berries

plus more for garnish

1

cup

coconut water

a few tablespoons of honey

optional
Instructions
Combine all ingredients in a blender and mix well.

I use very ripe bananas so there is no need to add any additional sweetener to the natural sweetness from the fruit.  However, if your bananas are not as ripe, you may feel the need to add the honey.

Serve immediately.
Notes
This is a very thick smoothie so if you plan on preparing this ahead, you may have to add more milk to thin it out a little because when you put it in the refrigerator, it thickens.
Nutrition
Calories:
313.93
kcal
|
Carbohydrates:
66.73
g
|
Protein:
6.9
g
|
Fat:
5.08
g
|
Saturated Fat:
2.6
g
|
Sodium:
55.61
mg
|
Fiber:
6.78
g
|
Sugar:
46.75
g
Did you try this recipe? Leave a comment below.
Please follow me on Instagram @chefmireille or tag me #chefmireille with your pics! I'd love to share them!
Don't forget to visit the RECIPE INDEX with over 1000 recipes from around the world including lots of Vegetarian Recipes and Gluten Free Recipes!